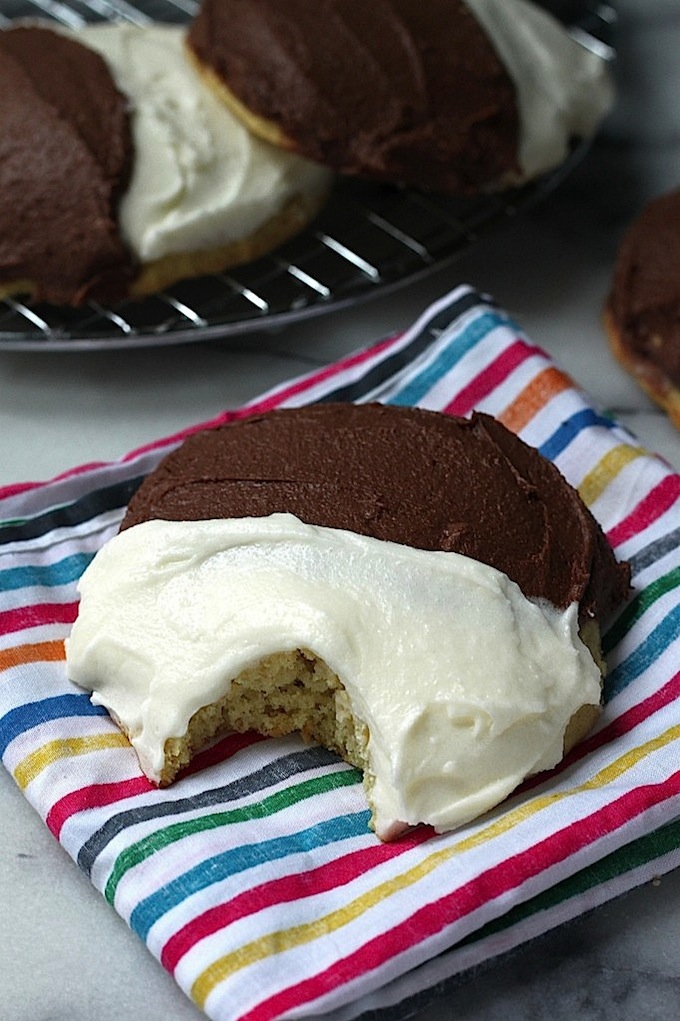 Soft, almost cake like yellow cookies are topped with black and white frosting for a cookie you're not soon to forget! Cookies in cake form never tasted so good!

Well, we're finally home. I was tempted to end that statement with an exclamation point, but truth be told, as happy as I am to be back in Brooklyn, I'm also majorly missing Rome. Don't tease me… but I cried a little on the plane. I always have a hard time saying goodbye to vacation. But I guess who doesn't? So a period it is!
…Am I weird about punctuation marks or what?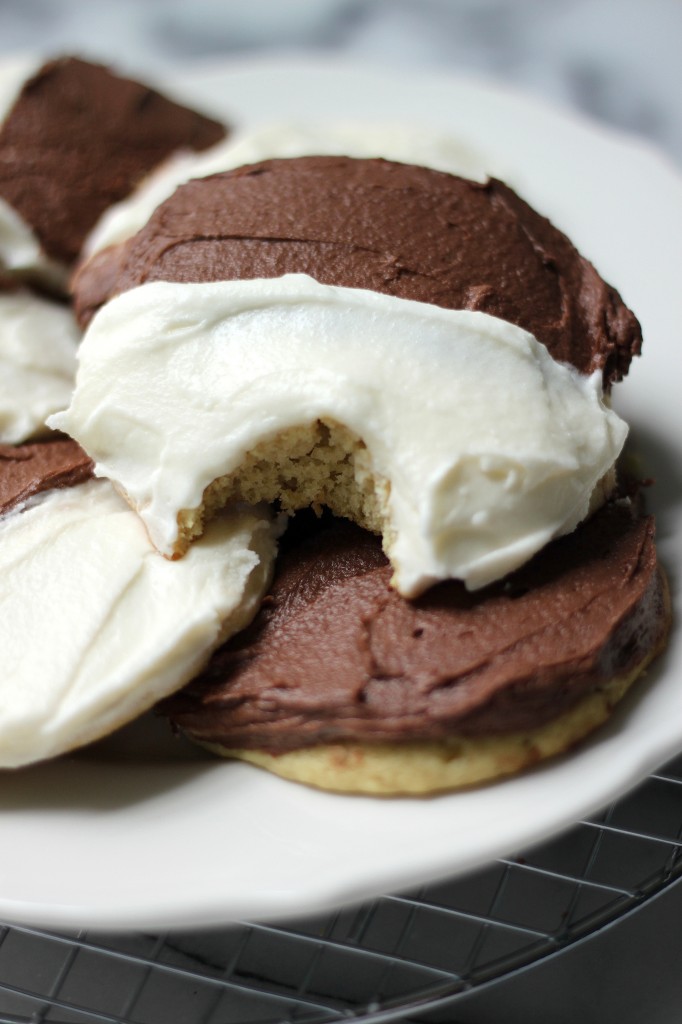 Despite my fears of weeklong crankiness and jet lag, I'm happy to report things are already starting to feel back on track. I have a pie in the oven, some ice cream thawing on the countertop, and a smoothie making a fuss in the blender. Funny how quickly life falls back into place.
Later tonight – once I clean up the inevitable mess sure to made (!!!) – I'll be sifting through the one billion photos I took while we were in Europe. I hope you guys are ready for a face-full of Italy! I promise it'll be pretty//tasty//cool. I also promise there will be a full 14 days (yes – you read that right) of Italian inspired recipes coming your way later this month. We seriously ate our faces off and I was taking notes for you the entire time. I'm so excited to share it all with you!!! Lots of exclamation points for that 😉
To get us a little more excited to be back in the big apple, today I'm sharing with you a New York Classic – Black and White COOKIES! Well, actually black and white cake cookies. That's right. I gave them a little cake makeover // takeover. Because who doesn't like to make cake out of cookies? Am I right?
The base of these giant black and white treats is a soft, sweet, and slightly tender yellow cake cookie. They're quite soft when coming out of the oven, so be sure to handle them with care and let them cool completely before icing. This is an easy but important step!
The black and white frosting is a cream cheese buttercream cream base, one left pure and white, the other dolled up with a sprinkle of cocoa powder. I definitely had a hard time not eating all of the frosting as the cookies cooled. Warning: it will be calling your name!!!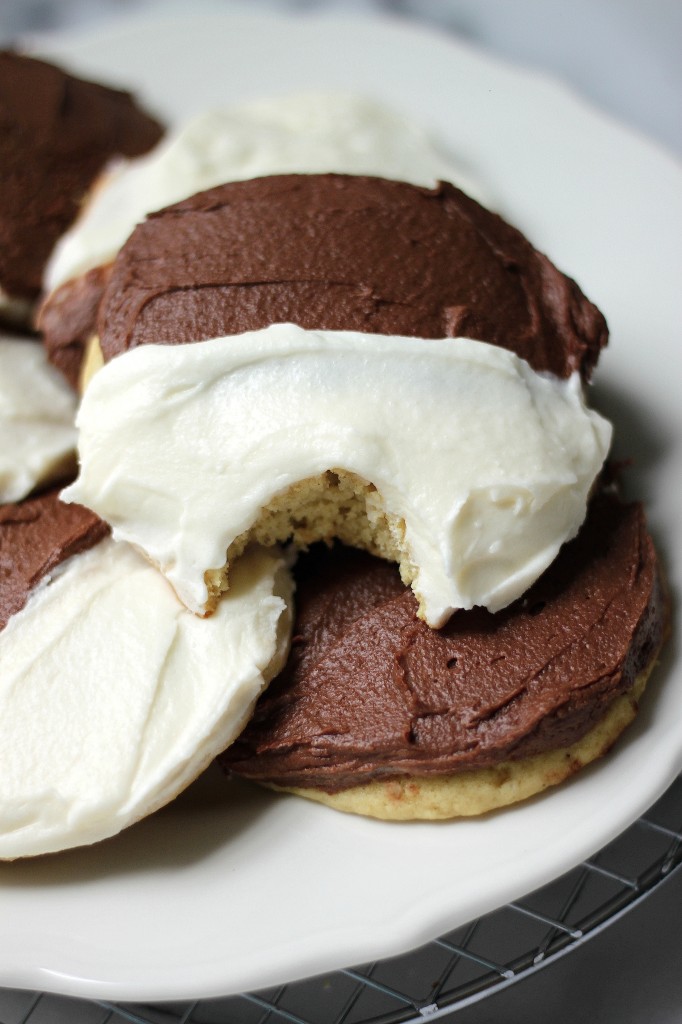 Once your cookies are cooled, just spread that frosting and get ready to get your happy on!
Just one last tip before you go – ice the flat side of the cookie. I know that may seem weird, but I promise it will make for easier holding/ eating. If you ice the round side they will still be mega awesome and tasty… but also messy and challenging to pick up.
Happy cookie eating! xo
Black and White Cake Cookies
Ingredients
For the cake cookie base:
2 1/2 cups all-purpose flour
1 teaspoon baking soda
1 1/4 teaspoons salt
2/3 cup buttermilk
1 1/2 teaspoons vanilla
11 tablespoons unsalted butter, at room temperature
1 cup sugar
1 teaspoon lemon zest
2 large eggs, at room temperature
For the Black and White Frosting:
4 ounces unsalted butter, at room temperature
4 ounces cream cheese, VERY soft
4 cups confectioner's sugar, sifted
2 teaspoons vanilla extract
1/4 teaspoon salt
2-3 tablespoons buttermilk
2 tablespoons cocoa powder
Instructions
For the Cake Cookies:
Preheat oven to 350° (F). Line a large baking sheet with parchment paper; set aside.

Sift together flour, baking soda and salt in medium-sized bowl.

In small measuring cup whisk together buttermilk and vanilla.

In the body of a stand mixer fitted with the paddle attachment beat butter, sugar, and lemon zest together for about 3 minutes, or until light and fluffy.

Add eggs - one at a time - to butter/sugar mixture, and beat until blended.

Gradually beat in flour mixture one cup at a time, adding in the buttermilk mixture between each cup of flour; mix until just smooth.

Spoon batter in 1/4 cup size servings onto prepared baking sheet.

Place pan in the oven and bake on the middle rack for 15-17 minutes, or until the tops are lightly golden and spring back when touched.

Place on a cooling rack, and allow to cool completely (!!!) before icing.
For the Black and White Frosting:
Place softened butter and cream cheese into the bowl of a stand mixer that has been fitted with the paddle attachment.

Turn the mixer on (medium setting) and cream the butter and cream cheese until it's smooth and has lightened in color; about 2 minutes.

Add confectioner's sugar, 1 cup at a time. After each cup has been incorporated, turn the mixer onto high speed and beat for about 15 seconds; this will lighten the frosting.

Add vanilla and salt and combine until well-incorporated.

Add buttermilk, a tablespoon at a time, until the frosting has reached the preferred consistency.

Divide frosting into two bowls. In one of the bowls add cocoa powder and mix until well combined.

Once cookies are cooled spread 1 heaping tablespoon of chocolate icing on half of the cookie (on the flat side!), then spread 1 tablespoon of the white frosting on the other side. Don't stress if they don't look perfect or if the colors blend! They'll still taste great 🙂