Strawberries and Cream Cookies bake up golden brown and are loaded with freeze dried strawberries (they pack in a ton of strawberry flavor) and white chocolate chips! Pretty, pink, and sure to please, these cookies will quickly become a family favorite. No cookie dough chilling required!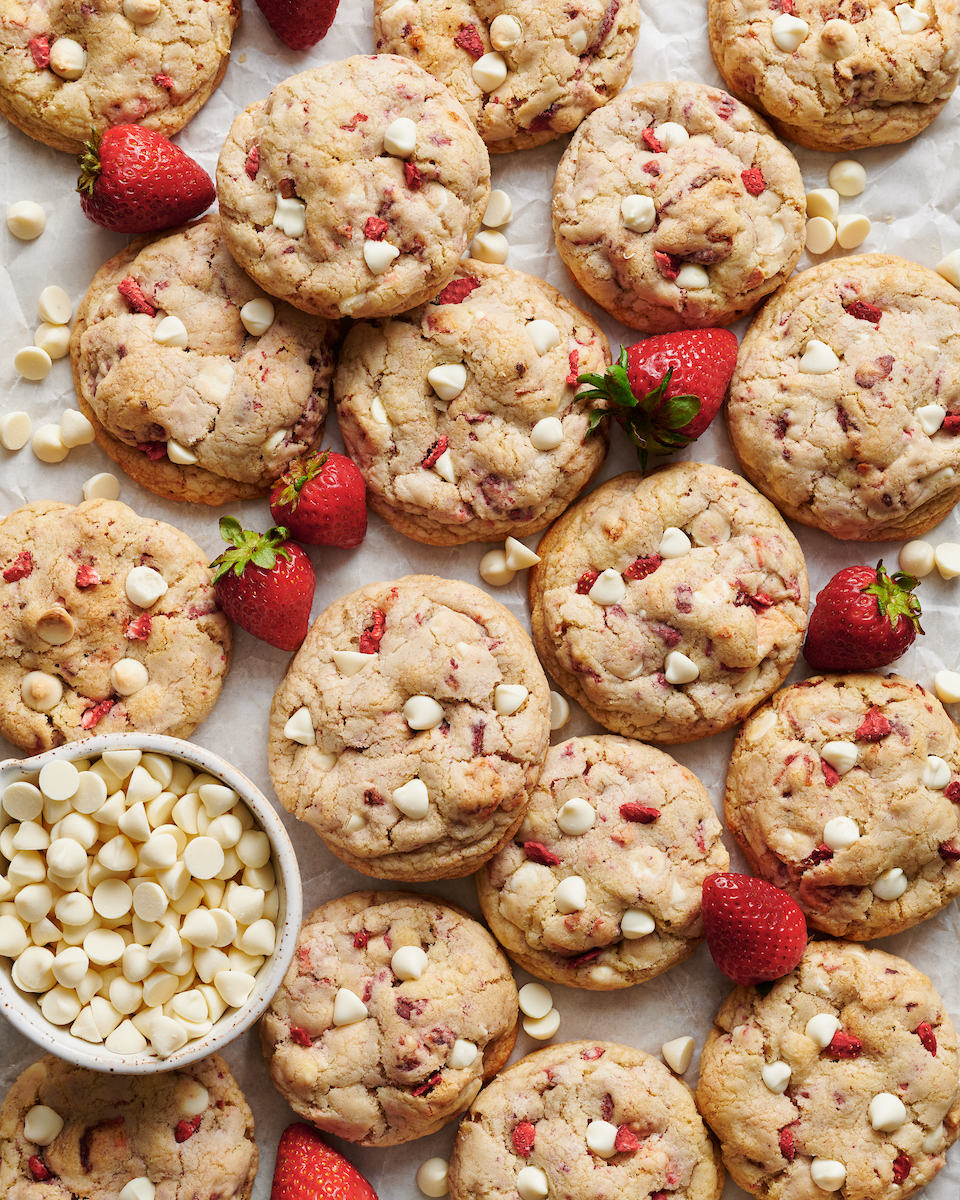 White Chocolate Strawberry Cookies
Day 3 of Christmas in July calls for COOKIES! Strawberries and Cream Cookies, to be exact! And yes, they taste just as amazing as they sound!
This recipe was inspired by my obsession with freeze-dried strawberries. Have you tried them? I wasn't sure how I would feel about them since I prefer fresh fruit over… well, not fresh fruit.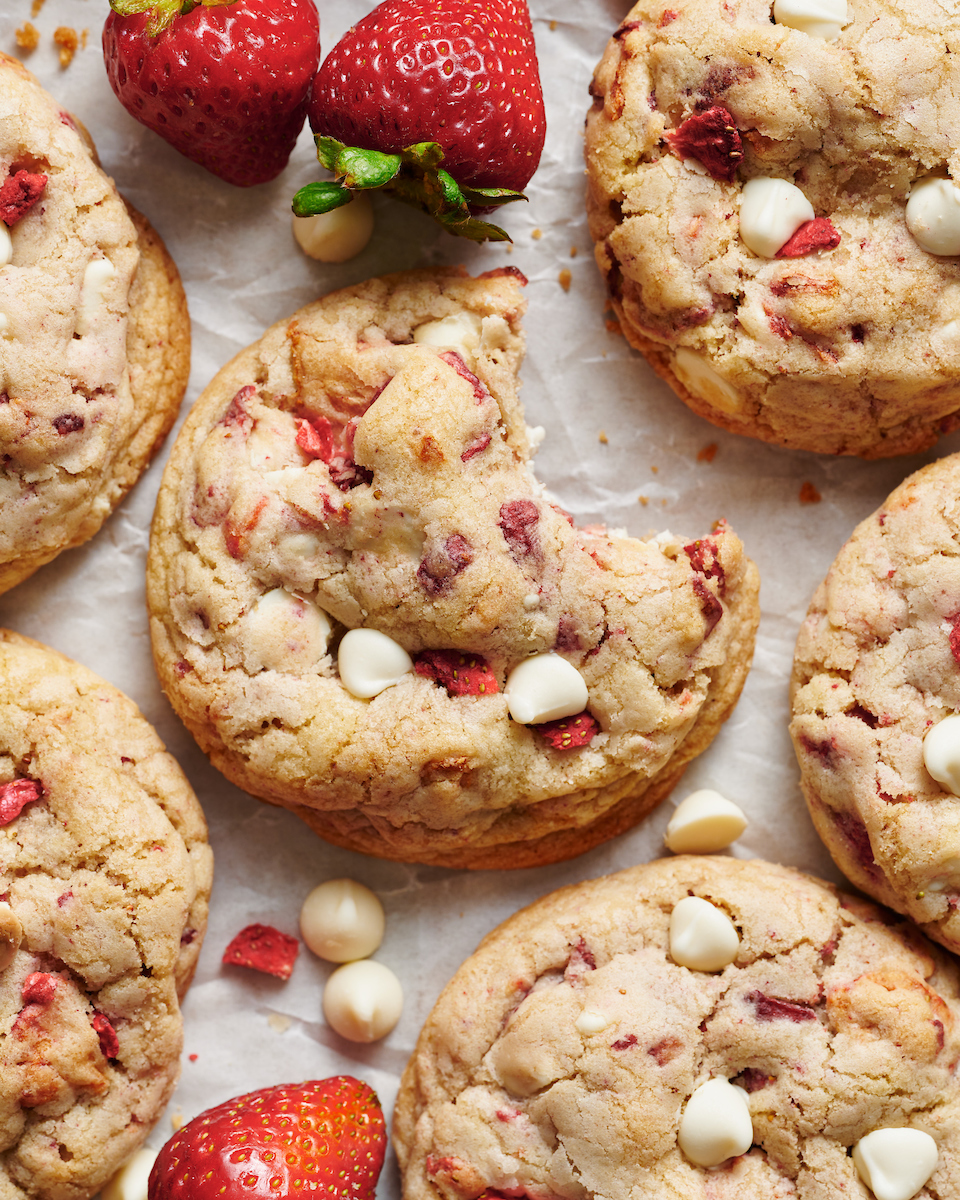 But spoiler alert: they're AMAZING! Especially when baked in cookies! They add a huge pop of strawberry flavor without making the cookies mushy or wet. Such a huge win! Add in creamy white chocolate chips and you have the most perfect cookie. Like, ever. Even my spoiled friends who taste-test everything I bake and 99% of the time don't give me feedback couldn't stop RAVING over this recipe.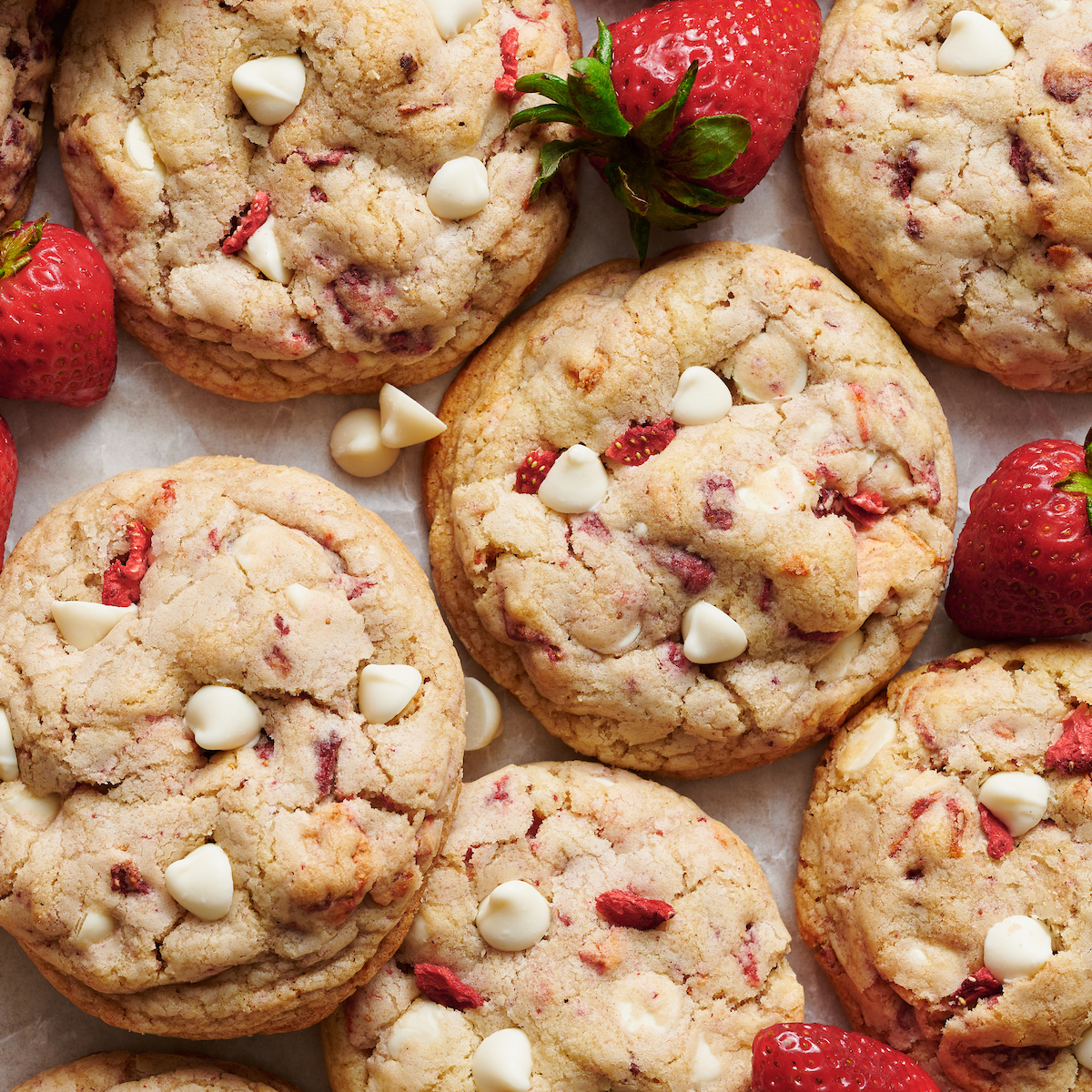 Cookie Baking Must Haves
Flour: All-purpose flour is what you'll want to use here! I have never tried making these GF, but a 1 for 1 gluten free flour might work if you're up for experimenting. For best results, measure your flour with a digital scale!
Baking Soda: Helps our cookies spread! Be sure to use baking soda, and not baking powder, will would give you puffy hockey puck like cookies.
Salt: Added in with our other dry ingredients, salt helps balance the flavors and sweetness. Don't skip this ingredient!
Butter: You'll need to beat the butter until it's light and fluffy, so make sure your butter is softened to room temperature before beginning. To speed this process up, you can cut the butter into 1-inch pieces and place them in a small bowl until they're softened to room temp. Never microwave, which more often than not gives you melted butter. Which we don't want!
Granulated Sugar: Our main sweetener! I use more white sugar than brown in this recipe, because I didn't want the depth of flavor that brown sugar adds.
Brown Sugar: Be sure to pack it in the measuring cup if you're not weighing your ingredients. Light brown sugar works best, but dark brown sugar will work in a pinch.
Vanilla extract: I suggest pure vanilla extract, or a high-quality bourbon vanilla extract, but never imitation vanilla or artificial vanilla.
Eggs: Make sure they're large eggs and at room temperature. Otherwise they won't bond properly with the butter and sugars.
White Chocolate Chips: Ghirardelli or Guittard are my fave for white chocolate chips! They're so creamy and delicious. And almost add a cream cheese flavor to the cookies.
Freeze Dried Strawberries: Natierra is my favorite brand and if you can find them, the one I recommend using! I have no affiliation with this brand, they're just really really good! Especially in these cookies.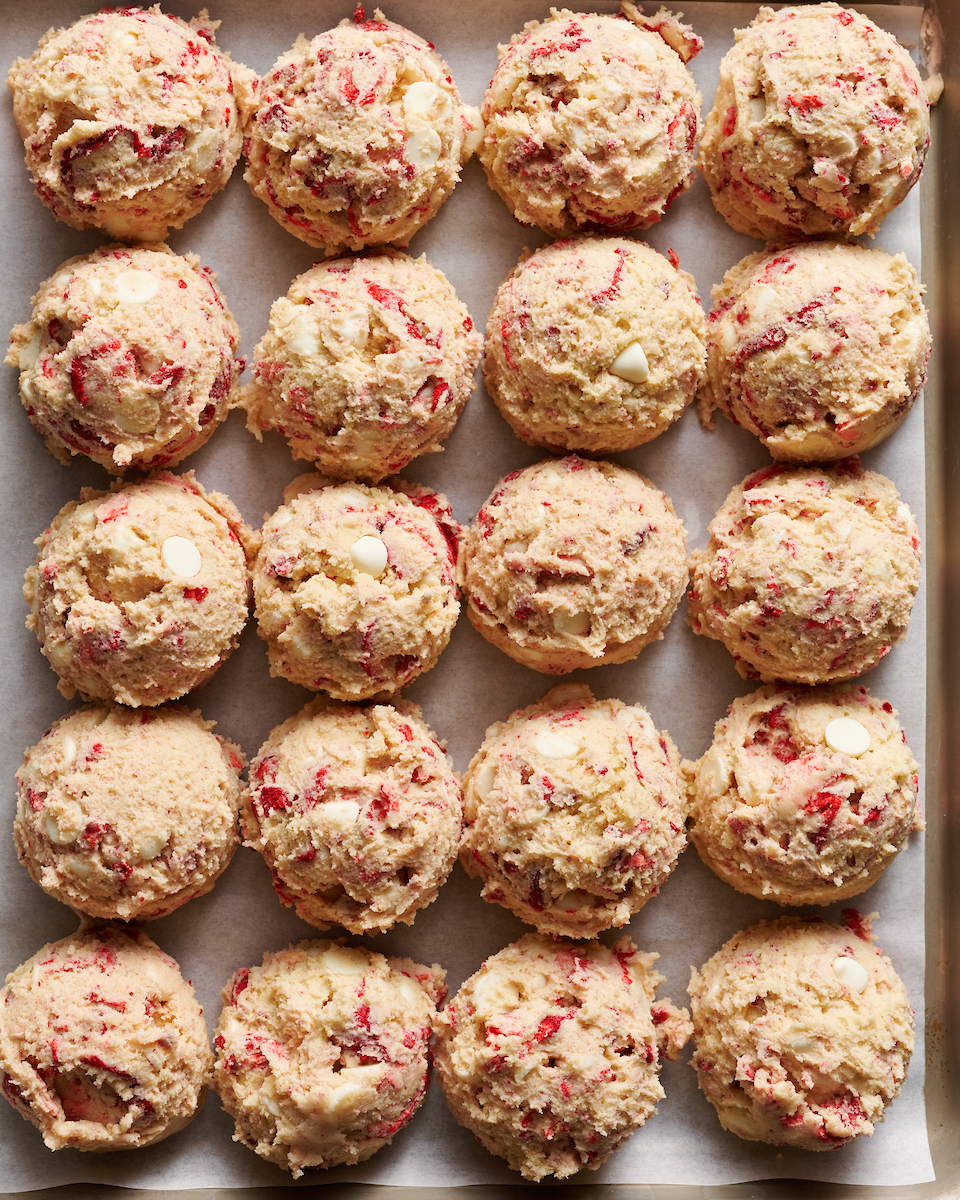 One-Bowl Cookie Dough
These cookies are really easy to make in just one bowl! Simply bust out a large bowl, and mix the butter with an electric mixer, then toss in the sugars. Add the eggs and vanilla to the butter mixture. Then add in your baking soda, salt, and flour. Finally, beat in the white chocolate chips and strawberries! That's it! You're ready to bake.
Just be sure you don't over bake your cookies. And that you place the pans on wire racks to cool for at least 10 minutes before eating or transferring to a serving platter.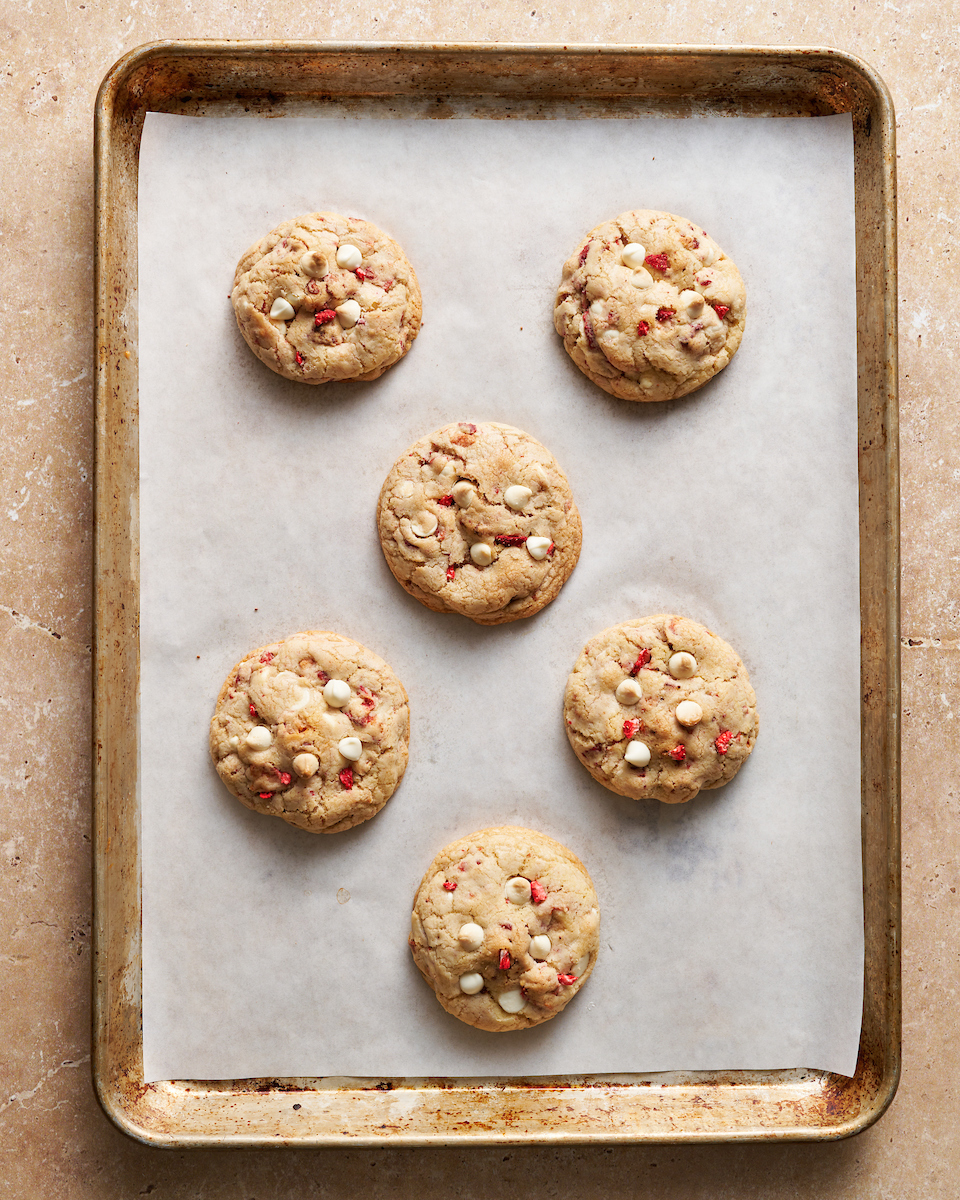 Can I make these in Advance?
Sure! While the dough doesn't need to be chilled, it certainly can be. Instead of refrigerating the entire cookie bowl of cookie dough, my advice is to scoop and roll the cookie dough onto a large baking sheet, lightly cover with plastic wrap, and place in the refrigerator until you're ready to bake, up to 2 days. Want to make them even further in advance? Read my freezing tips below!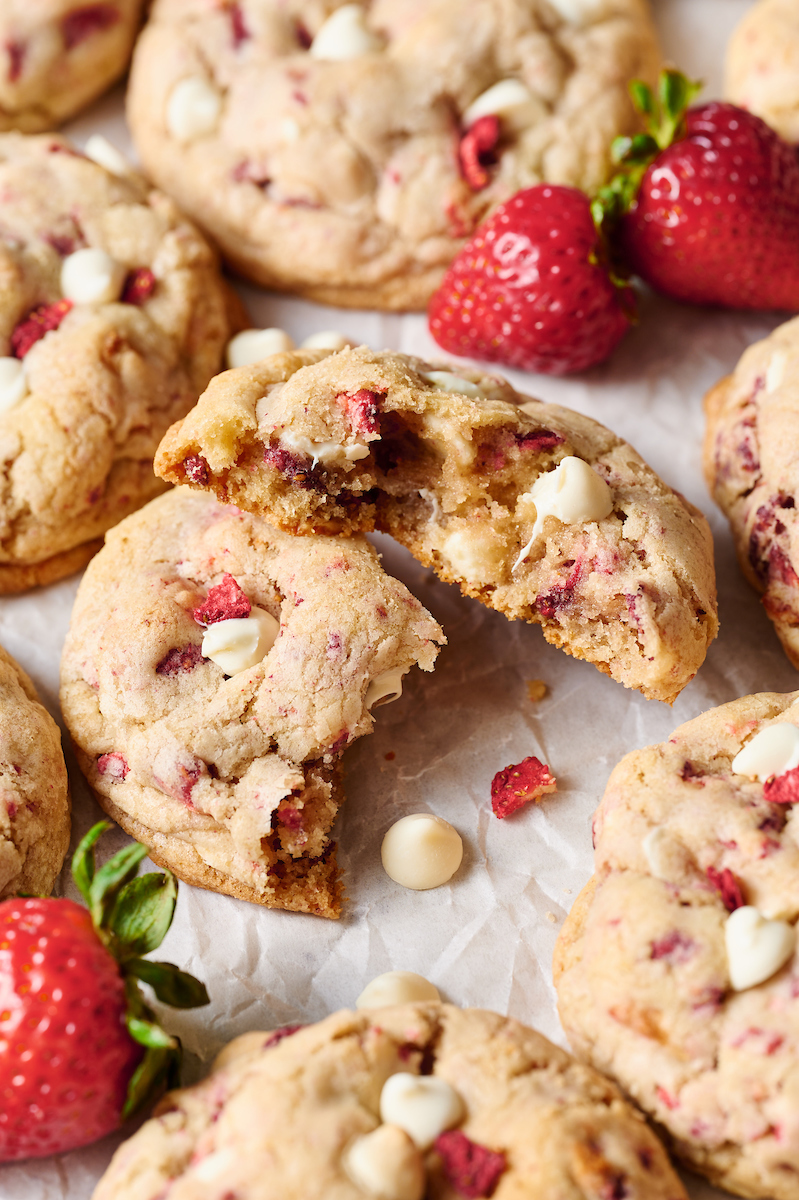 Does the Dough Freeze?
It sure does! Simply scoop the dough onto a large baking sheet and place the baking sheet in the freezer (in a safe space it won't get smushed) until the dough balls are frozen solid. Then transfer the cookie dough balls into freezer-safe ziplock bags and place in the freezer for up to 2 months. When you're ready to bake, remove the cookie dough from the freezer and bake as directed in the recipe below. Just note you may need to add an extra minute or two onto the bake time when baking from a frozen state. Cold dough takes a little longer to bake!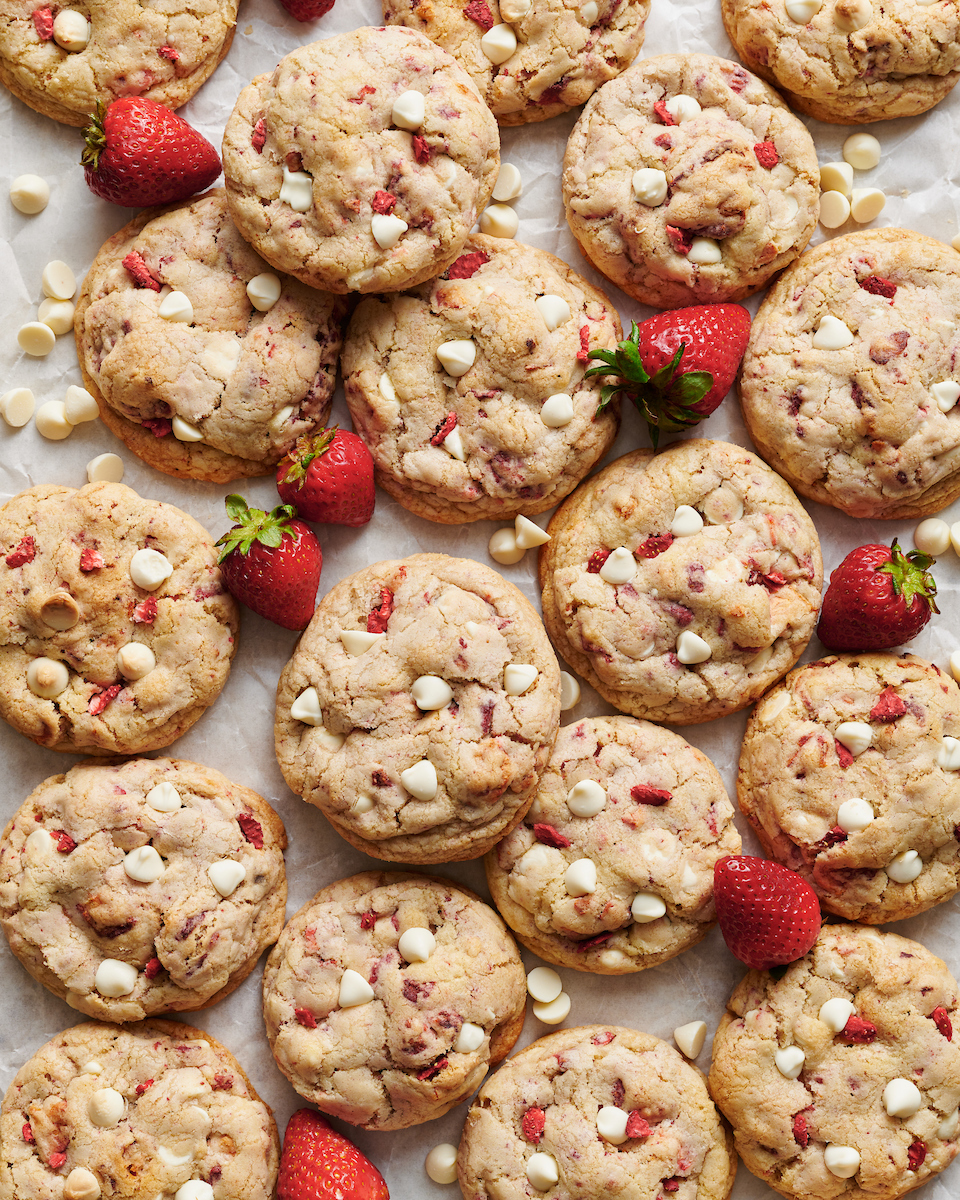 More Strawberries and Cream Recipes: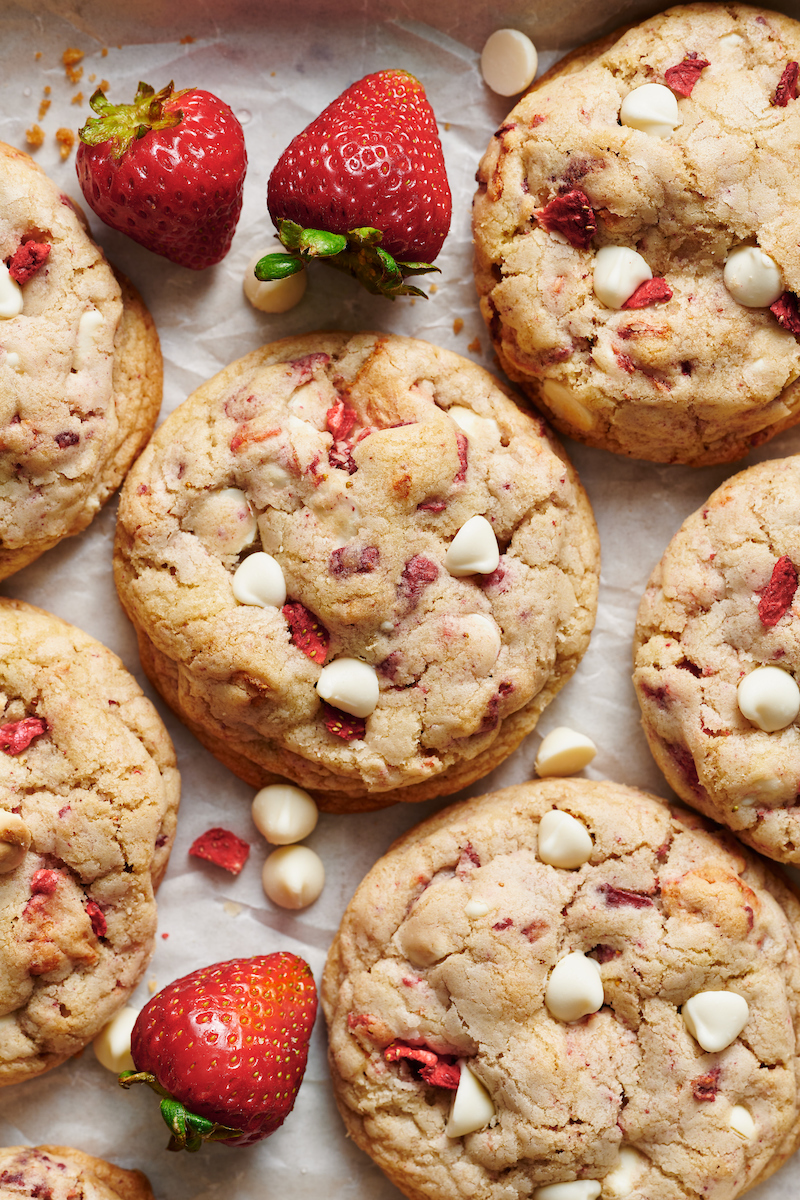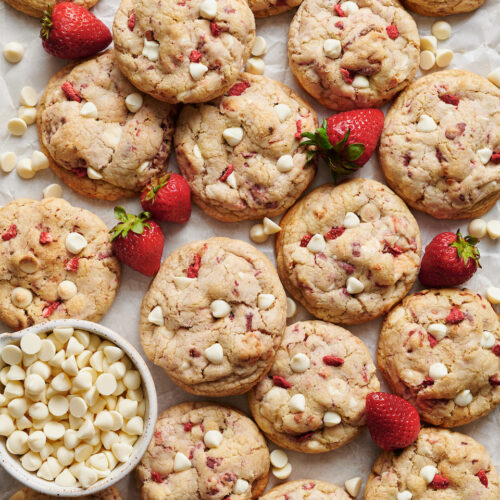 Strawberries and Cream Cookies
Strawberries and Cream Cookies bake up golden brown and are loaded with freeze dried strawberries (they pack in a ton of strawberry flavor) and white chocolate chips! Pretty, pink, and sure to please, these cookies will quickly become a family favorite. No cookie dough chilling required!
Ingredients
3 cups (360 g) all-purpose flour weighed with a digital scale or lightly spooned into the measuring cup and leveled off with a knife (don't pack!)
3/4 teaspoon baking soda
1/2 teaspoon salt
1 cup (227 g) unsalted butter room temperature
1 and 1/4 cups (248 g) granulated sugar
1/4 cup (53 g) light brown sugar packed
1 Tablespoon (14 ml) vanilla extract
2 large eggs room temperature
11 ounces white chocolate chips
2 1.2 ounce bags (68 g) freeze-dried strawberries
Instructions
Preheat the oven to 325°F. Line two large baking sheets with parchment paper and set them aside. 

In a large bowl, whisk together the flour, baking soda, and salt. Set it aside.

In the bowl of a stand mixer fitted with the paddle attachment, or in a large bowl using a handheld electric mixer, combine the butter and both sugars and beat on medium speed for about 3 minutes, until light and fluffy, scraping down the bottom and sides of the bowl as needed. Beat in the vanilla extract.

Reduce the mixer speed to medium-low and beat in the eggs, one at a time, beating well after each addition, and scraping down the sides and bottom of the bowl as needed. 

Reduce the mixer speed to low and add the flour mixture, beating until just combined. Mix in the white chocolate chips and dried strawberries, just until evenly combined.

Using a large spring-loaded cookie scoop, scoop 3 tablespoons (75 g) of cookie dough and roll it into a ball. Place the dough ball on the prepared sheet, with the side up that has the most white chocolate chips and strawberry pieces showing (this will create the prettiest cookie tops). Repeat with all dough, leaving 2 inches between each cookie.

Bake one sheet at a time for 12 minutes to 13 minutes, or until golden at the edges but still soft in the middle.

Remove the cookies from the oven and, using a spatula, carefully tuck in any edges that may have spread too much while baking, creating a perfectly round cookie.

Press extra white chocolate chips on top, if desired. Cool cookies on the baking sheet, placed on a wire rack, for 20 minutes before serving/moving.