This recipe for soft and chewy Bourbon Molasses Cookies is perfect for the holiday season! Made with brown sugar and festive spices like ginger, cinnamon, cloves, allspice, and even a little black pepper! But it's the bourbon and fresh orange zest that really make these cookies stand out from the rest!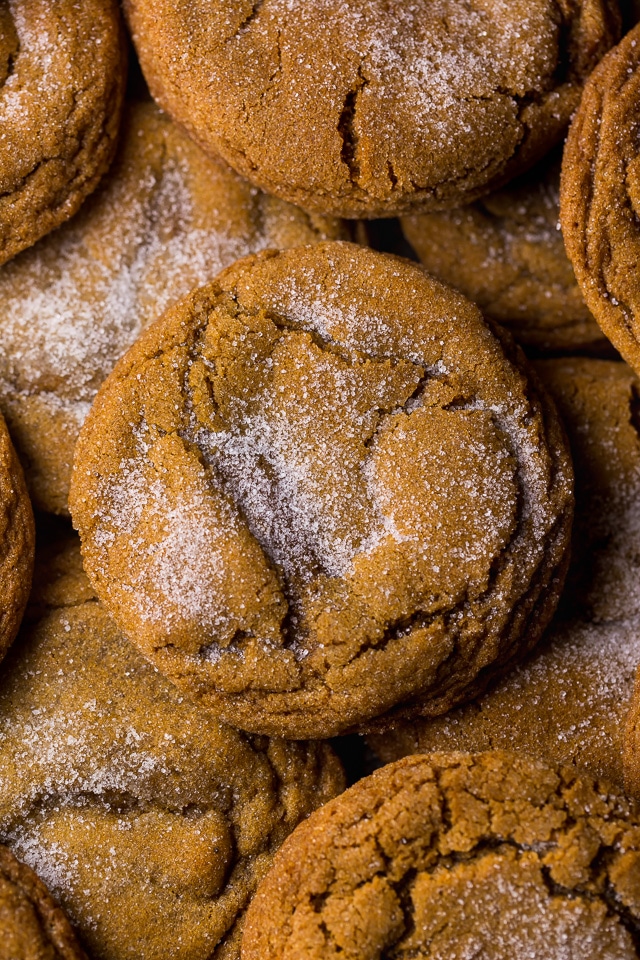 Molasses Cookies
With Christmas just a few weeks away, I wanted to pop in and quickly share my recipe for chewy molasses cookies with you! These cookies are so festive and perfect for holiday celebrations or cookie parties. They taste just like the ginger molasses cookies we all know and love, but even better! Because they have a subtle bourbon flavor that's to die for. I made a batch for a cookie swap last weekend and EVERYONE  wanted the recipe. Even the women who don't typically have bourbon in their home said they would buy a bottle just to make these cookies. That's when I knew I needed to share them with you!!
Molasses Cookie Recipe
Even if you're not a huge fan of bourbon, I encourage you to give these molasses cookies a try!
Because the bourbon isn't overpowering and it actually gives the cookies a subtle caramel flavor. It's so DELICIOUS! Oh, and don't worry about getting buzzed off of these cookies. There's only 3 tablespoons of bourbon in the recipe and most of the alcohol bakes out while the cookies are in the oven! Unfortunately I don't have any suggestions for substituting the bourbon, so if you can't consume it, I suggest making my soft and chewy gingersnaps instead.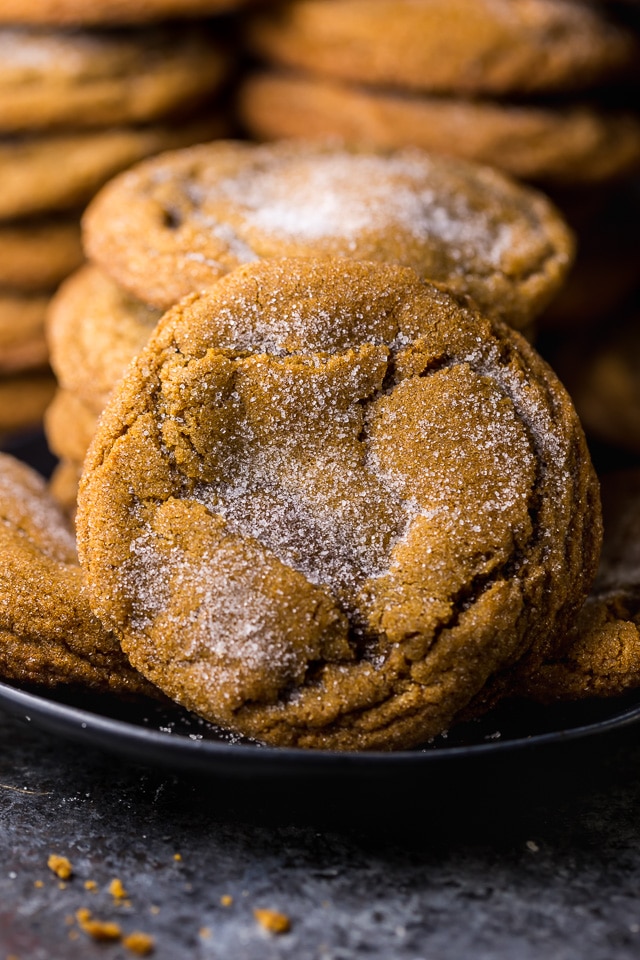 Do I need to Chill the Dough?
Please note, the cookie dough for this recipe needs to chill for at least 4 hours!
Like most recipes for molasses cookies, this recipe requires you chill your dough. This is important to know in advance so you can plan ahead time wise. But don't let the chill time get you down! Because this cookie dough can be chilled for up to 72 hours. And scooped and frozen for up to 2 months! Just add an extra minute or two onto the bake time when baking from a frozen state.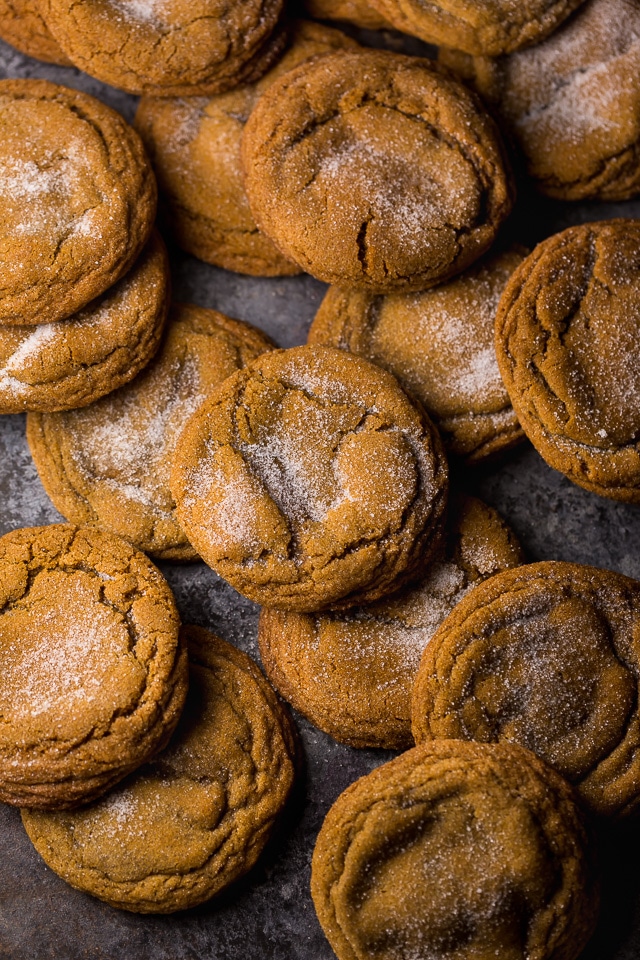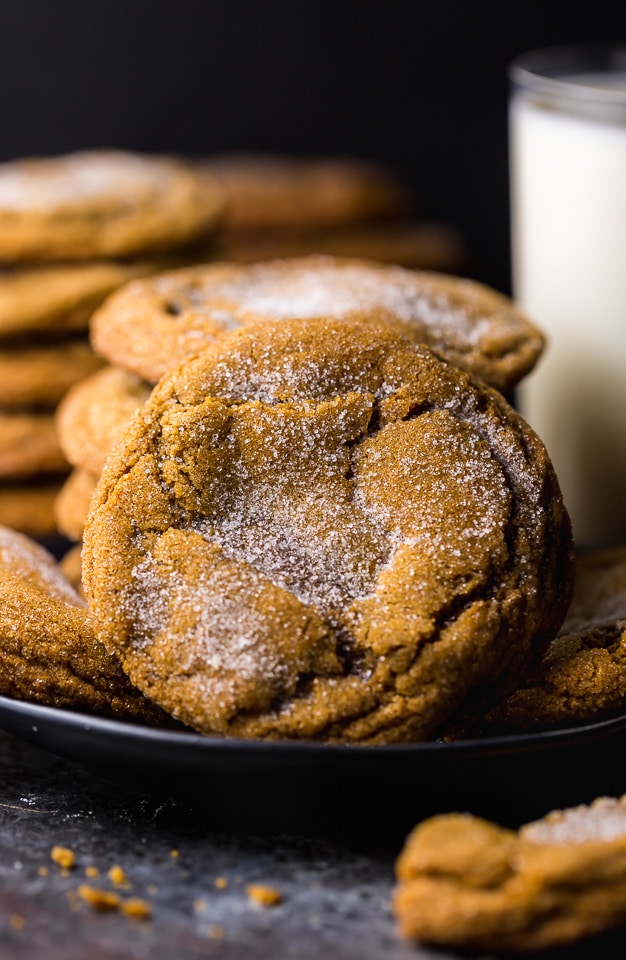 These soft and chewy bourbon molasses cookies are sure to make your holiday season extra sweet! Enjoy!
More Cookie Recipes:
If you try this recipe for Bourbon Molasses Cookies, let me know! Leave a comment below and don't forget to snap a pic and tag it #bakerbynature on instagram! Seeing your kitchen creations makes our day.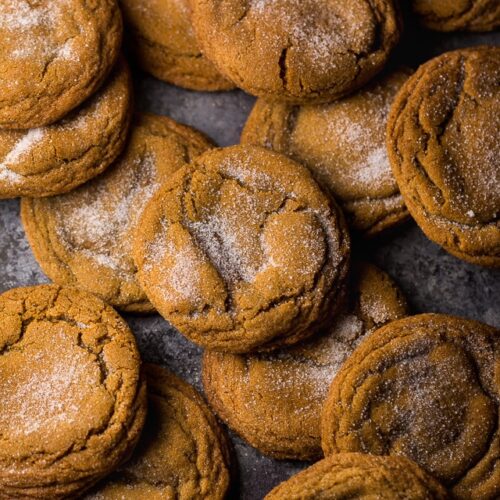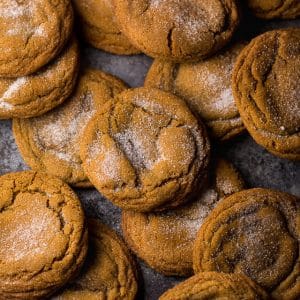 Bourbon Molasses Cookies
Made with brown sugar and plenty of festive spices, these Bourbon Molasses Cookies are soft and flavorful! 
Ingredients
4 and 2/3 cups all-purpose flour
1 Tablespoon baking soda
1 and 1/2 Tablespoons ground ginger
1 and 1/2 teaspoons ground cinnamon
1 teaspoon ground cloves
1/2 teaspoon ground allspice
1 TINY pinch finely ground black pepper
1/2 teaspoon salt
12 ounces unsalted butter, at room temperature
2 and 1/4 cups light brown sugar, packed
1 teaspoon vanilla extract
1/2 teaspoon finely grated orange zest
2 large eggs, at room temperature
1/2 cup molasses (not blackstrap variety)
3 Tablespoons bourbon
1/2 cup granulated sugar (for rolling the cookie dough)
Instructions
In a medium mixing bowl, whisk together flour, baking soda, ground ginger, cinnamon, cloves, allspice, black pepper, and salt. Set aside.

In the bowl of a stand mixer fitted with the paddle attachment, or in a large bowl using a handheld electric mixer, beat together the butter and brown sugar on medium-high speed until the mixture is light and fluffy, about 2 minutes, scraping down the sides as needed. Add in the vanilla and orange zest and beat until combined. Reduce the mixer speed to medium-low. Add in the eggs, one at a time, beating well after each addition. Add in the molasses and bourbon and beat until combined. Gradually add in the dry ingredients and beat until it's evenly incorporated.

Cover the bowl and refrigerate for at least 4 hours, and up to 3 days.
When ready to bake:
Preheat oven to 350 (F).  Line two large baking sheets with parchment paper; set aside.

Roll the dough into 3 Tablespoon sized balls. Fill a small and shallow bowl with granulated sugar. Roll each ball in the sugar until it's completely coated. Place the sugar coated cookie dough balls on the prepared baking sheets, leaving 2 inches between each ball for spreading.

Bake, one tray at a time, for 8 to 10 minutes, or until the cookies have puffed up and have begun to slightly crack on top. (They will crack more as they cool, so don't over bake!)

Remove from the oven and place the pan on a cooling rack. Cool cookies for 5 minutes on the baking sheet, then carefully transfer the cookies to a separate cooling rack to cool completely. Repeat with remaining cookie dough.

Serve cookies warm, or completely cool them and store them in an airtight container for up to 4 days.  Cookies may also be frozen for up to 3 months.
Notes
You may make smaller cookies or large cookies, but you will need to adjust the baking time.