Just one bite of this Super Decadent Chocolate Cake with Chocolate Fudge Frosting will have you head over heels in love! And it couldn't be easier to bake!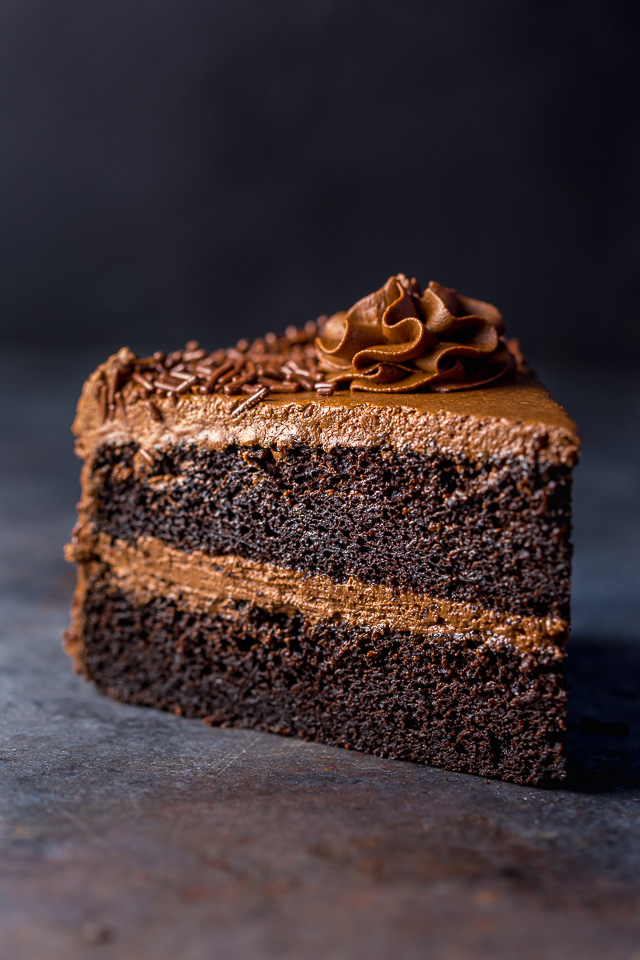 Decadent Chocolate Cake with Chocolate Fudge Frosting
Hello and Happy Wednesday! We're talking chocolate cake today, so let's get right down to business. Because when it comes to chocolate cake, I don't mess around!
So, I don't know about you, but to me, an acceptable chocolate cake must be two things:
melt-in-your-mouth moist
packed with real chocolate flavor… and lots of it!
It should also be sturdy enough to stand firm when confronted with a nice thick swirl of fudge frosting. So I guess that's three things 😉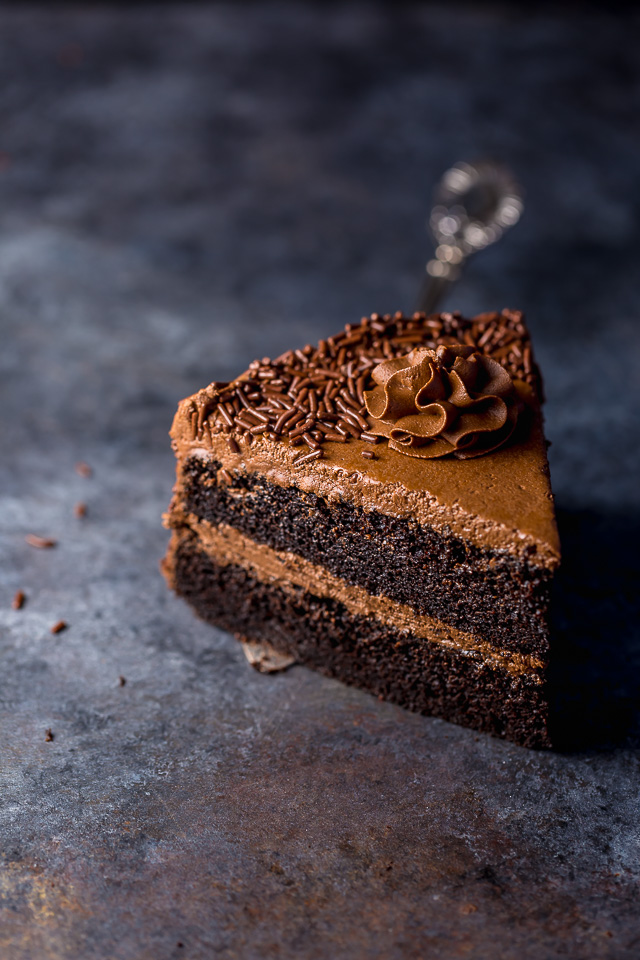 But of course, we're not striving for just "acceptable"! We want amazing… epic… bakery-quality chocolate cake that makes our guests swoon and leave begging for the recipe. We want a recipe so perfect it makes its way into our "forever file" after just one try. And of course, we want a chocolate cake that's made with simple ingredients and an easy to follow method so we can whip it up whenever a craving strikes!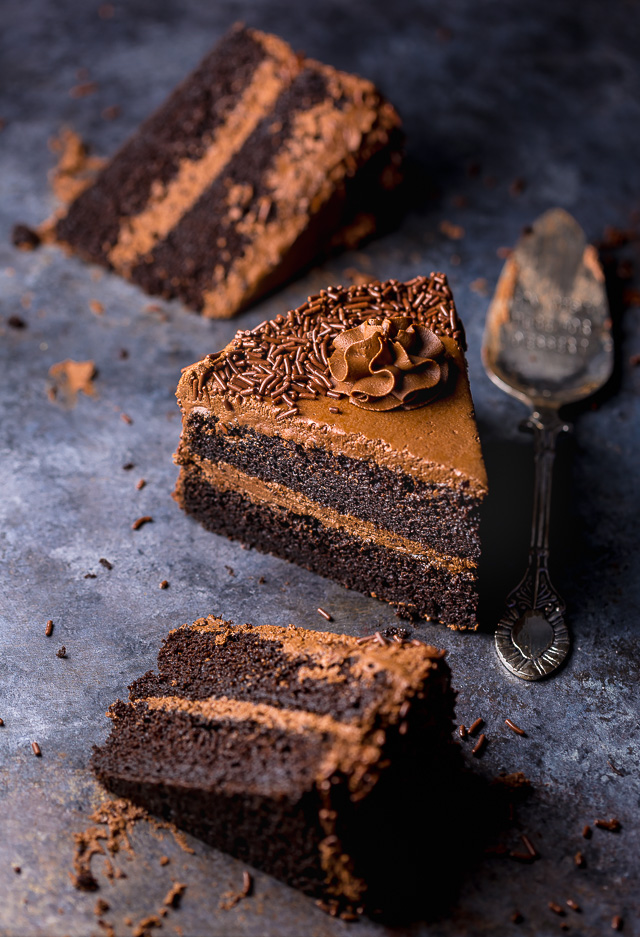 And that, my friend, is where this super decadent chocolate cake with chocolate fudge frosting comes in! It's super decadent, meets all of the "perfect chocolate cake qualifications, and is a must try for chocolate lovers! After one bite, I know you'll agree this one is a keeper with a capital K!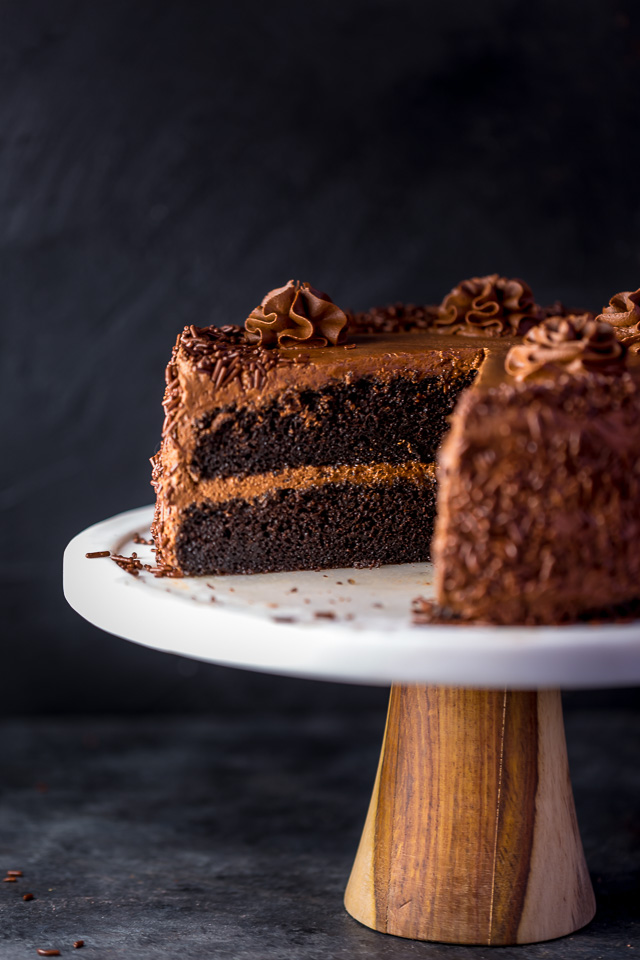 Tips and Tricks for Recipe Success:
So let's start off with ingredients! This is an oil based cake and can be made with vegetable oil, canola oil, or even refined coconut oil. However, I do not recommend substituting oil with melted butter.
Because cold ingredients don't bind evenly, you'll want to make sure your eggs, egg yolk, sour cream, and milk have all come to room temperature before you begin baking.
When measuring your flour, it's important you're not packing it into the measuring cup. Packed flour will yield a dense and dry cake. So either fluff your flour up, sprinkle it into the measuring cup, and level it off, or weigh it!
It's also important not to over mix the batter! Over mixing can lead to dry baked goods, and can even cause them to crack.
The cake layers should be baked on the middle rack of your oven.
Of course, you don't want to over or under bake! Over baked cakes will be dry, while under baked cakes will sink the middle.
And avoid opening the oven until you need to check if the cake is done.
For the frosting, I suggest using a quality dark chocolate, such as Lindt 70%. I don't recommend using milk chocolate, but semi-sweet chocolate may be used if you prefer a very sweet frosting.
Finally, your cakes should be completely cooled before frosting. Otherwise the frosting will melt onto the cake and make a big, gloppy mess!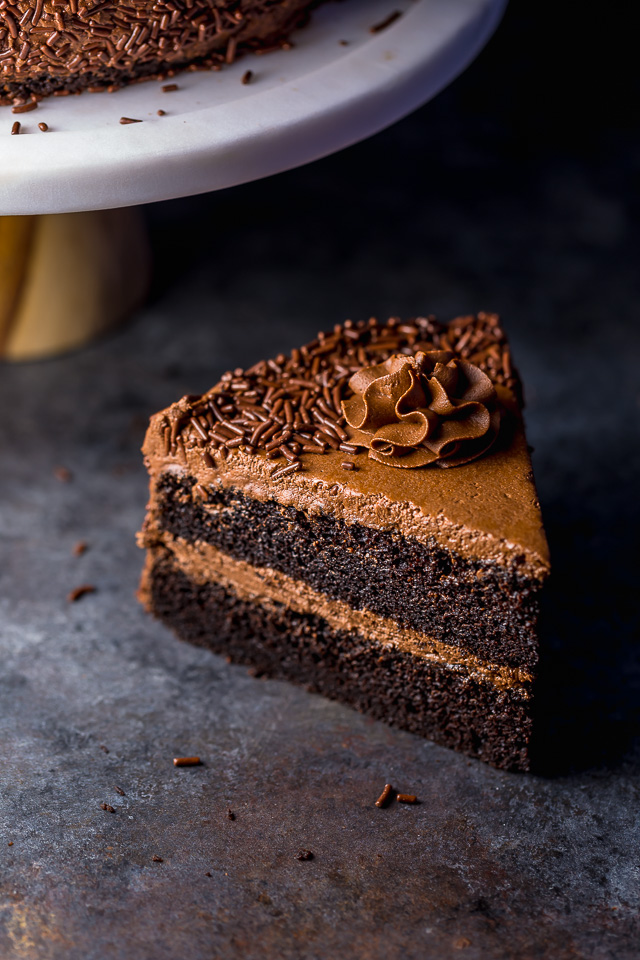 So… are you baking this chocolate beauty today, or what!?
If you try this recipe for Super Decadent Chocolate Cake with Chocolate Fudge Frosting, let me know! Leave a comment below and don't forget to snap a pic and tag it #bakerbynature on Instagram! Seeing your kitchen creations makes my day. ♥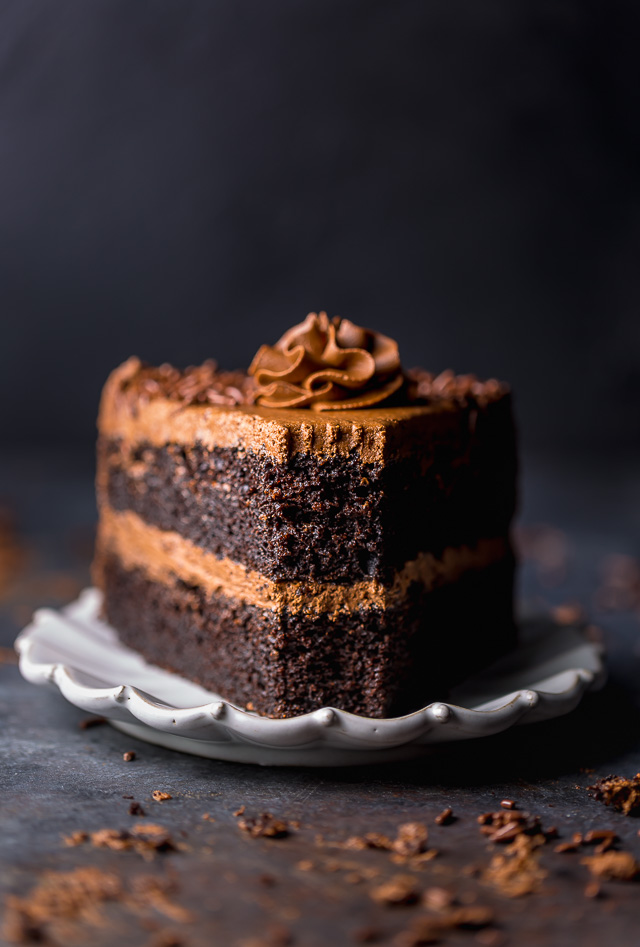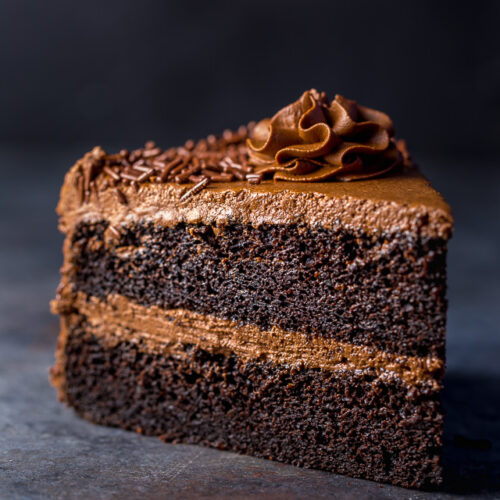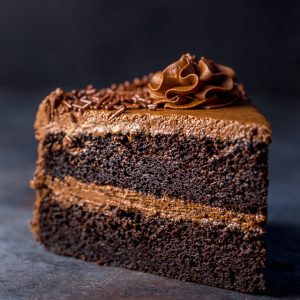 Super Decadent Chocolate Cake with Chocolate Fudge Frosting
This Super Decadent Chocolate Cake with Chocolate Fudge Frosting is the ONLY chocolate cake recipe you'll ever need!
Ingredients
For the Chocolate Cake:
1 cup granulated sugar
1 cup light brown sugar, packed
1 and 3/4 cups all-purpose flour
1 cup unsweetened cocoa powder
2 teaspoons baking soda
1 teaspoon baking powder
3/4 teaspoon salt
2 large eggs + 1 large egg yolk, at room temperature
1 cup sour cream
1/4 cup whole milk
1/2 cup melted coconut oil, canola oil, or vegetable oil
1 tablespoon vanilla extract
1 cup freshly brewed coffee or freshly boiled water
For the Chocolate Fudge Frosting:
8 ounces semi-sweet or bittersweet chocolate, coarsely chopped
20 Tablespoons (12 ounces) unsalted butter, softened
3 and 1/2 cups confectioner's sugar
2 teaspoons vanilla extract
1/4 teaspoon salt
Instructions
For the Chocolate Cake:
Preheat oven to 350°(F). Generously spray two 9-inch round baking pans with non-stick baking spray and set them aside.

In the bowl of a stand mixer fitted with the paddle attachment, or in a large bowl using an electric mixer, combine both sugars, flour, cocoa, baking soda, baking powder and salt on low until ingredients are thoroughly combined. Set aside.

In a separate large mixing bowl, whisk together the eggs, yolk, sour cream, milk, oil and vanilla, beating until well combined. Add the wet ingredients into the dry ingredients and beat on low speed until just incorporated. Carefully add in hot coffee (or water) and continue beating until completely combined; about 1 minute. The batter will quite thin.

Divide batter evenly into prepared pans.

Bake in preheated oven for 30 to 35 minutes, or until wooden toothpick or cake tester inserted in the center of a cake comes out clean or with just a few moist crumbs attached.

Cool cakes for 10 minutes in the pan (placed on top of a cooling rack) before removing from pans and transferring to a cooling rack to cool completely.
For the Chocolate Fudge Frosting:
Place the chocolate in a medium heatproof bowl and place it over a pot of barely simmering water. Heat, stirring frequently, until the chocolate is completely melted. Remove the pan from heat, then carefully remove the bowl from the pot. Set chocolate aside to cool for a few minutes.

In the bowl of a stand mixer fitted with the paddle attachment, or in a large bowl using a handheld electric mixer, beat the butter on medium speed until creamy. Reduce the speed to low and gradually add the confectioner's sugar, one cup at a time, beating well after each addition. Once all of the sugar has been added increase the speed to medium-high and beat for 2 minutes, scraping down the sides of the bowl as needed. Beat in the vanilla and melted chocolate and continue beating until well combined and creamy.
Assembly:
Using a long serrated knife, level the top of each cake.

 Transfer one layer to a large plate or cake stand. Using a long offset spatula, spread a thick layer of frosting on top, then top with the second layer. Continue frosting the top and sides of the cake. Decorate with chocolate chips, sprinkles, chocolate shavings, or leave as is!

Store in the refrigerator, loosely covered, for up to 2 days.
Notes
This post was updated and republished 4/12/2017.