Homemade Chocolate Chip Ice Cream Sandwiches are a Summertime staple!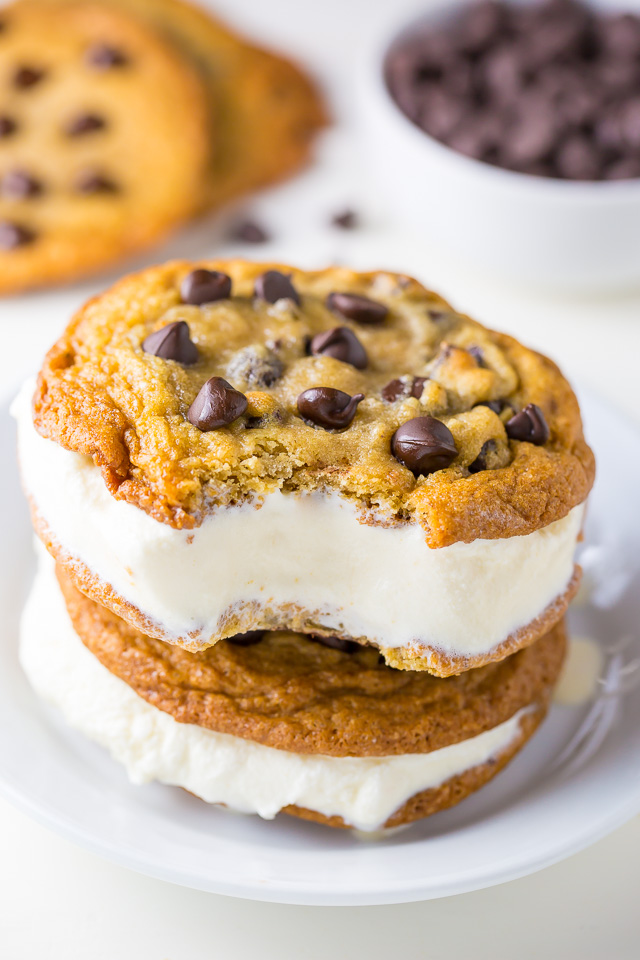 Chocolate Chip Cookie Ice Cream Sandwich
My friend Tessa wrote a book! It's called Cookies & Cream, and it's a book ALL about ice cream sandwiches. And well, it's just awesome. Cookies + Ice cream?! Yes yes yes!
Since it's pretty much almost Summer, I feel like we ALL should be indulging in some major ice cream sandwich consumption, and this book is the ultimate guide to finding your perfect ice cream/ cookie sandwich situation. Incredible stuff!!!  They're even selling it at Anthropologie, which just totally tickles me since that's one of my favorite stores, and Tessa is one of my favorite people! We met at The Big Travelling Potluck a few months ago, and well, I just adore her! I adore her (and her book) SO much, in fact, that I bought an extra copy to give away to one lucky reader! Yay giveaways!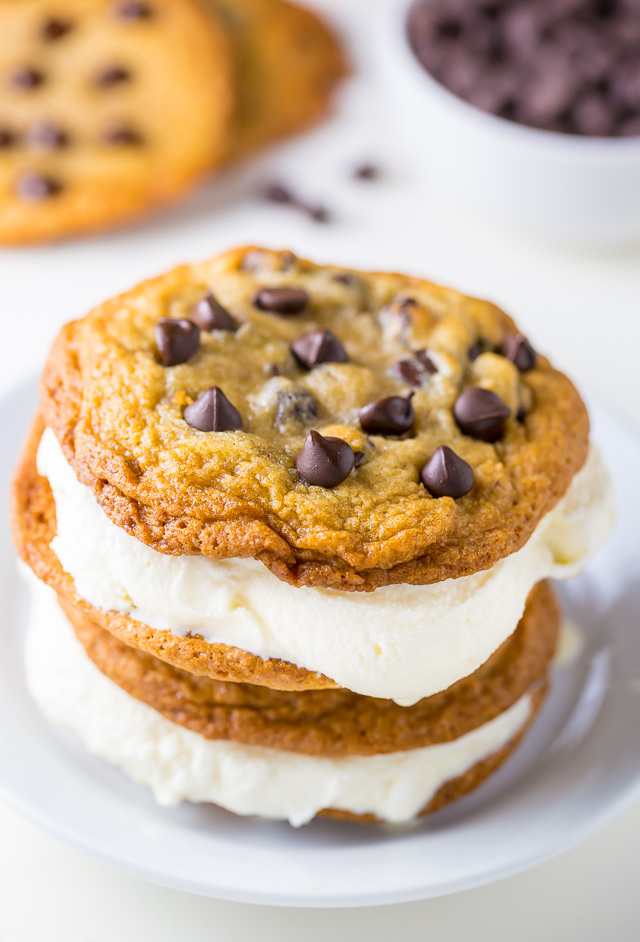 With so many amazing sandwiches to choose from, it was definitely hard to pick which one I was going to make and share with you guys.
I chose this one for a few reasons: it's a classic, it involves chocolate, and um, well, I just couldn't resist the idea of butterscotch ice cream!
Soft, chewy, and GIANT chocolate chip cookies! I could have seriously eaten 12 of these on their own… and maybe I did. I'm not telling!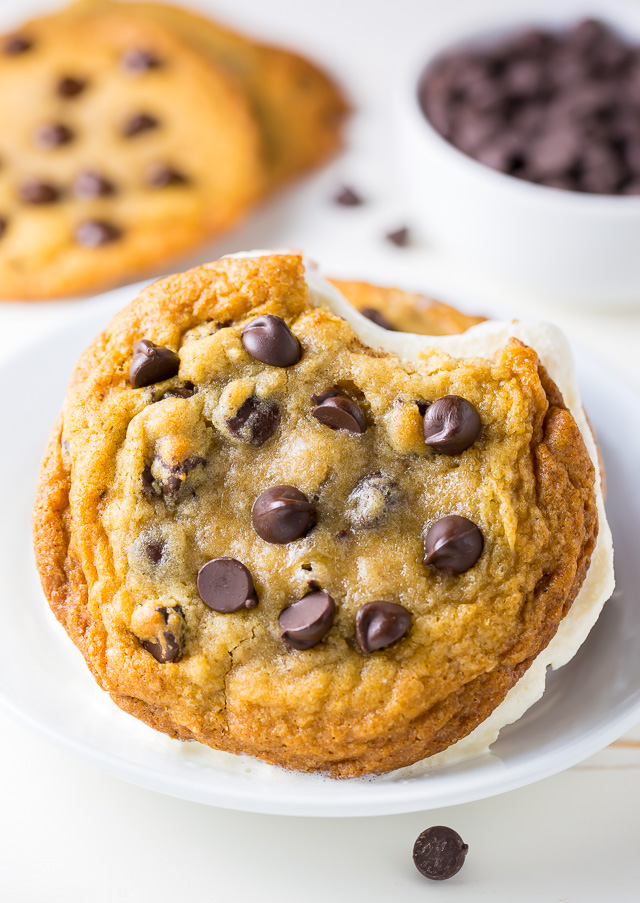 What I will tell you is that you need to make sure you don't eat all of the cookies before the ice cream is ready, because you WANT to make these into a sandwich! It's their destiny. And scoop it on with a generous hand!
This recipe makes A LOT of ice cream sandwiches. Since there's only one of me, I just wrapped them really well in saran wrap and have been enjoying them as an after work treat. It's nice coming home to ice cream and cookies! It really, really is.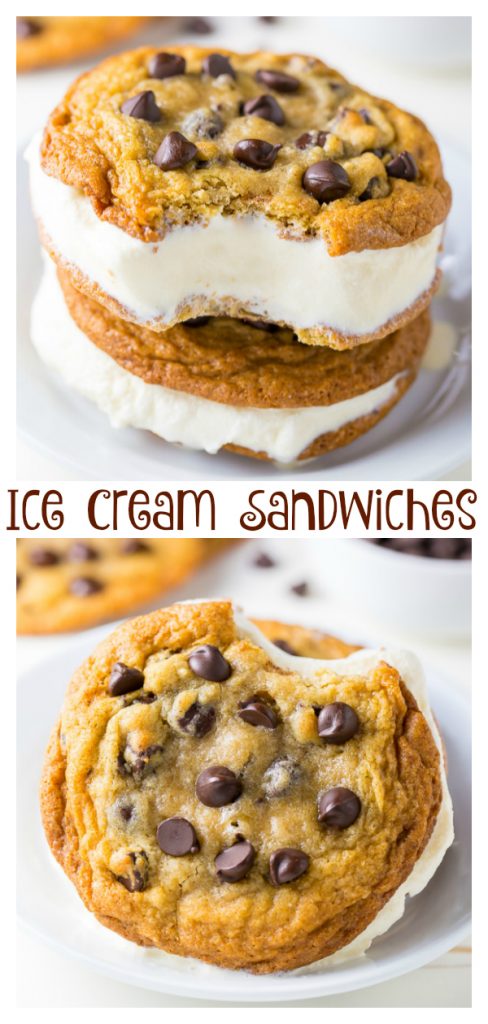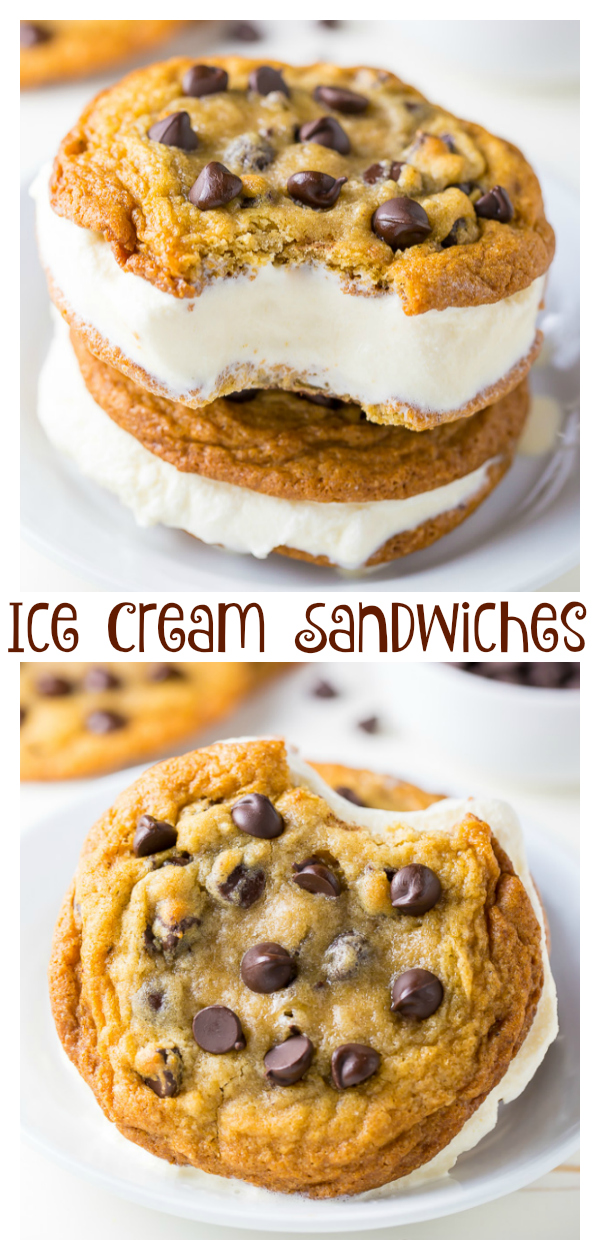 If you try this recipe, let me know what you think! Leave a comment below, and don't forget to snap a pic and tag it #bakerbynature on instagram! Seeing your creations makes my day.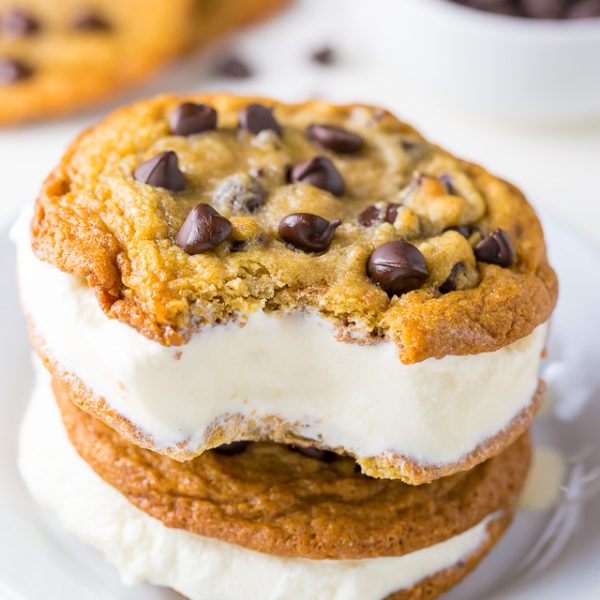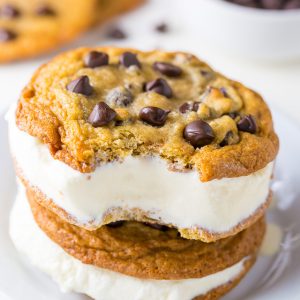 Chocolate Chip Ice Cream Sandwiches
Homemade Chocolate Chip Ice Cream Sandwiches!
Ingredients
For the butterscotch ice cream:
2 tablespoons butter, unsalted
1 cup light brown sugar, packed
1 tablespoon vanilla extract
2 cups heavy cream, divided
1 1/2 cups whole milk
1/4 teaspoon sea salt
4 large egg yolks
For the chocolate chip cookies:
1 and 3/4 cups all purpose flour
1/2 teaspoon baking soda
1/2 teaspoon baking powder
1/4 teaspoon sea salt
4 ounces (1 stick) unsalted butter, at room temperature
1/2 cup granulated sugar
1/2 cup light brown sugar, packed
1 large egg, at room temperature
1 tablespoon milk
2 teaspoons vanilla extract
1 cup semi-sweet chocolate chips
Instructions
For the butterscotch ice cream:
In a medium saucepan over medium flame, melt the butter. Add sugar and vanilla and whisk until the sugar has dissolved and the mixture is bubbling, about 3 or minutes. Add a 1/2 cup of the cream, and whisk until smooth. Remove pan from heat and allow it to cool while you make your ice cream.

Make an ice bath by filling a large bowl with ice and about 2 cups of water. Place a medium bowl fitted with a fine mesh strainer inside the ice bath. In a medium saucepan combine the milk, the remaining cream, and salt. Set saucepan over a medium flame and cook - stirring occasionally - until mixture is warm and begins to steam, about 5 minutes.

In a medium bowl whisk the egg yolks until smooth. Whisk half of the warm milk mixture into the egg yolks, one ladleful at a time, until the mixture is warm and smooth. Pour the egg/milk mixture back into the saucepan. Cook the mixture over medium heat stirring constantly with a wooden spoon, until it is thick enough to coat the back of the spoon, about 5 minutes. Be careful not to boil the mixture.

Immediately strain the mixture through the fine mesh strainer into the prepared ice bath. Add the butterscotch into the ice cream custard and stir to combine. Cool the custard in the ice bath until it's at room temperature, stirring often. Press plastic wrap against the surface of the custard and refrigerate until chilled, about 4 hours or up to a day. When ready, pour the chilled mixture into an ice cream maker and freeze according to product directions. Transfer the ice cream to an airtight container and freeze until firm, about 2 hours.
For the chocolate chip cookies:
Preheat oven to 350 degrees (F). Line 2 large baking sheets with parchment paper and set aside.

In a medium sized bowl whisk together flour, baking soda, baking powder, and sea salt. In a large bowl beat butter and sugar together until light and fluffy, about 2 minutes. Add egg, milk, and vanilla and beat until smooth. Gradually add the flour mixture and stir until combined. Fold in chocolate chips.

Drop 2 tablespoon - sized balls of cookie dough onto prepared baking sheets, flatten the tops slightly with your palm, and bake for 10-12 minutes. Let cool on baking sheet for 5 minutes before transferring to a cooling rack to cool completely. Freeze the cookies until frozen, at least an hour. Cookies can be stored in an airtight container in the freezer for up to a month.
Assembly:
Top one cookie with a scoop of ice cream. Place another cookie on top of the ice cream and gently press down to form a sandwich. Roll the edges in chocolate chips and immediately place the sandwich in the freezer. Freeze for at least 2 hours before serving.