Everyday Chocolate Chip Cookies are thick, chewy, and LOADED with chocolate in every bite!!!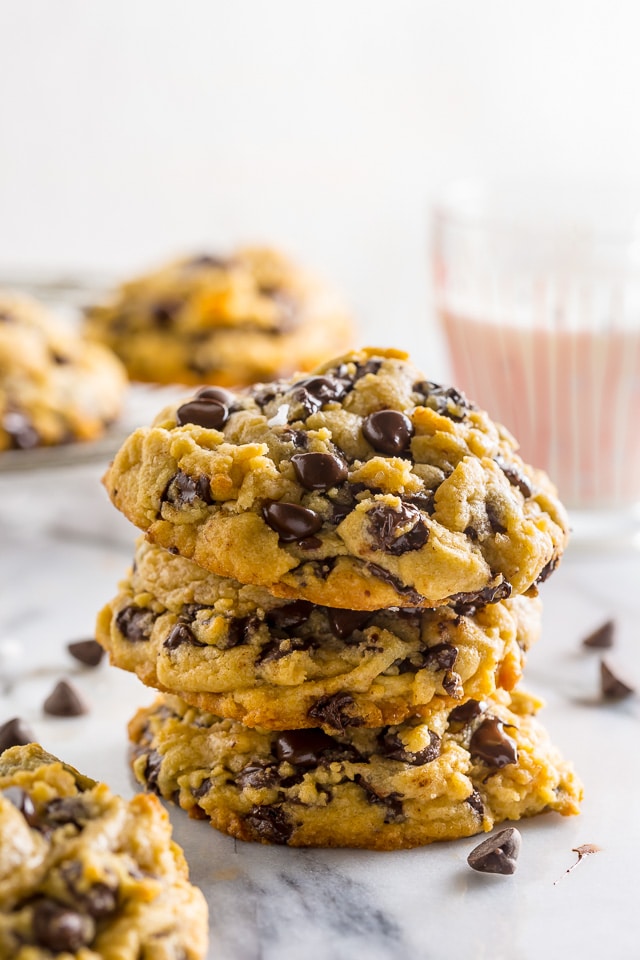 For a while now I've been on the hunt for the perfect everyday chocolate chip cookie. Not so much a cookie that should be eaten everyday – although that would be sweet – but more of an everyday chocolate chip cookie that appeals to a fearless baker as much as it does to a quite terrified one. A chocolate chip cookie that my picky pants toddler of a niece will devour as quickly as my bosses fancy friends. A cookie that doesn't need days on days parked in the fridge trying to develop personality and charm. Not that there's anything wrong with that. Ya know, it's just sometimes I want a cookie, and I want it NOW.
I'm sure you know that feeling… right?

MY RECENT VIDEOS
I've been toying with my family recipe for a few weeks now, and finally – after many very good but not quite perfect trial batches – I found the one! I totally want to eat these every day. And maybe I have been… Can you blame me?!
They're thick! They're chewy! They're oozing with chocolate! Did I mention the crispy edges and gooey centers? Ooooooh, and the daintiest hint of sea salt that gives enough pop for developed palates but doesn't freak out toddlers!? Yeah. It's all there.
Tips and Tricks for Recipe Success:
If you've never browned butter before, don't worry, my friend! It's SO darn easy. You'll need a saute pan, some butter, and a touch of patience – that's it! You'll start off melting the butter; once the butter has completely melted, you'll continue to cook the butter, on medium heat (or medium-low if your stove top runs hot), until it's turned a golden brown and smells slightly nutty. Just be sure you stay stove side once the butter has melted; brown butter can turn into burnt butter very fast.
You will need to bring your browned butter back to room temperature before incorporating it into this recipe. To do this, simply pour the butter into a heatproof bowl and place it in the fridge for about 1 hour. You want it solid, but soft enough that when you gently press it with your finger it leaves an indentation. Be sure your butter is at the proper temperature before you begin baking. If it's too warm, your cookies will spread all over the pan 🙁
Don't over bake! Your chocolate chip cookies should be set at the edges, but still quite soft in the center.
Be sure to allow the chocolate chip cookies to cool on the baking sheet for a full 10 minutes before transferring them to a cooling rack. They need the 10 minutes to firm up so they don't fall apart as your transfer them.
If you'd like your chocolate chip cookies to look like the ones you see in my photos, simply press a few chocolate chips on top of each cookie right after they come out of the oven. You can also sprinkle them with sea salt! I love Maldon sea salt because it's flaky and delish.
We brought these chocolate chip cookies to our beach house a few weeks ago and the kids (and adults!) finished them in a matter of hours. These chocolate chip cookies are teenager, toddler, and mother-in-law approved… and that is, well, that's saying a lot!
Everyday Chocolate Chip Cookies
Yield 2 dozen cookies
The VERY BEST Chocolate Chip Cookie Recipe!
Ingredients
14 tablespoons salted butter
2 and 1/3 cups all-purpose flour
1 teaspoon baking soda
1/2 teaspoon flaky sea salt
1 cup + 2 tablespoons dark brown sugar, packed
1/2 cup granulated sugar
2 teaspoons vanilla
2 large eggs, at room temperature
1 cup milk chocolate chips
1 cup dark chocolate chips
1/2 cup bittersweet chocolate chips
Instructions
Place the butter in a small sauce pan over medium-high heat and cook for about 2 minutes - stirring almost constantly - until the butter has completely melted and lightly browned. Remove from heat and scrape butter (and any brown specks) into a heatproof bowl. Place the bowl in the refrigerator and bring the butter back to room temperature; this will take about an hour to an hour and a half.  
Once the butter is at room temperature...
Preheat oven to 375 degrees (F). Line 2 large baking sheets with parchment paper and set aside.
In a medium sized bowl whisk together the flour, baking soda, and sea salt; set aside.
In the bowl of a stand mixer fitted with the paddle attachment, add the chilled brown butter and both sugars; beat on medium speed for about 2 minutes, or until light and fluffy. Add in the vanilla and beat smooth. Add the eggs, one at a time, beating well after each addition. Turn the mixer off.
Gently fold in the flour mixture with a wooden spoon, stirring only until the flour begins to disappear. Fold in chocolate chips.
Roll 3 tablespoon sized balls of dough between your palms to form a ball (they should be big; almost a 1/4 cup), then place on prepared sheet (make sure to leave enough room in between each cookie for inevitable spreading). Continue this process until all the dough has been rolled. Place baking sheets in preheated oven - one at a time - and bake for 10 to 11 minutes, or until golden at the edges but still soft in the middle. Let cookies cool for 10 minutes on the sheet before transferring to a wire wrack to cool completely.
Courses Dessert
Cuisine Cookies