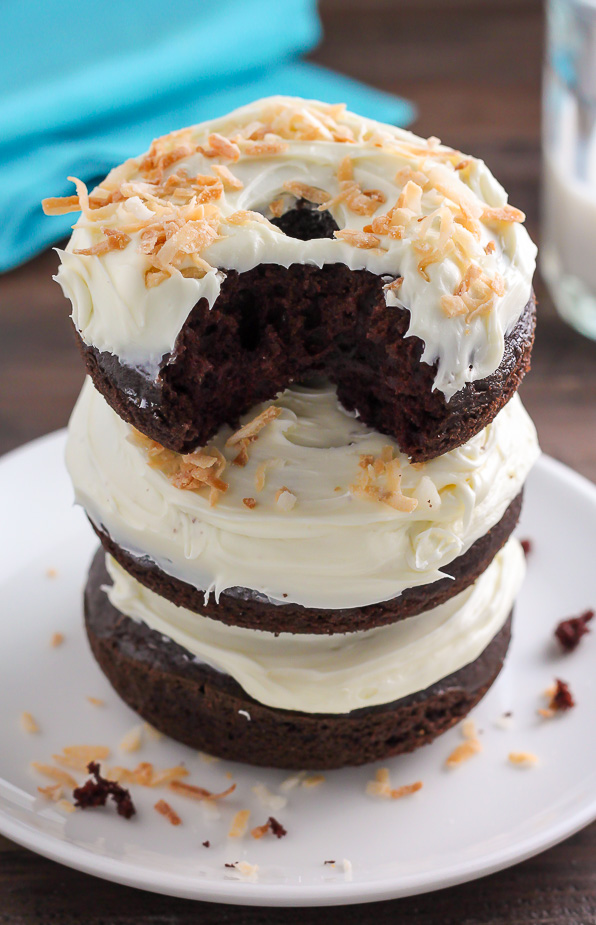 Would you take a look at these beauties? Decadently rich chocolate cake donuts topped with a swirl of coconut cream cheese frosting and a delicate pop of toasted coconut flakes. This s-u-p-e-r easy 20-minute recipe is a hurried bakers DREAM come true.
Good afternoon! And happy Thursday to ya.
You remember how waaaay back in January I declared it my mission to make this year THE YEAR of the the baked donut? Well, today that mission continues with these Chocolate Coconut Cream Donuts. Soft and fluffy chocolate coconut donuts + rich and creamy coconut frosting + just a sprinkle of crunchy shredded coconut = a little piece of heaven.
When it comes to quick and easy dessert recipes, baked donuts are top banana. We're talking 5 minutes to assemble, 10 minutes to bake, and 3 minutes to devour-them-all.
The chocolate donut batter comes together SO fast! You'll simply combine the dry ingredients in one bowl (flour, sugar, salt, and baking powder); whisk together the wet ingredients in another bowl (coconut milk, coconut oil, an egg, vanilla extract, and coconut extract) ; then combine both bowls together and stir to silky smooth chocolate donut batter perfection <— it really is that simple!
Tip: If you don't have access to coconut oil, you may use melted butter in its place 😉
As the donuts bake, you can make your coconut cream frosting. To do this you'll want to beat the cream cheese and butter until smooth, then add in the coconut extract, vanilla extract, coconut milk, and confectioners' sugar. You'll want to make sure your butter and cream cheese are very soft before beating them, so remember to take them out of the fridge ahead of time.
While the donuts cool, toast your coconut! To do this you'll simply scatter some shredded coconut on a baking sheet and pop it in the oven for 4-5 minutes. Be sure to keep an eye here as coconut goes from toasted to burnt VERY fast.


Slather each donut with cream cheese frosting, top with coconut, and enjoy! This recipe makes 6 donuts, so be sure to double – or triple – as needed. They sure do go FAST 😉
Chocolate Coconut Cream Donuts
Fluffy Chocolate Coconut Donuts are topped with Coconut Cream Cheese Frosting and Toasted Coconut. Baked, not fried, these can be ready in 20 minutes!
Ingredients
For the Chocolate Coconut Donuts:
1 cup all purpose flour
1/2 cup granulated sugar
1/2 teaspoon salt
1/4 cup cocoa powder
1 teaspoon baking powder
1 teaspoon vanilla extract
1/2 teaspoon coconut extract (optional, but adds a really nice flavor)
1 large egg, at room temperature
2 1/2 tablespoons coconut oil (or unsalted butter), melted
1/2 cup coconut milk (regular cow's milk will work fine)
For the Coconut Cream Cheese Frosting:
3 ounces cream cheese, VERY soft
3 tablespoons unsalted butter, VERY soft
1 teaspoon pure vanilla extract
1/4 teaspoon coconut extract
1 and 1/2 cups confectioners' sugar, sifted
1-2 tablespoons coconut milk
1 cup shredded coconut, toasted, for decorating
Instructions
For the Chocolate Coconut Donuts:
Preheat oven to 350 degrees (F).

Lightly grease a donut pan; set aside.

In a large bowl whisk together the dry ingredients. In a separate bowl whisk together the wet ingredients, then gently pour them into the dry ones. Fold ingredients together until just combined.

Spoon mixture into prepared doughnut pan, and bake for 10-11 minutes, or until the doughnuts spring back when lightly pressed. Be careful not to over bake here!

Allow doughnuts to cool a few minutes in the pan before transferring to a doughnut pan to cool completely.
For the Coconut Cream Cheese Frosting:
In the bowl of a stand-mixer fitted with the paddle attachment, or in a large bowl using an electric handheld mixer, beat the cream cheese, butter, vanilla and coconut extracts on medium-high speed until completely smooth; about 2 minutes. Reduce the speed to low and gradually add the sifted confectioners' sugar. Add in the coconut milk. Once the milk is combined beat frosting on high-speed for 1-2 minutes.
To Toast the Coconut:
Preheat the oven to 350 degrees. Spread coconut out in a single layer on a small baking sheet. Bake for 4-5 minutes, or until lightly golden brown. Cool before using.
Assembly:
Spread the frosting on top of each cooled donut then sprinkle with a few teaspoons of toasted coconut. Serve at once!