Homemade Coconut Cream Pie is rich, decadent and worth every dang calorie!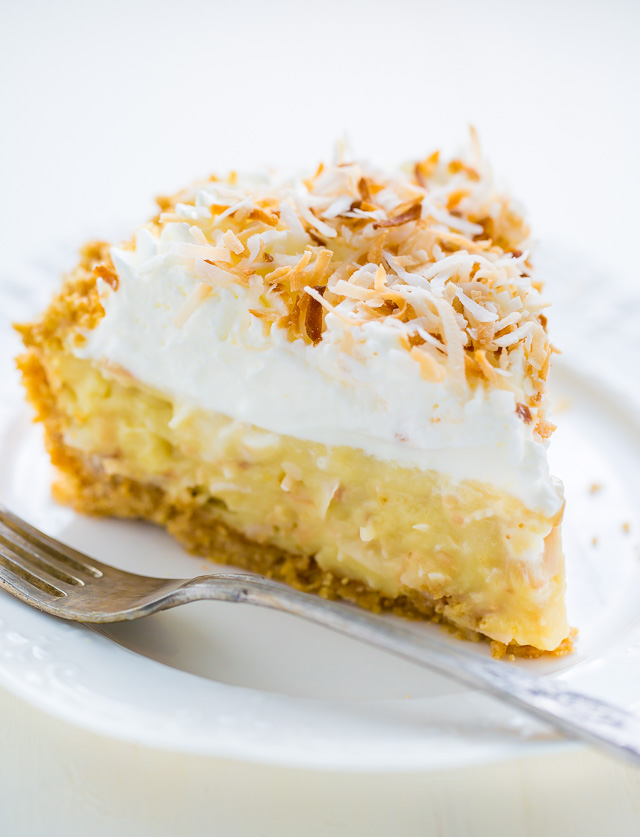 Homemade Coconut Cream Pie Recipe
This is the kind of pie you serve to people you really love. It's the kind of pie you savor… and eat slowly… the kind of pie you might even close your eyes to enjoy. It's the kind of pie that floods you with pleasure… brings memories rushing back… and comforts the soul with just one little bite. This, my friend, is my favorite coconut cream pie.
Won't you sit and have a slice? ♥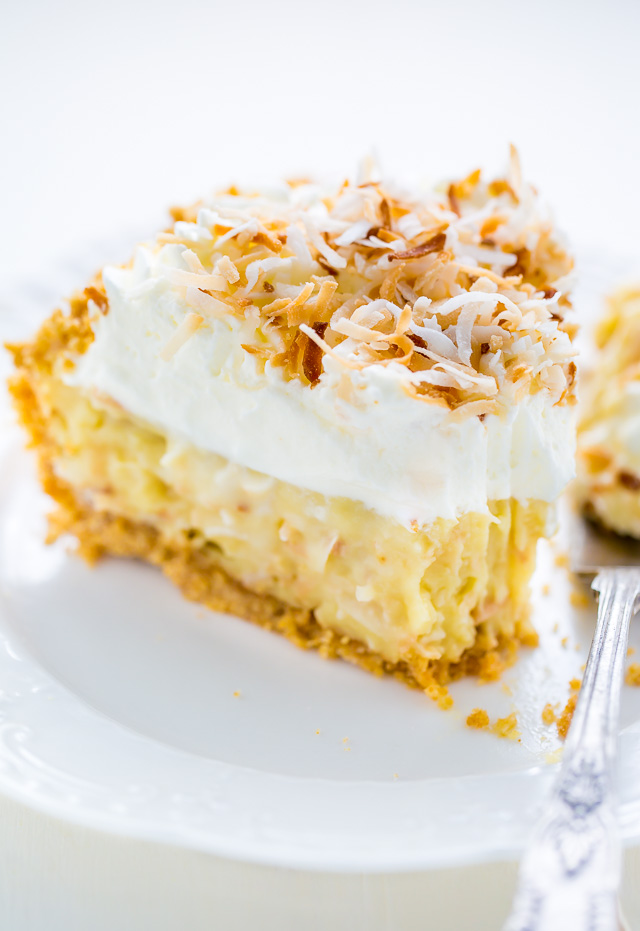 Strangely, this coconut cream pie was inspired by… coconut body butter. Yup. I'm not even kidding. Last week I was digging around my best friends beauty cabinet and found a round little jar of Trader Joe's butter body and decided to give it a go. All I can say is OMG. If you love coconut and have a TJ's near you, you need to try this stuff. Promise I'm not getting paid in any way to say that!!! It's just that amazing. It's rich and creamy and smells like – wait for it – COCONUT CREAM PIE. One whiff and I was hooked.
I seriously could not get home and bake this pie fast enough!!!
After a few weeks of tweaking and testing, I finally nailed down what I think is the best coconut cream pie… in the world. Or at least the best I've ever made and/or eaten. And you should know, I grew up in a house abundant with coconut cream pie!
So… what makes this pie so special? I'm glad you asked! My favorite Coconut Cream Pie is:
exploding with REAL coconut flavor thanks to coconut milk, toasted coconut, and coconut extract
melt in your mouth creamy
layered on top of a delicious graham cracker crust
better than the bakery, not to mention WAY cheaper!
made with everyday ingredients
easy and fun to make
always a crowd pleaser
and sure to be your new favorite, too!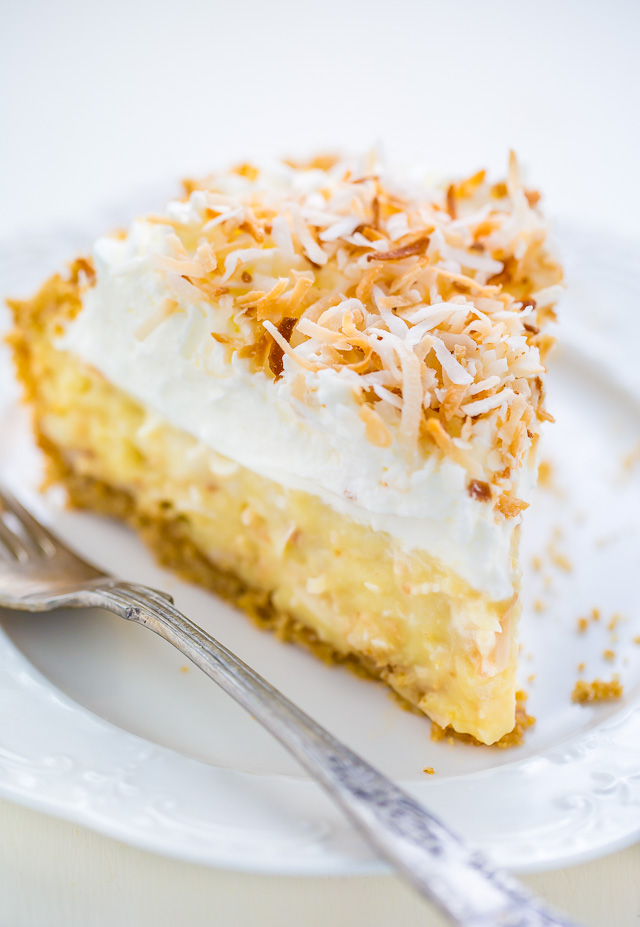 If you've never made a pie from scratch before, fret not! I've included plenty of step-by-step photos, notes, and a thorough recipe below. And as always, if you have questions, just ask in the comment section below. The most important thing to do is read through the recipe completely before you begin baking, that way you have everything you need ready to go.
Tips and Tricks for Recipe Success:
The first thing you'll make is your graham cracker crust. For this you'll need graham cracker crumbs, granulated sugar, melted butter, and a pinch of salt. You have two options for the graham cracker crumbs: buy them already crushed (in the baking aisle) or buy a box of graham crackers and pulse them into crumbs in a food processor or blender. There's no wrong way! I prefer to buy boxes the box of graham crackers and pulse them myself because I get more for my money, but if you're short on time, the graham cracker crumbs really come in handy!
Be sure to time your crust when you place it in the oven. It needs 10 minutes – no more, no less. You'll also want to cool the crust completely – on top of a wire rack – before adding the cream filling. I find it takes about 30 minutes to cool.
The coconut cream filling is made on the stove top and requires CONSTANT whisking. You'll whisk the mixture until it comes to a boil, and continue to whisk it for another few minutes after it comes to a boil. This will take about 16 minutes in total, so be ready to practice your patience and work that elbow grease 😉
You'll want to plan ahead time wise as this pie must cool completely before being topped and sliced. 4 hours minimum, however I prefer to chill mine 6 to hours, for easier slicing.
This pie may be made and kept covered in the fridge 2 days in advance, however once topped with whipped cream and sliced, it is truly best eaten within 24 hours.
So much deliciousness in this coconut cream pie! I hope you bake one soon and share it with folks you love. Enjoy!!!
If you try this recipe, let me know what you think! Leave a comment below, and don't forget to snap a pic and tag it #bakerbynature on instagram! Seeing your creations makes my day.

My Favorite Coconut Cream Pie
This is seriously the BEST Coconut Cream Pie! Rich, creamy, and so flavorful! A must try for coconut lovers!
Ingredients
For the Graham Cracker Crust:
8 tablespoons (1 stick) unsalted butter, melted
2 cups graham cracker crumbs (see post for more on this)
1/3 cup granulated sugar
1/8 teaspoon salt (kosher or fine sea salt will both work)
For the Coconut Cream Pie:
(1) 7 ounce bag sweetened shredded coconut, toasted and divided
5 large egg yolks, at room temperature
(1) 13.5 ounce can coconut milk
1 cup whole milk
1/2 cup heavy cream
3/4 cup granulated sugar
1/4 cup light brown sugar, packed
1/3 cup cornstarch
1/2 teaspoon salt
1 tablespoon vanilla extract
For the Whipped Topping:
2 cups heavy whipping cream
3 tablespoons confectioners' sugar
1/4 teaspoon vanilla extract
Instructions
For the Graham Cracker Crust:
Preheat oven to 350 degrees (F).

Melt butter in a small saucepan. In a medium-sized bowl combine melted butter, graham cracker crumbs, granulated sugar, and salt. Press mixture into a lightly greased 9" pie pan, evenly spreading the crumbs across the bottom and up the sides. Bake in preheated oven for 10 minutes. Place crust on a cooling rack to cool completely.
For the Coconut Cream Pie:
Preheat oven to 325 degrees (F). Spread shredded coconut onto a large baking sheet in a thin layer; bake in preheated oven for 8 to 10 minutes, or until lightly toasted and golden, stirring a few times to ensure even color. Remove from oven and set aside to cool.

In a large saucepan combine the egg yolks, coconut milk, whole milk, heavy cream, granulated sugar, brown sugar, cornstarch, and salt; whisk well to combine. Bring the mixture to a light boil over medium heat, whisking constantly. Once the mixture reaches a boil, reduce the heat to medium-low and, whisking constantly, cook another 2 minutes. Remove mixture from heat; whisk in vanilla extract and 1 cup of the toasted coconut. Pour into crust at once.

Smooth the top with a spatula, then cover with plastic wrap and refrigerate for 4 hours, or until cold and set.
For the Whipped Topping:
In the bowl of a stand mixer fitted with the paddle attachment, or in a large bowl using a handheld mixer, beat the cream until it begins to thicken and hold soft peaks. Add in the confectioners' sugar and vanilla and continue to beat for another minute. Spread or pipe the whipped cream over the cooled pie, and sprinkle the top with remaining toasted coconut. Slice and serve, or keep chilled - covered in the fridge - until needed.
Notes
While I find this pie is best eaten the day it is made, it will keep, stored in the fridge and covered tightly, for 3 days.