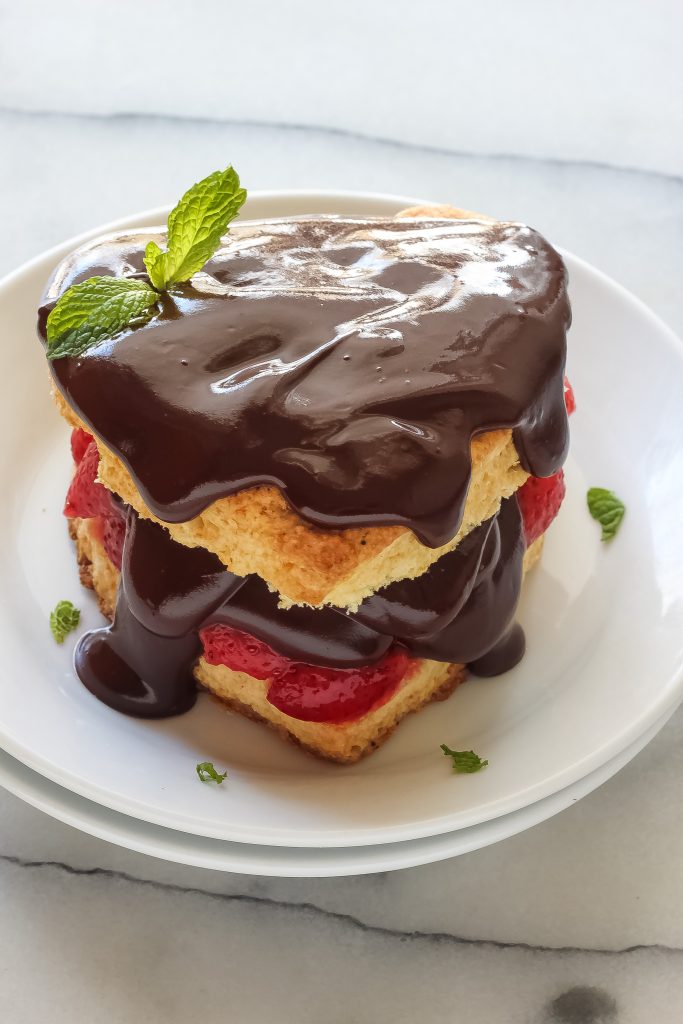 What would Valentine's Day be without chocolate and strawberries? I imagine most of you already know how to dunk a juicy plump strawberry in a bath of melted chocolate, so today we're throwing convention to the wind and turning our chocolate covered strawberries into a shortcake situation. I promise the combination will leave you (and that someone special…) completely smitten.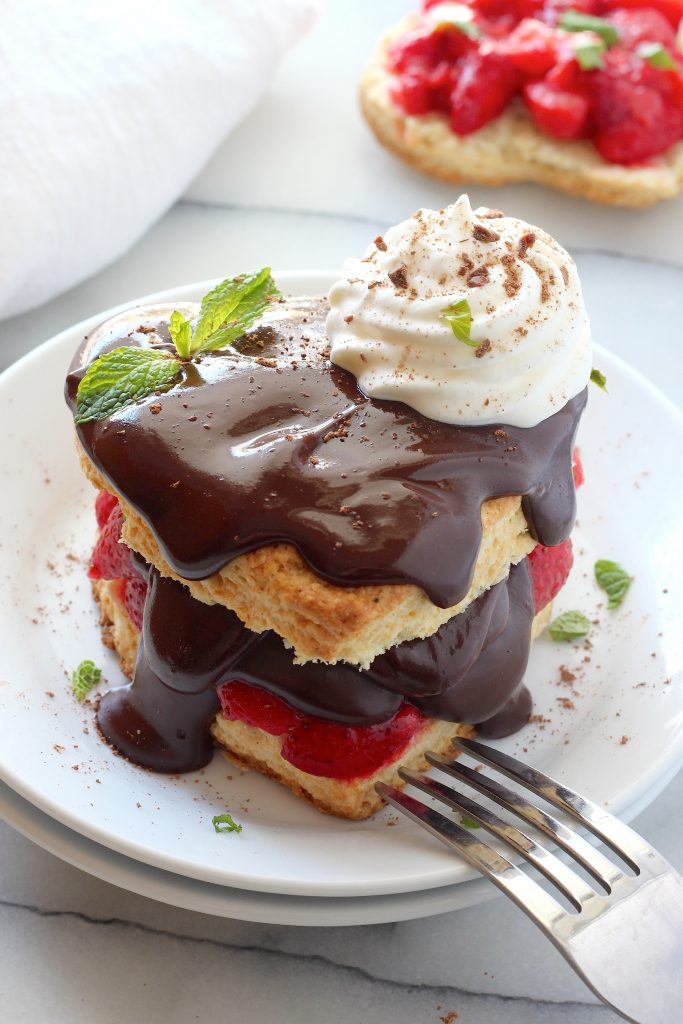 I love the smell of shortcakes rising in the oven, and I'll take pretty much any excuse to get my fix. This shortcake dough is made with simple ingredients: butter, sugar, flour, salt, baking powder, and cream. I humbly suggest splurging on a nice butter if you can swing it, since the flavor really does shine through in the finished product. I cut these shortcakes into sweet little hearts before popping them in the oven, but if you don't own a heart shaped cookie cutter, a round one will do the job just fine. Even the top of a round/sharper rimmed glass could work. Be as resourceful as you need to be 😉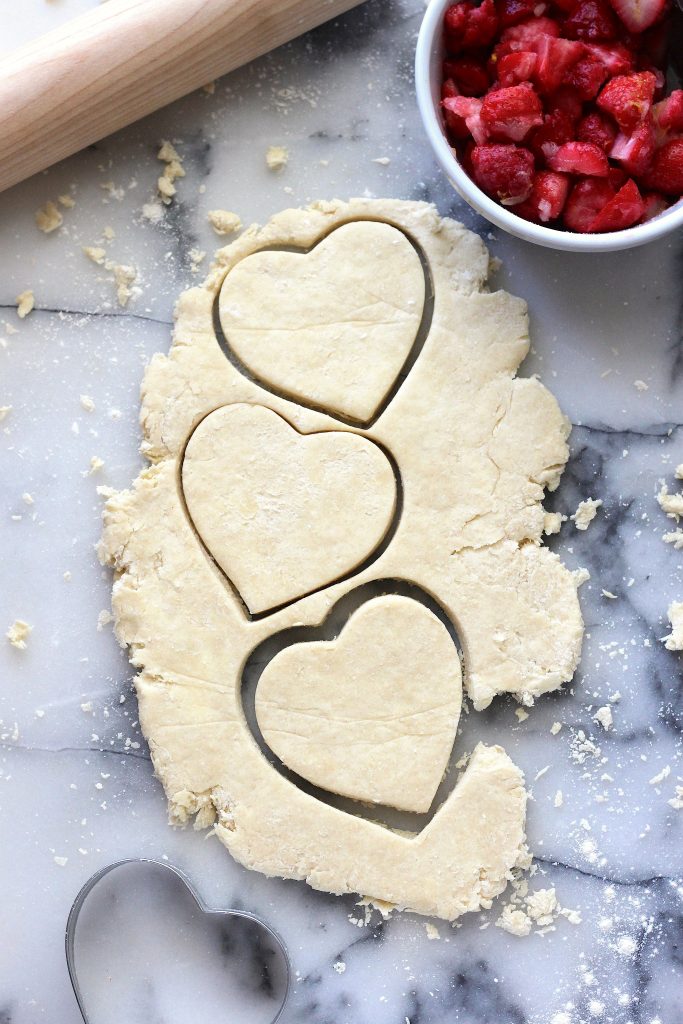 The shortcakes get popped in the oven for about 16 minutes, or until their sweet aroma has completely enveloped your home and visually they look both firm and lightly golden brown. I usually do the finger test, pressing down lightly in the center of one to ensure it springs back. If it does, it's done.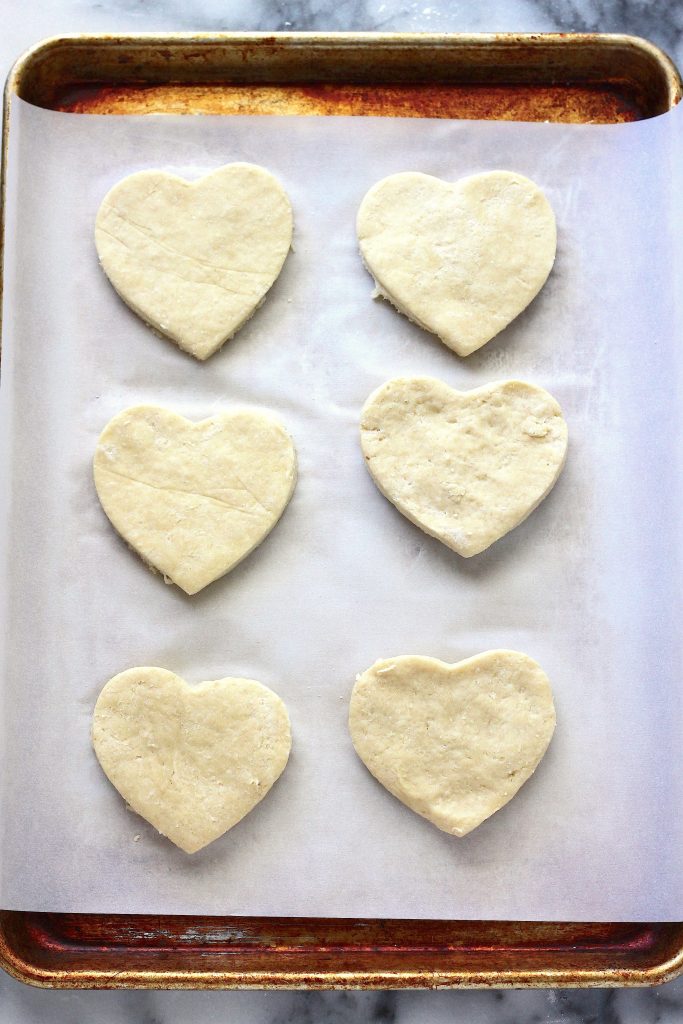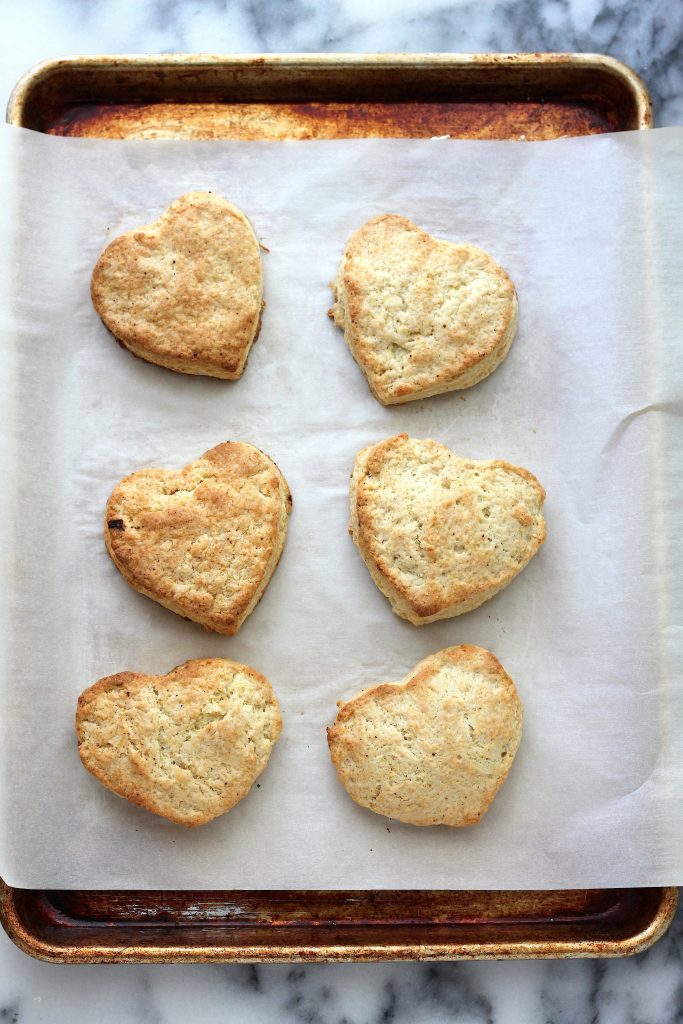 Now for the really torturous step: WAITING. Yes, you're going to have to wait about 30 minutes or so until you can slice into one of those shortcakes. They need to cool. I know it's hard, but guess what? Your next step involves chocolate. Delightful!!!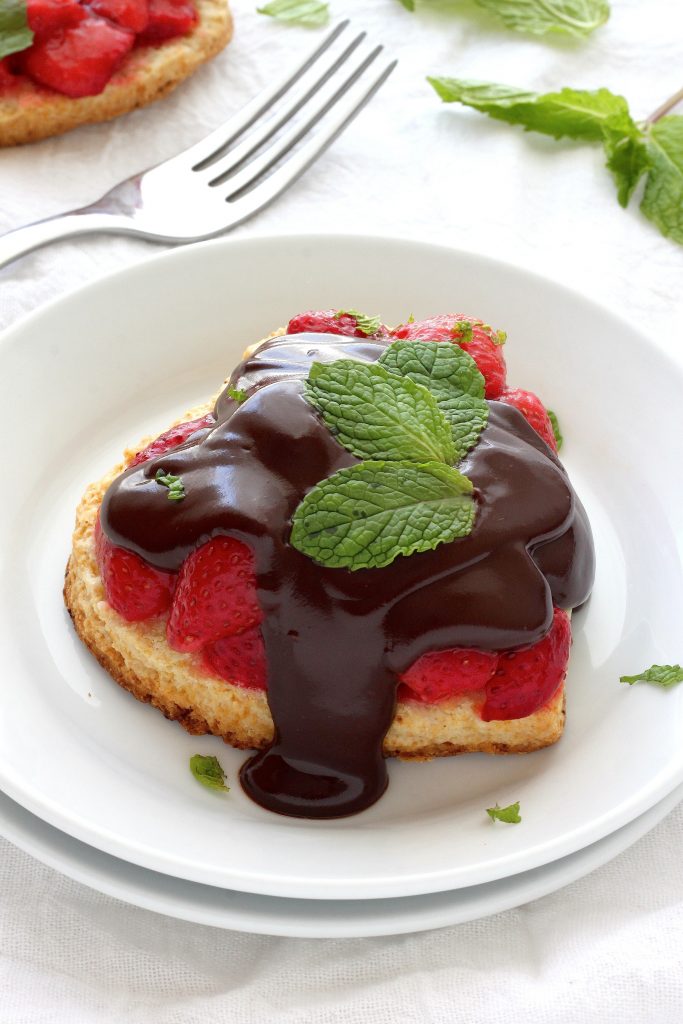 As the shortcakes get their cool on, you'll shimmy over to the stovetop and make a makeshift hot fudge sauce. For this adventure you'll need chocolate (I used Ghirardelli 60% Cacao Baking Chips – they have an amazing taste AND texture), sweetened condensed milk, butter, salt, and a splash of vanilla. You'll simply simmer those ingredients for a few minutes before you know it POOF – you've just made hot fudge!!! I highly encourage dipping a strawberry straight in the pan… you know, for taste testing purposes 😉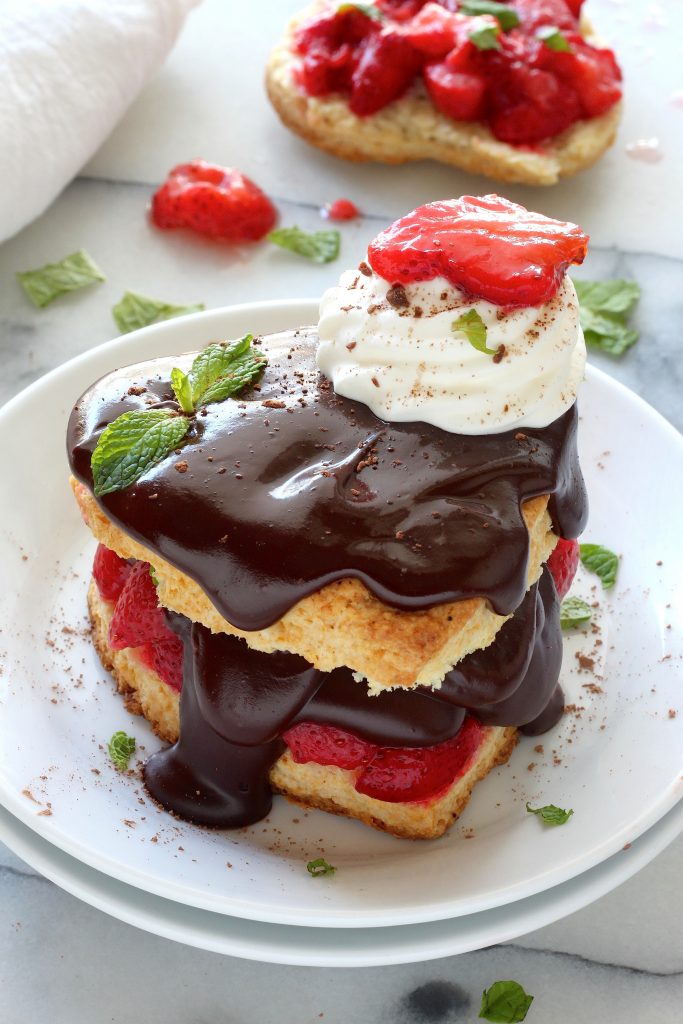 Ok. So we've made our shortcakes and our hot fudge, so all we have left is strawberries and whipped cream!
For the strawberries I'm giving you two options. Option number one is for all my friends who like things sweet, but not so sweet.
Option #1 – Simply slice the strawberries right before plating and use them as called for in the recipe. I recommend this option if you can find plump, naturally sweet berries (not so easy this time of year…) or if you're looking to cut sugar.
Option number two is what you'll find in the recipe below, as well as how I make it 99.9% of the time.
Option #2 – Slice the berries and place them in a large clean bowl. Toss in 1/4 cup of granulated sugar, 2 tablespoons of lemon juice, and a splash of vanilla. Set aside for 20 minutes – this allows them to get all juicy and saucy and wonderful.
I don't recommend making the strawberries too much earlier in the day, as they can get really soft after sitting around… and no one wants strawberry mush on their shortcake.
Once your biscuits have cooled, your hot fudge has cooked, and your strawberries have soaked, you're ready to make your whipped cream. Making whipped cream at home could not be easier! You'll simply place the (very cold) whipping cream in a large bowl or the body of a standmixer and beat on medium-high (using a handheld electric whisk or the whisk attachment) until soft peaks form. I like to add in a little vanilla and confectioners' sugar right at the end. This adds a very subtle sweetness, which is what we want since the dessert is already quite sweet. I don't recommend adding more than 2 tablespoons of confectioners' sugar; I find one tablespoon usually does the job for my tastes.
Alright, so let's talk assembly and presentation. To assemble this gorgeous dessert you're simply going to slice the shortcake in half (careful here; they're delicate!) and add hot fudge and strawberries to the center; then you'll top with the other biscuit half; and top that with more hot fudge and whipped cream. Surprisingly simple… and you can cover up any boo-boos with extra hot fudge sauce.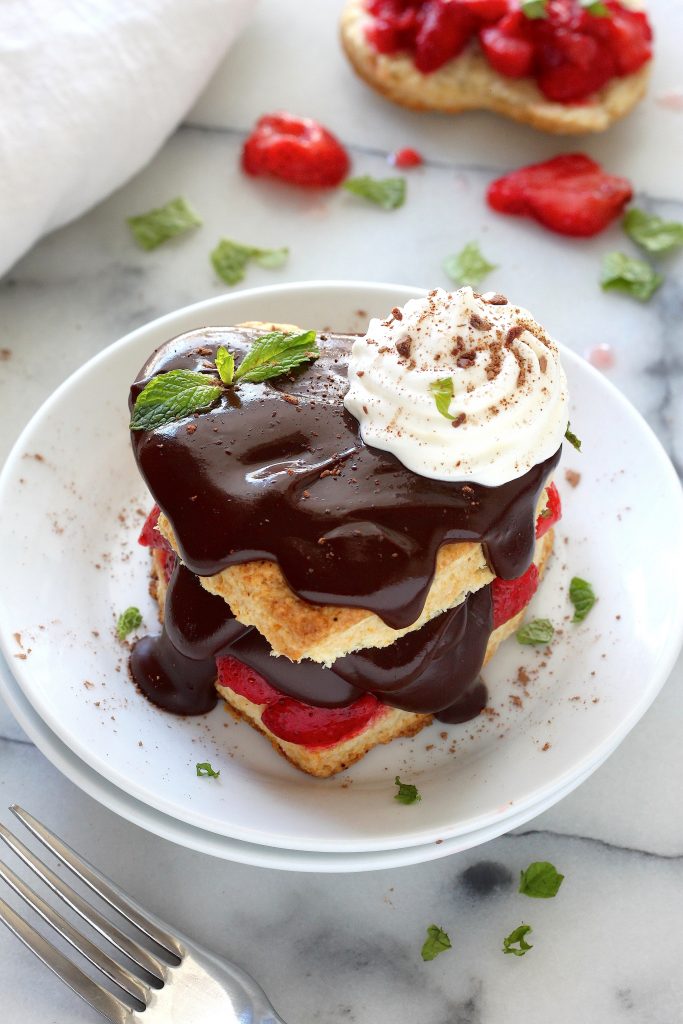 To make your presentation extra pretty, why not add a few sprigs of fresh mint? I love the vibrant color pop it adds to the dish visually, but it's also really delicious if you're a fan of the whole chocolate/mint thing.
Lastly, I topped my chocolate covered strawberry shortcake with a Ghirardelli Valentine's Day Impressions Chocolate Candy, which I found just too cute to pass on! I'll take chocolate conversation hearts over those artificially colored candy ones any day!
I will see you very soon with a few more recipes to woo your loved ones with! I hope Wednesday takes it easy on you and you find beauty in the day. I'm off to find hope and beauty in my second cup of coffee… NEED! xoxo.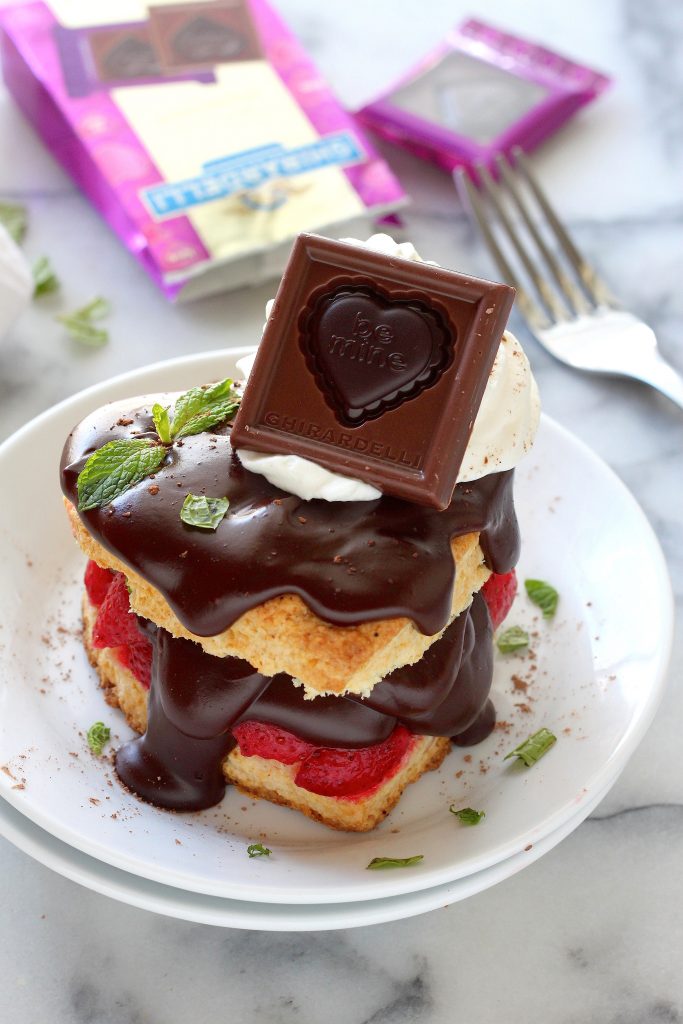 Chocolate Covered Strawberry Shortcakes
Chocolate covered strawberry shortcakes are simple to make and so impressive!
Ingredients
For the Shortcakes:
2 cups all-purpose flour
1 tablespoon baking powder
1/2 teaspoon salt
3 tablespoons sugar
4 tablespoons VERY cold unsalted butter (1/2 stick), cut into tiny pieces
1 cups VERY COLD heavy cream
1 teaspoon vanilla
For the Hot Fudge Sauce:
4 tablespoons Unsalted Butter (1/2 stick), cut into pieces
1 cup Ghirardelli 60% Cacao Premium Chocolate Baking Chips
1 can (14 oz) Sweetened Condensed Milk
1/2 teaspoon salt
1/2 teaspoon vanilla extract
For the Strawberries:
2 pounds fresh strawberries, rinsed, hulled, and quartered
1/4 cup granulated sugar
2 teaspoons finely grated lemon zest
2 tablespoons freshly squeezed lemon juice (from about 1 large lemon)
1/2 teaspoons vanilla extract
1/4 teaspoon salt
For the Whipped Cream:
2 cups VERY cold heavy whipping cream
1-2 tablespoons confectioners' sugar
1/2 teaspoon vanilla extract
Garnish:
Fresh mint leaves
Ghirardelli Valentine's Day Impressions Chocolates
Instructions
For the Shortcakes:
Preheat the oven to 425°(F). Line a large baking sheet with parchment paper; set aside.

In a large bowl combine the flour, baking powder, salt, and sugar; using a whisk stir the ingredients together until well combined.

Add the tiny butter pieces and - working quickly - work the butter into the dry ingredients with your finger tips until it's almost completely incorporated. Drizzle in the cream and mix with your hands until the dough just comes together. It will be shaggy.

Turn the dough out onto a clean surface and gently knead any loose pieces together with your hands. Pat the dough into a rectangle and, using a rolling pin, roll it out until it's about 1 inch thick. Using a heart shaped or round biscuit cutter (3-4 inches), cut out as many shortcakes as possible; I usually get 3 out of the first roll.

Re-roll the dough scraps and continue cutting out the dough until you have a total of 6 shortcakes.

Place the shortcakes on the prepared baking sheet and bake until they are puffed and golden brown; about 16 minutes. Transfer warm shortcakes to a cooling wrack to cool completely.
For the Hot Fudge Sauce:
Melt the butter in a medium-sized sauce pan over medium heat. Once the butter is completely melted, stir in the chocolate baking chips; stir until completely melted.

Add the Sweetened Condensed Milk; whisk well to combine.

Continue whisking and cooking until the sauce is silky and smooth. Set aside until needed.

Store any leftovers in the refrigerator.
For the Strawberries:
In a large bowl combine the quartered strawberries, sugar, lemon zest, lemon juice, vanilla, and salt; stir well until the strawberries are completely coated; set aside for at least 20 minutes - up to one hour.
For the Whipped Cream:
Place cold whipping cream in a large bowl or the body of a stand mixer fitted with the whisk attachment. On medium-high speed beat the cream until soft peaks form. Add in sugar and vanilla and continue beating until medium-stiff peaks form; about 3-4 minutes in total.
Assembly:
Slice a shortcake in half. Place 2 tablespoons of hot fudge and a scant cup of strawberries in the center; top with the other side of the shortcake. Pour another 2 tablespoons of hot fudge on top of the shortcake, then add a dollop of whipped cream, and any garnishes using. Repeat as needed and serve at once!
Notes
*You may substitute the sweetened strawberries with plain quartered strawberries if you want a less sweet dessert.


I was selected for this opportunity as a member of Clever Girls and the content and opinions expressed here are all my own.