[adthrive-in-post-video-player video-id="rBW2vwEt" upload-date="2021-04-12T19:46:17.000Z" name="Italian Tiramisu for a Crowd" description="This Classic Italian Tiramisu for a Crowd is always a hit! Made with a creamy mascarpone mixture, coffee soaked ladyfingers, and a dusting of dark cocoa powder, this is heaven in a baking dish! No raw eggs in this recipe!" player-type="default" override-embed="default"]
This Classic Italian Tiramisu for a Crowd is always a hit! Made with a creamy mascarpone mixture, coffee soaked ladyfingers, and a dusting of dark cocoa powder, this is heaven in a baking dish! No raw eggs in this recipe!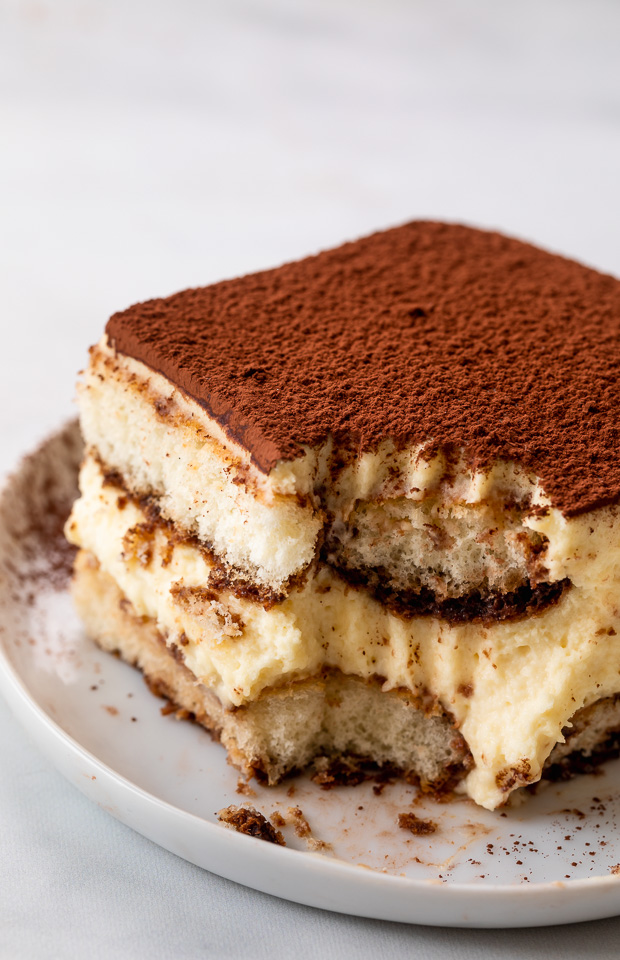 Tiramisu Recipe
Welcome to the last week of chocolate month! But don't let that news get you down… because we still have 4 brand new chocolate recipes coming this week!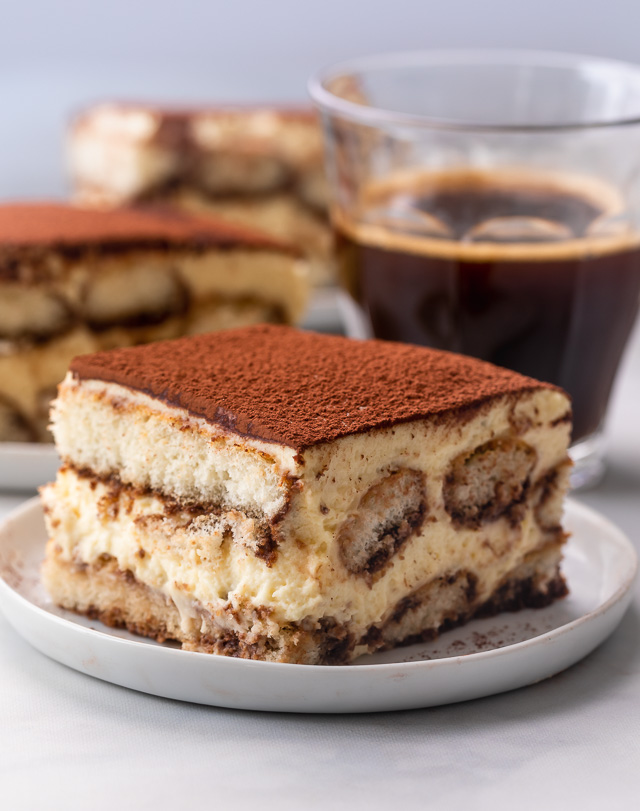 Starting with today's new recipe for Italian tiramisu! It's rich, creamy, and serves a crowd! It's my take on the traditional Italian tiramisu I grew up eating! It features a super rich and creamy mascarpone filling, chocolate and coffee soaked lady fingers, and that classic dusting of cocoa powder. I like to use dutch-process cocoa powder here, because it's less bitter and intensely dark. But if all you can find is unsweetened cocoa, it'll work OK.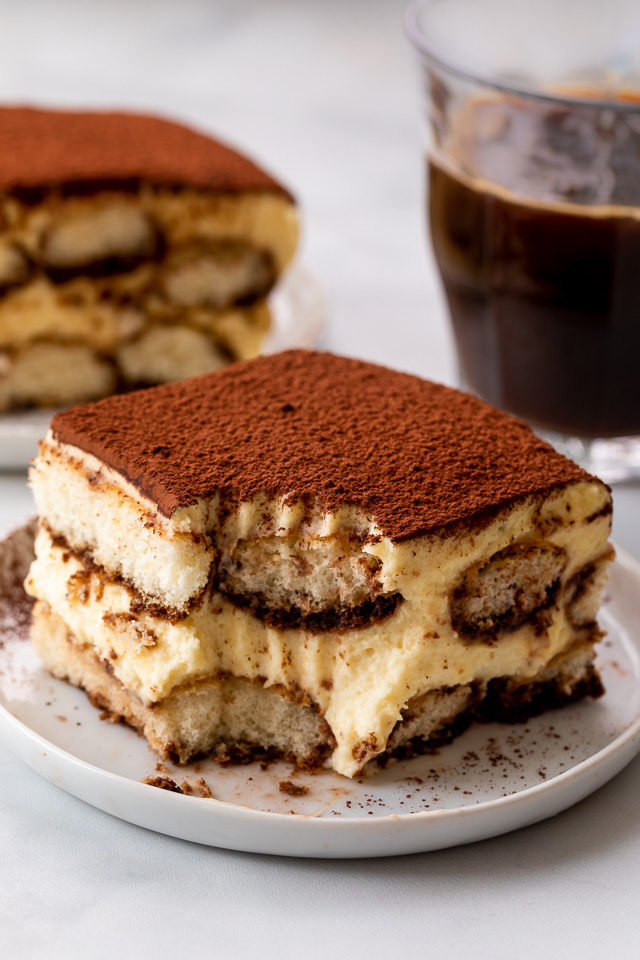 I went back and forth debating if this recipe had enough chocolate in it to be included in chocolate month. And in the end, decided YES! Because there's melted chocolate and cocoa powder in the coffee mixture. And then more cocoa powder on top!
Plus, I figured it would be a nice break for my readers who aren't hardcore chocolate fanatics!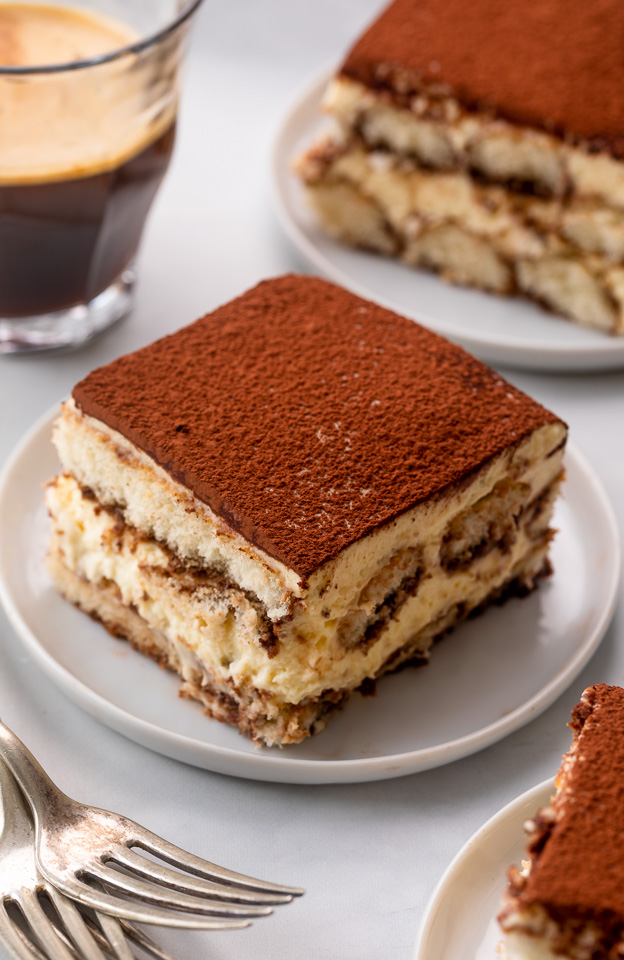 But mainly, I decided yes because I didn't want to keep this recipe from you any longer! I've made a version of this recipe for years, but finally perfected it on February 6, 2021! Yes, it's so good I actually marked it down on my calendar! And I've made it 3 time since that date!
Suffice it to say, it's already a family favorite. And I have a feeling you're going to love it as much as we do!
How to Make Tiramisu
Making tiramisu is a little time consuming, but it's not really hard at all! But since there are several steps, I've added lots of process steps below! Most of the ingredients are easily available at your chain or specialty grocery stores, but I've added links for the ones you can order online. One thing I will say is that there's very little wiggle room for subbing ingredients. You really need to use mascarpone cheese and I don't have a sub recommendation. Same goes with lady fingers, you need to use them and they need to be of the hard variety. Finally, the egg yolks. You'll use almost a dozen and I do not have en egg replacement option for this recipe.
So without further ado, let's make tiramisu!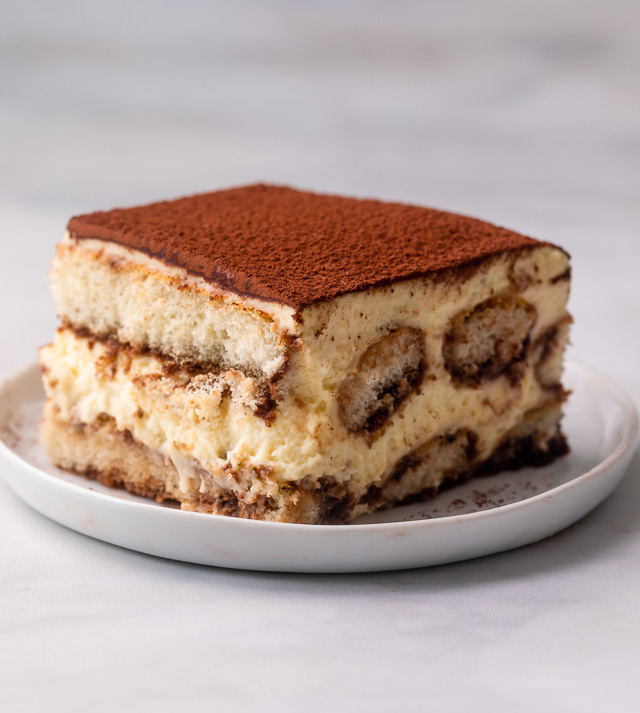 Make the Mascarpone Cream Filling
For this first step is to cream tother the egg yolks and sugar! 9 egg yolks to be exact! I know, it's a lot of saturated fat. But this isn't diet food lol!
Be sure to use a heatproof glass bowl that will fit snugly on top of a pot! Because the next step is placing the creamed egg/sugar mixture on top of a pot of simmer water. Essentially, you're making a makeshift double boiler! Be sure the water is simmering and is not touching the bottom of the bowl!
Next you're going to pour in your amaretto and cook, whisking basically constantly, until the mixture thickens! I'm not gonna lie, this takes about 10 minutes. So be patient here!
Finally, remove the bowl (carefully!) from the pot and mix in the mascarpone cheese! Add it slowly, about a 1/2 cup at a time. And make sure you whisk until it's completely smooth! Set aside to come to room temperature as you make your whipped cream!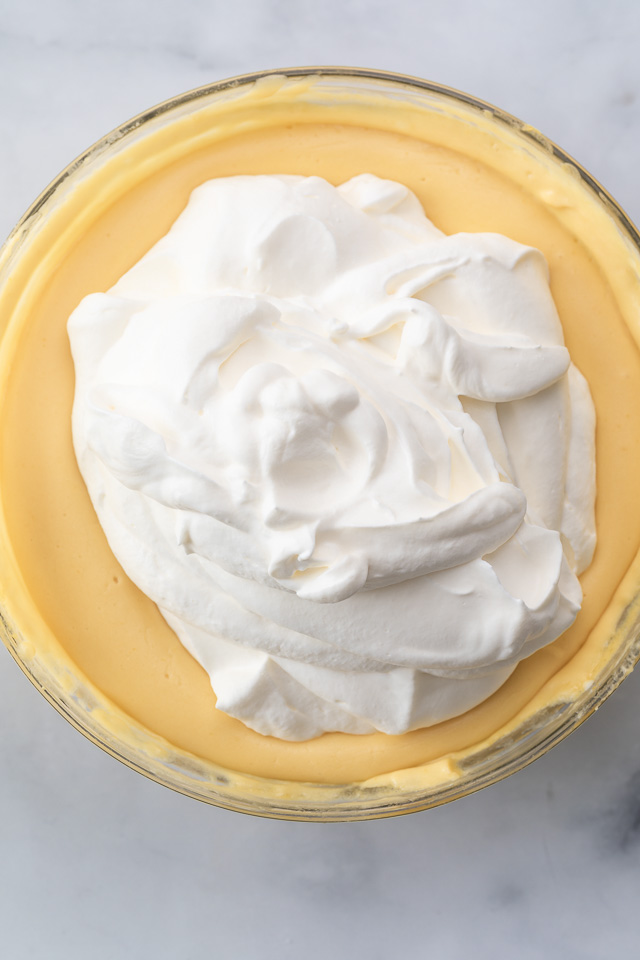 Make the Whipped Cream
Unlike many traditional tiramisu recipes that call for egg whites, my recipes uses only heavy cream and confectioners' sugar! You'll need an electric hand mixer or stand mixer for this part. Just pour the heavy cream into a large bowl and beat until medium-stiff peaks form. You want them just a little more structures than soft peaks, so that the cream holds its shape and doesn't flow everywhere when you cut into the tiramisu.
You'll then fold this whipped cream mixture into the cooled mascarpone mixture. It should look lightly yellow and super smooth and creamy!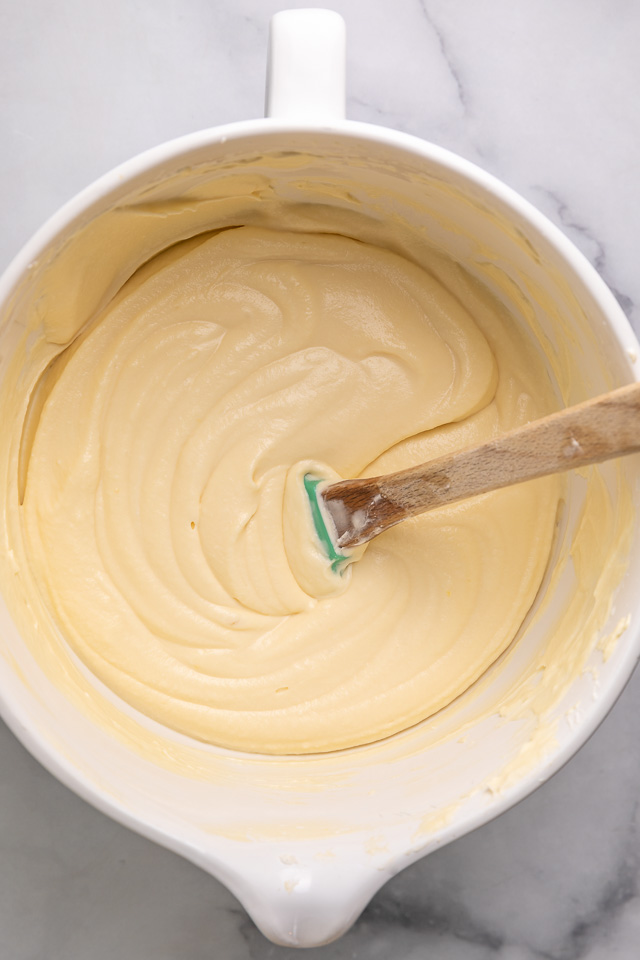 Dip the Ladyfingers
You're going to make a strong pot of coffee! Then pour the hot coffee into a large bowl. Add in the chocolate and cocoa powder and mix until smooth. Finally, fold in the vanilla extract and Kahlua! If you don't have Kahlua, you may omit or use dark rum, brandy, or even another coffee liqueur.
Next, grab your lady fingers. Make sure they are HARD lady fingers. Soft will not work for this recipe! They'll get way too soft and mushy. You can find lady fingers in most grocery stores, but you can also order them online here.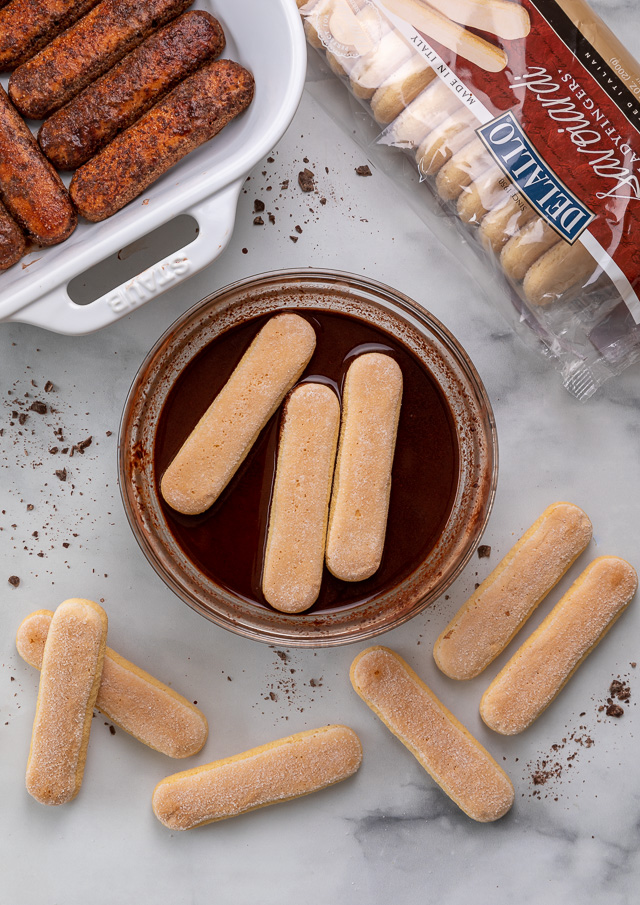 Quickly dip each ladyfinger into the coffee mixture, being sure not to let them get too saturated with liquid. They'll soften on their own as the tiramisu sets.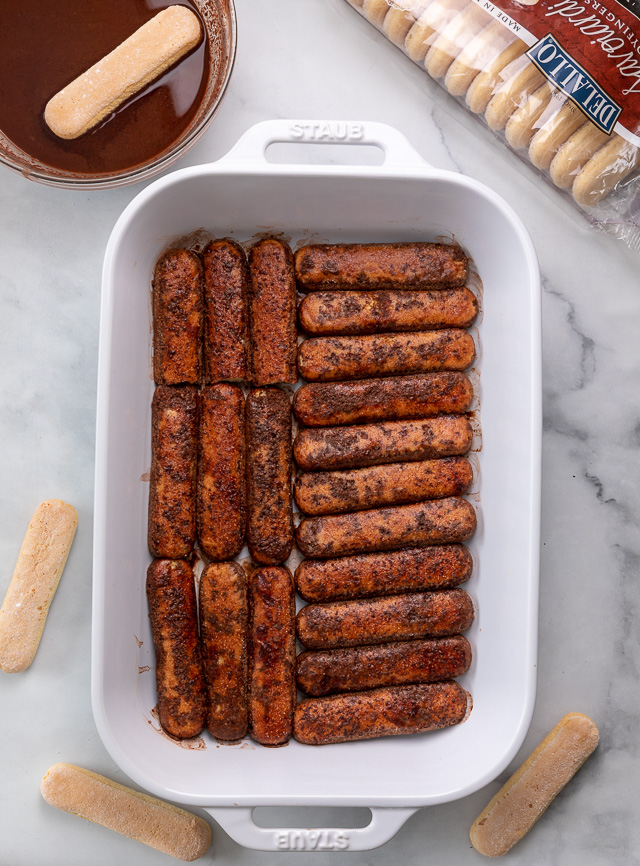 Assemble the Tiramisu
Arrange half of the coffee soaked lady fingers on the bottom of a 9×13 dish. Then spread half of the mascarpone cream cheese mixture on top of the lady fingers.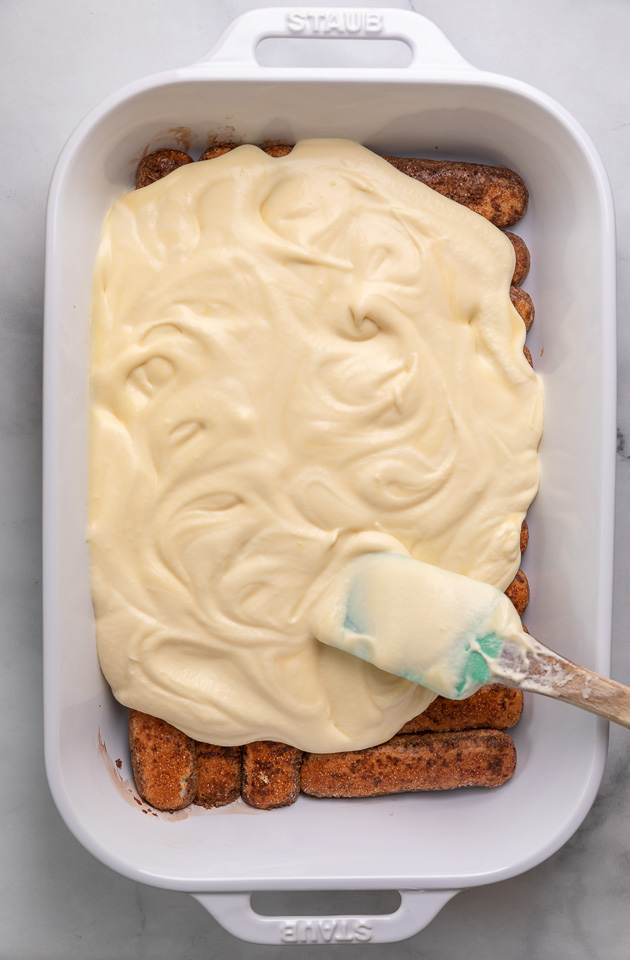 Evenly spread the cream smooth with a spatula so that the lady fingers are evenly covered. Then start the process again!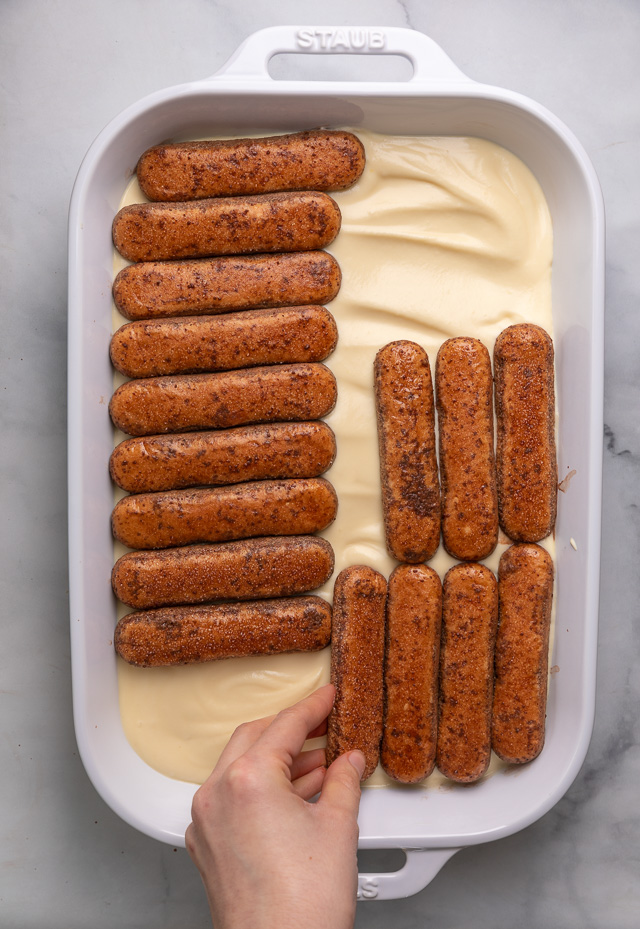 Top the cream with a second layer of dipped ladyfingers, and then top with the remaining mascarpone cream.
Chill the Tiramisu
The final step is definitely the hardest! You need to chill, in the refrigerator, for 4 hours, or overnight! Personally, I prefer this recipe once it's chilled for 8 to 12 hours, so you can definitely make it ahead of time. I think it's best served within 24 hours of making.
How to Slice Tiramisu
When it comes time to slice into your gorgeous tiramisu, don't be afraid to just stick the knife in and SLICE! That said, I know neat and tidy squares look the prettiest, so I suggest cutting small pieces and wiping the knife between every slice. You can also pop the tiramisu in the freezer for like 5 minutes, which helps the cream set up just a little bit. But this really isn't necessary! Just an option if you're little OCD like me and like very clean cuts!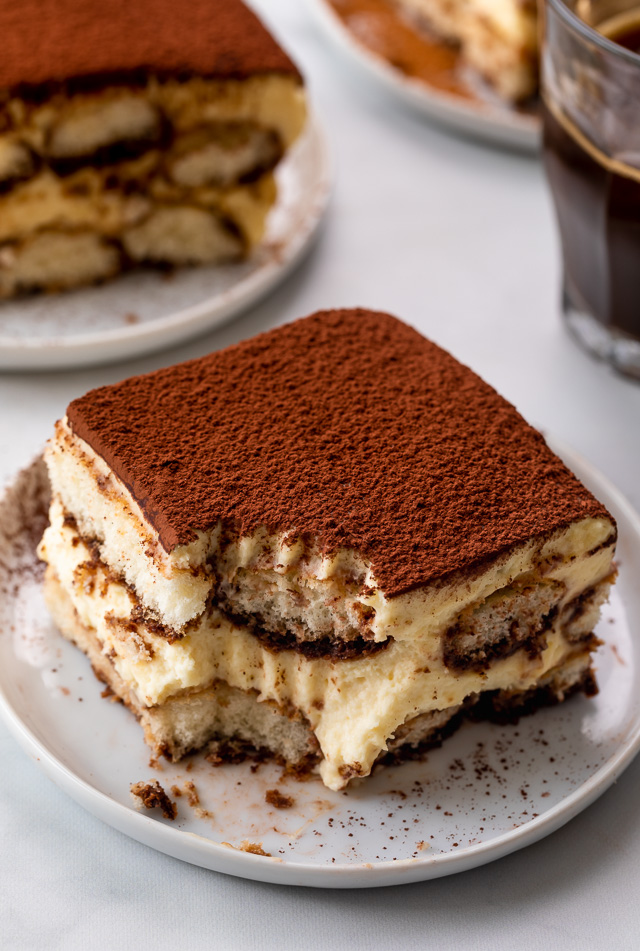 Can I leave out the Booze?
Yes! I really do think it adds lovely flavor, but simply omit in both steps, if desired. You can also play around with the booze if you don't have what I call for on hand! Use Bailey's, sweet marsala wine, or even grand marnier!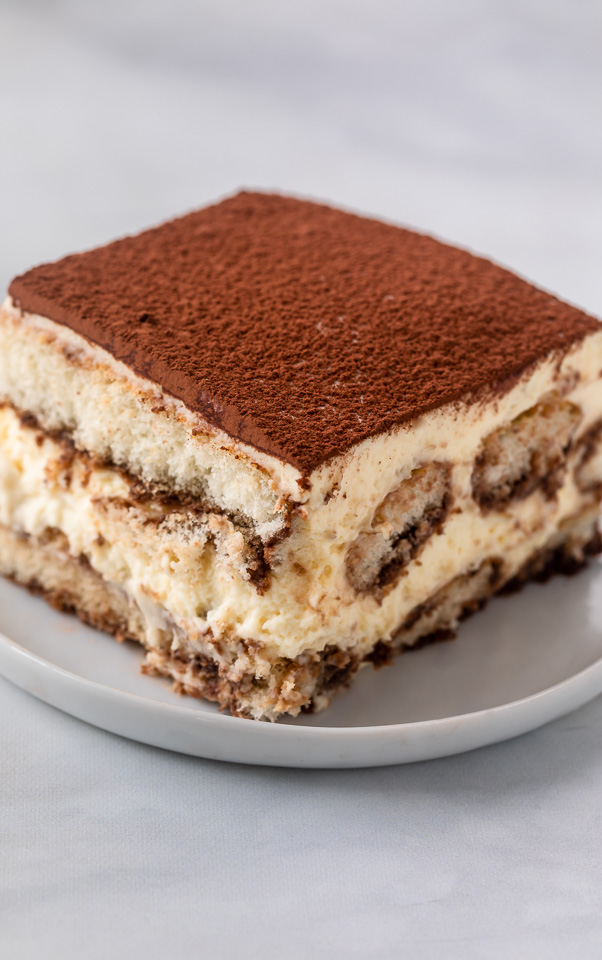 More Italian Recipes:
Italian Tiramisu for a Crowd
This Classic Italian Tiramisu for a Crowd is always a hit! Made with a creamy mascarpone mixture, coffee soaked ladyfingers, and a dusting of dark cocoa powder, this is heaven in a baking dish! No raw eggs in this recipe!
Ingredients
9 egg yolks (160 grams)
1/2 cup (99 grams) sugar
1/3 cup (74 grams) Amaretto liqueur
16 ounces (460 grams) mascarpone, softened to room temperature
2 and 1/4 cups (511 grams) heavy whipping cream
2 Tablespoons (22 grams) confectioners' sugar
2 cups (454 grams) freshly brewed strong coffee
1 ounce (28 grams) dark chocolate
1/3 cup (28 grams) dutch-process cocoa powder, plus more for dusting
1/4 cup Kahlua liqueur (68 grams)
1 teaspoon vanilla extract
Instructions
Place a large heatproof bowl over a pot of simmering water, making sure the bowl fits snugly on top of the pan and that the bottom of the bowl isn't touching the simmering water. Add the egg yolks and sugar into the bowl and cream together with a whisk. Add the amaretto and and continue to whisk until the mixture is very thick and almost doubled in volume, about 10 minutes. 

Remove from heat and stir in the mascarpone, a little bit at a time, until the mixture is smooth and the cheese is completely combined. Set aside.

In a chilled bowl, whip the heavy cream and confections's sugar with a handheld electric mixer on medium-speed. Whip until medium-soft peaks form. Then fold the whipped cream into the mascarpone mixture, and stir well to combine.

In a small saucepan, combine the hot coffee, chocolate, and cocoa powder. Whisk well to melt the chocolate and evenly combine the ingredients. Then stir in the Kahlua and vanilla. Allow mixture to cool for about 5 minutes. 

Quickly dip each ladyfinger into the coffee mixture and arrange in a single layer on the bottom of a

9x13-inch baking dish

. Be careful not to soak the lady fingers too long, or they'll yield a soggy tiramisu.

Spread half of the mascarpone cream mixture on top of the lady fingers, and smooth the top with a spatula.

Repeat with a second layer of coffee dipped ladyfingers, then top with the remaining mascarpone cream.

Refrigerate for at least 8 hours before serving. Or up to 24 hours. Dust with cocoa powder before serving!