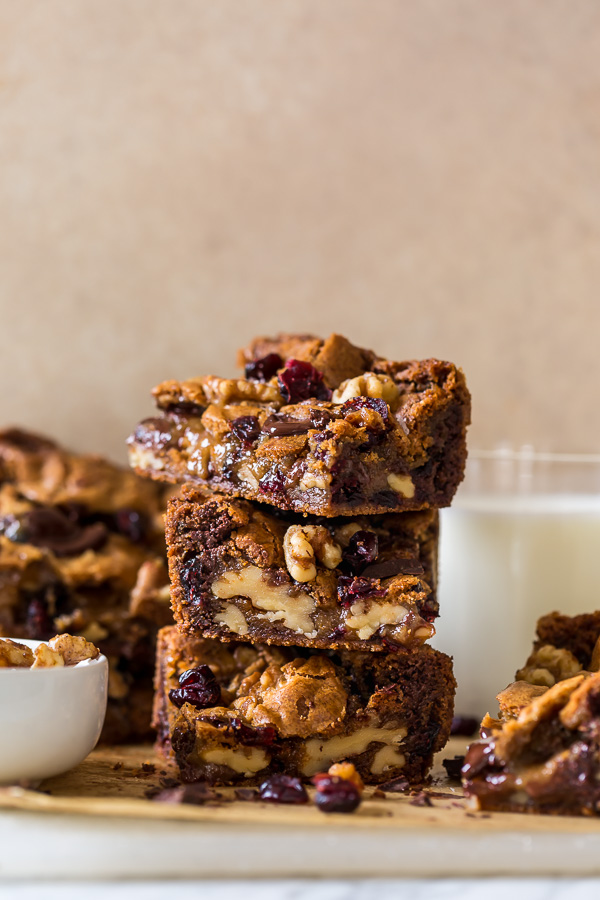 Chocolate Cranberry Walnut Blondies
Yield 8x8 pan
Chocolate Cranberry Walnut Blondies are crunchy, chewy, gooey and so delicious! A super easy blondie recipe that's made in one bowl and so perfect for the holiday celebrations.
Ingredients
4 ounces unsalted butter, melted 
1 cup light brown sugar, packed
1 large egg, at room temperature
1 teaspoon vanilla extract
1 cup flour (be sure not to pack your flour)
1/2 teaspoon baking powder
3/4 teaspoon cinnamon
7 ounces chocolate, roughly chopped into chunks 
3/4 cup walnuts, toasted and chopped 
1/2 cup dried cranberries 
1/2 teaspoon flaky sea salt
Instructions
Preheat oven to 350 degrees (F). Line an 8x8 baking pan with parchment paper; spray lightly with non-stick spray and set aside.
In a medium-size mixing bowl, combine the melted butter and brown sugar and whisk until well combined. Add in the egg and vanilla, and whisk until combined. Add in the flour, baking powder, and cinnamon, and whisk until JUST combined, being sure not to over mix. Using a rubber spatula, fold in chocolate, walnuts, cranberries, and sea salt until combined. 
Bake for 25-28 minutes, or until the edges are firm and golden and the center is just slightly wobbly. Cool in pan for at least 15 minutes before cutting.
Courses Dessert
Cuisine Cookies
Recipe by Baker by Nature at https://bakerbynature.com/chocolate-cranberry-walnut-blondies/