Golden brown and loaded with cozy fall flavors, these maple walnut cranberry scones will steal the show at your next holiday breakfast or brunch! Flavored with warm spices, brown sugar, and maple extract, these festive scones are ready fast. Just be sure to chill the scone dough for 15 minutes before baking.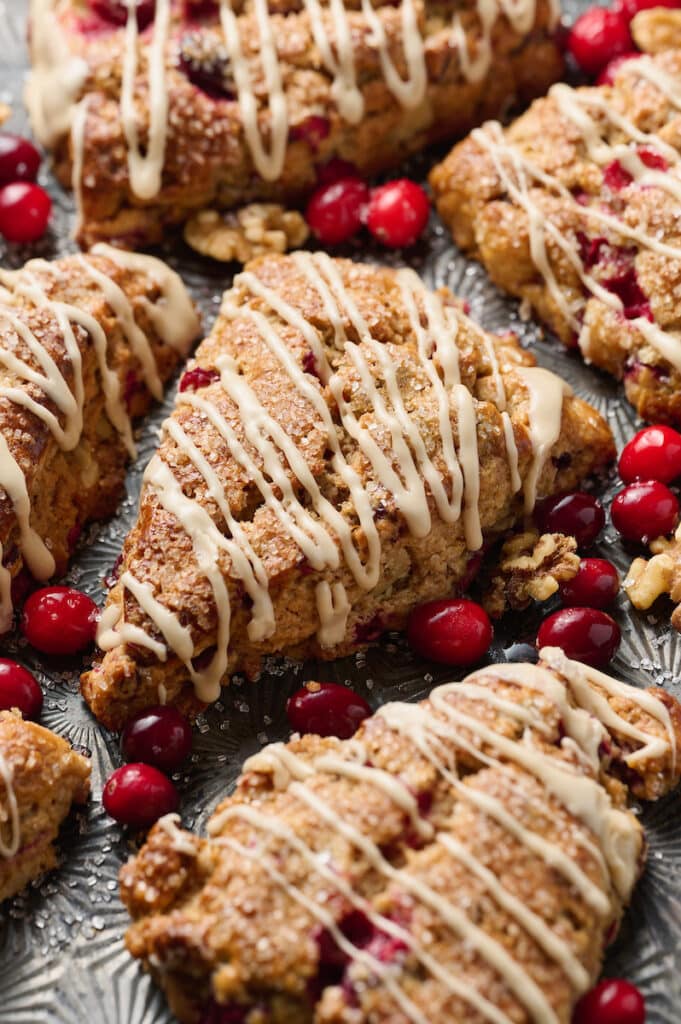 Maple Walnut Cranberry Scones
Let's bake some yummy festive scones today! Because these golden brown bakery-style cranberry scones are the most delightful treat to bake during the holiday season. Especially when gorgeous ruby red fresh cranberries are available! But in a pinch, you can use frozen cranberries, too.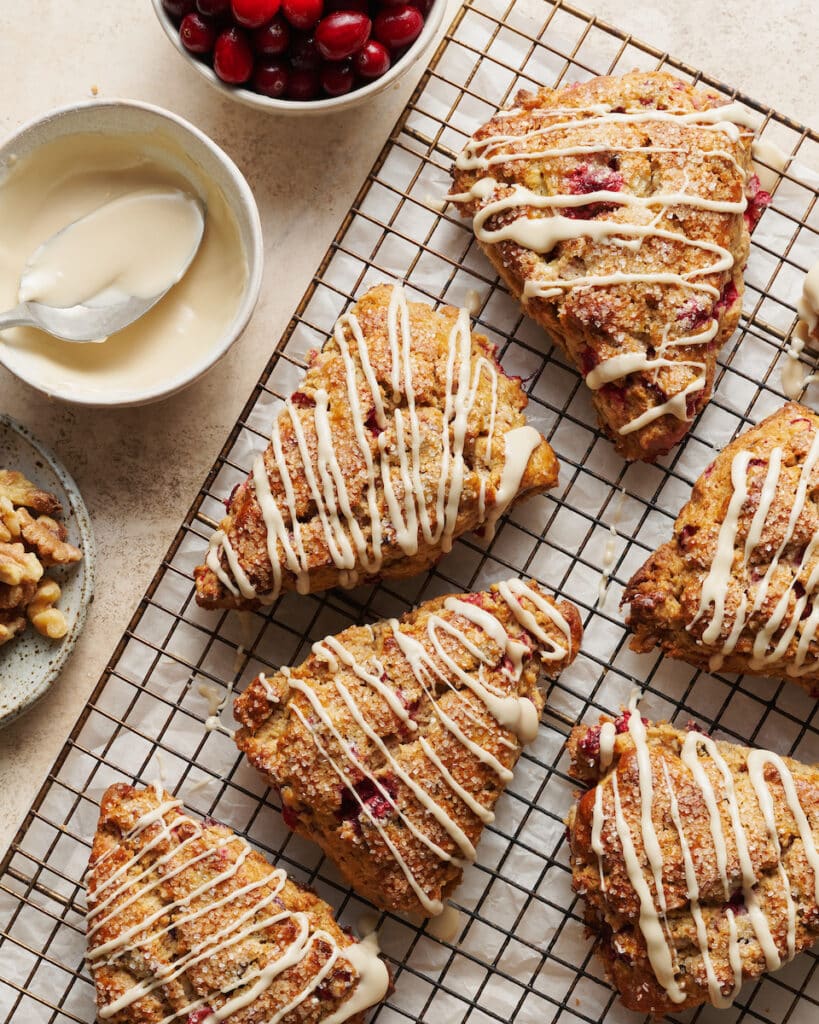 I actually have three other cranberry scone recipes on my website:
So what makes THESE maple walnut cranberry scones stand apart from the others? Their cozy and festive flavor profile! Warm maple, cinnamon, nutmeg, and brown sugar give these scones the coziest flavor ever. And the addition of crunchy walnuts is a total dream.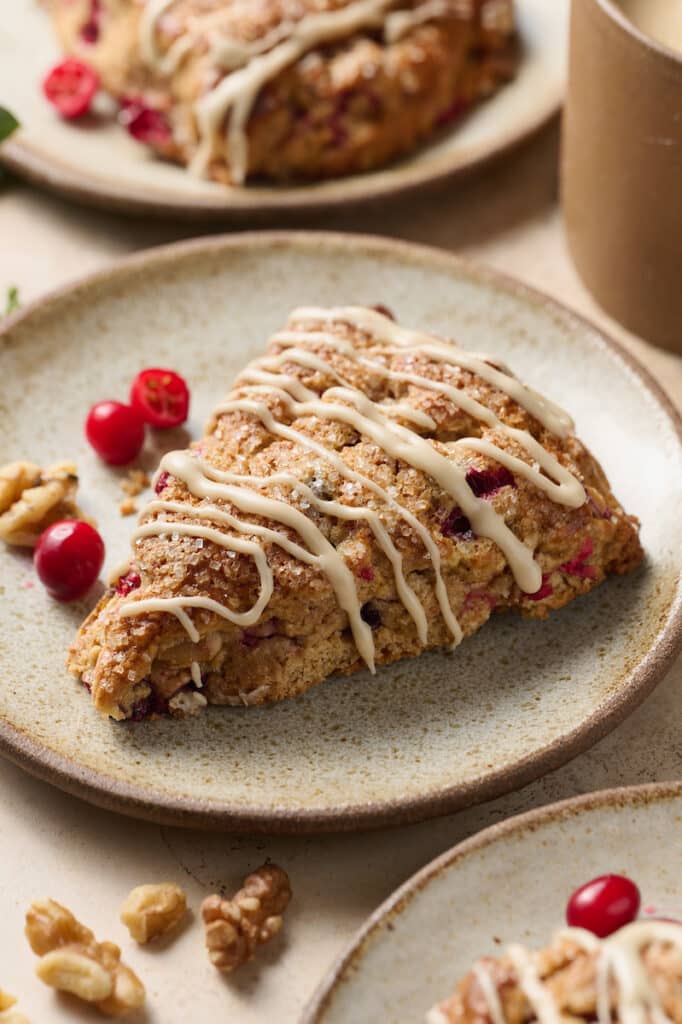 Cold Butter is King
Before we dive into the ingredients, let's discuss the most important ingredient in any scone recipe: BUTTER. More specially, cold butter. Cold butter is essential to creating flaky golden brown scones that hold their shape while baking.
The best way to ensure your butter is cold enough? Freeze your sticks of butter for 15 minutes before adding them to the flour mixture.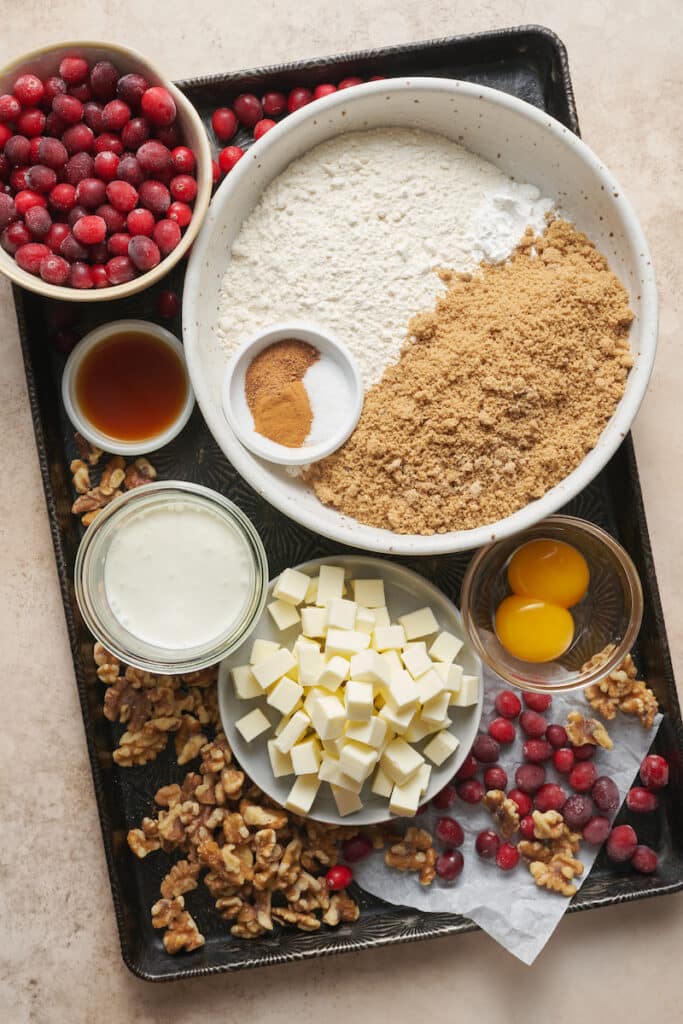 Scone Dough Ingredients
All-Purpose Flour: Perhaps the most important of all the dry ingredients! Be sure not to pack your flour into the measuring cup – either weigh it or lightly scoop into a measuring cup. And do not sub other varieties of flour for all-purpose flour.
Baking Powder: Yes, one whole Tablespoon of baking powder is correct! Do not sub for baking soda, or add any baking soda at all. Baking powder gives lift, baking soda spreads, which is not what we want for this recipe.
Brown Sugar: I prefer using light brown sugar, but in a pinch, dark brown sugar will work. You can even use granulated sugar instead, but note they will be less flavorful and golden brown in color.
Spices: Ground cinnamon, nutmeg, and salt all enhance the flavor of our scone dough.
Cold Butter: Unsalted butter works best, but salted will work in a pinch. Simply omit the salt called for in the scone dough recipe.
Walnuts: Pecans make a fine substitute here! Or feel free to omit the nuts completely for a nut-free treat.
Cranberries: Fresh or frozen cranberries will work, but fresh work best.
Heavy Cream: Aka whipping cream. Do not use milk or half and half instead.
Egg Yolks: For the flakiest scones, we use the yolks only, as the egg white creates a more biscuit like texture! Be sure your egg yolks are cold.
Extracts: For even more flavor, we'll add vanilla extract AND maple extract to the scone dough. These are both optional, feel free to leave one or the other out if desired.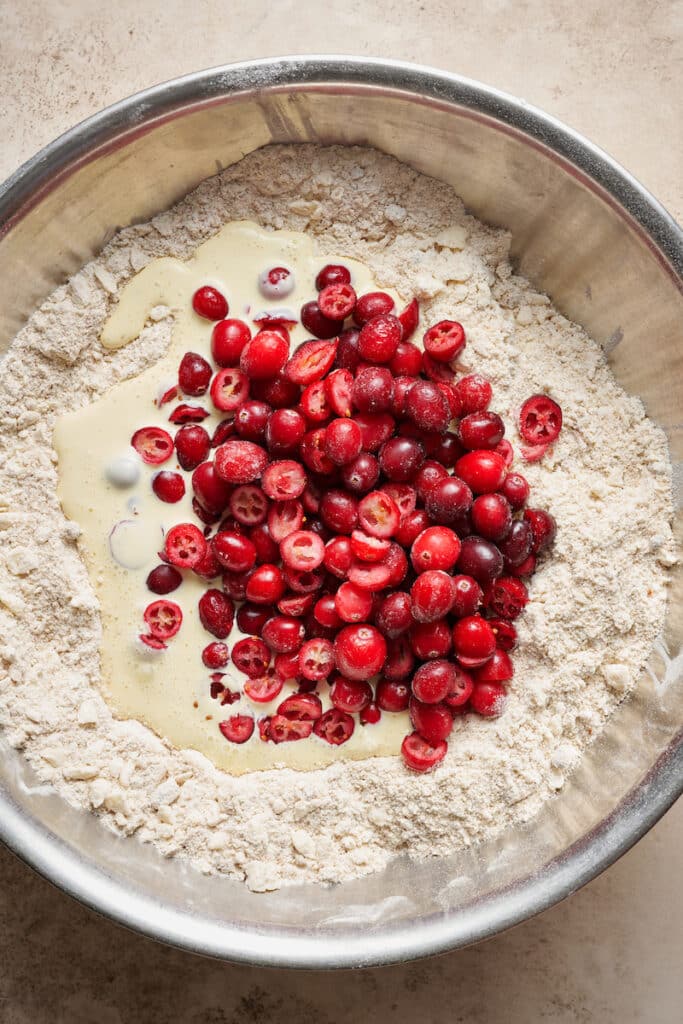 Make the Scone Dough
Scone Prep: Before you start making the scone dough, preheat your oven to 425 degrees. Then line a large baking sheet with parchment paper and set the prepared baking sheet aside. Now you're ready to make the scone dough!
Combine the Dry Ingredients: In a large bowl, combine the spices, flour, sugar, baking powder, and salt.
Add the Cold Butter: Use a pastry blender cut in butter until the mixture resembles coarse crumbs. You want to stop blending when chunks of butter are no large than hazelnuts and no smaller than peas.
Combine the Wet Ingredients: Whisk together the wet ingredients until they're well combined. Then pour the liquid mixture into the flour mixture.
Add the Mix-Ins: Into the belly of the wet ingredients, add the cranberries and walnuts. Then use a spatula to stir everything together until just moistened. And don't worry if the dough looks too dry here.
Knead the Dough: Pour the scone dough out onto a lightly floured surface and knead the dough until it comes together. This might take a few minutes, so be patient and avoid the urge to add more liquid.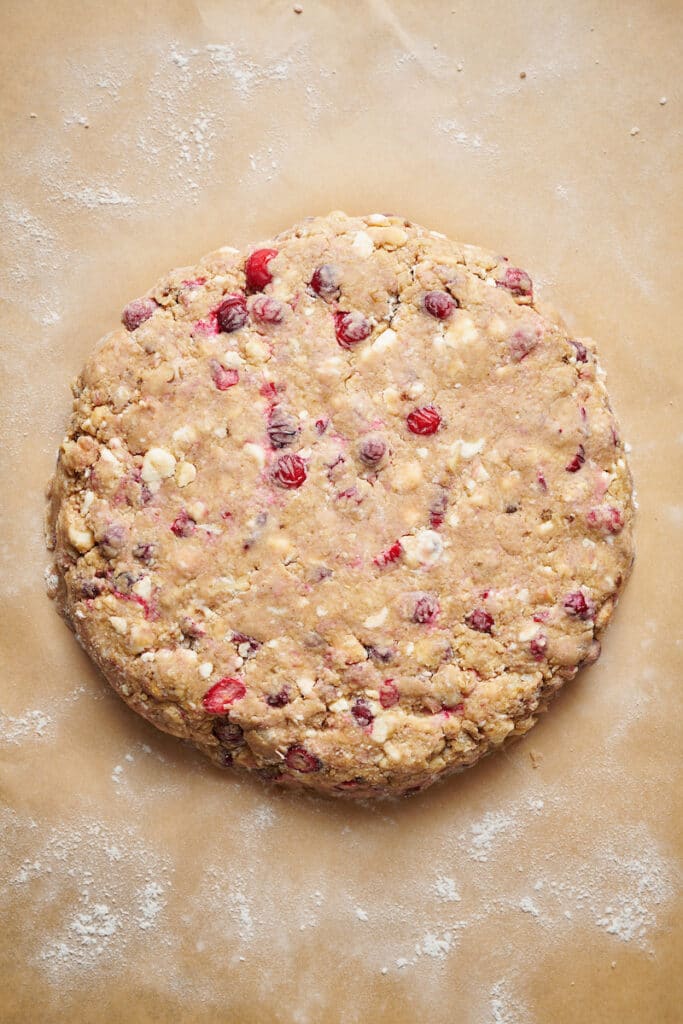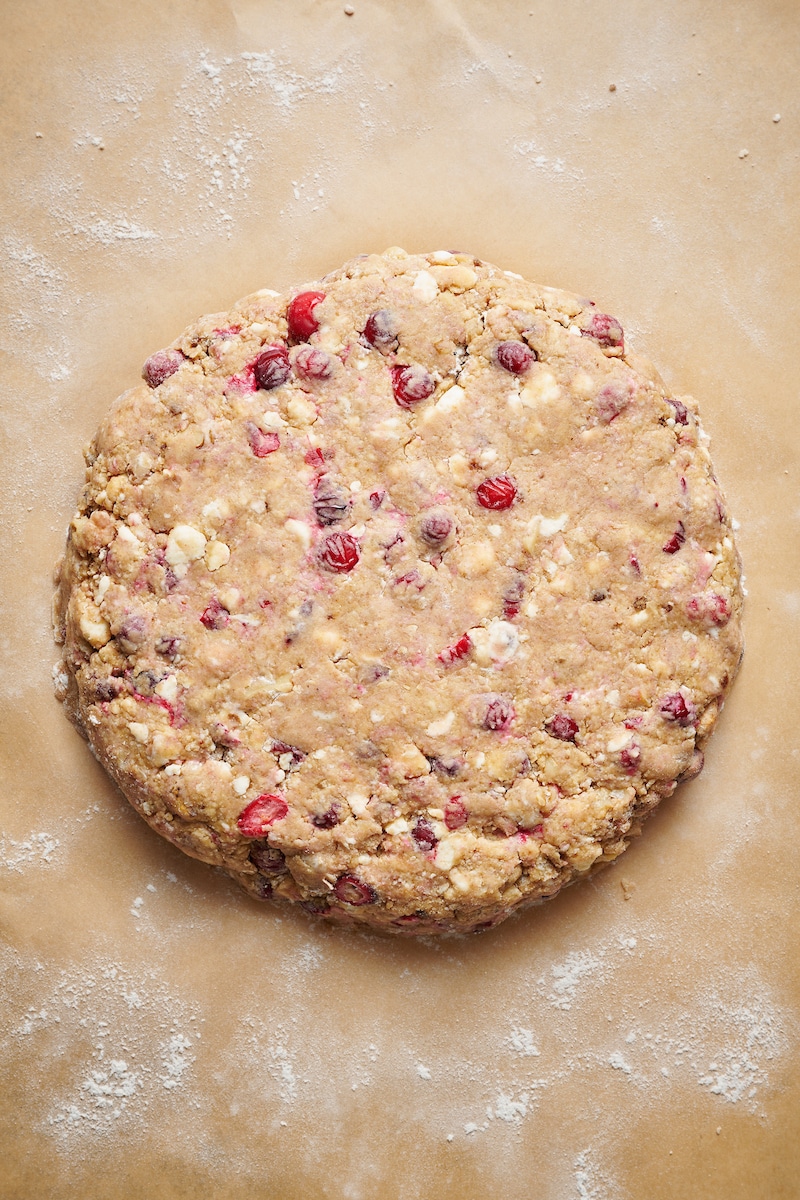 Shape and Cut the Scone Dough
Once the scone dough has come together, press it into a flat circle and shape it into an 8-inch disc.
Cut the disc into 8 even wedges and carefully transfer them to the prepared baking sheet. Place each scone about 2-inches apart, to make room for spreading.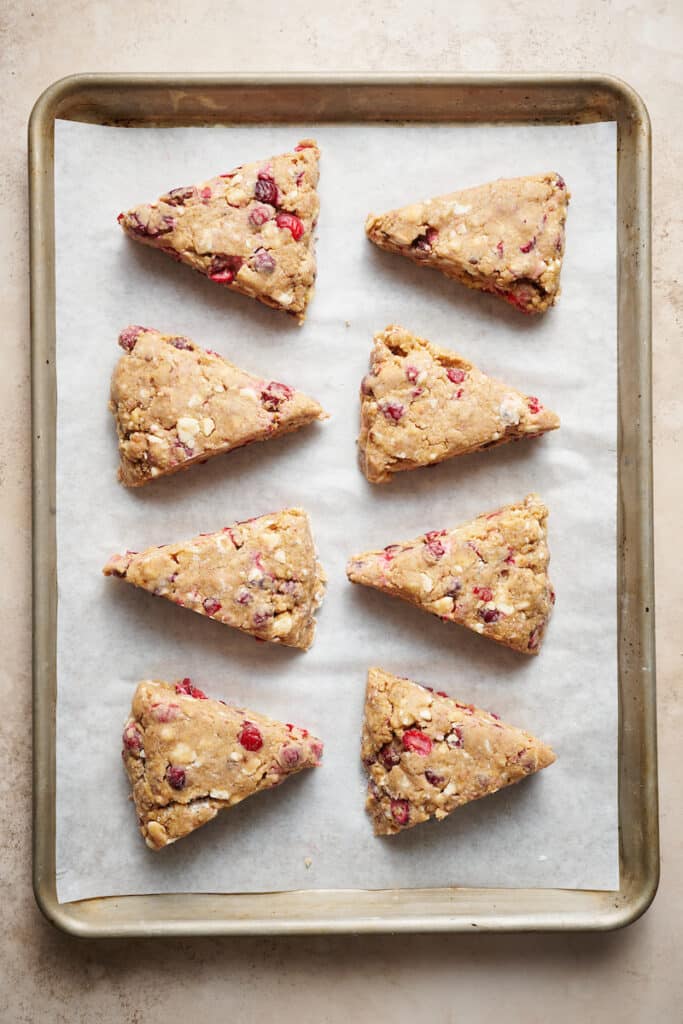 Chill for 15 Minutes
For the tallest and flakiest scones, be sure to chill the dough for at least 15 minutes, or up to 30 minutes, which is the ideal. This short burst in the fridge helps the butter firm up again. And the flour mixture to chill and absorb some of the liquid ingredients. Trust me, it's worth the wait!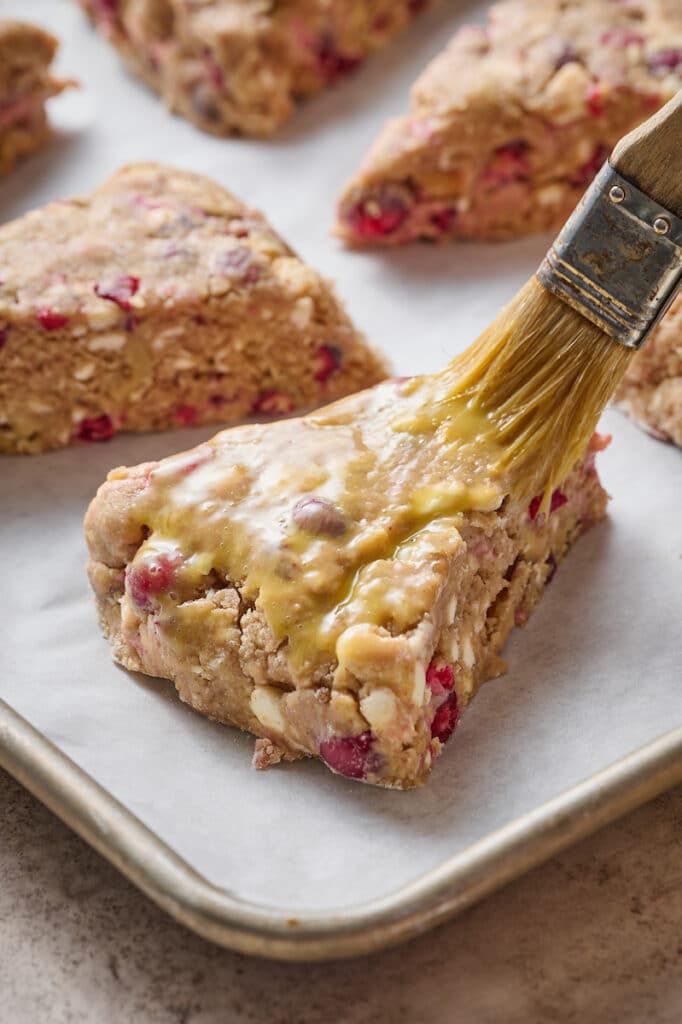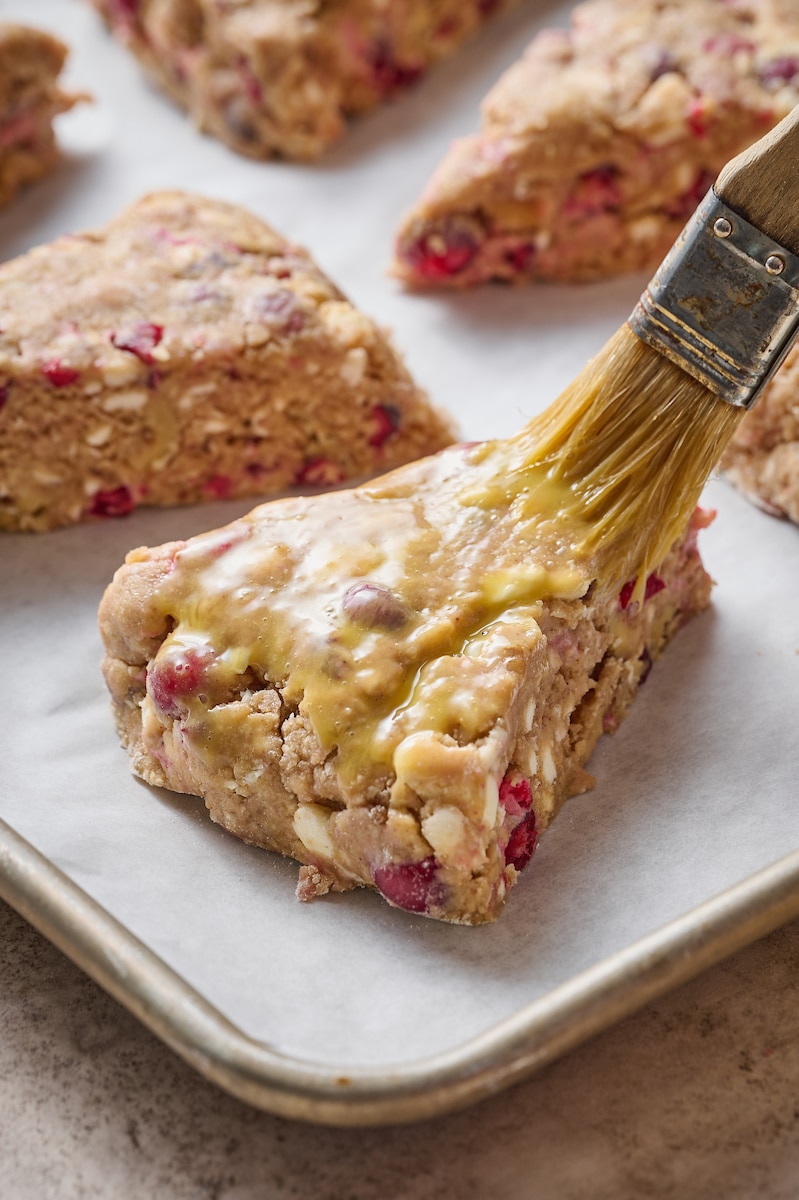 Let's Talk Egg Wash
To make an egg wash, you'll need 2 simple ingredients: 1 large egg and 1 teaspoon water. The reason we brush our scones with egg wash is to encourage browning. So if gorgeously golden brown scones are important to you, don't skip this step. Baking without the egg wash will yield a paler, albeit still delicious, scone.
I also suggest sprinkling the scones with sparkling sugar! You'll do this right after you brush them with the egg wash, which ensures the sugar sticks to the scones. Sparkling sugar makes these cranberry scones extra sweet and stunning!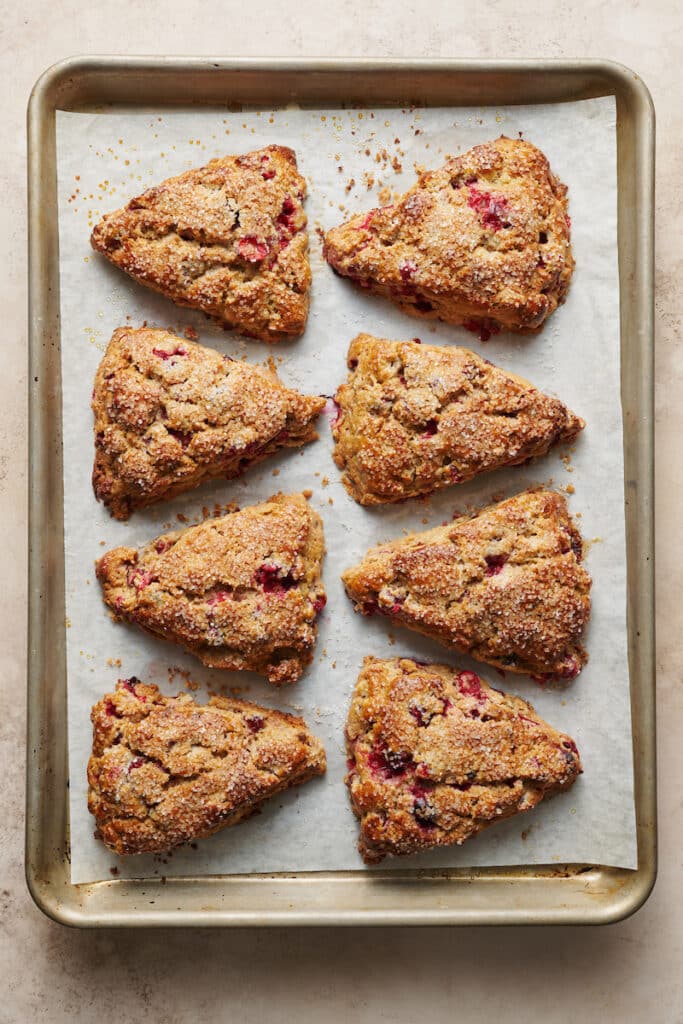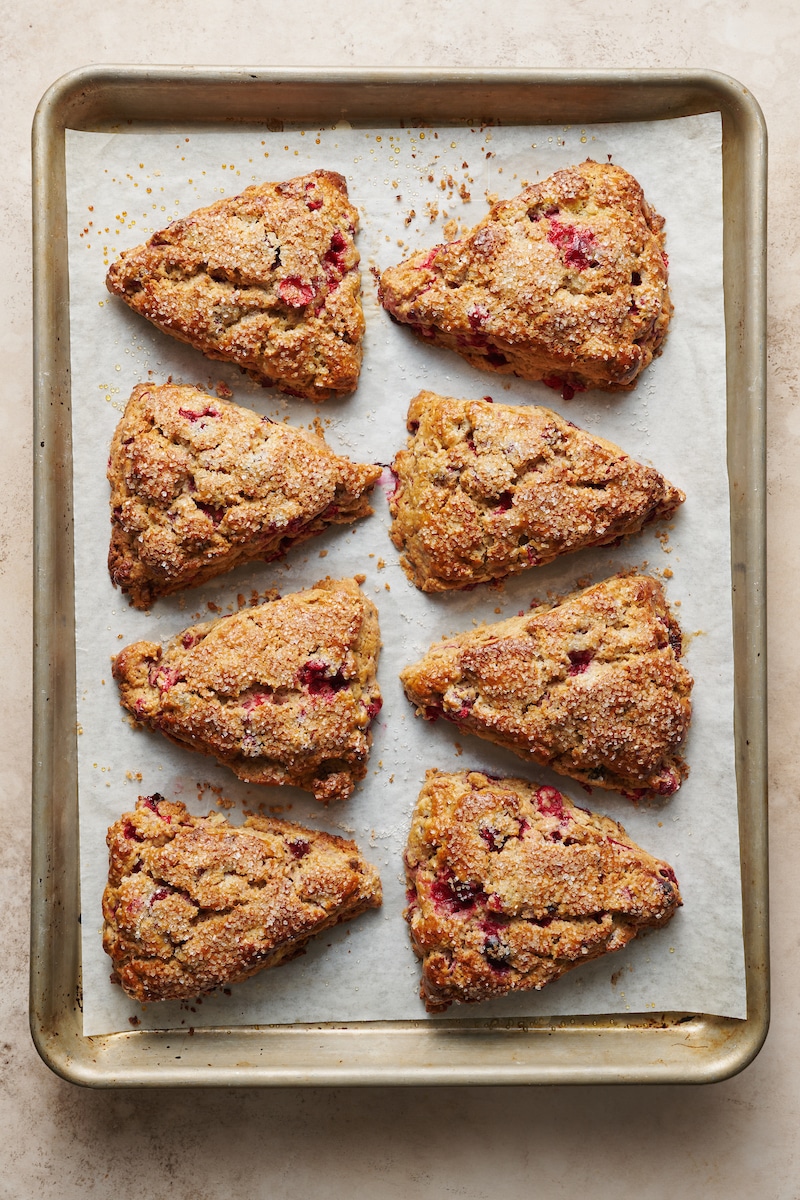 Drizzle with Maple Glaze
The maple glaze is another super easy step. And only requires 3 ingredients: confectioners' sugar, pure maple syrup, and milk. These scones are not overly sweet, so this glaze is a welcome addition and amplifies their flavor. I don't suggest skipping it, but feel free to experiment if you must!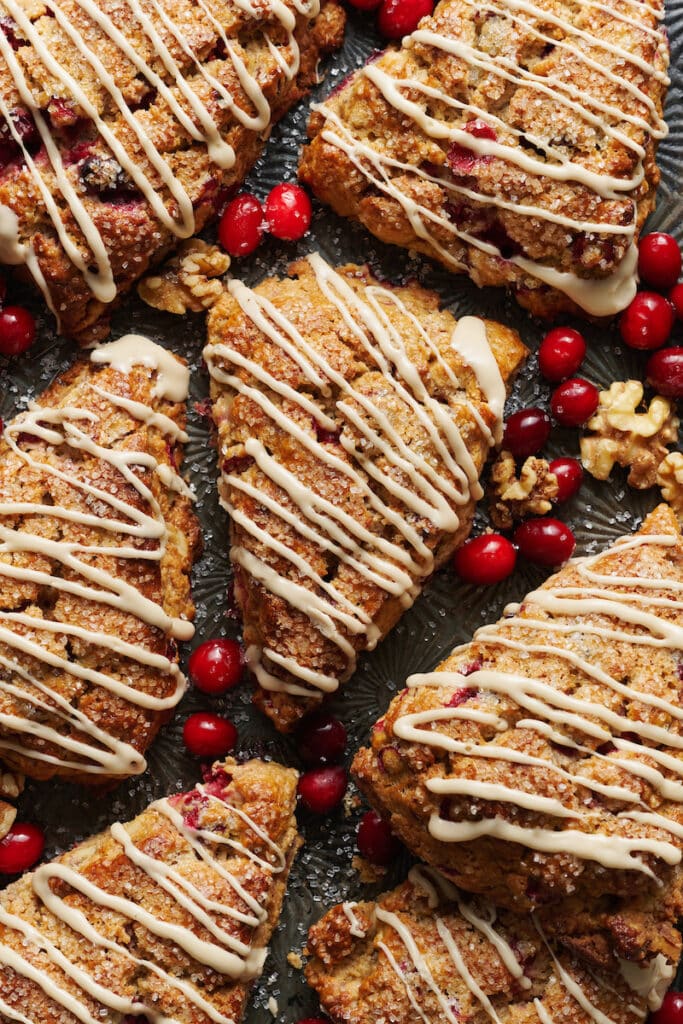 Cranberry Walnut Scones
Ingredients
For the Cranberry Scones:
2 and 3/4 cups (330g) all-purpose flour plus more for kneading the dough
1 Tablespoon (14g) baking powder
3/4 cup (159g) light brown sugar packed
3/4 teaspoon ground cinnamon
1/2 teaspoon salt
1/4 teaspoon ground nutmeg
10 Tablespoons (141g) unsalted butter COLD, cut into 1/4-inch cubes
3/4 cup (171ml) heavy whipping cream COLD
2 large egg yolks COLD
2 teaspoons vanilla extract
1 teaspoon maple extract optional
4 ounces walnuts roughly chopped
6 ounces fresh cranberries cut in half
For the Egg Wash:
1 large egg
1 teaspoon water
3 Tablespoons (42g) sparkling sugar optional
For the Maple Glaze:
3/4 cup (84g) confectioners' sugar sifted
1 and 1/2 Tablespoons (21ml) pure maple syrup
1 and 1/2 teaspoons milk more if needed
Instructions
For the Cranberry Scones:
Preheat the oven to 425°(F). Line a large baking sheet with parchment paper and set aside.

In a large bowl, combine flour, baking powder, brown sugar, cinnamon, salt, and nutmeg, mix well to combine.

Cut the butter into small cubes, then, using a pastry cutter, work the butter into the dough until it resembles a coarse meal. The chunks of butter should be about the size of peas. 

In a glass measuring cup whisk together the heavy cream, egg yolks, vanilla, and maple extract (if using).  

Pour the liquid mixture into the center of the flour mixture. Then add in the walnuts and cranberries. Use a spatula to stir everything together until just moistened. Don't worry if the dough looks dry/shaggy! 

Empty the loose dough out onto a clean, lightly floured work surface. Knead the dough, dusting your hands/the dough with more flour if needed, until it comes together, then shape it into an 8-inch disc. 

Cut the disc into 8 even wedges and carefully transfer them to the prepared sheet, placing them 2-inches apart. Place in the refrigerator for 15 to 30 minutes. 

Remove the tray from the refrigerator and lightly brush each scone with egg wash. Sprinkle generously with the sparkling sugar. if using.

Bake for 20 to 22 minutes, or until golden brown. Allow scones to cool for 10 minutes on the baking sheet, then drizzle with the glaze and serve warm! 
For the Egg Wash:
In a small bowl, whisk together the egg and water until well combined.
For the Maple Glaze:
In a small bowl combine the confectioners' sugar, maple syrup, and milk and whisk until well combined. If the glaze appears too thin, add a small amount of confectioners' sugar. It should be thick but pourable.

Drizzle the glaze over scones and serve!