It's no secret I love baking with fresh cranberries… I love their bright color, tangy tart taste, and the fact that almost any cranberry recipe is basically begging to be escorted with sparkly sugared cranberries! So today I'm teaching you how to make sugared cranberries. It's super easy and there's endless ways to use these sparkling cranberry jewels!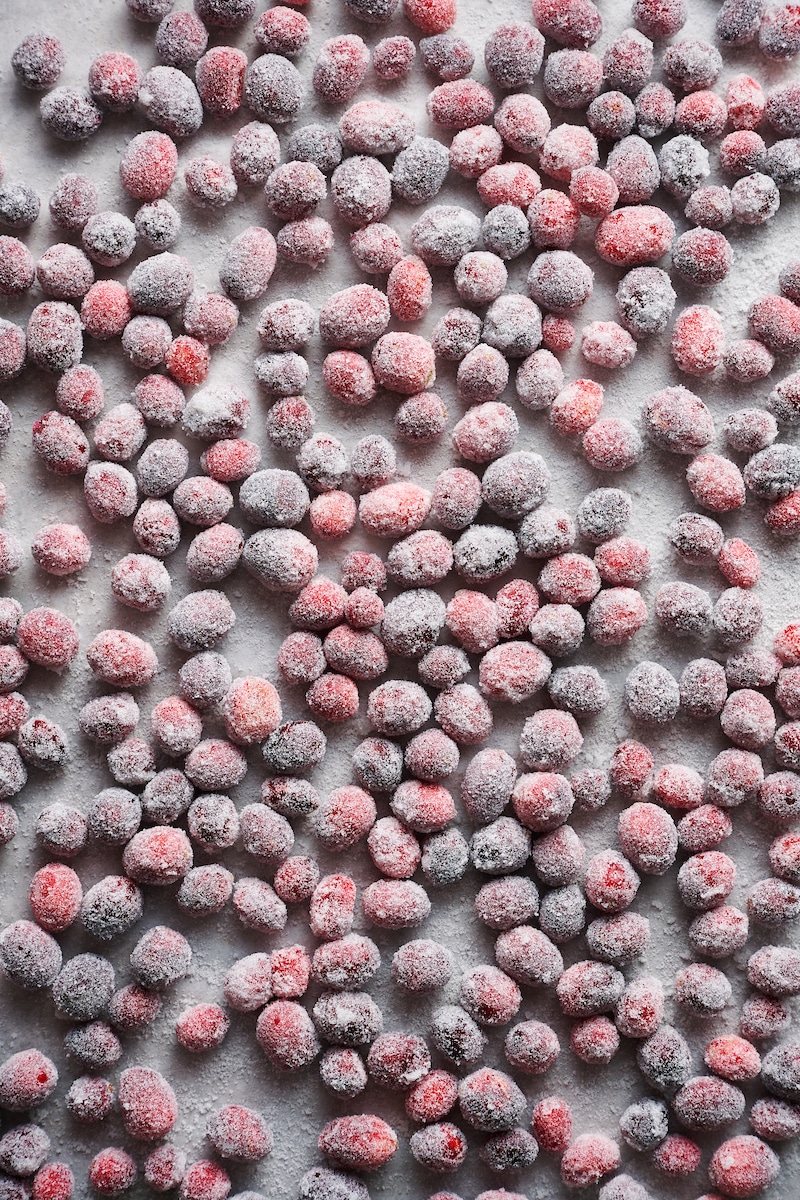 Sugared Cranberries
Today we're taking a break from baking and instead talking about one of my all-time favorite holiday garnishes: sugared cranberries! Making them is super simple, and all you'll need is fresh or frozen cranberries, granulated sugar, and water.
You'll essentially make a simple syrup by bringing a cup of water and sugar to a boil, and cooking until the sugar has completely dissolved. Then you'll toss in the cranberries and cook just for a minute or two. You don't want them bursting or turning into cranberry sauce!
Then you'll use a slotted spoon to remove the cranberries and toss them in more granulated sugar. I suggest doing this a little bit at a time, so you have plenty of room to roll the cranberries in the sugar and make sure they're fully coated. Then you just let them dry! I like to do this by placing them on a wire cooling rack for a few hours.
Once they're firm and at room temperature, they can be used to decorate cakes, pies, cupcakes, and more!
How to Store Sugared Cranberries
Store them covered, in a cool, dry environment, for up to 2 days. If they loose any of their "sparkle" simply roll them in more granulated sugar before serving.
How long do Sugared Cranberries Last?
When stored properly (see above), candied cranberries will last for 2 to 3 days. You can definitely extend their life by storing them in the fridge. They won't keep well in a hot, humid environment.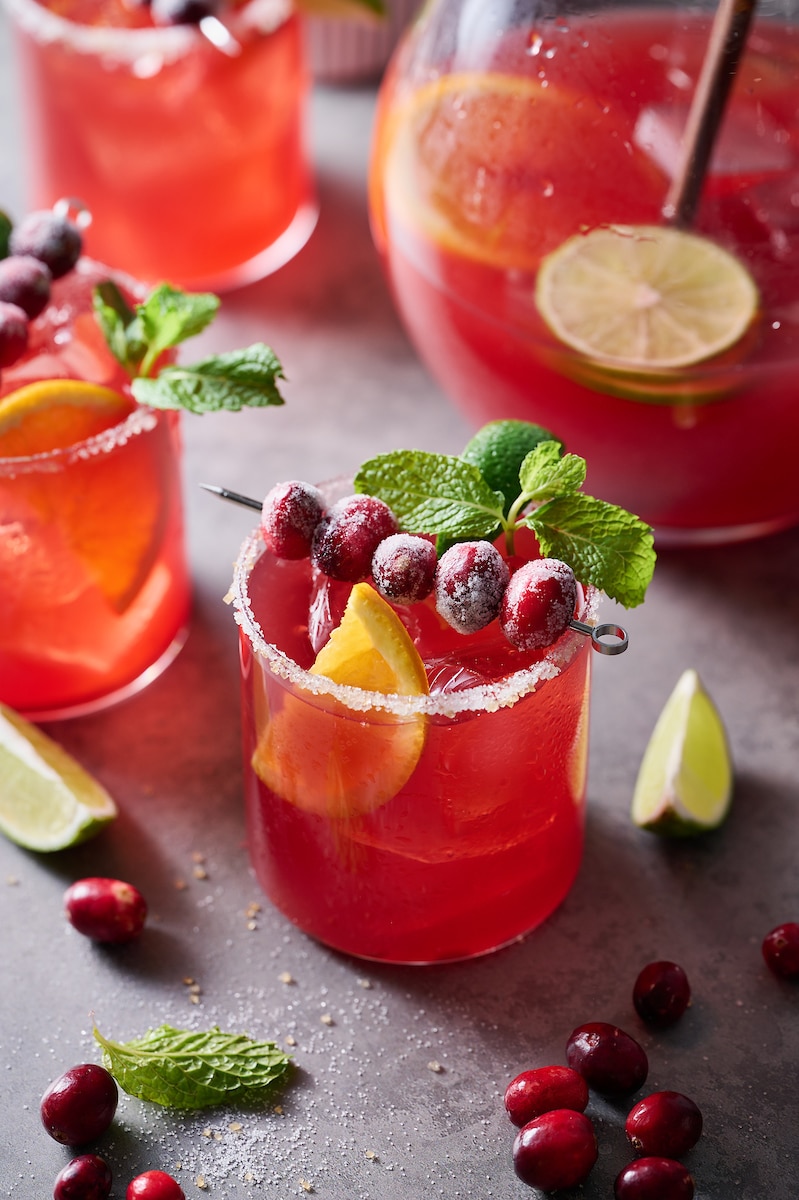 What to do with Sugared Cranberries
There's so many options! You can package them up in tiny jars or cellophane bags and give them as a gift. You can put them on top of gingerbread cupcakes, vanilla bean cheesecake, cranberry orange Bundt Cake, or eggnog pancakes. Or you can eat them by the handful! They also make a lovely addition to a holiday charcuterie board! For more recipes where I've used sugared cranberries, please read the full list below! (This post may contain affiliate links!).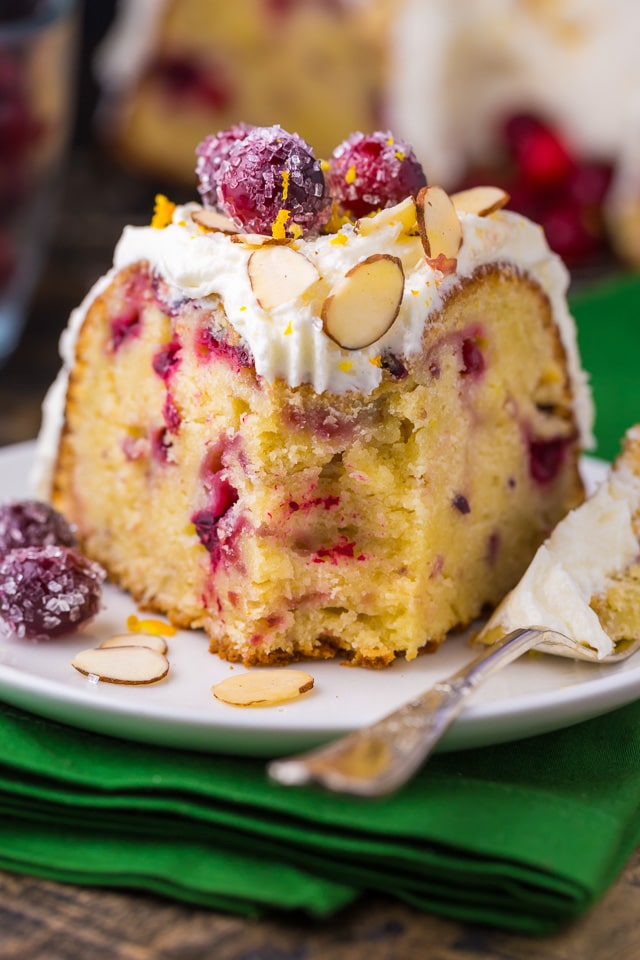 Recipes that can use Candied Cranberries: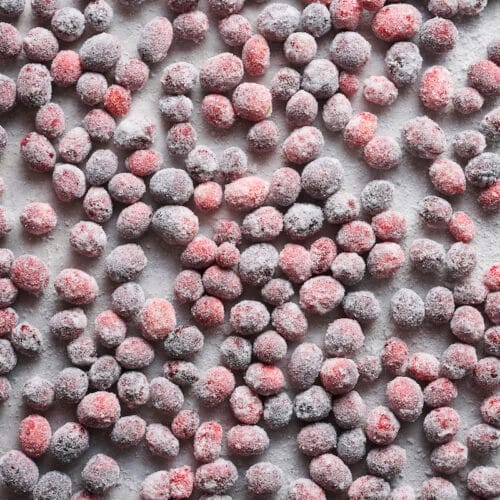 How to Make Sugared Cranberries
How to make Sugared Cranberries with just 3-ingredients! It's super easy and there's endless ways to use these sparkling cranberry jewels!
Ingredients
2 cups (398g) granulated sugar divided
1 cup (227ml) water
2 cups (200g) fresh or frozen cranberries if using frozen, do not thaw
Instructions
In a medium-saucepan, combine 1 cup of the granulated sugar and the water. Bring the mixture to a rolling boil over medium-high heat, and cook, stirring frequently, until the sugar has completely dissolved. 

Add in half of the cranberries, then reduce the heat to a simmer and cook for 1 minute. Using a slotted spoon, remove the cranberries and transfer them to a wire cooling rack. 

Repeat with the remaining cranberries.

Allow cranberries to sit at room temperature for 10 to 15 minutes, or until still slightly tacky to the touch.  

Add remaining granulated sugar to a wide, shallow bowl. Add a few cranberries at a time, and roll them in the sugar until they're completely coated on all sides. Transfer the cranberries back to the wire rack. Repeat with all the cranberries.  

Leave to dry at room temperature for 2 hours before using.