Lusciously thick and creamy, this Chocolate Mocha Breakfast Shake is an eye-opener!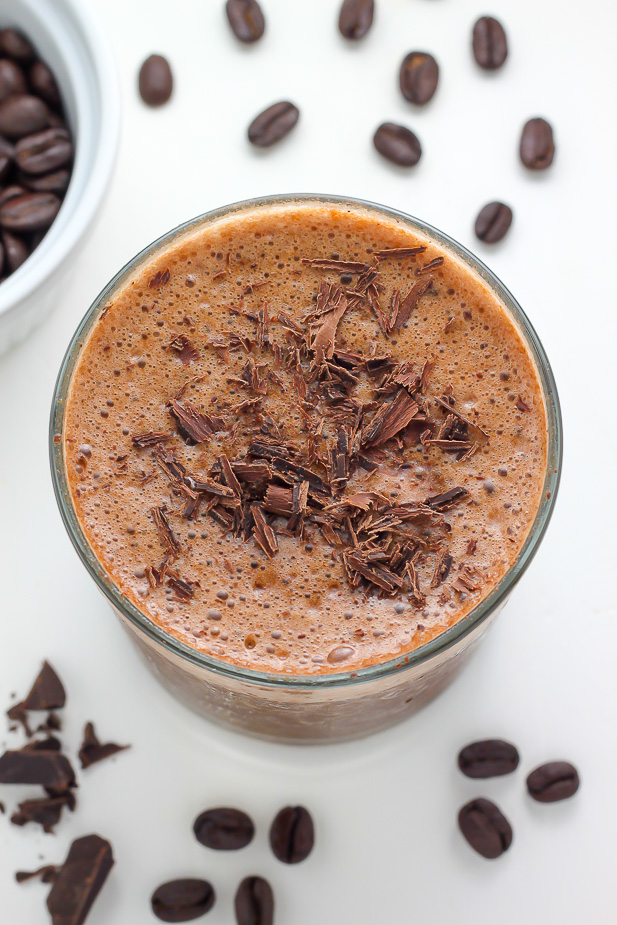 I grew up in a coffee loving household. My mom drank a few cups everyday, and when I began to take interest in it around 13, she had no issues granting me full permission to have a cup here and there; by the time I was 18 I was a full-blown coffee fanatic!
Fast forward 10 years and not much has changed; my adoration for a strong cup of mocha is stronger than ever. During the Winter I'm more than happy to spend my days sipping simple cups of strong black coffee. But during the sticky months of Summer, I crave something a little more.
Enter this Chocolate Mocha Breakfast Shake! I created this drink mainly because we live nowhere near a Starbucks, and sometimes a girl (or guy) needs their frozen blended coffee fix. Nah mean?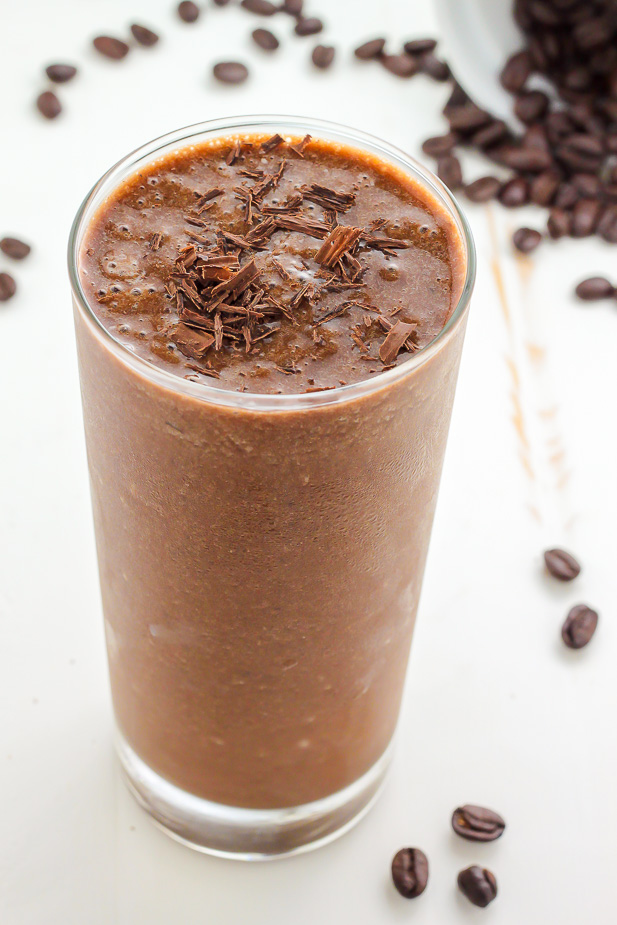 Wanna know the best part? This SUPER DELICIOUS shake is low in calories, vegan, gluten free, and waaaaaaay cheaper than buying your coffee from the shop. Made with cold coffee (I use freshly ground mocha beans, but use what you have/like), unsweetened cocoa powder, pitted dates, a dash of cinnamon, frozen bananas, and ice – this is one of those "indulgences" you can do on the daily and feel zero guilt.
Here's to staying cool and caffeinated 🙂
*I know many of you request calorie info for recipes like this; I did a rough calculation and found this shake to be approximately 180 calories per serving.
Chocolate Mocha Breakfast Shake
Thick and Creamy Chocolate Mocha Smoothie!
Ingredients
2 large ripe bananas, cut into chunks and frozen solid
2 dates, pitted and roughly chopped
1 1/2 tablespoons cocoa powder
1/4 teaspoon ground cinnamon
1 1/2 cups cold coffee
5 ice cubes
Instructions
Place all of the ingredients in the body of your blender and pulse until completely smooth. Pour into glasses and serve/drink at once.