This festive cranberry orange bread recipe combines fresh orange juice, orange zest, cranberries, and crunchy pecans! We love this topped with a sweet orange glaze, but a dusting of powdered sugar is also a delicious option. Fresh or frozen cranberries both work great!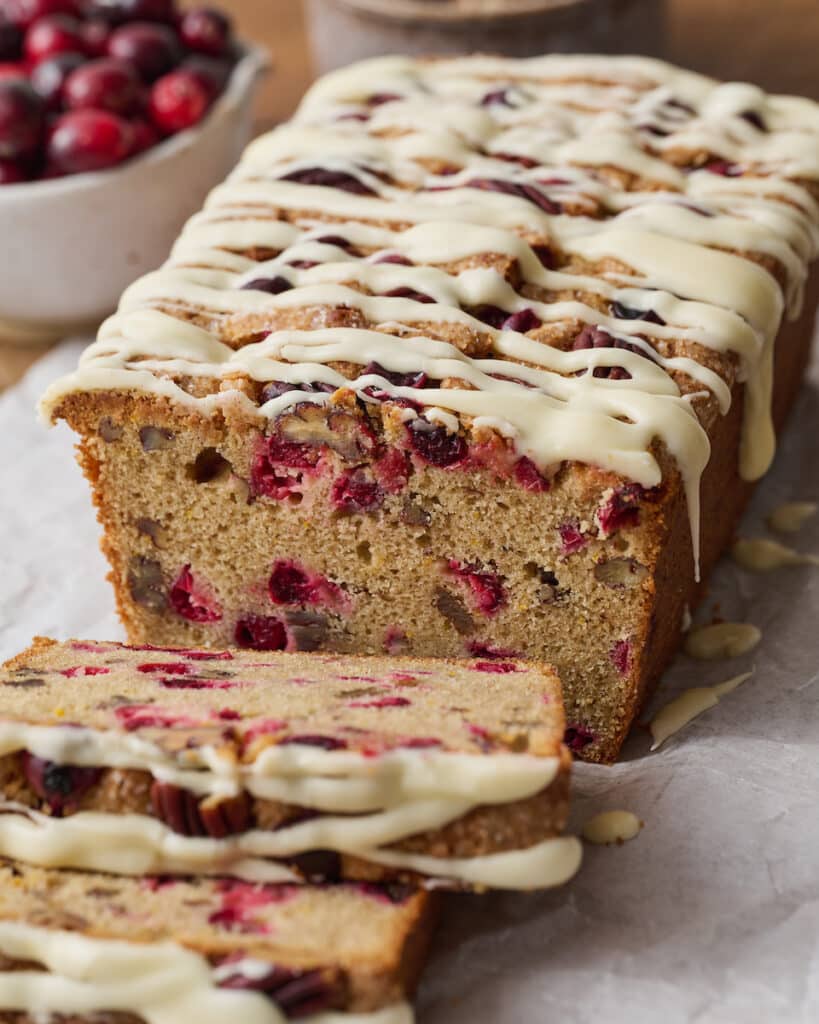 Cranberry Bread with Orange Glaze
Today we're busting out our loaf pans and baking the best cranberry bread ever! Or, what I'm boldly calling. "my favorite recipe of the season". This bread is super moist, loaded with ruby red cranberries, studded with crunchy nuts, and covered in sweet orange glaze.
I absolutely love cranberry recipes: from cranberry sauce to cranberry scones, cranberry muffins, and cranberry pie. So suffice it to say, this recipe holds a special place in my heart! And I have a feeling once you try it, it'll have a special place in your heart, too.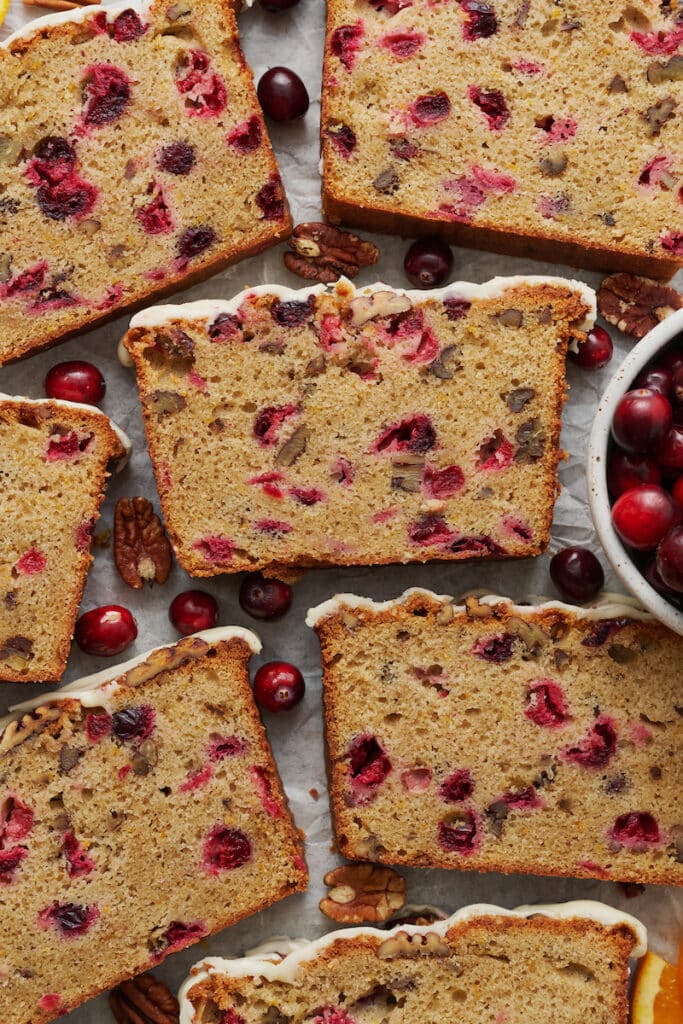 Why You'll Love this Cranberry Bread Recipe
Super easy to assemble – the batter comes together in about 10 minutes!
Loaded with flavor thanks to orange zest, orange juice, and gorgeously tart cranberries.
Topped with a thick and sweet orange glaze!
Made with fresh or frozen cranberries, you can make this year-round! I don't suggest using dried cranberries, but in a pinch, even those will work ok.
Baked in a loaf pan, this cake is super easy to bake and transport as needed. If you're traveling and looking for a special recipe for Thanksgiving or Christmas, this one will work wonderfully!
Easy to freeze – feel free to freeze the whole loaf or leftover slices.
Perfect for Christmas breakfast, a Thanksgiving Day snack, or anytime you're craving a festive treat.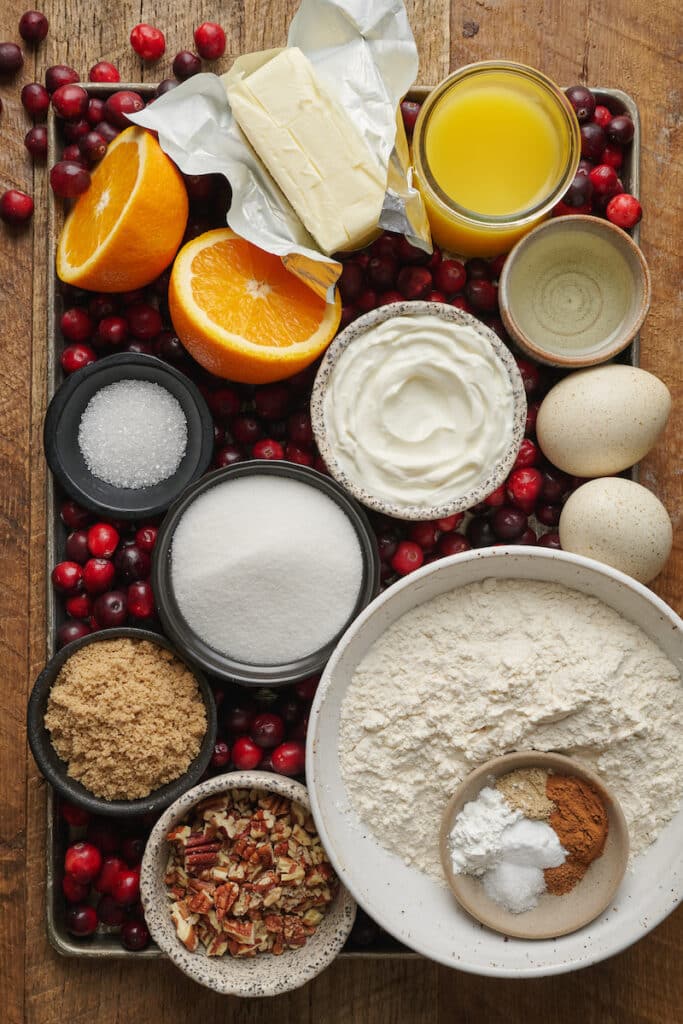 Ingredients for Cranberry Bread
Sour Cream: If you can't find sour cream, full-fat plain Greek yogurt will make the best substitute.
Oranges: For the best flavor, use fresh orange juice and orange zest in this recipe.
Oil: I use vegetable oil, but canola oil, olive oil, and refined melted coconut oil will all work fine. The kind of oil you use will slightly change the flavor of the bread, but not much.
Flour: The most important of the dry ingredients, use the correct type and amount of flour called for! I have only tested this recipe using all-purpose flour, and I cannot advise on using other flour substitutes.
Spices: Ground cinnamon, nutmeg, cardamom, and salt enhance the flavors in this orange bread. The cardamom is optional, but if you have it on hand, I highly suggest using it. It enhances the orange flavor even more!
Leavening Agents: Baking powder and baking soda help this bread spread evenly in the loaf pan and rise. Be sure your baking powder and baking soda are fresh!
Butter: I almost always suggest using unsalted butter, but in a pinch, you may use salted butter. And omit the salt called for in the bread recipe. Be sure to use room temperature butter! Cold butter will clump up and won't evenly blend into the batter.
Sugar: You'll use granulated sugar and light brown sugar in the orange bread. And confectioners' sugar in the orange glaze. An optional ingredient is sparkling sugar, which you sprinkle on top of the loaf before baking.
Eggs: Bring your eggs to room temperature before adding them to the batter! Large variety eggs work best in this recipe.
Cranberries: Fresh or frozen cranberries will work. I like to slice them in half for the batter, but you can add a couple of whole cranberries to the top of the loaf. It adds a gorgeous rustic look!
Pecans: If you don't like pecans, feel free to use walnuts instead. Or, if you have a nut allergy, you may completely omit them.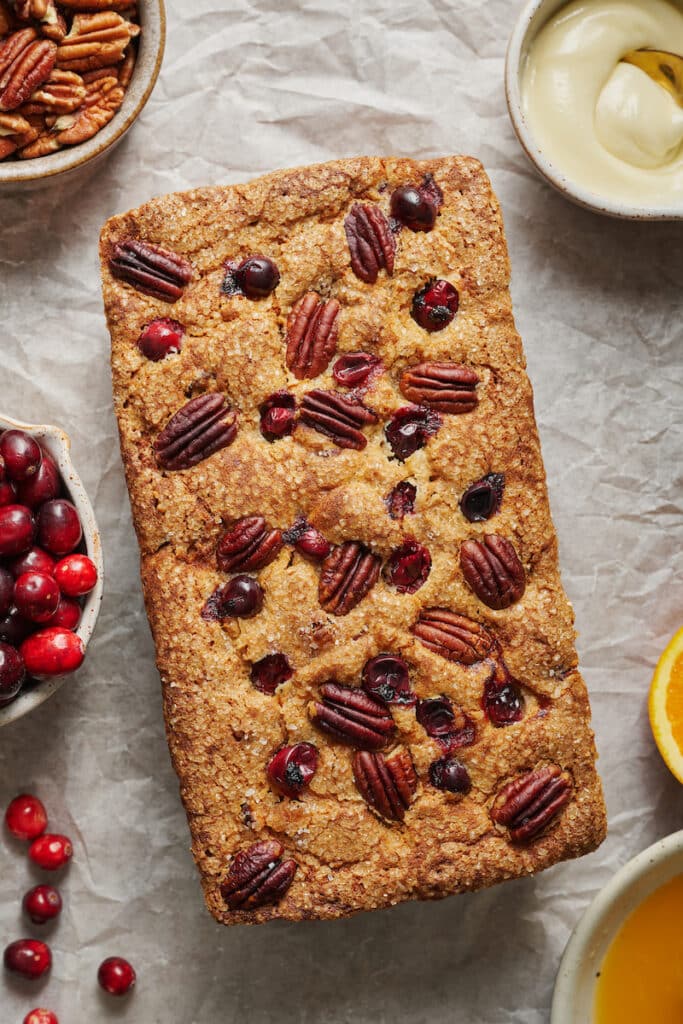 Tips to Make the Best Cranberry Bread
Use the right baking pan! A metal or aluminized steel 9×5-inch loaf pan works best! If you use a glass or ceramic baking pan, you'll need to increase the baking time. Start with 8 to 10 minutes, or until a toothpick inserted in the center comes out clean.
If you have a digital kitchen scale, weigh both your dry ingredients and wet ingredients. In baking, precision is everything, so having the correct measurements makes a huge difference.
Use room temperature ingredients when called for! I know it can be hard to wait, but cold ingredients don't bond together, and using them will negatively impact your bread.
Cool completely before slicing and serving! I like to cool the cranberry bread in the tin for at least 10 minutes. Then transfer it to a wire cooling rack to cool completely.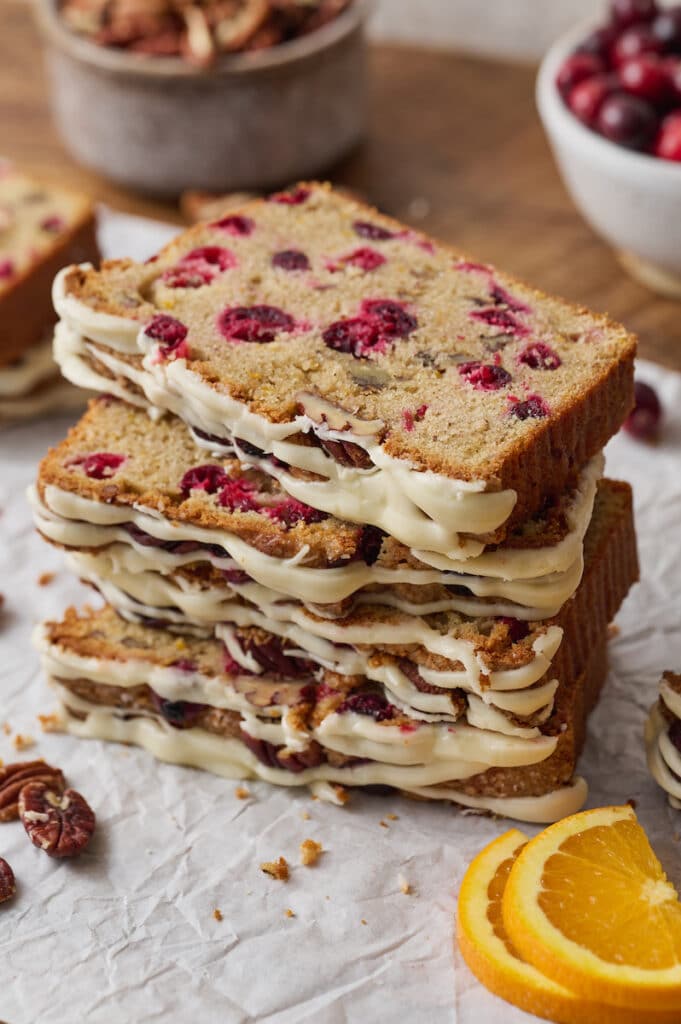 Fresh or Frozen Cranberries?
If you can find fresh cranberries, I encourage you to use them! But if you can only find frozen cranberries, don't fret. They work beautifully in this recipe, as long as you don't thaw them first. You want to add the berries to the batter completely frozen!
So, what about dried cranberries? Well, I don't personally recommend using them. But if you do, I would only use 1 cup. And rehydrate them in something like orange juice or warm water before adding them to the batter.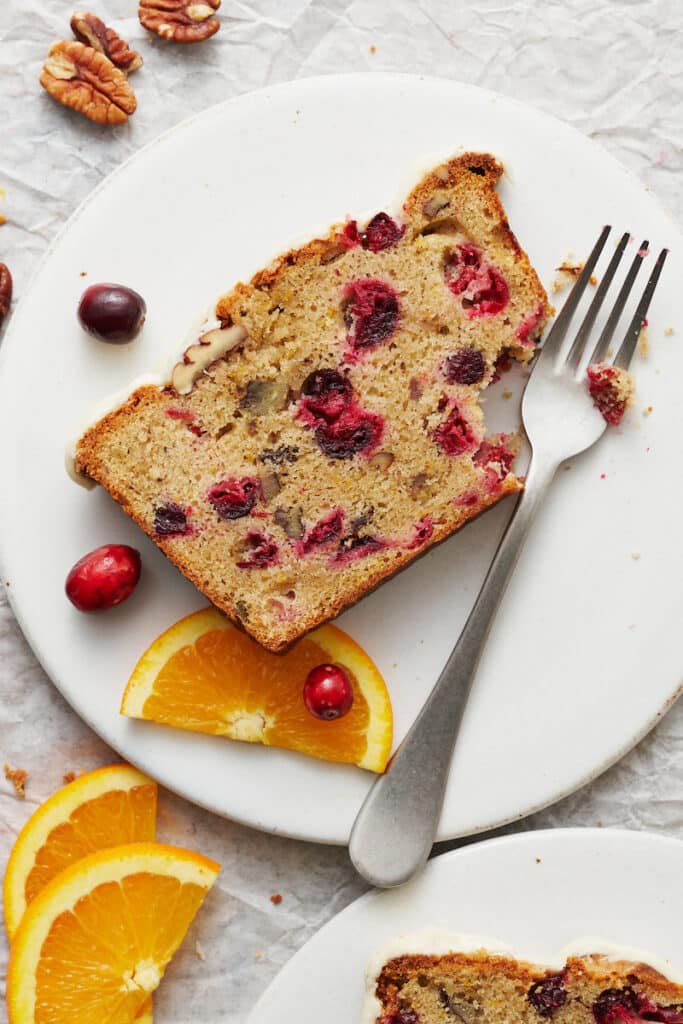 Tools for this Recipe
This post may contain affiliate links.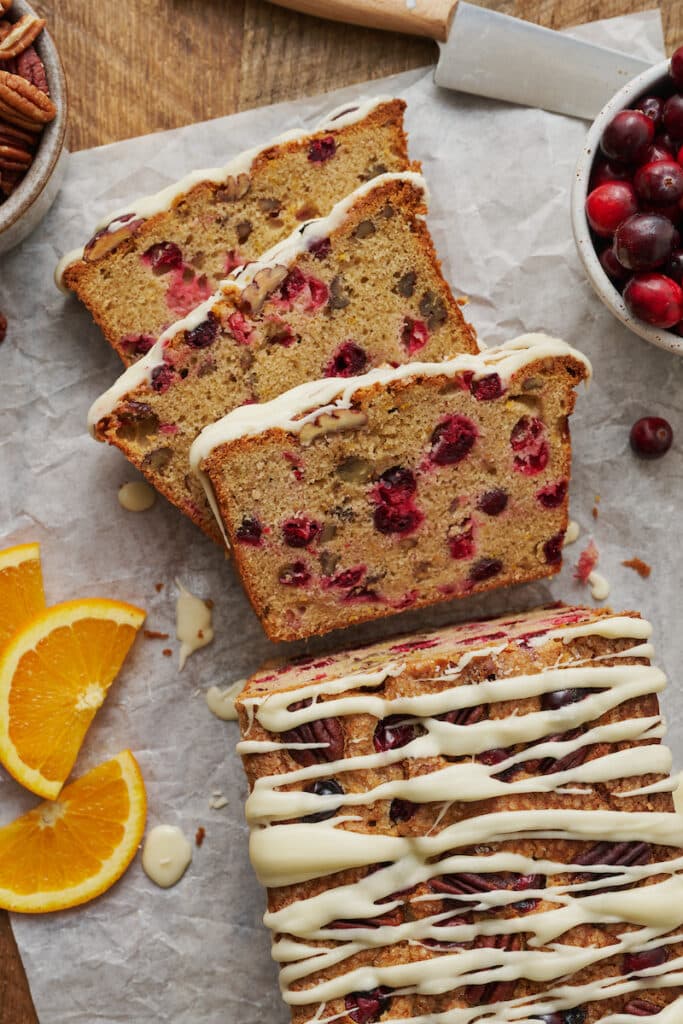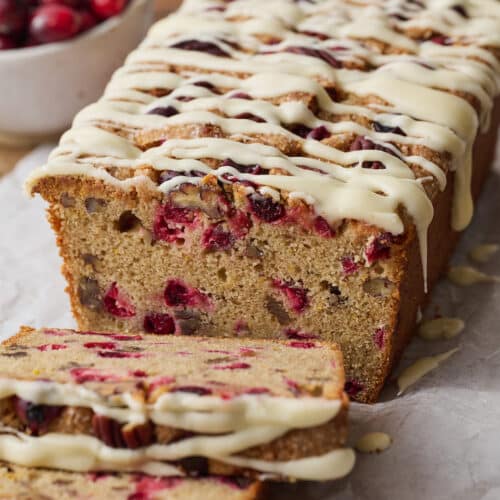 Cranberry Orange Bread
This festive cranberry orange bread recipe combines fresh orange juice, orange zest, cranberries, and crunchy pecans! We love this topped with a sweet orange glaze, but a dusting of powdered sugar is also a delicious option. Fresh or frozen cranberries both work great!
Ingredients
For the Cranberry Orange Bread:
3/4 cup (171g) sour cream room temperature
1 Tablespoon orange zest finely grated
1/3 cup (76ml) freshly squeezed orange juice
3 Tablespoons (42ml) vegetable oil
2 cups (240g) all-purpose flour
1/2 teaspoon salt
1 teaspoon ground cinnamon
1/4 teaspoon ground nutmeg
1/4 teaspoon ground cardamom optional, but delicious
1 teaspoon baking powder
1/2 teaspoon baking soda
1/2 cup (113g) unsalted butter room temperature
3/4 cup (149g) granulated sugar
1/4 cup (53g) light brown sugar packed
2 large eggs room temperature
2 cups (200g) *cranberries cut in half
1/2 cup (57g) pecans coarsely chopped
2 teaspoons sparkling sugar optional
For the Orange Glaze:
1/2 cup (77g) confectioners' sugar sifted
2 and 1/2 teaspoons freshly squeezed orange juice
1/4 teaspoon salt
Instructions
For the Cranberry Orange Bread:
Preheat the oven to 350 degrees (F). Spray a 9×5-inch loaf pan with non-stick cooking spray. Set aside until needed. 

In a small bowl, stir together the sour cream, orange zest, orange juice, and oil. Set aside until needed. 

In a large bowl, whisk together the flour, salt, cinnamon, nutmeg, cardamon, baking powder and baking soda. Set aside. 

In the bowl of a stand mixer fitted with the paddle attachment, or in a large bowl using a handheld electric mixer, beat the butter until smooth. Add in both sugars and continue beating until light and fluffy, about 3 minutes. 

Add in the eggs, one at a time, beating well after each addition. 

On low speed, add the dry ingredients in 3 additions, alternating with the wet ingredients in 2 additions, mixing just until combined. Do not over mix. 

Turn the mixer off and use a rubber spatula to gently stir in cranberries and nuts. Do not over mix.

Scrape the batter into the prepared pan and spread evenly with a rubber spatula. Sprinkle the top with sparkling sugar (I like to press a few extra whole cranberries and pecans on top too, if you have extra). 

Bake for 30 minutes, then reduce the heat to 325° F. Continue to bake until golden brown and a toothpick inserted into the center of the loaf comes out clean, about 45 minutes longer. 

Cool the loaf in the pan for about 10 minutes, then turn out onto the rack and cool at least 1 hour before glazing and serving.
For the Orange Glaze:
In a large liquid measuring cup or bowl, combine the sugar, orange juice, and salt. The mixture should be super thick and just barely pourable. If the glaze is too thick, add more orange juice, a teaspoon at a time. If the glaze is too thin, add more confectioners' sugar, a Tablespoon at a time. 

Drizzle (zigzag) the glaze over the cooled cake and allow it to set for 20 minutes. Then slice and serve! 
Notes
*Fresh or frozen cranberries can be used, if using frozen, do NOT thaw.