Cranberry Orange Biscotti are crunchy and loaded with dried cranberries and orange zest! Firm enough to dip into a warm drink, but not so hard you'll risk cracking a tooth! These are one of our favorite holiday cookies to bake, gift, and enjoy!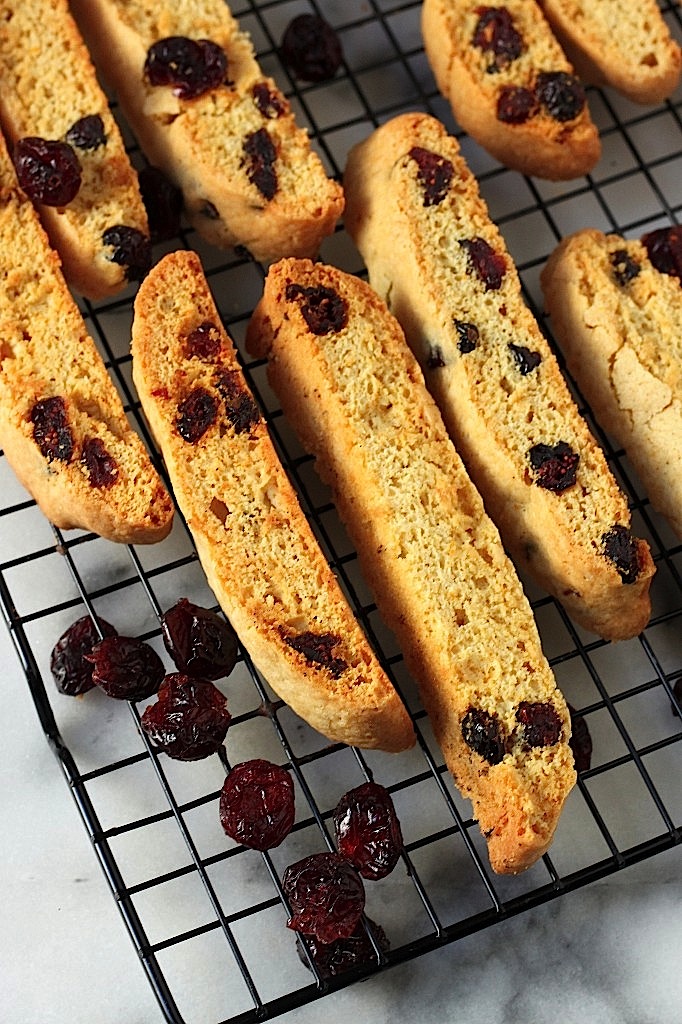 Cranberry Biscotti
Hot drinks and crunchy cookies are essentials for surviving a cold winter! So just in case this one turns out to be exceptionally brutal, we should have our cookie game plan set and ready for action.
And one of the BEST holiday cookies to pair with cozy warm beverages is biscotti!!! In the past I've made chocolate pecan biscotti, lemon poppy seed biscotti, and even a savory black pepper parmesan biscotti! But this cranberry orange biscotti is definitely my most festive version yet!
And it's perfect for holiday cookie platters and dessert trays!
If you're still reading at this point, I take it you're down for this biscotti adventure! And it's a good thing you are. These babies are the best I've had in aaaaaaaages! And I'm a girl who eats many a'biscotti on the regular.
The reason(s) I adore them like I do is ALL thanks to their lovely laid back flavor and super sassy crunch. Those reasons may sound simple, but let me tell ya, finding the perfect biscotti balance in those basic departments ain't no cake walk.
The orange and cranberry flavor is light… and lingers in each bite just enough to fill you with a fiery urge to dive in for another. The texture is exactly the right marriage of crunch and butter. And the best drink to dip it in is… well, that one I leave to you!!!
Happy dipping! xo
More Cranberry Orange Recipes:
Golden Cranberry Orange Biscotti – Baker by Nature
Yields 16-18 biscotti cookies
Ingredients:
4 tablespoons unsalted butter, at room temperature
3/4 cup granulated sugar
2 teaspoons orange zest
1/2 teaspoon salt
1 teaspoon vanilla extract
2 teaspoons baking powder
2 large eggs, at room temperature
2 cups all purpose flour
1 cup sweetened or unsweetened dried cranberries
Instructions:
Preheat the oven to 350°F. Line a large baking sheet with parchment paper; set aside.

In a small bowl combine the sugar with the orange zest and mix together with your fingers, massing the zest into the sugar so the flavor really incorporates. Add the sugar to the body of a stand mixer fitted with the paddle attachment and beat on medium speed with the butter, salt, and vanilla until mixture is smooth and creamy. Beat in the eggs. Lower the mixer speed, and add the flour and baking powder, mix just until smooth. The dough will be very soft and sticky, but should be able to hold its shape when dropped from a spoon. Stir in the cranberries.

Transfer the dough to the prepared baking sheet, and shape it into a rough log about 16 inches long. It will be about 2 1/2 inches wide and about 1 inch thick.

Bake the dough at 350 for 25 minutes. Remove it from the oven and let cool on the pan anywhere for 25 minutes.
Reduce the oven temperature to 325°F. Cut the biscotti into 1/2- to 3/4-inch slices. Place the biscotti upright on the prepared baking sheet, and bake for another 25 minutes. Remove from the oven and transfer cookies to a rack to cool completely.