Creamy Greek Yogurt Key Lime Cheesecake!!! Rich, decadent, and loaded with real key lime flavor – this cheesecake deserves a top spot on your "to-make" list.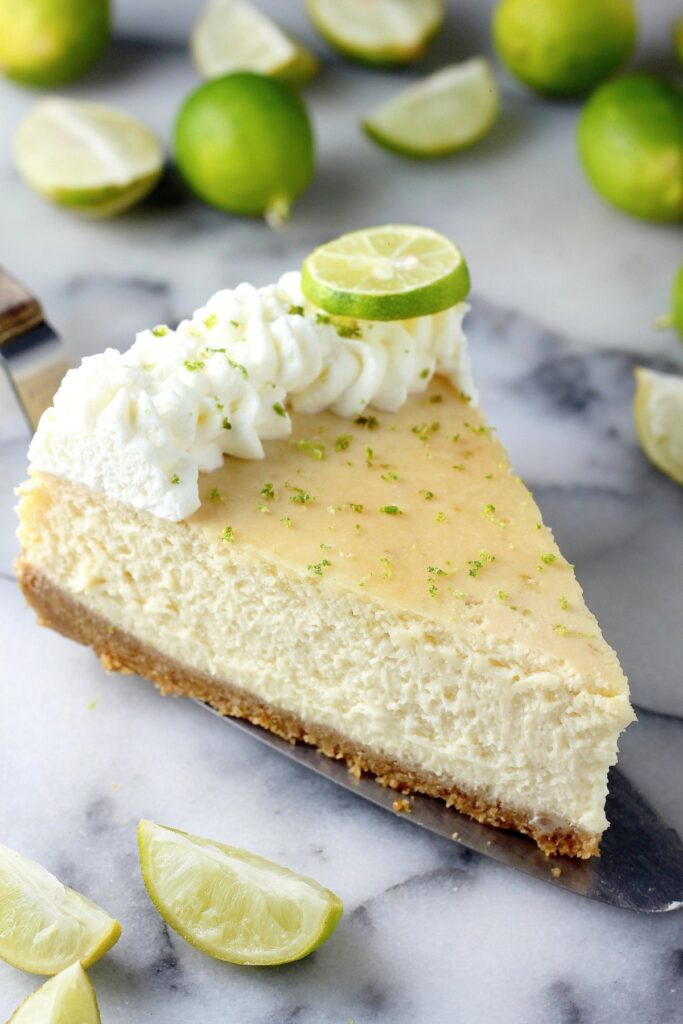 I'm sure by now your pretty little eyes are completely over reading the words "OMG YOU GUYS THIS IS THE BEST RECIPE EVER…" But friend, seriously, from the bottom of my heart, this one right here really really really is the best thing ever. Well, as far as key lime cheesecakes go, that is.
This decadent cheesecake is super rich (thanks to Greek yogurt and cream cheese in the batter), creamy, and bursting with a fresh kiss of key lime in every bite! And the graham cracker crust is so classic with its buttery crumbs and subtle sweetness. Top it with a swirl of whipped cream and I mean… you're in heaven!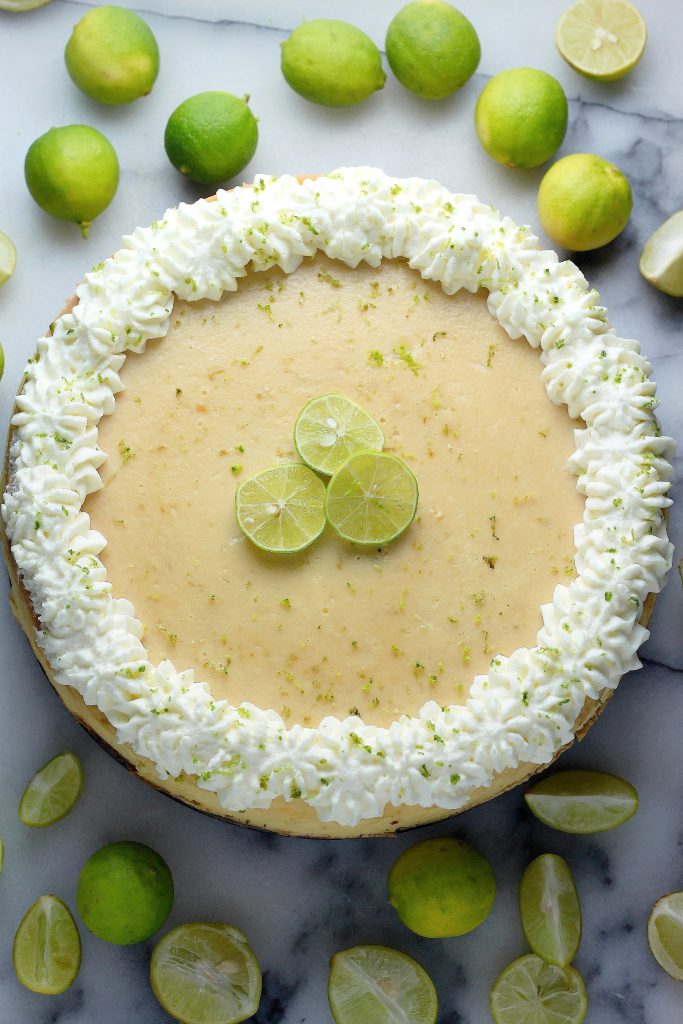 Don't believe it's the best?! Well, I guess you'll just have to make it and judge for yourself 😉 But I'm pretty sure you'll agree – this is one amazing cheesecake!
P.S. This cheesecake freeze really really well (sans the whipped cream!), so don't be afraid to pop a few slices in the freezer for another time. Just allow them to defrost overnight in the fridge before digging in! xoxoNeed help choosing a springform pan? Below is a link to the one I love and use every time I bake a cheesecake!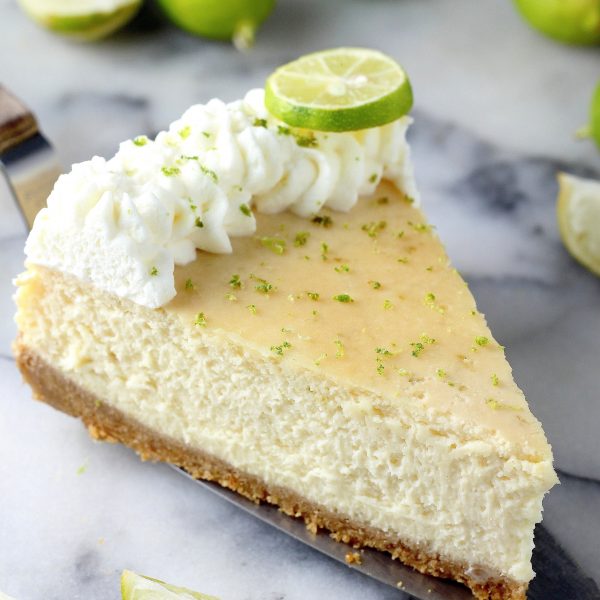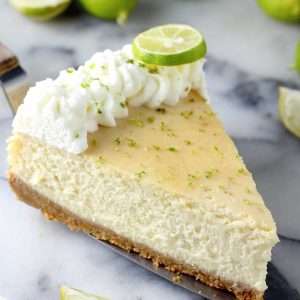 Creamy Greek Yogurt Key Lime Cheesecake
Creamy and delicious Greek Yogurt Key Lime Pie!
Ingredients
For the Crust:
2 cups graham crackers, pulsed into crumbs
1/3 cup sugar
1/4 teaspoon salt
7 tablespoons butter, melted
For the Creamy Greek Yogurt Key Lime Cheesecake Filling:
3 (8 ounce) packages cream cheese, very soft
1 cup Full-Fat Greek yogurt
1 1/4 cups granulated sugar
2 teaspoons pure vanilla extract
3 large eggs + 2 egg yolks, at room temperature
3 tablespoons all-purpose flour
3/4 cup key lime juice
Instructions
Preheat oven to 325 degrees (F).
For the Crust:
In the body of a blender combine graham crackers, sugar, and salt; blend until the crackers have been completely pulsed to crumbs. Add melted butter; stir well to combine. Press down into a lightly greased 9-inch springform pan; set aside.
For the Creamy Greek Yogurt Key Lime Cheesecake Filling:
In the body of a high power blender, food processor, stand mixer fitted with the whisk attachment, or in a large bowl using a hand held mixer, beat the softened cream cheese and Greek yogurt until smooth.

Add sugar and vanilla; beat until smooth, scraping down the sides and bottom of bowl as needed. Add in the eggs and yolks; beat until smooth. Stir in the flour, mixing just until combined.

Quickly stir in the lime juice, mixing just until it's incorporated in the batter.

Pour filling into prepared crust, and spread evenly.

Wrap the bottom of the pan in tin foil (I recommend doing a few diligent layers here; none wants a wet crust).

Place the cheesecake pan into a large, deep pan. Fill the pan up with hot water half way. This is your water bath and will help ensure your cheesecake comes out crack free.

Place pan in the oven and cook cheesecake for 1 hour and 25 minutes. Turn oven off and let the cheesecake sit, undisturbed, for 55 minutes inside the oven with the door shut. The cheesecake should be still slightly wiggly.

Remove cake from oven, run a knife very gently around the edge of the cake, and let it sit in the pan for 15 more minutes before covering loosely with plastic wrap and refrigerating for at least 6 hours. When ready to serve, top with a dollop of whipped cream and enjoy!
Notes
You may use any large, deep oven-safe baking pan you have to make your water bath.