If you're anything like me, there's nothing better than sinking your fork into a thick slice of extra rich and creamy cheesecake! This version reminds me of the classic Cheesecake Factory cheesecake… but even better! Featuring a crunchy graham cracker crust and silky smooth cream cheese filling, this recipe will make everyone think you're a pro baker!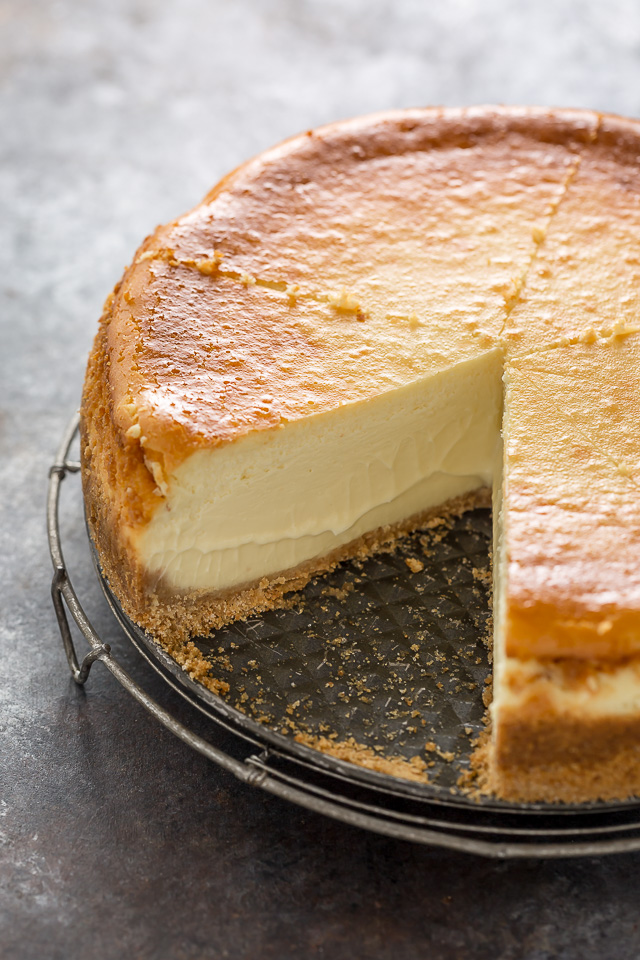 Cheesecake Recipe
Although I love to travel, I'm a homebody at heart, so after 15 days in LA… IT FEELS GOOD TO BE HOME! And despite the fact that I'm still battling a severe case of jet lag, I couldn't resist sneaking into the kitchen and baking us something sweet. But I also couldn't face the grocery store just yet, so I had to make due with ingredients I already had on hand.
Enter this rich and creamy cheesecake recipe! It's make with simple ingredients like cream cheese, sugar, eggs, vanilla, and heavy cream. Basically things most bakers always have on hand! And the results? Well let's just say this classic cheesecake rivals anything you'd buy from a fancy bakery (or the Cheesecake Factory!).
How to make Cheesecake
Before you begin, be sure to lightly spray the entire baking pan with non-stick spray. If you don't have, or don't use, canned sprays, you may grease the pan with butter. Greasing the entire pan will ensure your crust and cheesecake don't stick to the pan. No sticking equals perfect slices!
Because this recipe begins with the crust, that is also where we will begin. To make the crust you will need melted butter, crushed graham cracker crumbs, and sugar. Yep – just three ingredients!  You can buy graham cracker crumbs from the grocery store, or make your own by pulsing sheets of graham crackers in your blender or food processor.
When pressing the crust down into the bottom of the springform pan, you're going to want to press it down very firmly. A firmly packed crust will bake up nice and thick, and most importantly, won't crumble much when sliced. I recommend starting to press the crumbs down in the center of the pan and then working the crust out and just a little bit up the edges.
Room temperature ingredients are crucial when it comes to making a cheesecake! So be sure you bring your cream cheese, eggs, and heavy cream to room temp before you begin making the batter.
Do I have to make a Water Bath for Cheesecake?
Yes, but I promise it's not that scary! The water bath helps the cheesecake stay nice and moist! And it also ensures a crack-free presentation.
Learn how to make an easy water bath for cheesecake with this step by step tutorial!
PRO TIP: BE SURE NOT TO OVERBEAT YOUR CHEESECAKE BATTER! THIS ALLOWS TOO MUCH AIR INTO THE BATTER, AND WILL CAUSE THE CHEESECAKE TO EXCESSIVELY RISE IN THE OVEN, THEN COLLAPSE WHEN REMOVED. TO MAKE A SILKY SMOOTH BATTER WITHOUT OVERBEATING, FULLY BLEND THE CREAM CHEESE BEFORE ADDING THE REMAINING INGREDIENTS.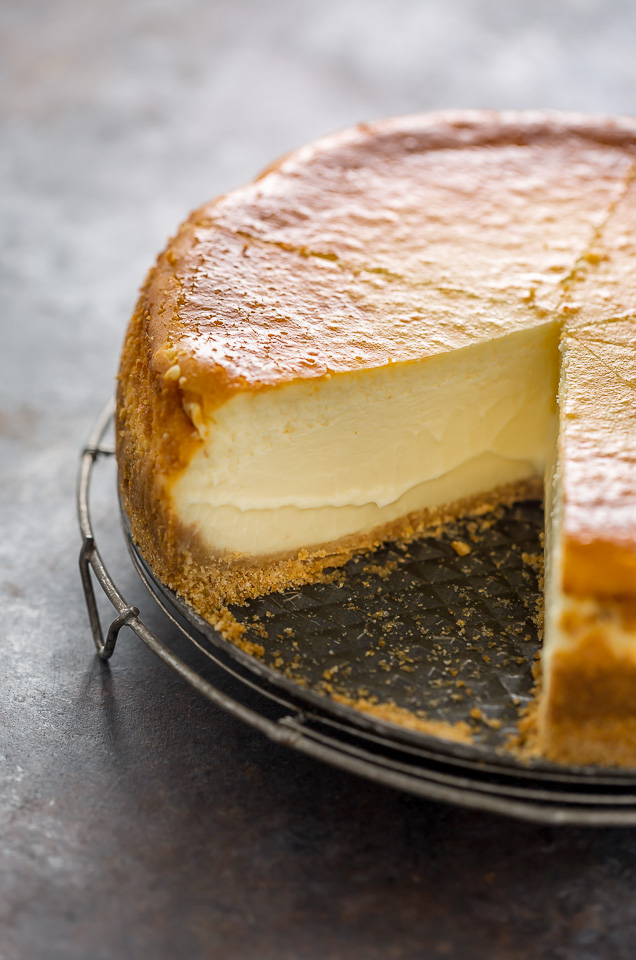 Can I Freeze Cheesecake?
Yes, of course! Baked cheesecakes freeze great! Simply cool the cheesecake completely, then wrap the whole cheesecake, or slices of the cheesecake, in multiple layers of saran wrap, then place in a freezer bag. This cheesecake will keep, stored properly in the freezer, for two months.
How do you Defrost a Cheesecake?
To defrost the cheesecake, simply thaw the wrapped cheesecake in refrigerator overnight. Do not attempt to thaw cheesecake in the microwave or oven!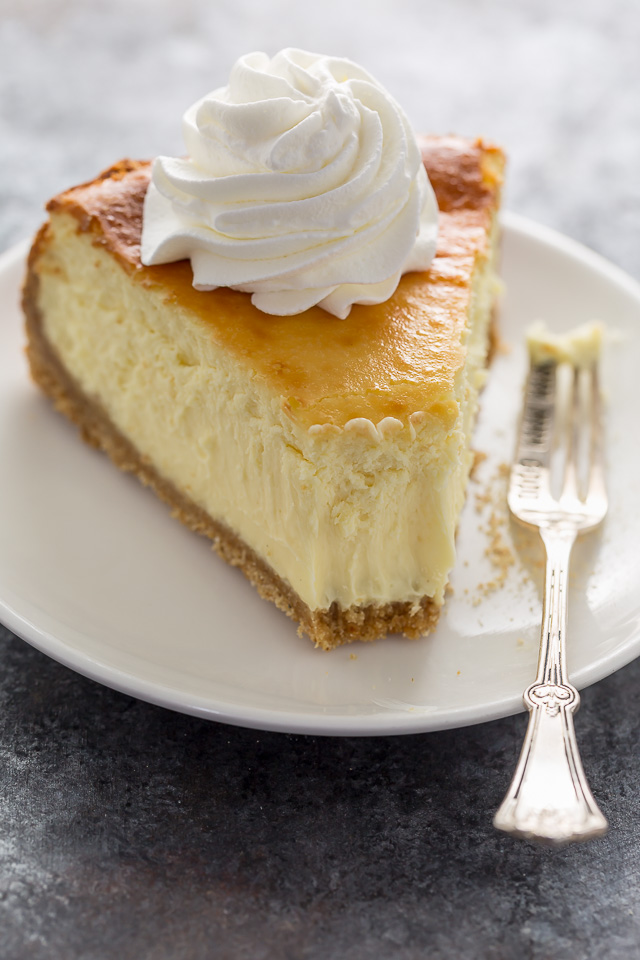 More Creamy Cheesecakes: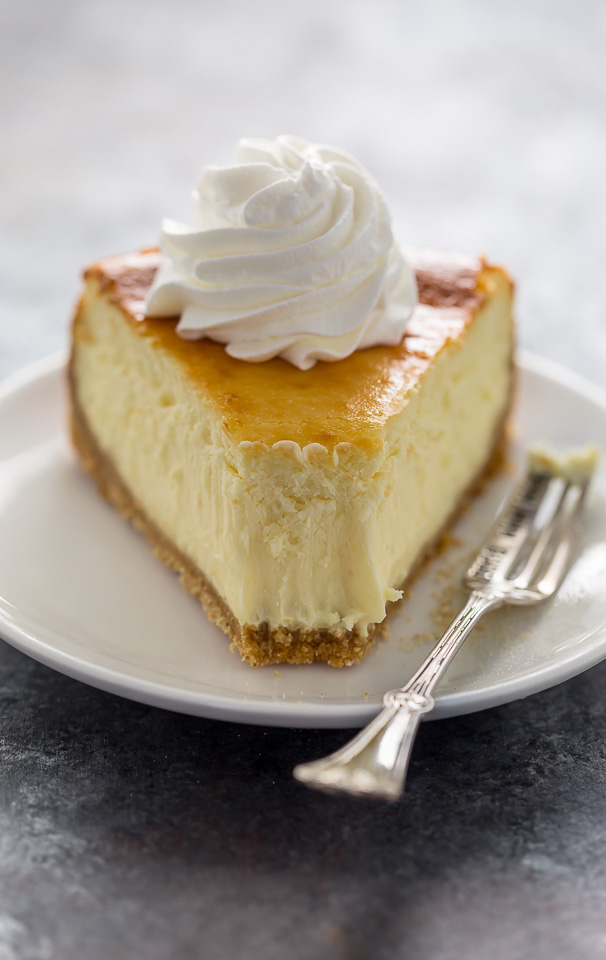 If you try this cheesecake recipe, let me know what you think! Leave a comment below, and don't forget to snap a pic and tag it #bakerbynature on instagram! Seeing your creations makes my day ♥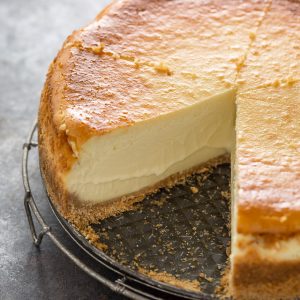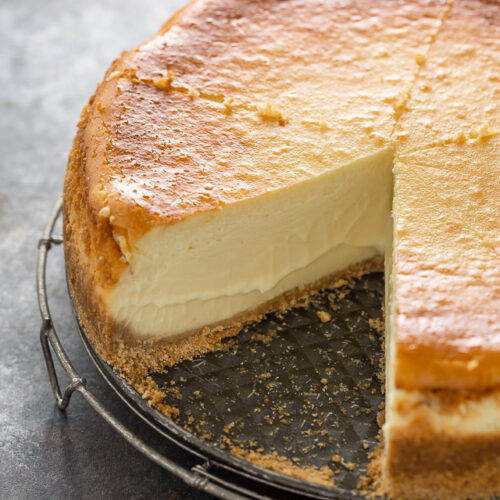 Extra Rich and Creamy Cheesecake
This Extra Rich and Creamy Cheesecake is freezer friendly and perfect for special occasions! 
Ingredients
For the Crust:
2 cups (198 grams) graham cracker crumbs
1/3 cup (67 grams) sugar
7 tablespoons (99 grams) butter, melted
For the Creamy Cheesecake:
5 blocks of full-fat cream cheese (40 ounces total), softened to room temperature
1 and 1/2 cups (300 grams) granulated sugar
2 teaspoons pure vanilla extract
5 large eggs plus 3 egg yolks, at room temperature
1/2 cup (113 grams) heavy cream
Instructions
For the Crust:
Preheat oven to 350 degrees (F). Lightly spray a 9" springform pan with non-stick spray.

Wrap the bottom and sides of the pan with heavy duty tinfoil. I recommend doing several diligent layers here to ensure no water creeps through when you place the pan in the water bath. Set pan aside. 

In a large bowl, combine graham cracker crumbs, sugar, and melted butter; stir well to combine. Firmly pat the mixture into the prepared pan.

Bake in preheated oven for 8 minutes. Place partially baked crust on a cooling rack and set aside while you prepare the filling. 
For the Creamy Cheesecake Filling:
In the body of a high power blender, food processor, stand mixer fitted with the whisk attachment, or in a very large bowl using a hand held mixer, beat the softened cream cheese until completely smooth, scraping the bowl as needed. 

Add sugar and vanilla and beat smooth, scraping down the sides and bottom of bowl as needed. Add in the eggs and yolks, one at a time, beating well after each addition. 

Add in the cream and beat until it's just incorporated in the batter. 

Pour filling into prepared crust and, using a silicone spatula, smooth the top. 

Place the cheesecake pan into a large, deep pan. Fill the pan with 2 inches of hot water. This is your water bath and will help ensure your cheesecake comes out crack free.

Carefully place the pan in the oven and bake for 1 hour and 10 minutes. Turn oven off and let the cheesecake sit, undisturbed, for 45 minutes, inside the oven with the door shut. The cheesecake should be still slightly wiggly.

Remove cake from oven and gently run a knife very around the edge of the cake. Place the cheesecake pan on a cooling rack and cool completely, then loosely cover the pan with saran wrap and chill for at least 8 hours.

Cheesecake will keep, covered in the fridge, for 5 days. Cheesecake may be frozen for 2 months. Thaw overnight before slicing.