[adthrive-in-post-video-player video-id="KS3NhQBo" upload-date="2021-08-21T13:39:49.000Z" name="Deep Dish Key Lime Pie" description="This Deep Dish Key Lime Pie is tart, sweet, and so refreshing! Top with whipped cream and finely grated lime zest for a stunning presentation! Cold and creamy, this is the perfect Summer treat!" player-type="default" override-embed="default"]
This Deep Dish Key Lime Pie is tart, sweet, and so refreshing! Top with whipped cream and finely grated lime zest for a stunning presentation! Cold and creamy, this is the perfect Summer treat!
Key Lime Pie Recipe
Welcome to Day 1 of CHRISTMAS IN JULY!!! An annual tradition here on BBN, and something I've personally been looking forward to for months now! This month I'll be sharing tried and true classic recipes you can make now… and during the hectic holiday season!
And I can't think of a better recipe to kick things off with than creamy key lime pie! Cold, creamy, and delightfully tart, it may just be the perfect Summer dessert! But it's also make-ahead friendly, not too heavy, and a great palate cleanser, making it an ideal dessert choice for the holiday season! A great now and later dessert, if you will!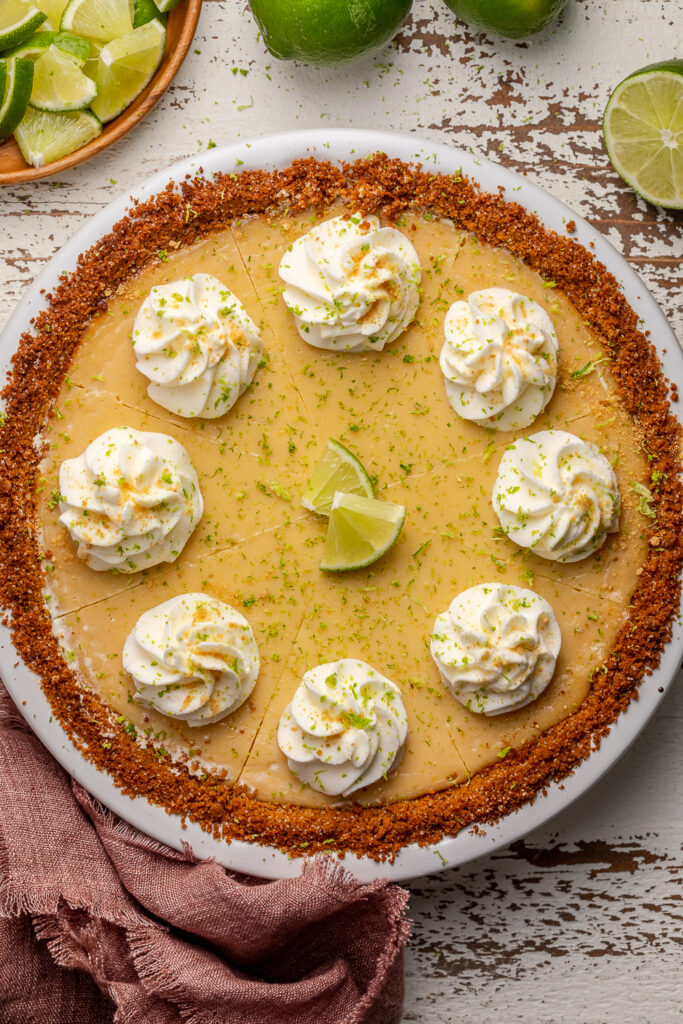 I'm 100% in love with this pie! And I promise you, I'm not being dramatic… or just typing that for marketing hype! I'm just a girl who's made this pie 6 times in the last week and can't stop talking about it! At this point, I've shared this pie with my husband, my neighbors, my friends…
And now it's time I share it with you!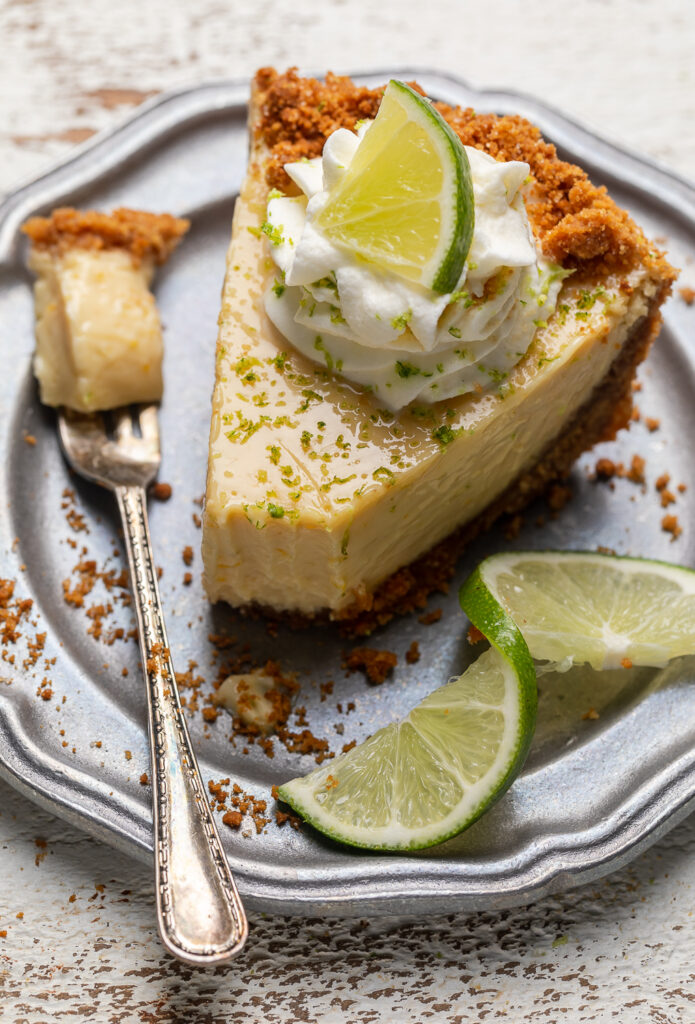 Because trust me, if you're a lime lover, you're going to adore this extra thick and creamy pie! It's silky smooth, not too sweet, and strong on lime flavor! It's everything you could want in a key lime pie and then some! Bonus: no electric mixer needed!
How to Make Key Lime Pie
Step one is making your crust! It's a million times tastier than store bought crust and so easy! First you'll preheat the oven. Then you'll combine the graham cracker crumbs with melted butter, granulated sugar, a pinch of cinnamon, and a dash of salt. The cinnamon gives the crust the most incredible flavor, so don't skip it!
Pour the crust into a pie pan or tart pan and then press it into the bottom and up the sides. Be sure you get the bottom good first, then use whatever left to make a side crust.
Bake the crust until golden brown! Then set it on a wire rack to cool while you make the filling!
In a medium bowl you'll combine the sweetened condensed milk, sour cream, egg yolks, ground ginger, and salt. Then you'll gradually drizzle in the lime juice, whisking the entire time. And finally, fold in the flour. Unfortunately, I don't have a substitute for sour cream or sweetened condensed milk to suggest.
Bake until almost set, about 28 minutes, then remove from the oven and place on a wire rack to cool to completely. This will take about an hour!
Once the pie is at room temperature, transfer to the fridge for at least 6 hours before cutting! If you slice before this time is up, your pie will be runny! The good news, you can make this up to 5 days in advance and store in the fridge!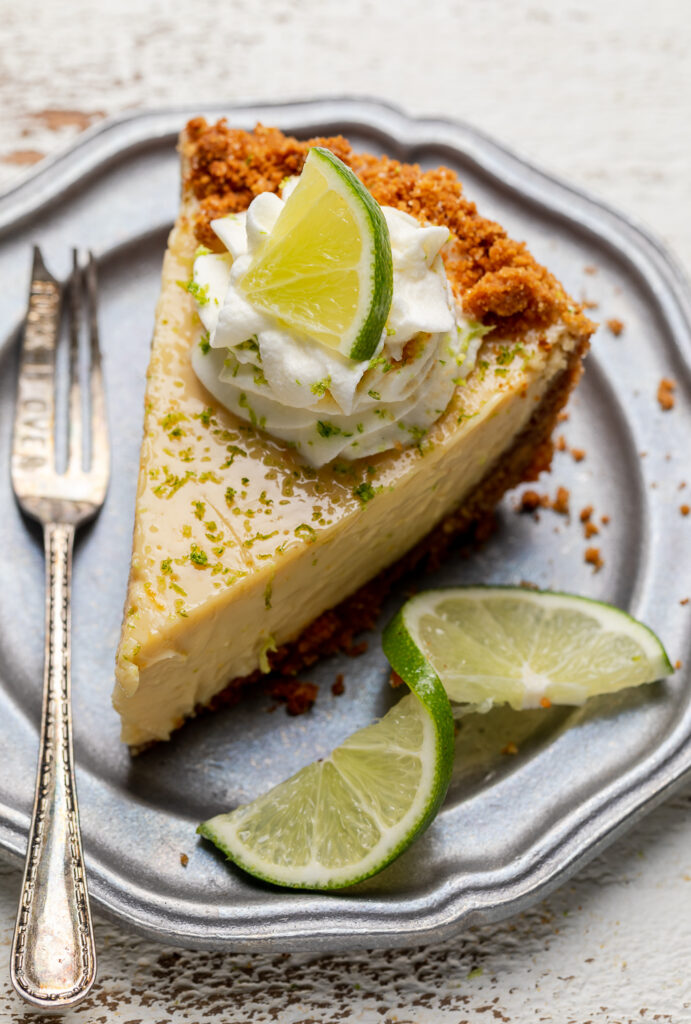 Key Limes vs Regular limes
Key limes are tangy and sweet… while regular limes and tangy and slightly bitter. Key limes are much smaller than Persian limes, and have very thin skin. They also have a more aromatic profile than standard limes, which makes them beloved in the baking world! They're easiest to find between June and August, and typically show up at specialty grocery stores. Key limes can be pretty tricky to hunt down year round, while standard limes are easily found at grocery stores, big box stores, and even bodegas year round .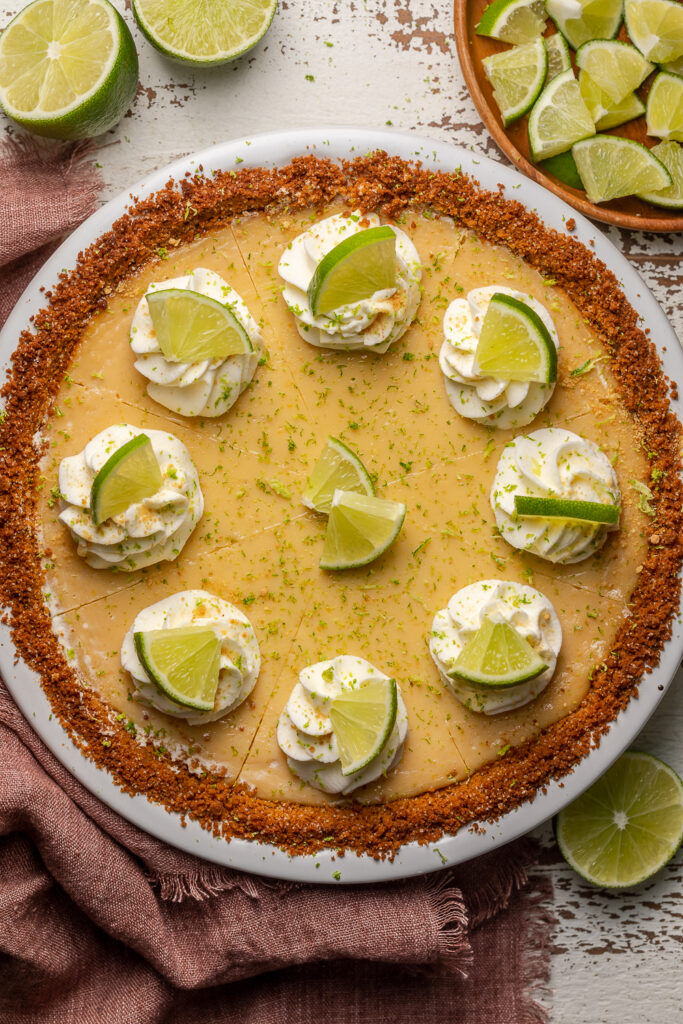 Can I use regular limes?
In short, yes, you can use regular limes. This pie won't have the same exact flavor as it would if you used key limes! It'll be slightly more bitter and have less depth of flavor. But you'll still have a very delicious lime pie on your hands!
Best Bottled Key Lime Juice
For great key lime flavor without all of the hassle of finding – and squeezing – key limes, use bottled key lime juice! This is available in the cocktail aisle of most grocery stores, or can be purchased online! I love Nellie and Joe's Key West Lime Juice! Then just use regular lime zest when it's called for!
Can I double the recipe?
You sure can! If you're serving a crowd, double this recipe and bake it in a 9×13-inch baking dish. And I suggest increasing the bake time to 32 minutes! Then cool and chill in the fridge as directed below.
Make it Pretty!
While this key lime pie is delicious enough to serve on its own, why not doll it up and turn it into a stunner? It's easy! Simply whip some heavy cream and confectioners sugar together until stiff peaks form! Then either spread it on top of the pie, or scrape it into a piping bag fitted with a star top and swirl beautiful dollops around the edge of the pie! Next, finely grate some lime zest and sprinkle it on top of the whipped cream. And finally, if you're feeling extra fancy, top with lime spirals!
These extra steps only take about 5 extra minutes, but will transform your humble pie into a total showstopper! Plus, the sweet whipped cream helps break up the intense lime flavor, making it perfectly balanced and delightfully delicious!
More Key Lime Recipes: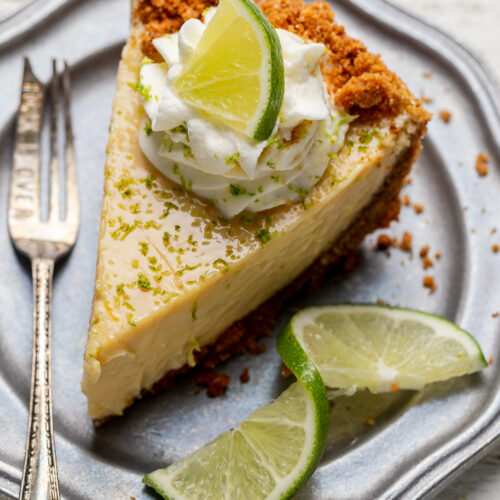 Deep Dish Key Lime Pie
Extra thick and creamy, this is the BEST Key Lime Pie recipe you'll ever make! Perfect for hot Summer days or special occasions!
Ingredients
For the Graham Cracker Crust
2 cups graham cracker crumbs 240 grams
1/4 cup granulated sugar 50 grams
1 Tablespoon light brown sugar, packed 17 grams
1/2 teaspoon salt
1/4 teaspoon ground cinnamon
6 Tablespoons unsalted butter, melted 85 grams
For the Key Lime Pie Filling
4 large egg yolks at room temperature
1/2 cup full-fat sour cream 113 grams
3 teaspoons key lime zest finely grated
(2)14 ounce cans sweetened condensed milk 28 ounces in total
1/2 teaspoon ground ginger optional
1/8 teaspoon salt
1 and 1/4 cups key lime juice 283 grams
2 teaspoons flour
1 cup whipped cream for serving, optional
Instructions
For the Crust
Preheat oven to 350 degrees (F). Lightly grease a 9-inch pie pan with nonstick baking spray and set aside until needed. In a large bowl combine the graham cracker crumbs, sugar, salt, and cinnamon. Pour in the melted butter and, using a rubber spatula, stir until well combined. Press the mixture into the prepared pan, and press the crumbs firmly down the bottom and then up the sides of the pan.Bake in the preheated oven for 12 minutes. Remove and set aside to cool while you make the filling. 
For the Key Lime Filling
In a large bowl whisk together the eggs, sour cream, lime zest, sweetened condensed milk, ground ginger, and salt. Slowly whisk in the lime juice, adding a little bit at a time and whisking constantly. Fold in the flour. Pour on top of the partially baked crust. Smooth the top with a spatula, then place in the oven and bake for 30 minutes. It should be set, but still slightly wobbly in the middle. Transfer pie to a cooling rack and cool completely in the pan. Then transfer the pan to the refrigerator and chill for at least 6 hours before serving! Top with whipped cream, if using, then slice and serve!