We're not huge breakfast people over here, but occasionally (i.e. on the weekends or when we have guests in town!) I do like to put a little extra effort into making a fun, delicious morning meal that leaves sticky fingers and smiling facing all around. It just feels right. And in the end, the extra bit of kitchen work is always worth it.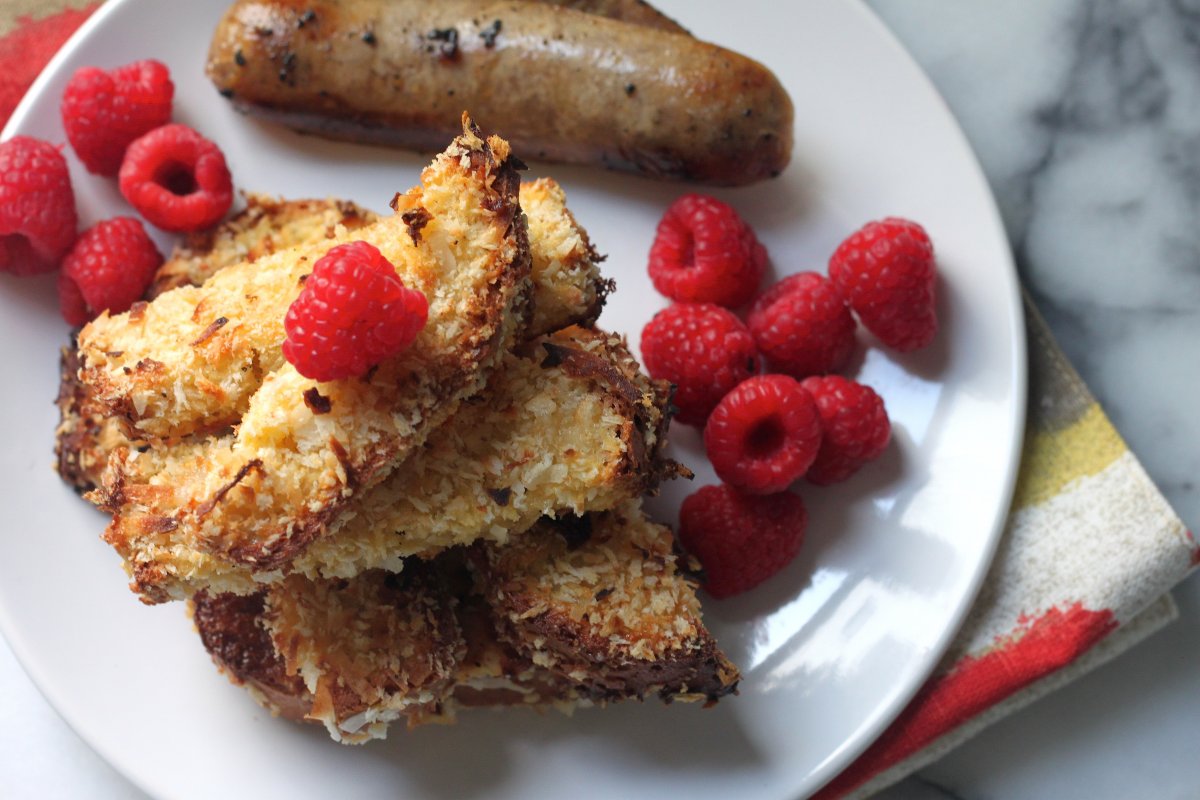 Plus! Isn't there just something so satisfying about making food meant to be drowned in syrup? And this syrup I made for you has butter + rum all up in its business. What do you think of that?
Before we get all carried away on the syrup – which is easy to do, because, omg, it's soooooo good! –  let's talk about the foundation of this whole production: The French Toast Sticks! Crispy Coconut French Toast Sticks, to be exact.
Do you like french toast sticks? Or french toast in general? I'm hoping there are lots of head nods happening right now, because these crispy coconut french toast sticks are something I think you'll really love! They're slightly sweet, totally crunchy (panko is hiding in that crunchy coconut shell), and just begging to be dunked in some of that gorgeous buttery rum syrup you've got waiting for them. They also take about 15 minutes from start to finish, so you'll be in and out of that kitchen and breakfasting in *no time!
Crispy Coconut French Toast Sticks with Salted Buttery Rum Syrup – Baker by Nature
Serves 2
For the Buttery Rum Syrup
1/2 cup pure maple syrup (grade b if possible)
1 tablespoon salted butter, melted
1/2 tablespoon rum
Instructions:
Melt butter in a small sauce pan over medium heat. Cook until the butter in completely melted, then remove from heat and stir in maple syrup and rum. Serve with french toast sticks.
For the Crispy Coconut French Toast Sticks
Ingredients:
8 slices bread, cut into 1″ sticks (I used udi's gluten free bread, which we currently LOVE)
1/2 cup heavy cream
1/4 cup whole milk
1/4 cup sugar
1 teaspoon vanilla extract
1/2 teaspoon cinnamon
1/4 teaspoon ground nutmeg
4 large eggs
1 cup sweetened shredded coconut
1 cup panko crumbs
Instructions:
Preheat oven to 500 degrees (F). Lightly grease a baking pan; set aside.
Cut each piece of bread into 1″ strips (for me this meant cutting each piece of bread in thirds, but if your loaf is larger/smaller it will definitely vary). Place bread sticks in a large, deep serving dish, arranging in a single layer.
In a large bowl whisk together the cream, milk, sugar, vanilla, cinnamon, nutmeg, and eggs; beat well.  Pour mixture over bread sticks, and let sit for one minute before carefully turning the breadsticks over to soak for another 2 minutes or so – you want them completely covered with the batter on both sides.
On a large flat plate combine the coconut and panko, then roll each french toast stick in the mixture, and placing rolled sticks on the prepared baking sheet. Once all the sticks have been coated, place baking sheet in oven for 5 minutes. Remove baking pan and flip french toast sticks before placing pan back in the oven to bake for another 5-6 minutes (or until the coating is lightly golden). Serve right away, with syrup, if using.