French toast is undeniably one of the best breakfast recipes ever! And with these 11 easy recipes, you'll never have to worry about running out of new French toast ideas again! Whether you love drenching your French toast in maple syrup, topping it with a dollop of whipped cream, or serving it with fresh berries, there's a recipe for you!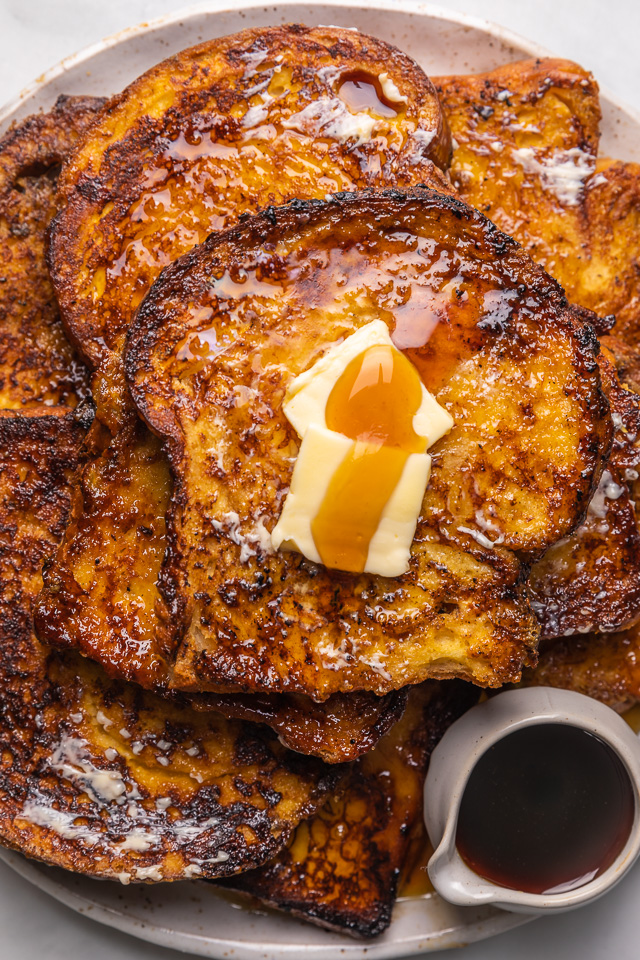 Best French Toast Recipes
If you're a French toast lover, you're in the right place! Because I've rounded up the very best French toast recipes for you. The hardest part? Trying to decide which one to make first! There's plenty of recipes to keep you busy weekend after delicious weekend. But I've made some suggestions on where to start below.
If you're a French toast purist, I suggest starting with a classic recipe like the best easy homemade French toast. But if you're looking for ease, perhaps the overnight raspberry French toast casserole is for you? And if you're looking to talk a walk on the wild side, may I suggest you try the bananas foster French toast? It's sinfully decadent and always a crowd-pleaser!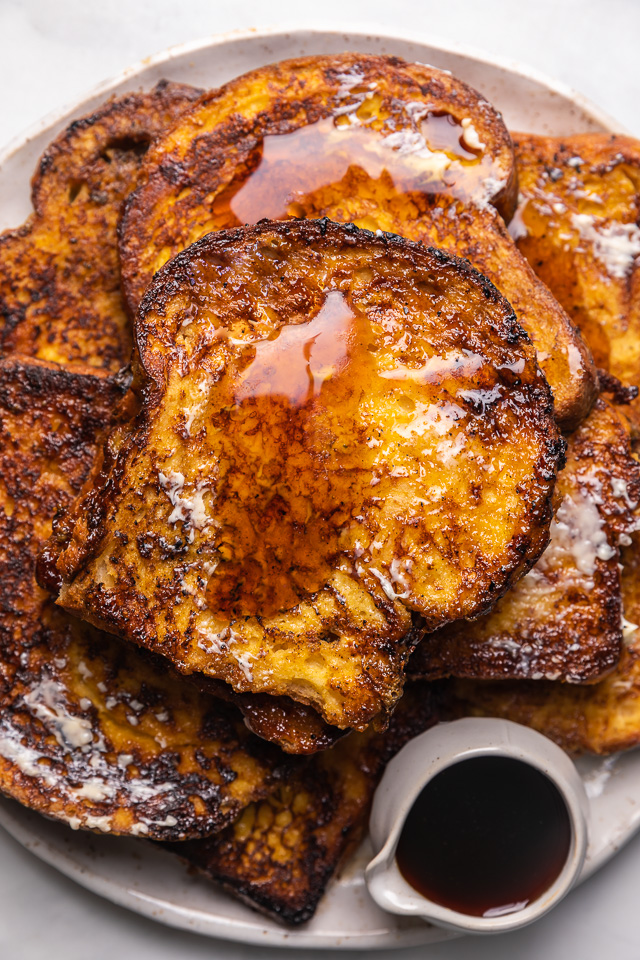 Best Easy Homemade French Toast
A tried-and-true classic, this French toast is crispy, golden brown, and not too eggy. Served with butter, plenty of warm maple syrup, and fresh berries for the ultimate breakfast feast.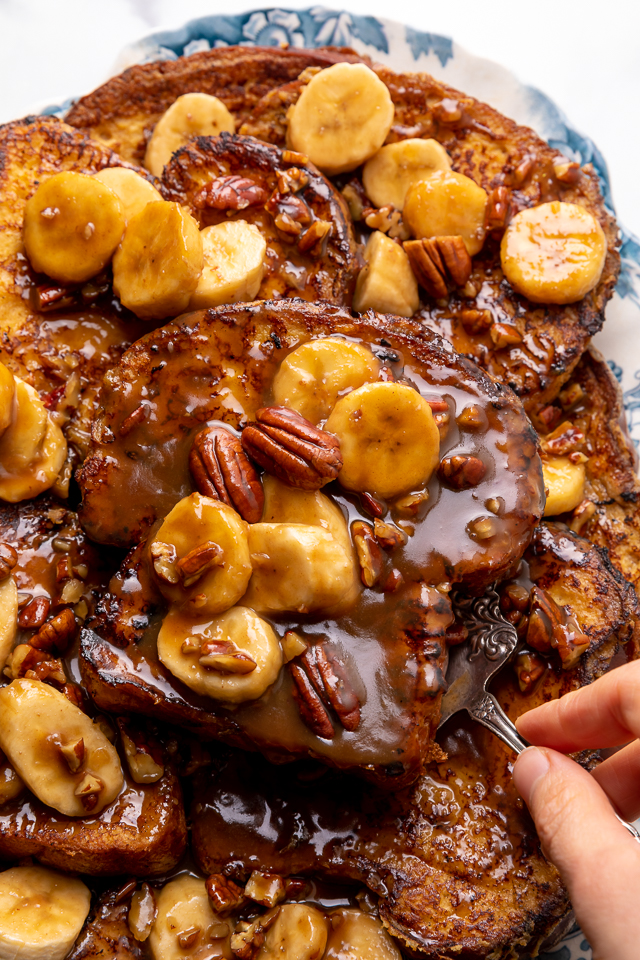 Easy Bananas Foster French Toast
Between the brown sugar bananas foster sauce, caramelized bananas, and crunchy pecans, this recipe will leave you wondering: is this breakfast or dessert? I'll let you decide the answer to that question! But if you decide on dessert, I suggest leaning into it by adding a few scoops of vanilla ice cream on top!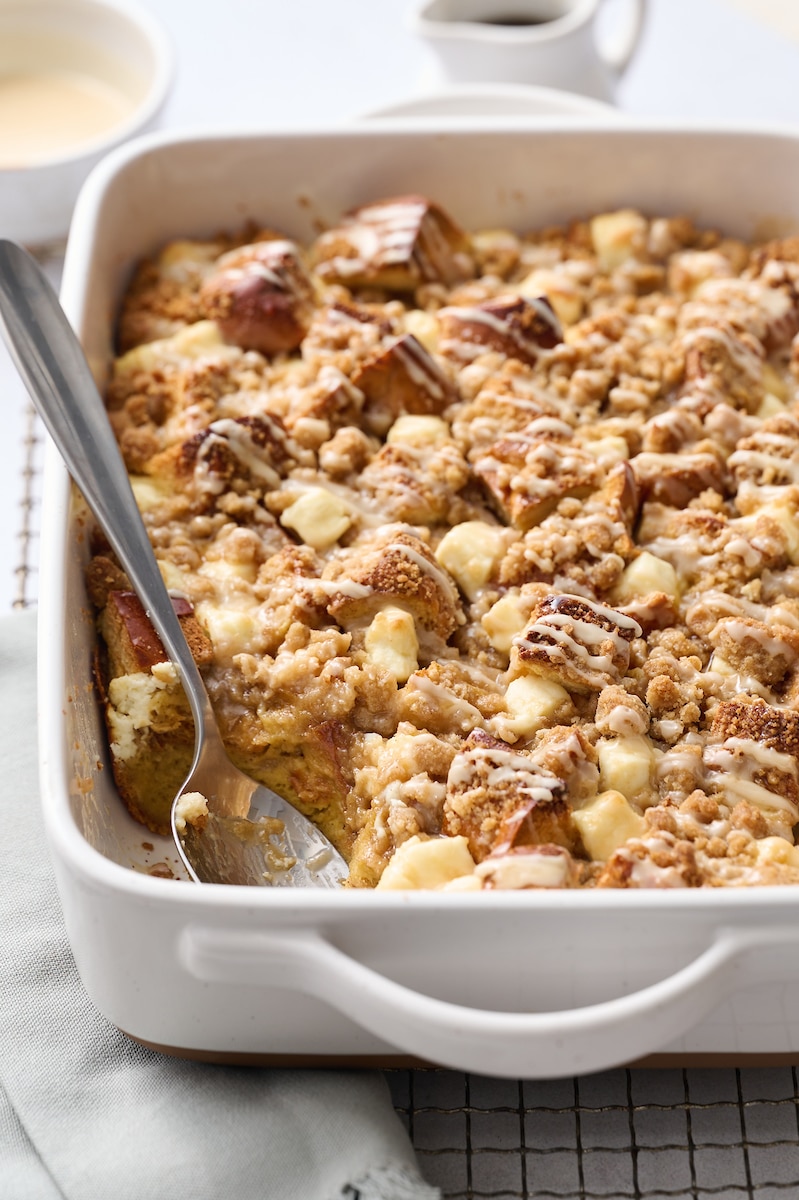 Coffee Cake French Toast Casserole
This coffee cake/French toast hybrid is pure genius! Cubes of tender French toast are topped with buttery crumbs and a sweet glaze. It's so good with a strong pot of coffee and some sliced citrus or fresh berries.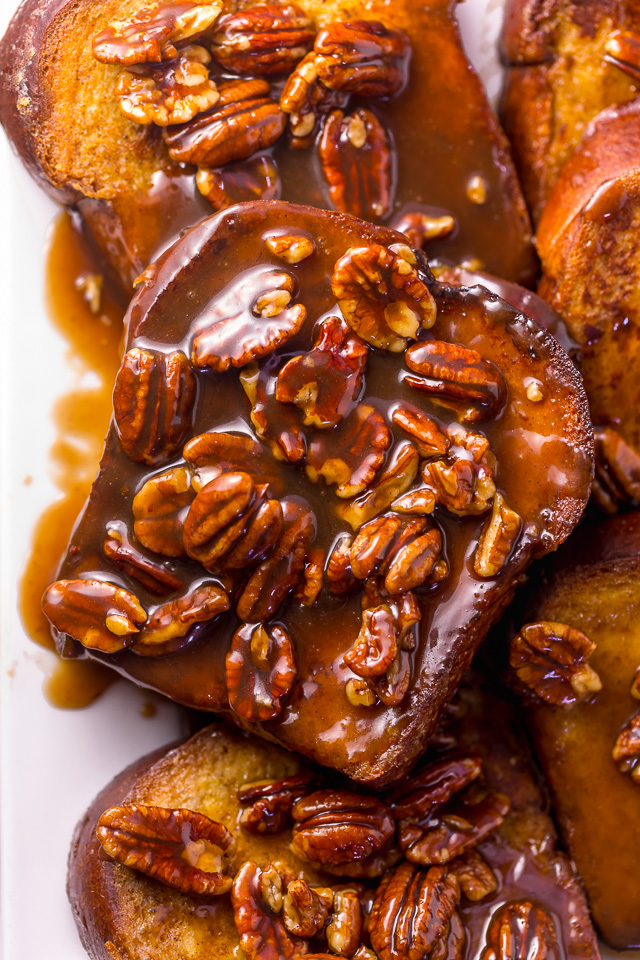 Brown Sugar Butter Pecan French Toast
Goodbye maple syrup, hello brown sugar pecan syrup! This decadent French toast is richly spiced and so decadent. Perfect for special occasions like Father's Day, Christmas, or Thanksgiving!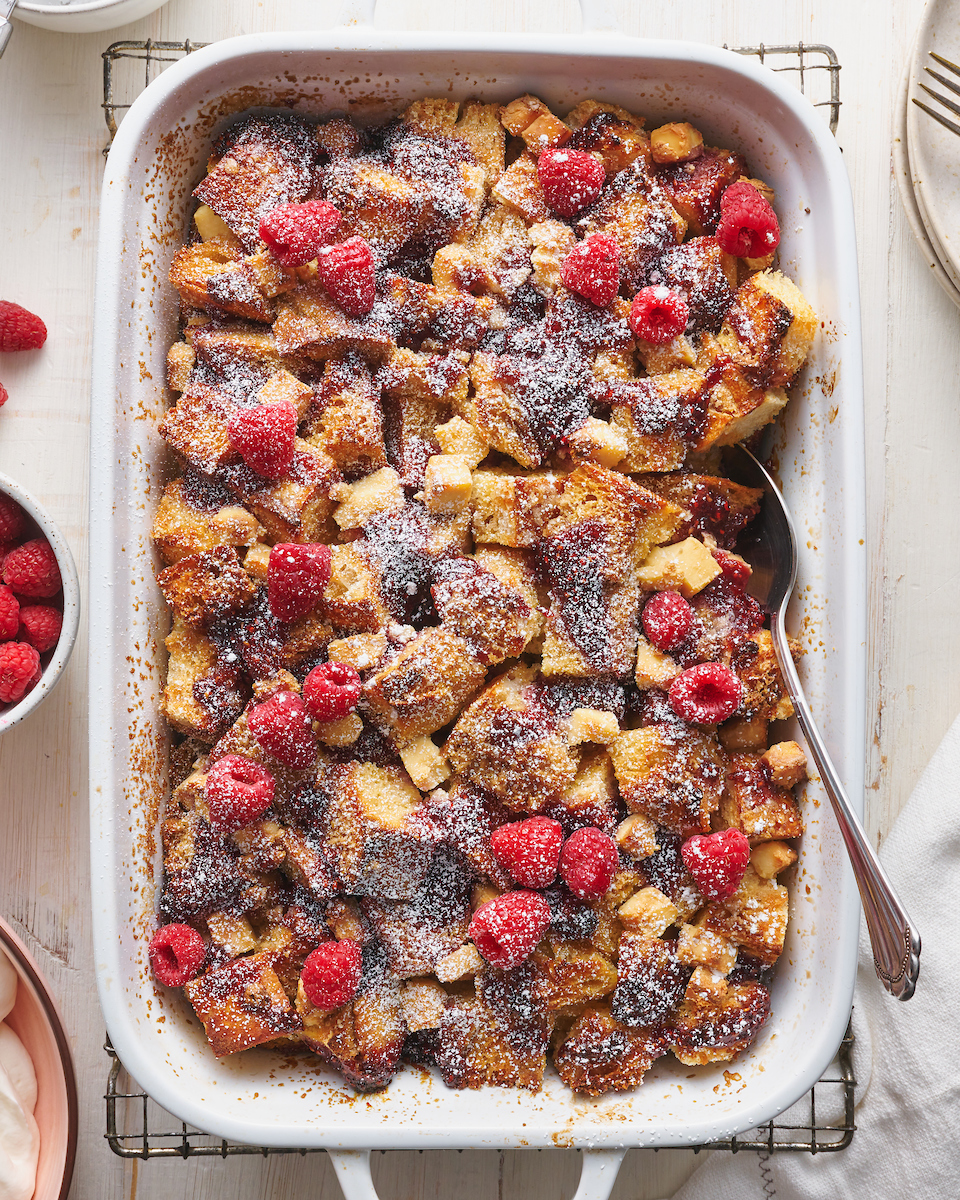 Overnight Raspberry French Toast Casserole
If raspberry cheesecake and French toast had a baby… it would probably grow up to be something like this French toast casserole! Tender French toast cubes are topped with cream cheese and swirls of raspberry jam, then baked until golden brown.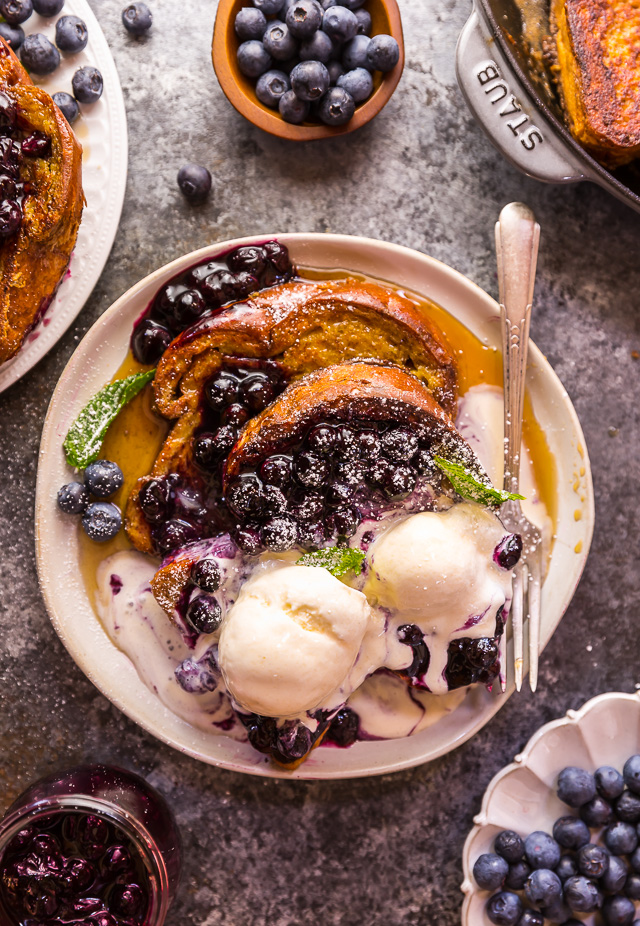 Brioche French Toast with Blueberry Compote
A homemade blueberry compote and brown butter maple syrup elevate this brioche French toast from really good… to downright delicious! Here's what one reviewer had to say:
"These are soooooo delicious!!!!! Just made the for Father's Day breakfast and everyone loved them!!!"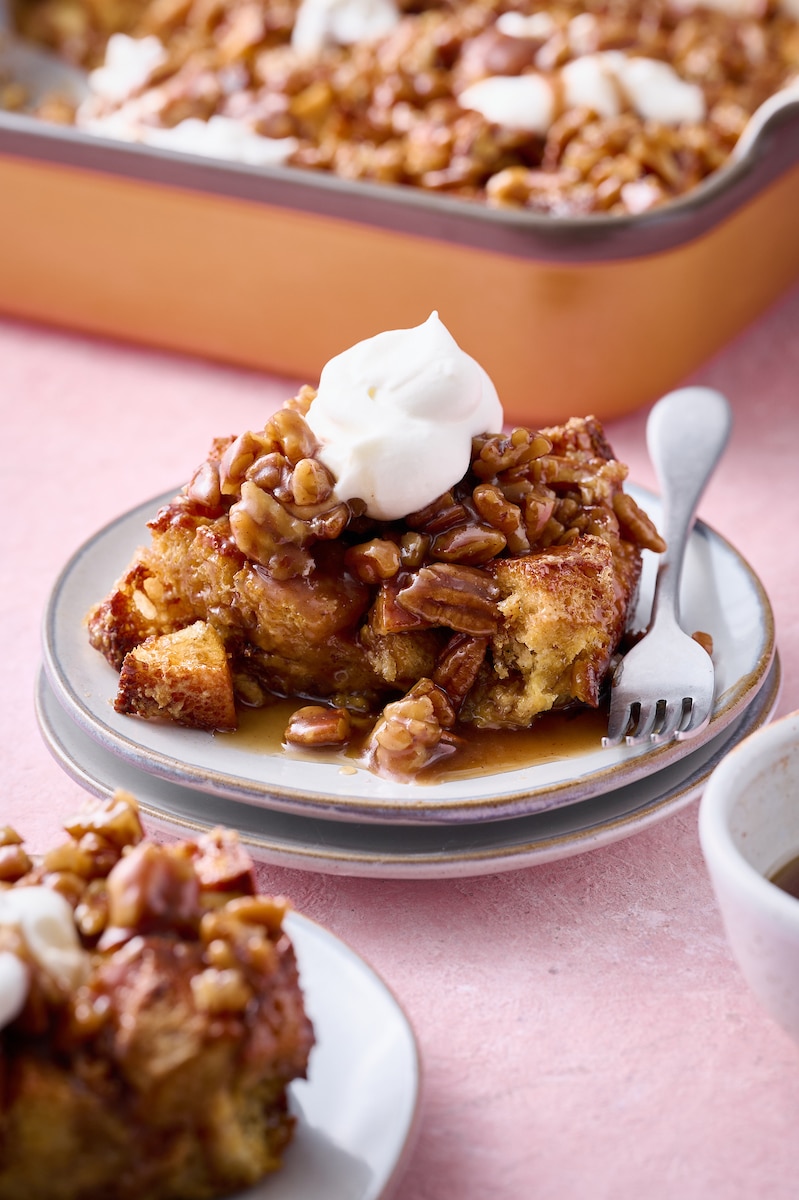 Overnight Bourbon Pecan Pie French Toast Casserole
Loaded with cinnamon and brown sugar flavor, the chewy French bread is topped with gooey pecan maple syrup, this tastes just like pecan pie. No corn syrup required!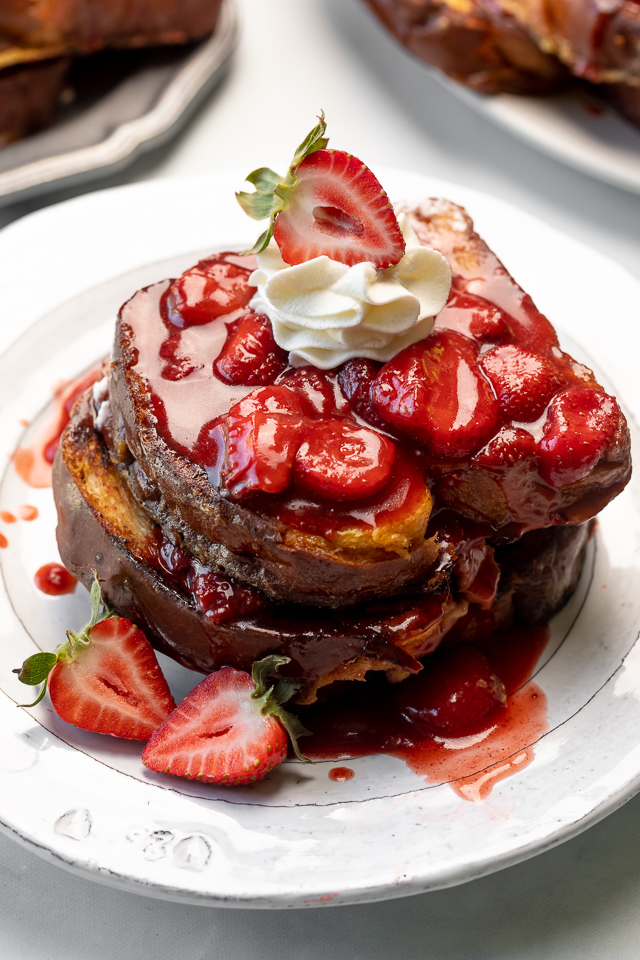 Strawberries and Cream French Toast
Strawberries and Cream < Strawberries and Cream French toast! The winner is clear. This restaurant-quality recipe is perfect for Easter, Mother's Day, or a bridal shower brunch.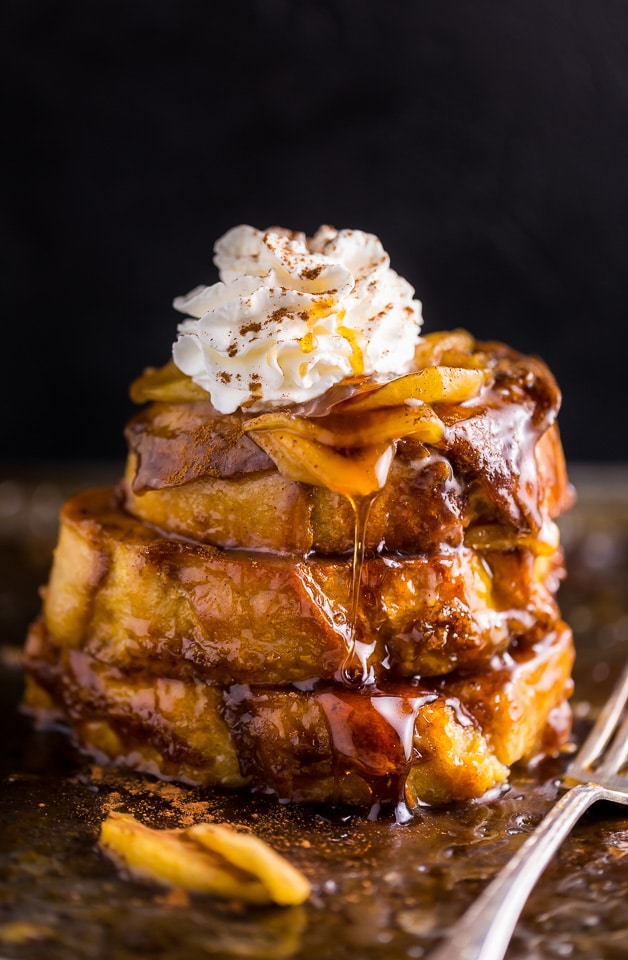 Apple Pie French Toast
Apple pie + French toast? It sounds almost too good to be true, right? Thankfully the key word is almost, because this apple pie French toast is not to be missed.
Here's a recent review: "
I made this today for a birthday brunch. It was off the hook! French toast was Caramely and crispy on the outside. Creamy on the inside. The syrup you bake the french toast in is buttery, sweet maple goodness! The apple pie topping was spot on apple pie delish! So amazing. Thanks for the recipe!"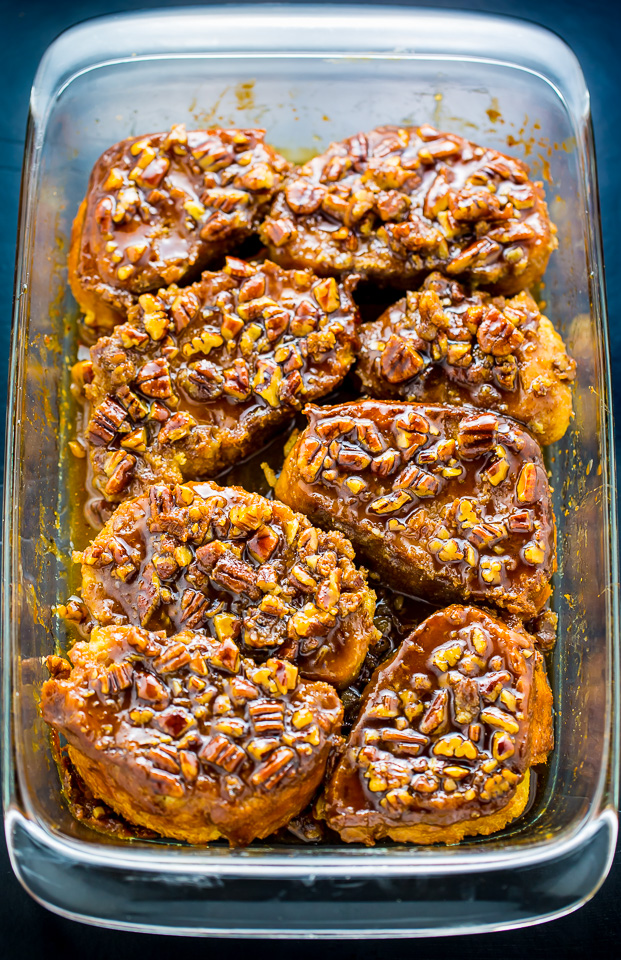 Pecan Pie French Toast
The secret to this recipe? Soaking the thick slices of french bread overnight. The egg mixture is spiked with plenty vanilla extract and heavy cream, which add so much flavor. The tender bread gets baked with a gooey pecan syrup… which encrusts one side with pecans while the other side slowly caramelizes… it's so dreamy!
Eggnog French Toast
Everyone needs a go-to holiday morning breakfast recipe, and this is mine! The buttery bourbon maple syrup is extra festive, and whipped cream and candied cranberries are literally the icing on the cake.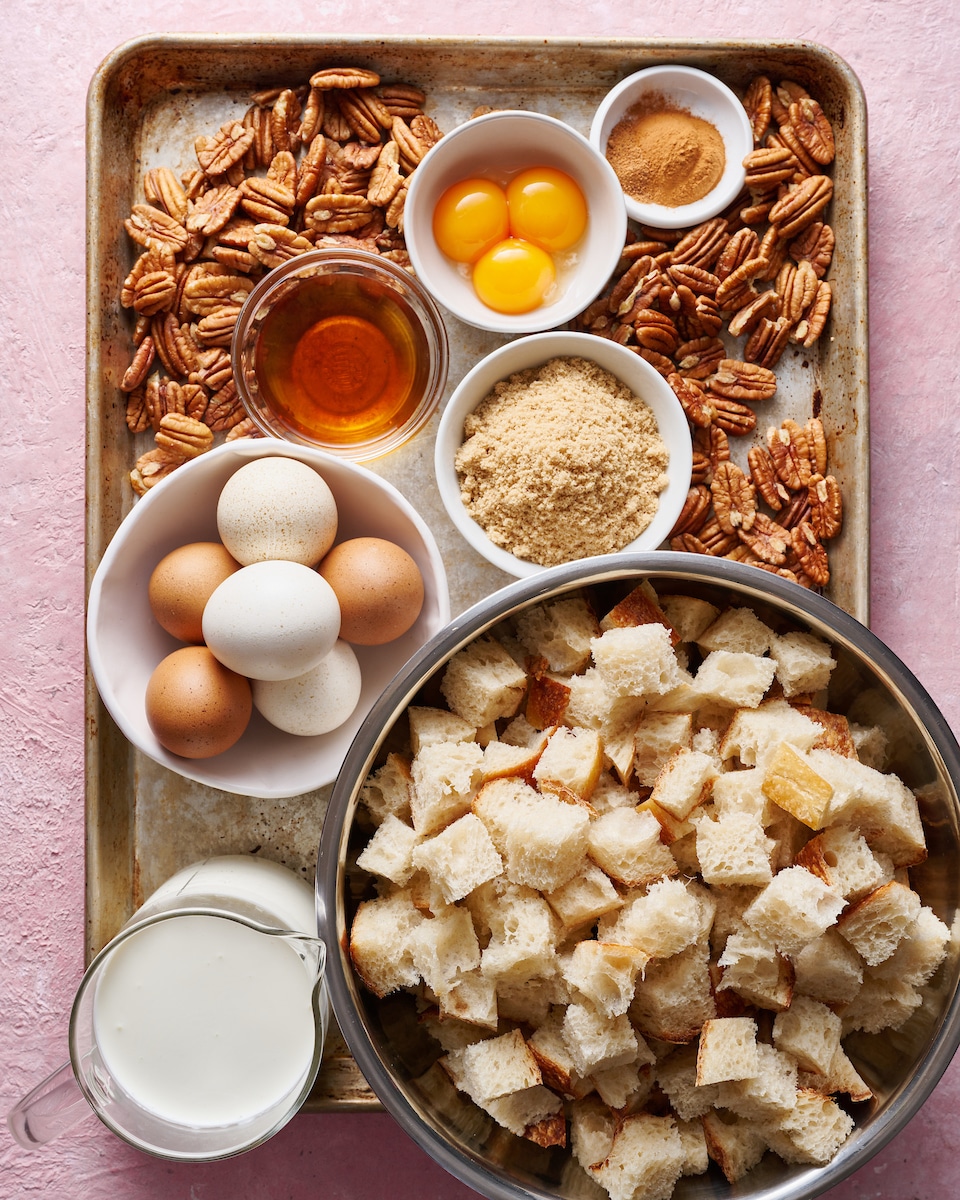 What's the Best Bread for French Toast?
If you're going to go out of your way to make homemade French toast, you'll want to use the right bread for the job! Now, this will obviously vary recipe to recipe. Some recipes call for challah, other brioche, and of course, French bread and is a classic choice. In my opinion, sourdough also works great.
So, what breads should you avoid using? Personally, I steer clear of white bread and pre-sliced bread in general. That's because thick slices – or cubes – work best for soaking up the egg mixture. Thin sliced bread often fries up sad and soggy.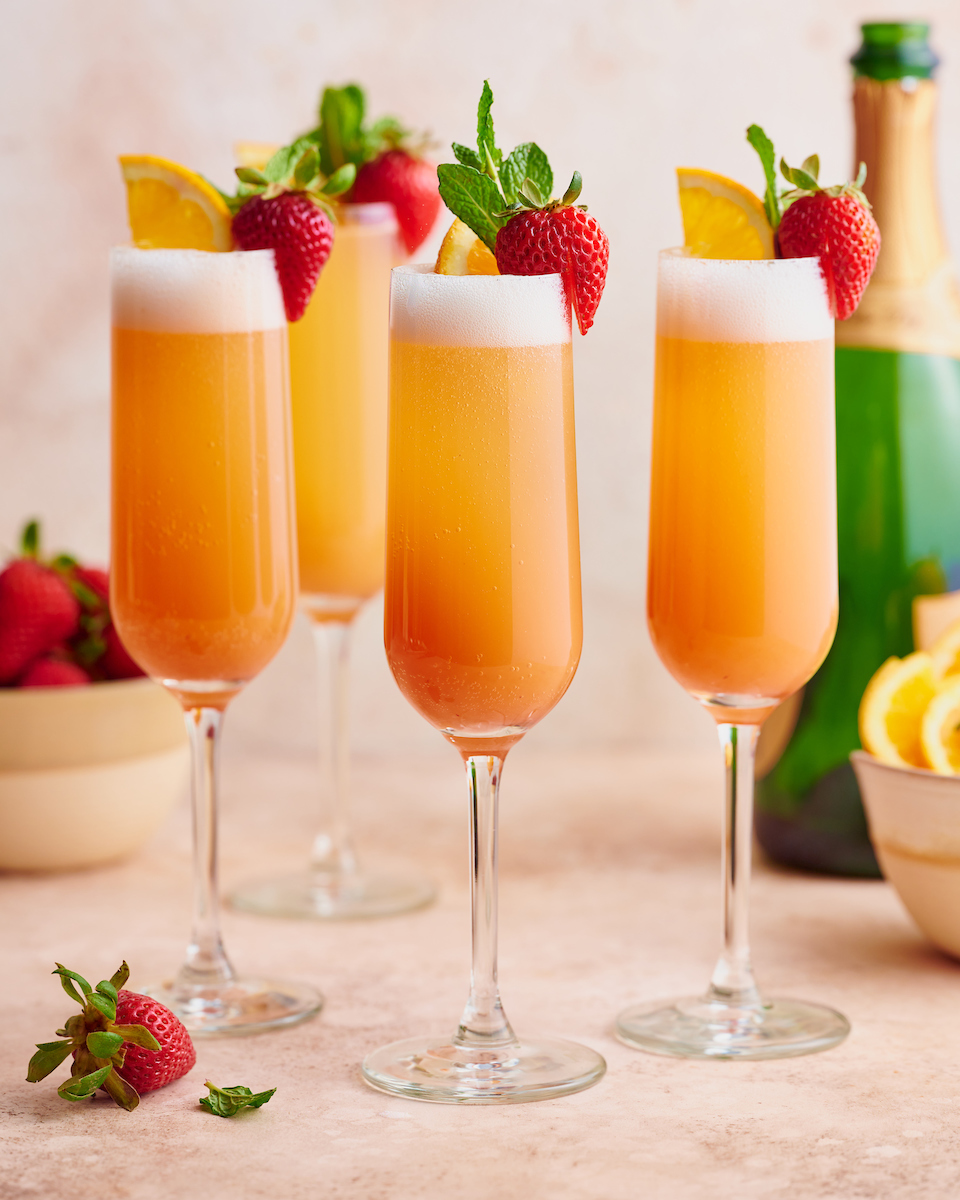 What to Serve with French Toast?
French toast really doesn't need anything more than some warm maple syrup and butter! But if you want to create an epic brunch spread, here are a few paring ideas: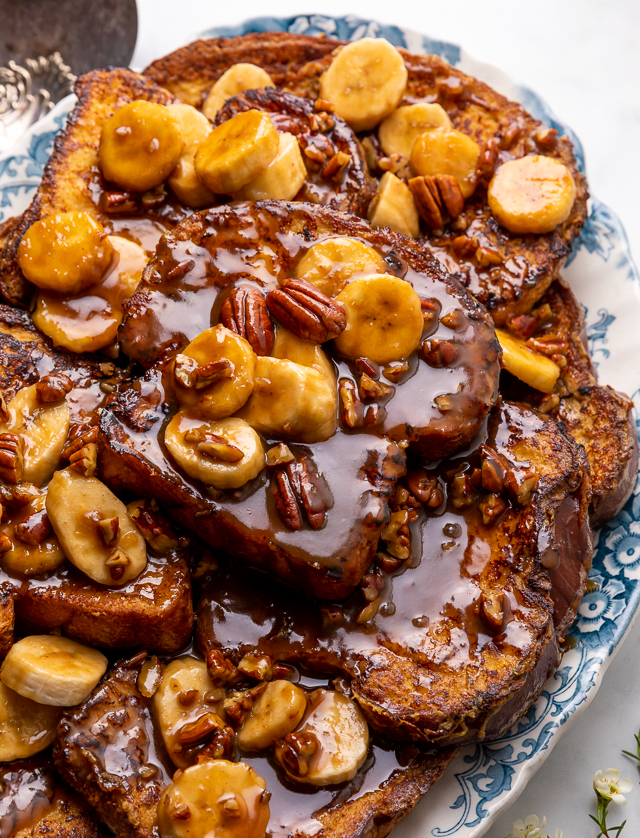 How to Keep French Toast Warm:
Preheat your oven to its lowest setting, around 150 degrees (F) to 200 degrees (F).
Line a large baking sheet with parchment paper, or place a wire rack on top of it. Then place your French toast slices on the baking sheet as you cook them, and keep them warm in the oven as you continue cooking.
You can leave them in there for up to 20 minutes before they start drying out.
For French toast casseroles, you can simply cover the pan with foil and keep them in the oven until you're ready to serve. Just remember, after 20 minutes or so, they'll start to dry out.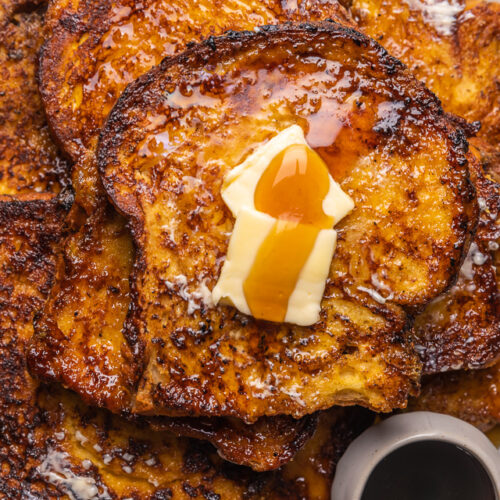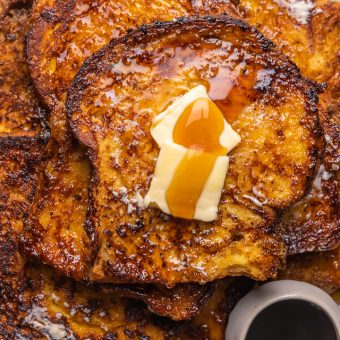 Best Easy Homemade French Toast
Today I'm teaching you how to make the BEST Easy Homemade French Toast! And you won't believe how quick and easy it is! Top with fresh berries, powdered sugar, or maple syrup, this is sure to become one of your favorite breakfasts!
Ingredients
1/2 cup butter
4 large eggs plus 4 large egg yolks
3/4 teaspoon ground cinnamon
1/4 teaspoon ground nutmeg
2 and 1/2 Tablespoons granulated sugar
1 and 1/2 Tablespoons light brown sugar
1/2 cup milk
1/2 cup heavy cream
1 Tablespoon vanilla extract
10 slices challah or brioche bread, sliced 3/4-inch thick
Instructions
Melt a few Tablespoons of the butter in a large skillet over medium-heat. 

In a large shallow bowl or pie plate, whisk the eggs and egg yolks until well combined. Add in the cinnamon, nutmeg, and both sugars, and whisk until well combined. Finally, whisk in the milk, heavy cream, and vanilla.

Dip as many slices of bread into the egg mixture as possible, allowing each side to soak up the mixture for about 2 minutes. 

Place the soaked bread slices into prepared skillet and cook until the undersides are golden brown, about 3 minutes. Flip, and continue cooking on the other side until equally golden brown, about another 3 to 4 minutes. Continue with all french toast, adding more butter to the pan as needed. 

Serve warm, with maple syrup and fresh berries!