Rich and decadent chocolate cookies loaded with chocolate AND butterscotch chips!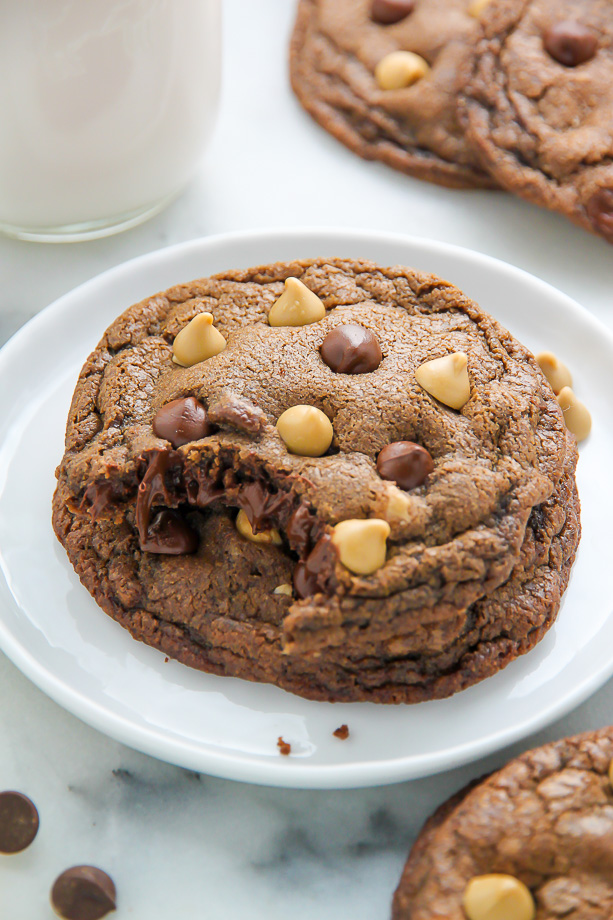 Wounded hearts always seem to long for chocolate, and the one beating in me is no rebel when it comes to this rule. Also, taking an hour or so to actually focus on anything besides what I have been pining over the past few days was certainly beneficial. Double chocolate cookies with butterscotch chips seemed to be just the thing.
Baking is a great way to get your mind off the demands, pressures, and disappointments that can be lurking around in your head, and I find immeasurable comfort in knowing if I follow the directions and measure everything correctly, the outcome will be exactly what I hoped for. I struggle with life not being that way. Luckily, these cookies did not disappoint.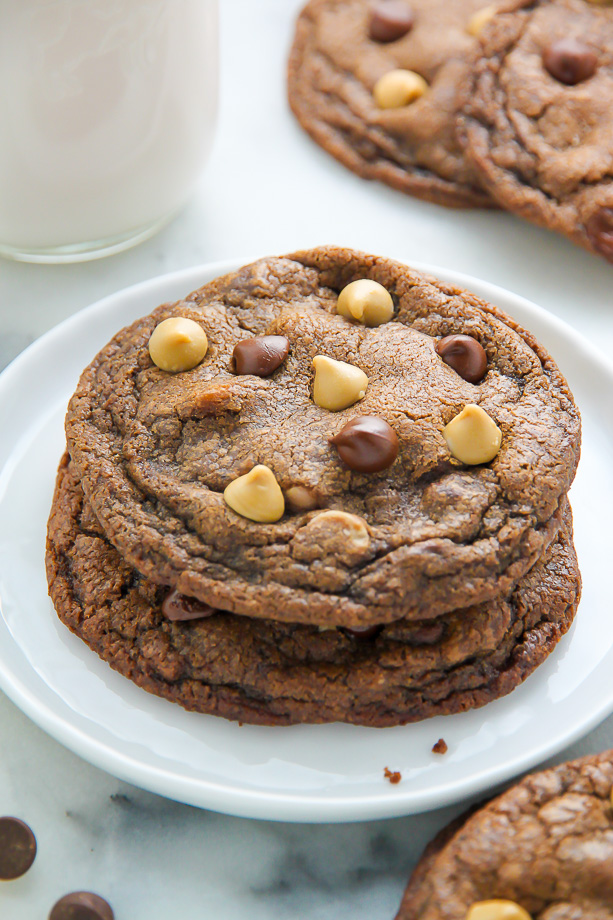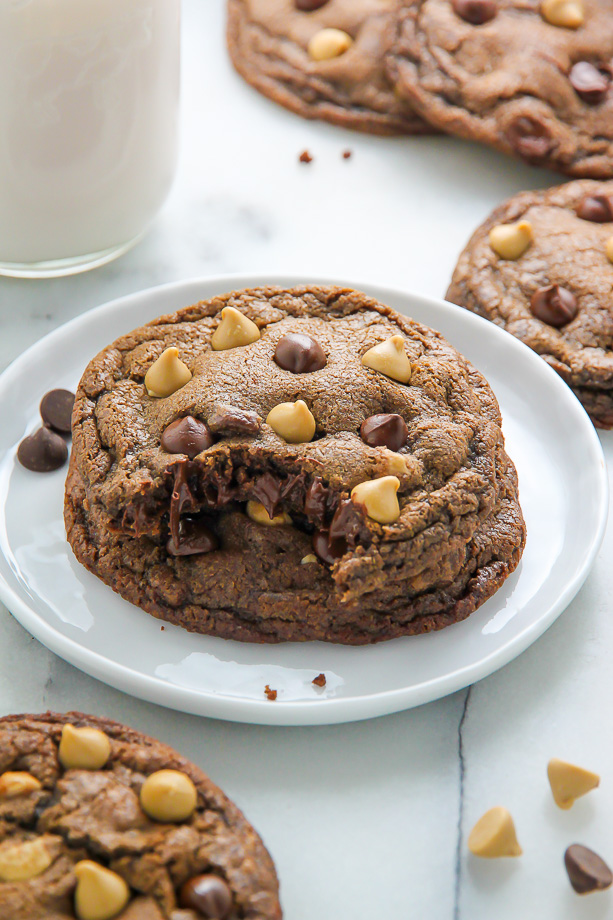 They turned out crispy, rich and moist, with an added flavor bonus of the butterscotch chips. I love the distinctive and different flavor that butterscotch added, but feel free to use chocolate or white chocolate chips if butterscotch doesn't do it for you.
This recipe made a ton of cookies, which I enjoy since I like to gift them to random friends, but feel free to half the recipe if you want a smaller batch. Make these to cheer up yourself, or someone you love! They don't cure a broken heart, but they do taste amazing and will bring some joy to those taste buds of yours! Nestle some ice cream between two cookies if you are feeling extra indulgent. Or curl up to a good romance movie with a few glasses of wine and these cookies close by. Or do both.
↑ I totally did both.
Double Chocolate Butterscotch Cookies
Rich and decadent chocolate cookies loaded with chocolate AND butterscotch chips!
Ingredients
2 cups all-purpose flour
2 tablespoons cornstarch
½ cup unsweetened cocoa powder
3/4 teaspoon salt (kosher or finely ground sea salt will work)
1 teaspoon baking soda
2 sticks unsalted butter, at room temperature
1 tablespoon vanilla extract
1 cup granulated sugar
1 cup light brown sugar, packed
2 large eggs, at room temperature
1 cup chocolate chips
1 cup butterscotch chips
Instructions
Line a large baking sheet with parchment paper; set aside.

Preheat oven to 375 degrees (F). In a medium sized bowl add the flour, cornstarch, cocoa powder, salt, and baking soda; whisk well to combine and set aside. In a large bowl using a handheld electric beater, or in the bowl of a stand mixer fitted with the paddle attachment, beat the butter and vanilla together on medium-speed until smooth and creamy. Add in both sugars and beat until light and fluffy; about 2 minutes. Add in eggs, one at a time, beating well after each addition. Gradually add in the dry ingredients, mixing until just combined. Using a rubber spatula, fold in chocolate chips and butterscotch chips. Drop 2 tablespoon sized balls of dough onto the prepared sheet, leaving 1" between each cookies for spreading. Bake for 9- 12 minutes (depending on your oven), or until the edges are set and centers look just slightly underdone. Cool for 5 minutes on the cookie sheet before transferring to a wire rack to cool completely.