Soft Batch Chocolate Chip Cookies are super soft, tender, and flavorful! This is the PERFECT chocolate chip cookie recipe for making ice cream sandwiches!
How to Make Soft Chocolate Chip Cookies
Today is recipe #4 in our Christmas in July series!
And we're making perfect soft chocolate chip cookies! Unlike my everyday chocolate chip cookies that are soft and chewy and a little crunchy, and unlike my thin and crispy chocolate chip cookies that are lace thin and have a serious snap, these cookies are seriously soft and so tender! With just the slightest chew! That comes from the addition of sour cream!
They kind of remind me of an extremely elevated Entemann's cookie! But a million times tastier!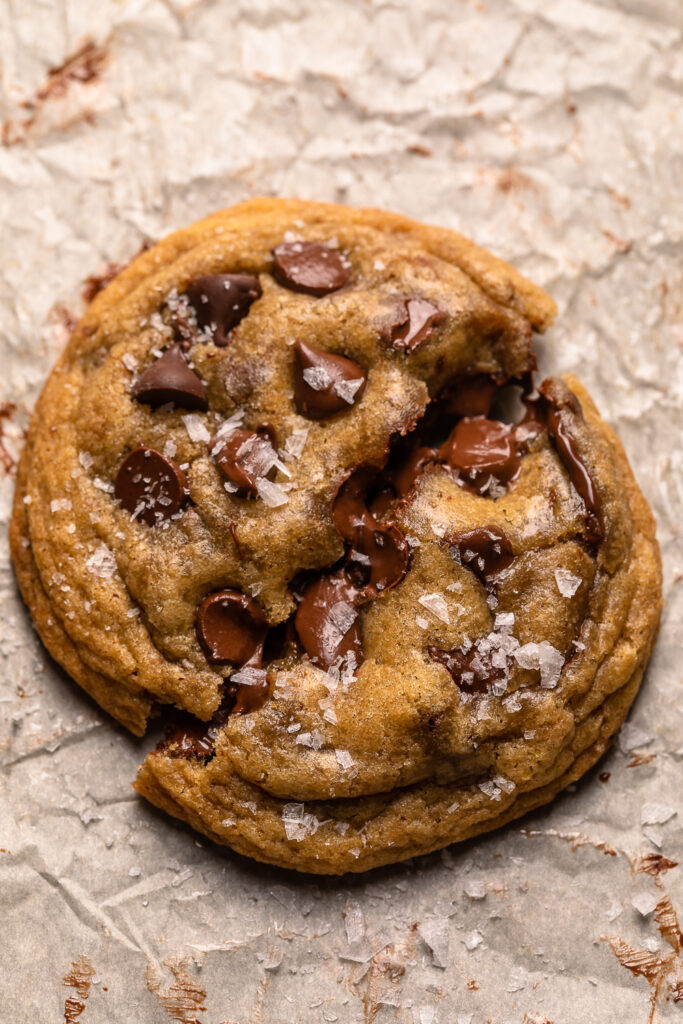 These soft batch chocolate chip cookies are a staple during the holiday season. Fresh from the oven, they're so goody and enticing! But they also happen to make the BEST ice cream sandwiches! Their soft texture doesn't get too hard when frozen, so you can sink your teeth in with ease! So they're really the perfect Christmas in July recipe!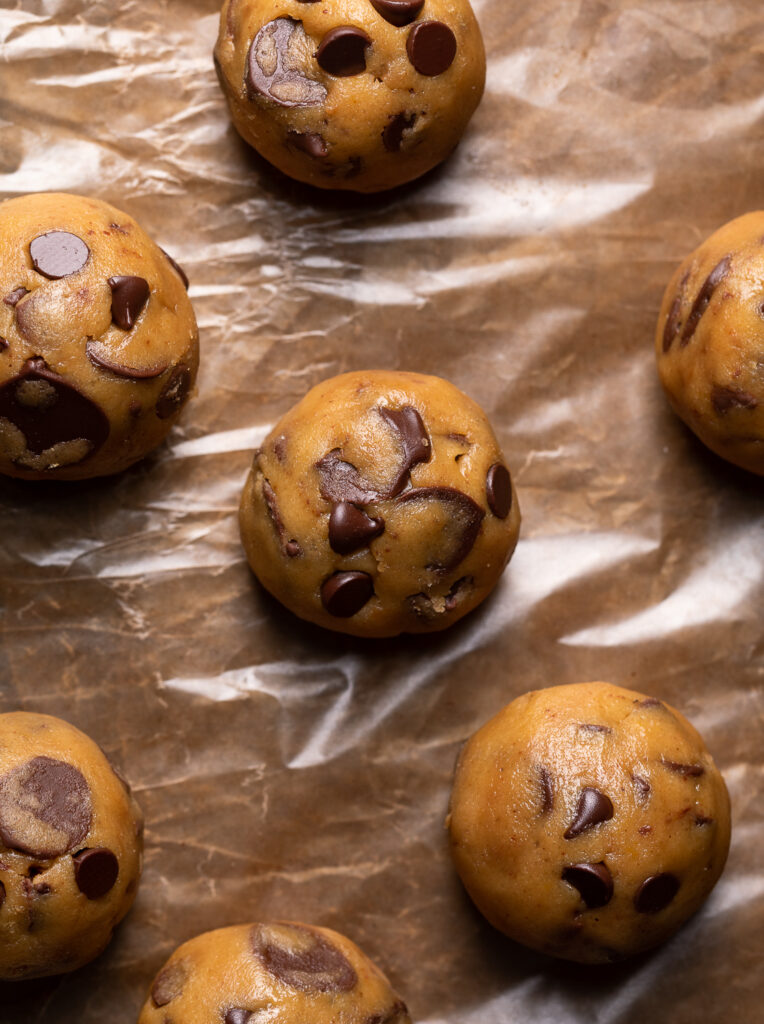 Brown Butter Cookie Dough
Even though these are soft batch cookies, we're not skipping the brown butter! The brown butter adds a TON of flavor and is the secret ingredient to making these cookies taste like they came from a fancy bakery!
Using melted brown butter also means this recipe can be made without an electric mixer! You can simply combine all of the ingredients in a large bowl! First you'll want to beat the butter, sugars, eggs, and vanilla. And then you'll add in your dry ingredients, and fold everything together until just combined!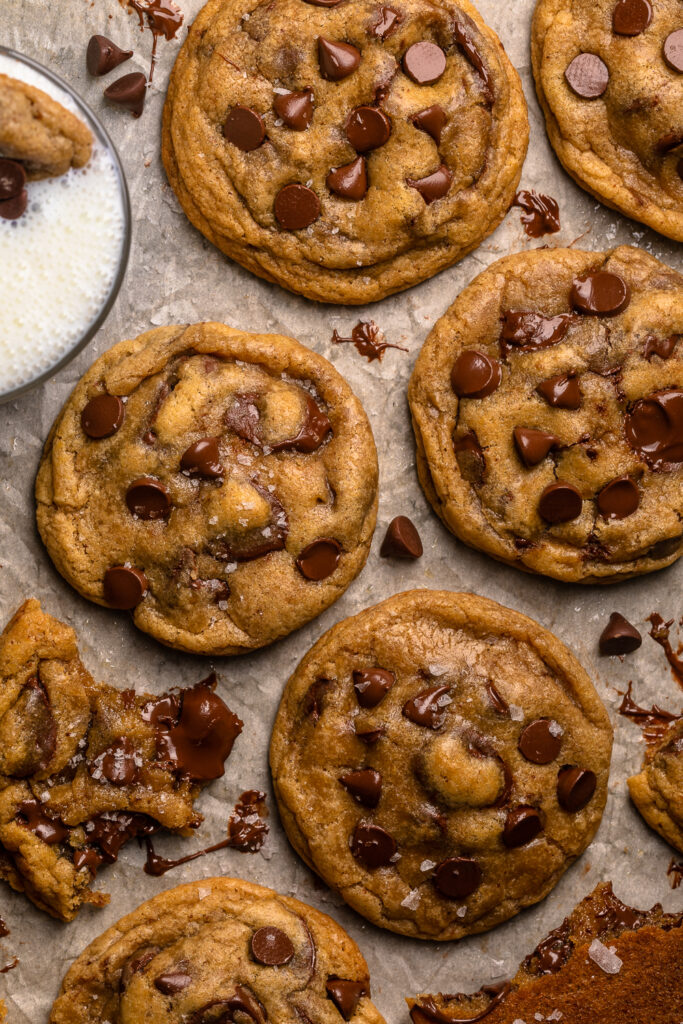 Chill the Dough
This recipe calls for 2 chill times! But wait! Before you run away, let me explain! Because it's really not bad!
First, you'll refrigerate the whole bowl of cookie dough for 30 minutes. This allows the cookie dough to firm up enough to be easily scooped and shaped into round balls. At this point you'll scoop the cookie dough onto a parchment paper lined baking sheet (put as many as you can fit on the sheet and don't worry about them being close) and pop the baking sheet back into the fridge for 2 more hours.
Can I chill longer than 2 hours?
Yes!!! You can chill in the shaped cookie dough balls in the fridge for up to 3 days! Or you can freeze the cookie dough balls for up to 2 months. But if you refrigerate for longer than 24 hours, you may need to add a minute or two onto the baking time!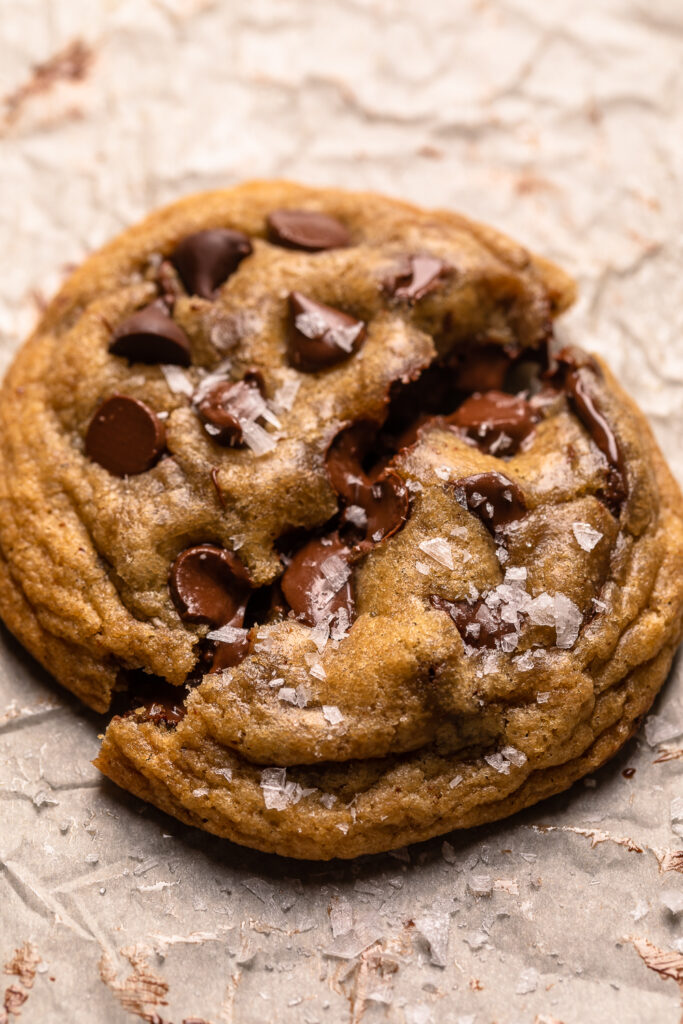 Bake the Cookies
About 30 minutes before you plan on baking, preheat your oven and get your pans ready!
Since we want soft cookies, we'll preheat the oven to 350 degrees. Then you'll want to line two large baking sheets with parchment paper. Once your cookie dough has sufficiently chilled, remove it from the oven and transfer balls of the cookie dough to your prepared pans, leaving 2-inches in between each for spreading. Then bake one tray at a time for 12 minutes!
Place the cookie tray on a wire rack and cool for at least 20 minutes before digging in!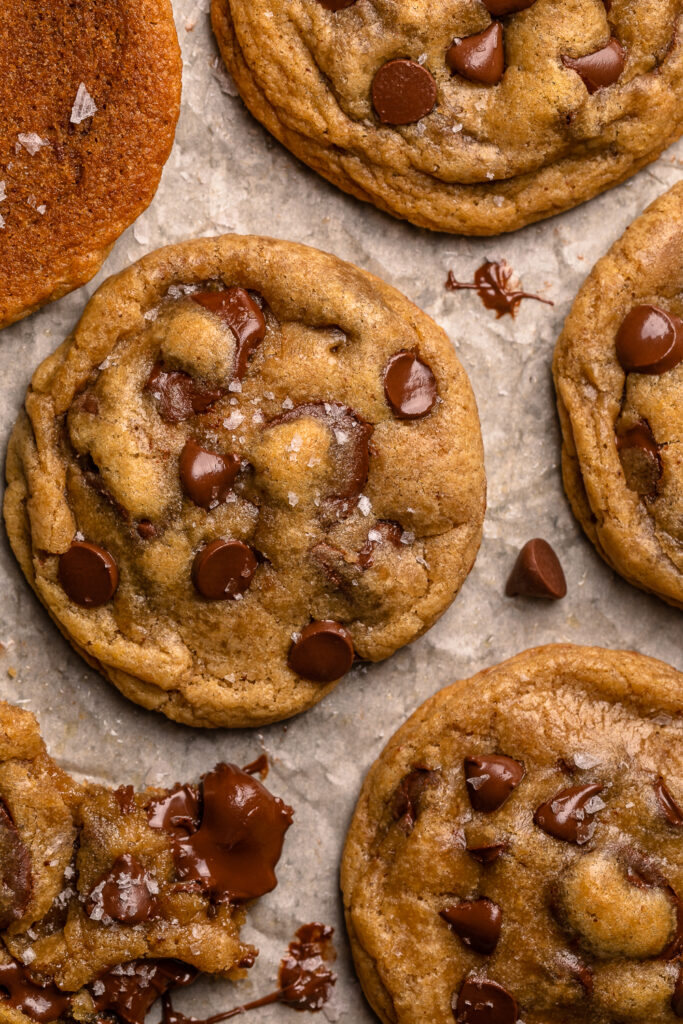 Decorating Tip
If you crave cookies that LOOK just as pretty as they taste, add some extra chocolate chips on top as soon as the cookies come out of the oven. I usually set aside 1 and 1/2 cups of chocolate chips, and press 4 or 5 extra on top of each cookies.
Another pro decorating option? A sprinkle of flaky sea salt! Just a little sprinkle on each cookie will add pizzazz and a pop of salty flavor.
More Chocolate Chip Cookie Recipes: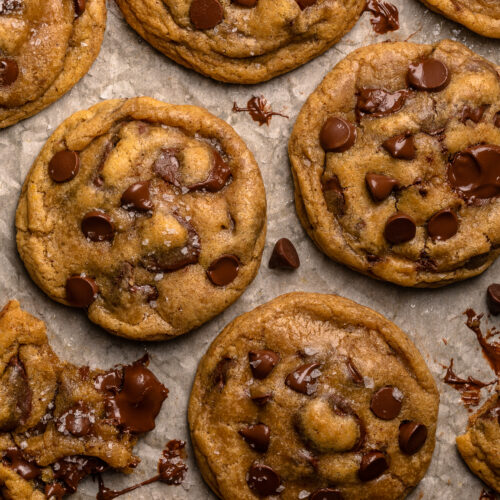 Soft Batch Chocolate Chip Cookies
Ingredients
14 Tablespoons (198 grams) Unsalted Butter melted until browned
2 and 1/2 cups (350 grams) all-purpose flour
3/4 teaspoon baking soda
1/2 teaspoon salt
1 cup (213 grams) light brown sugar packed
2/3 cup (131 grams) granulated sugar
1 Tablespoon vanilla extract
2 large eggs at room temperature
2 Tablespoons sour cream (or Greek yogurt) at room temperature
2 cups semi-sweet chocolate chips plus more for decorating
1 teaspoon flaky sea salt for decorating, optional
Instructions
In a saucepan, over medium heat, melt the butter. Continue to cook the butter. swirling the pan occasionally. Keep a close eye here. The top of the butter should become foamy. And you should hear tiny popping noises. The butter will develop into a rich amber color, with tiny brown bits at the bottom. And it will have a slightly nutty aroma. This should take about 8 minutes. Once the butter reaches this stage, remove from heat immediately and pour into a large mixing bowl.

In a medium bowl combine flour, salt, and baking soda, whisk well to combine then set aside until needed.

In a large bowl, whisk together the melted browned butter and both sugars and beat until well combined, about 1 minutes. Add in the vanilla and beat until combined.

Whisk in the eggs, one at a time, beating well after each addition. Whisk in the sour cream (or Greek yogurt).

Using a sturdy rubber spatula, gently fold in the flour, stirring only until the flour begins to disappear. Fold in the chocolate chips.

Cover the bowl and refrigerate for 30 minutes.

Line a large baking sheet with parchment paper. When the 30 minutes of chilling is complete, remove the bowl from the fridge. Using a large cookie scoop, divide the dough into 3-tablespoon sized round balls and place onto prepared baking sheet. Cover cookie dough loosely with saran wrap and refrigerate for 2 hours.

30 minutes before you plan on baking, preheat the oven to 350 degrees (F). Line two large baking sheets with parchment paper.

When the cookie dough is ready, remove from the fridge. Transfer balls of the chilled cookie dough onto the prepared baking sheets, leaving about 2-inches between each ball of dough for spreading.

Bake, one tray at a time, for 11 minutes. If any edges spread out while baking, use a spatula and gently press them back in as soon as you remove the cookies from the oven. Press extra chocolate chips on top of the warm cookies, if desired. Then sprinkle with sea salt, if desired. 

Allow cookies to cool on the pan for 20 minutes, then carefully transfer to a cooling rack. 
Notes
Cookie dough balls may be chilled for up to 72 hours, or frozen for up to 2 months. If baking from a frozen state, add a minute or two onto the bake time.