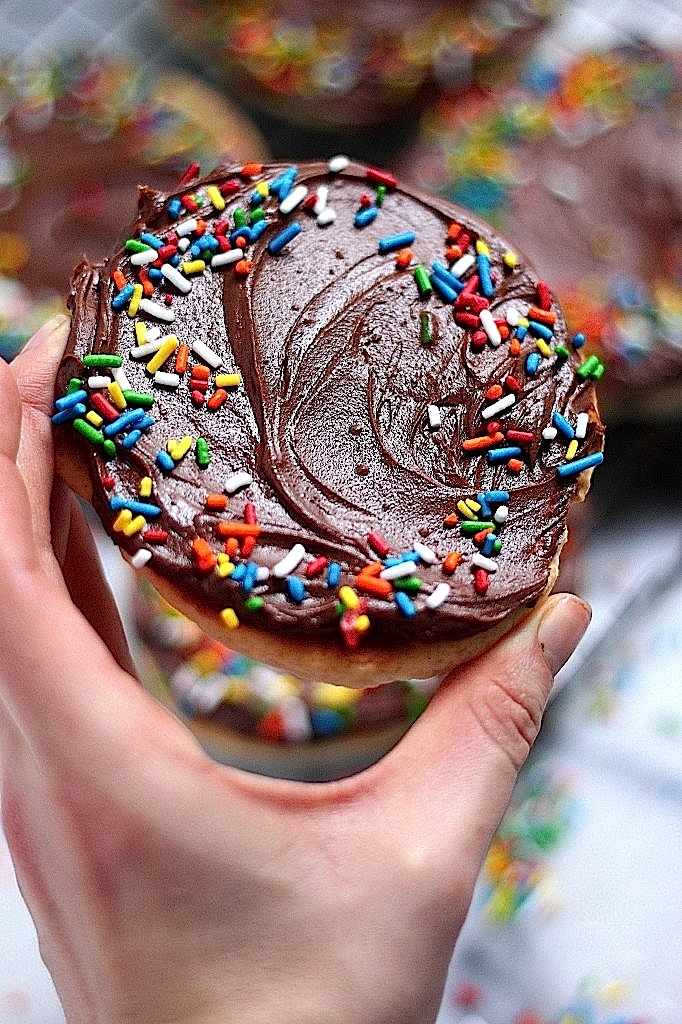 I don't know about you, but I feel like we're always celebrating – or anticipating celebrating – someones birthday! And since my mama didn't raise me to ever be the girl who shows up emptied handed to a party, when I hear birthday, I really hear cake…
And presents… and balloons… and omg, someone please take my credit card away!
But mainly I hear cake.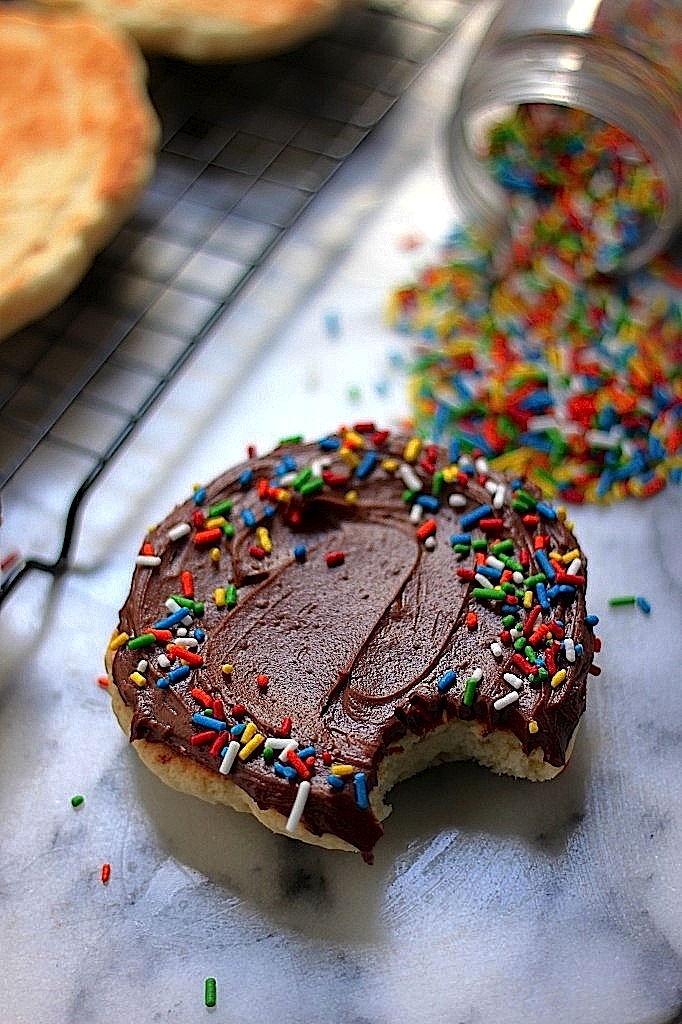 The thing about baking a birthday cake for people who don't live at your house (or like right next door) is A) it can be hard to whip up something with layers and candles and all that celebratory who-ha on the fly and B) Traveling with a delicate cake can be… well, straight up scary.
I have had only cake in the car (then on the back seat floor) horror stories, so I'm a bit skittish even thinking about moving anything in layers from here to there. I think we need to invent a special cake traveling box or something to make that situation more ideal.
Until then, I've found our solution! Quick and easy Giant Yellow Birthday Cake Cookies with Chocolate Nutella Buttercream Frosting!!! They've got all the festive appeal a classic cake boasts, but with a (estimated) 30 minute time tag.
You like it?! I like it… Let's like this together.
Oh, and they travel like a dream! The cake cookies themselves are so sturdy and really hold their own against the thick, rich layer of chocolate nutella buttercream that's slathered across the top. I dolled up the edges with randomly colored sprinkles, and even 99.9% of those babies were still in their proper positions after an hour car ride. IMPRESSIVE!
I admit this made me feel just a little silly for carrying "back-up sprinkles" in my handbag.
These would also look super pretty with festive holiday sprinkles, and I definitely will be baking a batch with pink and red heart shaped ones for the upcoming holiday of love.
Let me know how you guys decorate yours! xo
Giant Yellow Birthday Cake Cookies with Chocolate Nutella Buttercream Frosting – Baker by Nature
Makes 16 GIANT cookies w/ icing
*This recipe makes only enough icing for the cookies, so keep that in mind before "taste testing" spoonfuls here and there… or just double it and go nuts 😉
Ingredients
For the Giant Yellow Birthday Cake Cookies:
4 cups cake flour
3/4 teaspoon baking powder
3/4 teaspoon salt
1 cup unsalted butter, at room temperature
1 1/2 cups granulated sugar
2 eggs, at room temperature
1 teaspoon vanilla extract
1 cup full fat Greek yogurt
Chocolate Nutella Buttercream Frosting:
8 tablespoons unsalted butter, at room temperature
2 cups powdered sugar, plus more if needed to reach a thicker consistency
2 tablespoons whole milk
1/3 cup cocoa powder
1/4 cup Nutella
Assorted sprinkles (optional… but not really)
Instructions
For the Giant Yellow Birthday Cake Cookies:
Preheat oven to 375 degrees (F.) Line two baking large baking sheets with parchment paper or a silicone baking mat.
In a large bowl, whisk together the flour, baking powder and salt; set aside.
Beat the butter on medium speed until light and fluffy; about 1 minute. Keeping the mixer running, gradually add in the sugar, beating again until light and fluffy; about 3 minutes.
Scrape down the sides of the bowl and add the eggs and vanilla. Beat at medium speed until combined; about 30 seconds.
Scrape down the sides and bottom of the bowl again.
Reduce mixer to low speed, and alternately add the flour in three additions and the yogurt in two additions; beginning and ending with flour. Mix until just combined, then turn mixer off. Use a rubber spatula to fold – from the bottom up – the mixture together a few times, ensuring all the little dry bits of flour at the bottom of the bowl get scooped into the mix.
Using a ¼-cup measuring cup to scoop, mound rounds of dough onto the prepared baking sheets, leaving about two inches between each cookie. Gently press each mound of dough into a 2-3 inch circle.
Place cookies in the oven and bake until the edges of the cookies are set and light golden brown, about 15 minutes. Allow the cookies to cool for 5 minutes on the baking sheets, then remove to a wire rack to cool completely.
While the cookies are cooling, making the frosting!
Chocolate Nutella Buttercream Frosting:
In the body of a stand mixer fitted with the paddle attachment beat butter until light and fluffy. Gradually add the sugar, then cocoa powder, and beat until smooth and creamy. Fold in Nutella, and add additional powdered sugar (a 1/4 cup at a time) if the frosting looks too thin.
Once cookies are cooled, plop 2 tablespoons of frosting in the center of each cookies, and using an offset spatula (or just the back of a spoon), spread icing out and around until it covers the entire cookie. Pretty them up with some sprinkles, and serve!