"Logic will get you from A to B. Imagination will take you everywhere." ~ Albert Einstein.
I love this quote. It fills me up to the brim with encouragement. I read it when I'm low on ideas. When I feel close to zero on inspiration. Or when life feels a little less structured than "it should be".
Who wants to deal with logic anyways? Who needs a path A or B to follow? Not me. I want an adventure!
(I also want health insurance, proper plumbing, and clean sheets… an urban chic adventure, perhaps.)
When I need a kick in the brain to remember all this life stuff, I drink up those 13 simple words (Ok… and maybe some bourbon) until I'm ready to burst with encouragement and an energy of fearless creativity. Thanks, Albert.
Oh, and I made cookies again. That's cool… right? See I kinda sorta totally joined another last minute cookie swap (1st Annual Blogging Buddies Virtual Cookie Exchange), and well, for that you need cookies! Duh.
When I realized I was posting cookies 2 days in a row I was a touch insecure it would be too much cookie-in-your-face action. Then I slapped myself and realized y'all can totally handle it.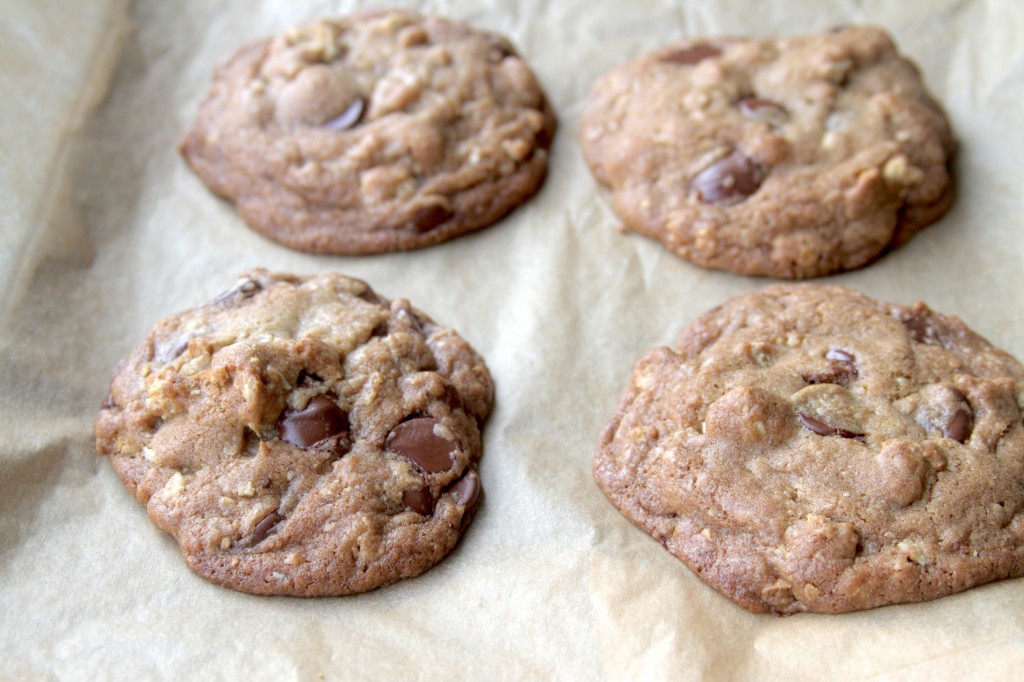 This recipe was my attempt to put a spin on the classic chocolate chip cookie. I added a ton of granola, graham crackers, and chocolate chips to the thick batter and these cookies came out of the oven smelling like a dream. If you dream in dark chocolate, brown sugar and vanilla…
Thick, chewy, and loaded with granola, graham crackers, and chocolate – what are you waiting for?!
Granola and Graham Cracker Cookies with Chocolate Chips – Baker by Nature
Yields about 2 dozen cookies
Ingredients:
2 cups all purpose flour
1 teaspoon baking soda
1 teaspoon table salt
1/4 teaspoon cinnamon
1/4 teaspoon cloves
1 cup coconut oil
1 cup brown sugar
1/2 cup granulated sugar
2 teaspoons vanilla extract
2 large eggs at room temperature
1 1/2 cups chunky granola, broken up into smaller chunks
1 cup graham crackers, roughly chopped into small pieces
1 1/2 cups chocolate chips
Preheat oven to 375° (F). Whisk together flour, baking soda, salt, cinnamon, and cloves in a small bowl. Beat together coconut oil, sugars, and vanilla in a medium bowl until light and fluffy. Beat in eggs, one at a time, until well combined. Slowly add flour mixture, stirring until just combined. Mix in granola, graham crackers, and chocolate chips.
Drop 1/4 cup mounds of batter about 2 inches apart onto an ungreased baking sheet, then gently pat the dough down into a large round.
Bake cookies until lightly golden, about 12-14 minutes. Cool on sheets for a few minutes, then transfer to a cooling rack to cool completely.