These Greek Yogurt Chocolate Chip Cookies feature crispy edges, chewy centers, and TONS of chocolate chips! Made with Greek yogurt, whole wheat flour, coconut oil, and dark chocolate chips, these cookies are a healthier cookie option the whole family will enjoy!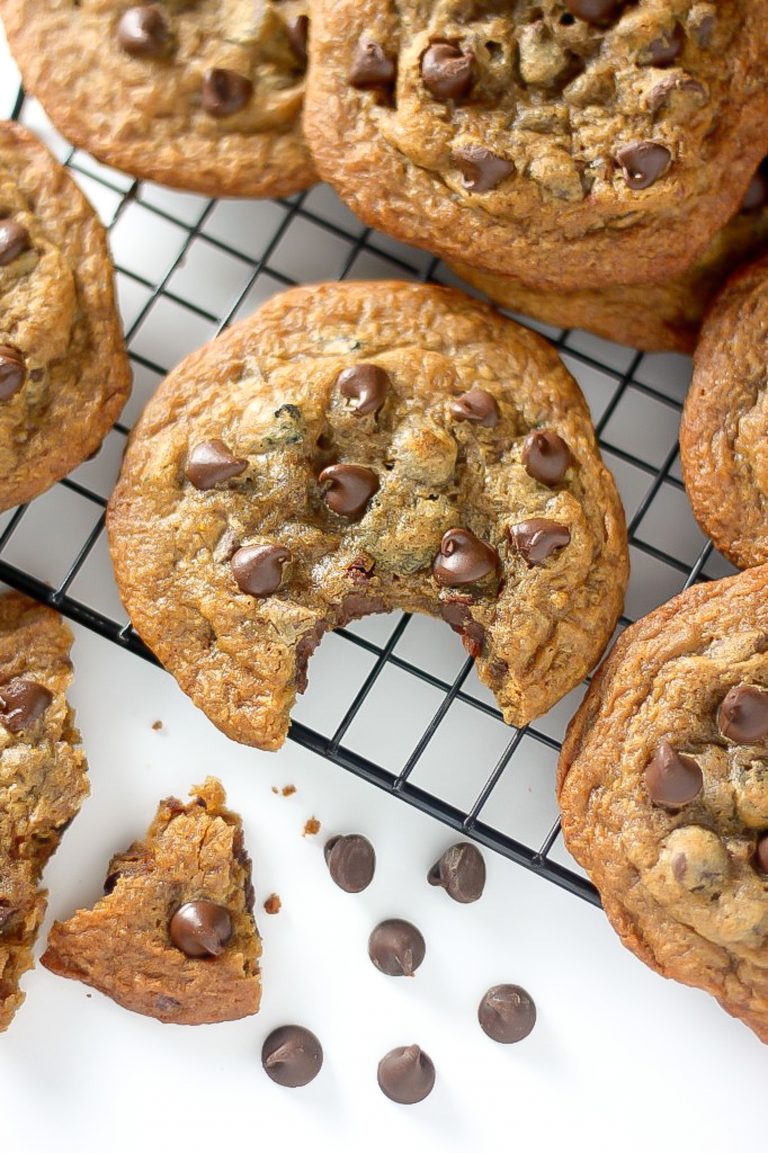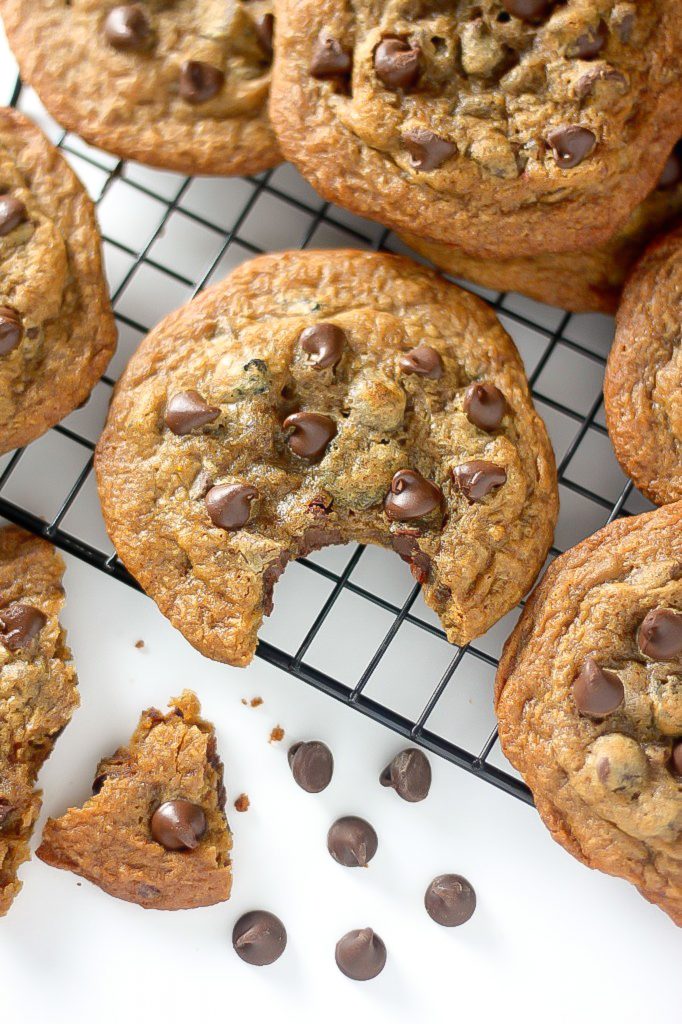 Chocolate Chip Cookies made with Greek Yogurt
I have been on a Greek yogurt kick lately and I see no end in sight! I've been putting it in cupcakes, smoothies, pancakes, cheesecakes, and now – chocolate chip cookies! This recipe actually took a lot of patience to perfect, but after one bite, I knew all the hard work, hair pulling, and dish washing (so many dishes!) was time well spent. Recipe development is rewarding like that!
Question: Have you baked with Greek yogurt? If your answer is no, these cookies are a great place to start!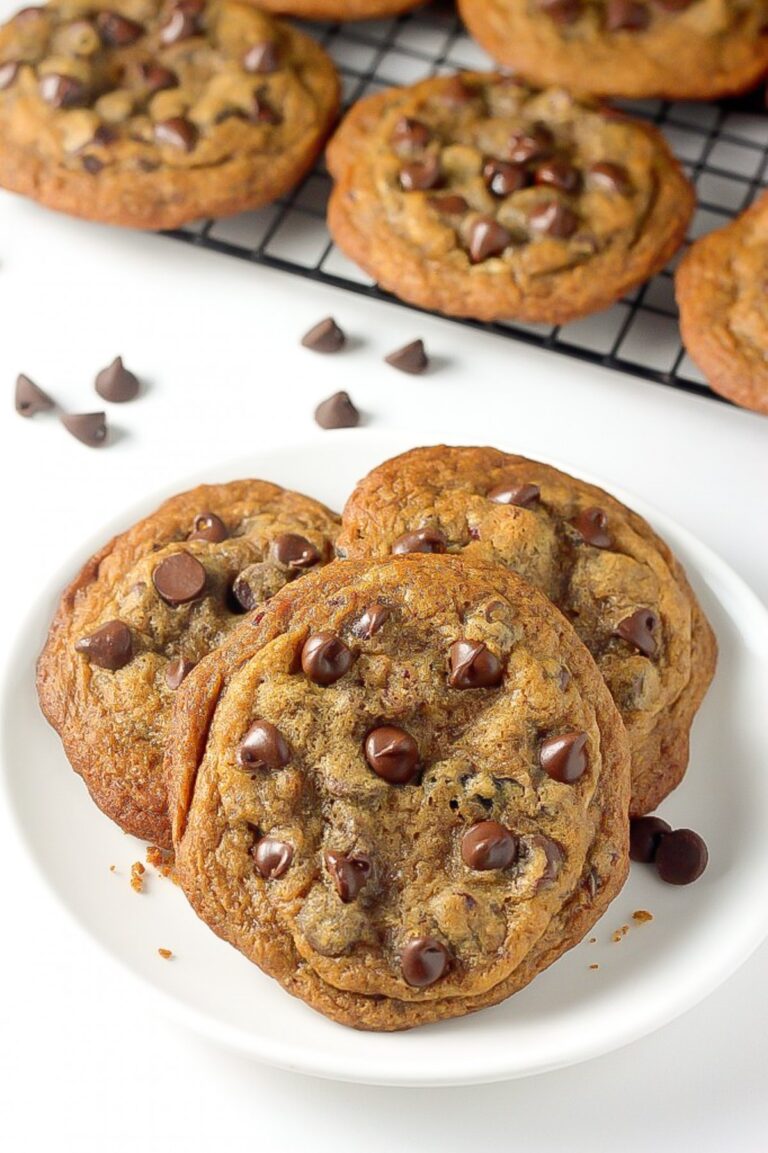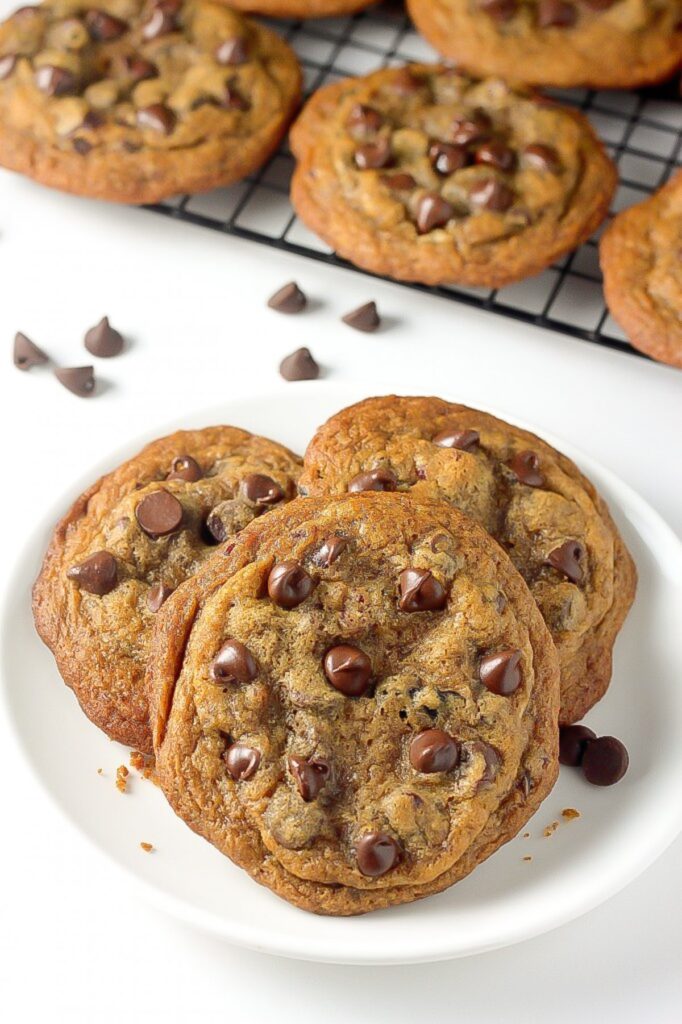 Mmm… how good does that look?! Let's dig into the delicious details, shall we?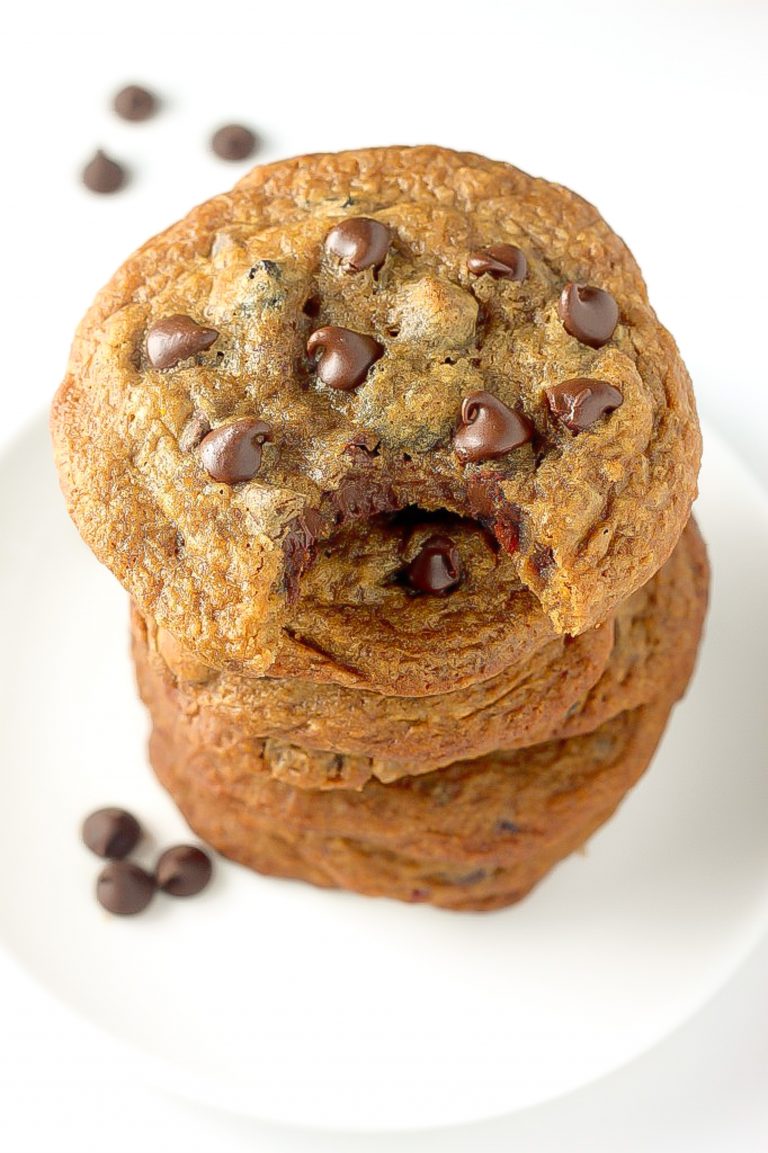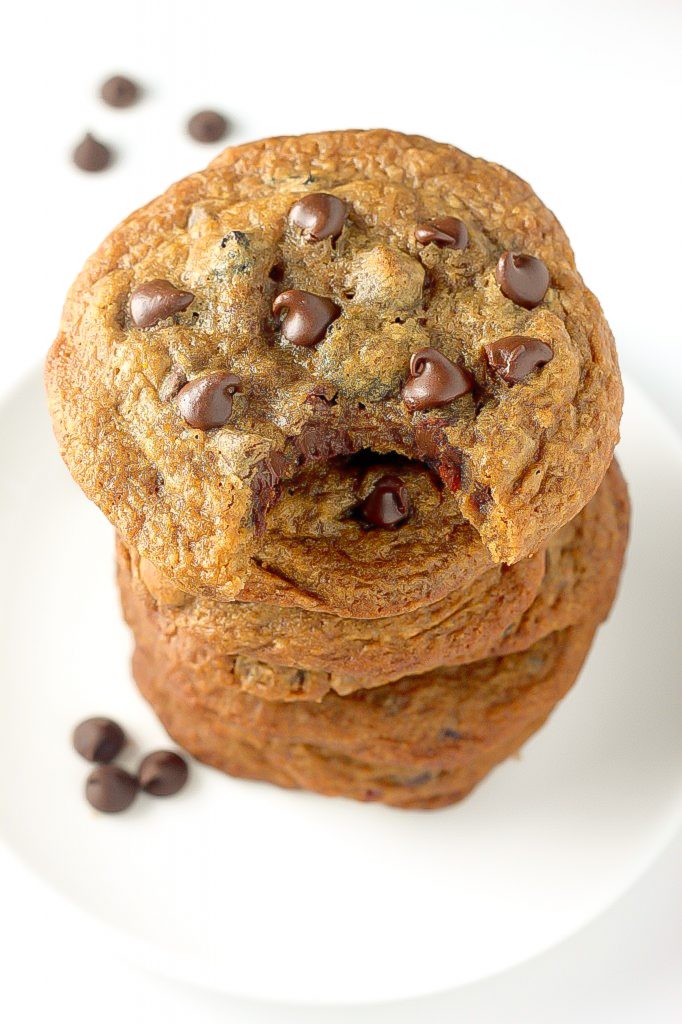 How to bake Yogurt Chocolate Chip Cookies
I have to be honest, coming up with this recipe was not the easiest kitchen adventure. I had in my mind the exact cookie I wanted develop… and the exact ingredients I wanted to use, and I was not budging.
The ingredients? Greek yogurt, whole wheat flour, coconut oil, and dark chocolate chips.
The cookie I was dreaming of? One that was thick and chewy, with delightfully crispy edges, and tons of REAL chocolate chip cookie flavor. I wanted that deep, buttery cookie flavor we all know and love… but like, without using any butter. Glutton for punishment? Maybe.
But guess what you guys – I finally got it! Win for me. Win for you. Pass the cookie plate all around!
Having a perfect chocolate chip cookie recipe in your baking repertoire is truly priceless! Have you tried my recipe for flawless chocolate chip cookies? They are my always and forever chocolate chip cookie recipe, and a must when you want something easy, decadent, and classic. I like to think of this recipe for Greek yogurt chocolate chip cookies as their healthier (and slightly more time consuming) twin sister 😉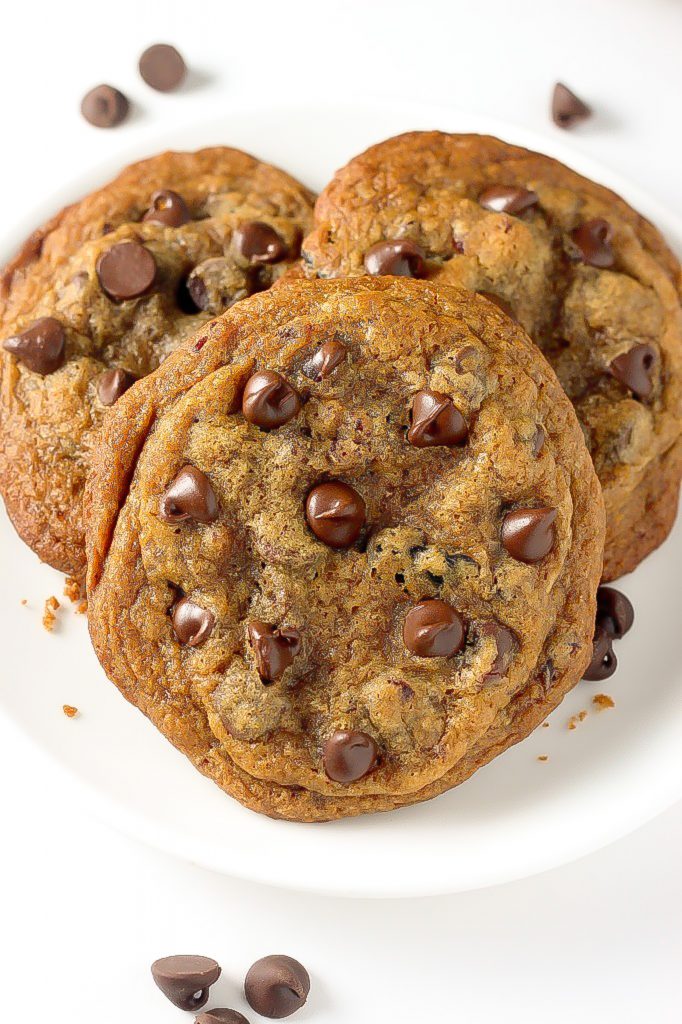 The most important part about this cookie recipe: the dough MUST chill for at least 3 hours.
Must, must, must, must, must. Ok, maybe the last 5 musts were excessive. But I stress this because if you try to bake your cookies right away, they will come out flat as a pancake. Trust me, I know all too well. The dough will be initially very sticky (it's the Greek yogurt), so allowing it to chill is mandatory. The good news? You can make the dough ahead of time, then bake up your cookies as needed.
Another important note: Size matters when it comes to these cookies. Some cookie recipes are easily adaptable size wise. You can make them big… or small… or into bars. These cookies are not those cookies. They should be 3 tablespoons in size – almost a 1/4 cup. I use 2 firmly packed scoops of dough from a melon baller (rolled together) to get the perfect size and shaped cookie. If you make them too small, they'll spread too much (they will still be delicious, just much thinner and crispier), and if you make them too big, you'll need to adjust the baking time as they won't set in the centers.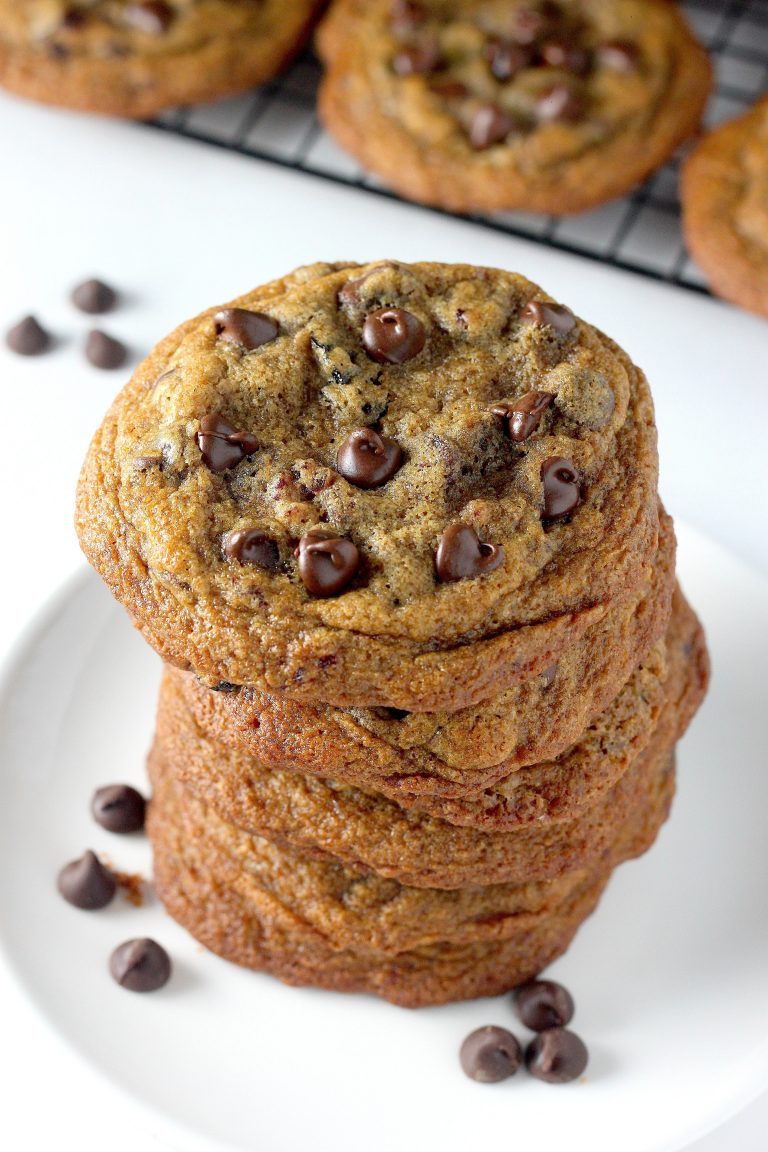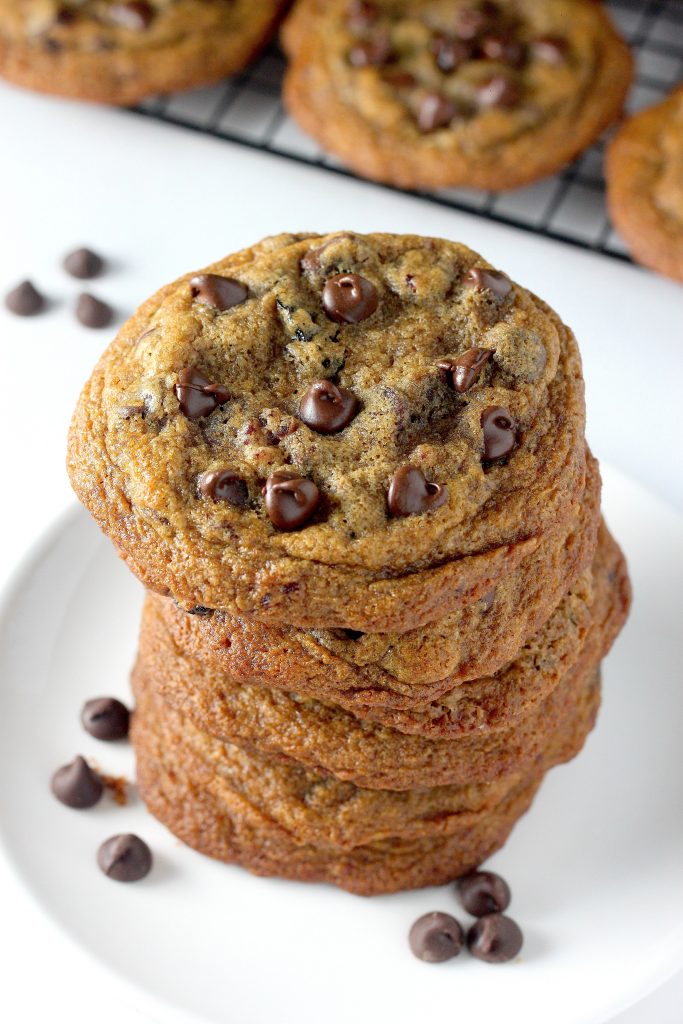 Although these cookies require a few extra steps, they are 100% worth every single bit of effort. Serve with a cold glass of milk – or, if you're experiencing the Winter we are, a hot cup of cocoa – and get ready to have your world rocked! These cookies are a game changer. xoxo
More Chocolate Chip Cookie Recipes: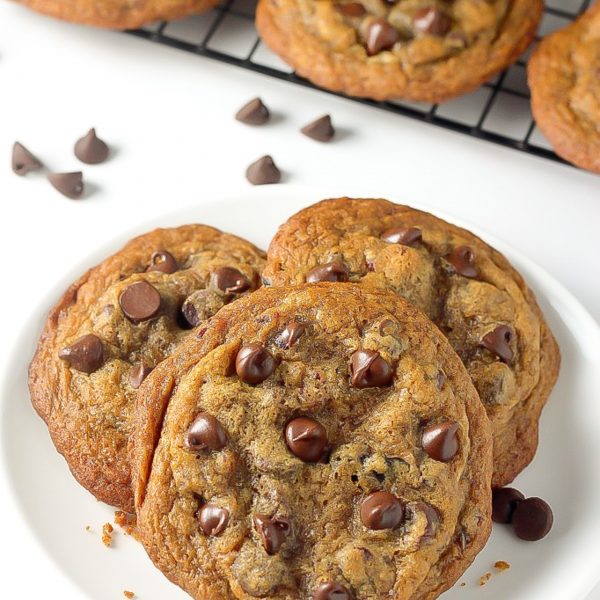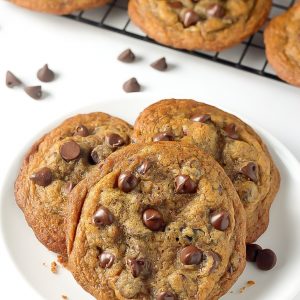 Greek Yogurt Chocolate Chip Cookies
Thick and chewy Greek Yogurt Chocolate Chip Cookies are sure to be a new favorite!
Ingredients
1 and 1/4 cups whole-wheat flour
1 cup all-purpose flour
1 teaspoon baking soda
3/4 teaspoon salt
1/2 cup + 2 tablespoons coconut oil, softened but not liquified
1 cup firmly packed dark brown sugar
1/2 cup granulated sugar
2 teaspoons vanilla extract
2 large eggs, at room temperature
1/2 cup *full-fat Greek yogurt
2 1/2 cups dark or semi-sweet chocolate chips
Instructions
In a medium-sized bowl combine the flours, baking soda, and salt; whisk well to combine; set aside.

In the body of a stand mixer fitted with the paddle attachment or in a large bowl using a handheld electric beater, beat the coconut oil, sugars, and vanilla on medium-speed until light and fluffy; about 2 minutes.

Add in the eggs, one at a time, beating well after each addition, and scraping down the sides as necessary. Add in the Greek yogurt, beating just until incorporated. Reduce the mixer speed to low and add in the dry ingredients, beating just until combined.

Turn the mixer off and stir in the chocolate chips with a wooden spoon.

Cover the bowl with a piece of saran wrap and refrigerate for at least 3 hours – up to 24 hours.

30 minutes prior to baking, preheat your oven to 375 degrees (F). Line two large baking sheets with parchment paper; set aside.

Using a large spoon or melon baller (preferred), scoop out 3 tablespoon sized rounds of dough; using your hands roll the dough into a ball, then place on the prepared baking sheet. Repeat with all of the cookie dough, spacing them 2 inches apart on the baking sheet.

Bake cookies – one sheet at a time – for 12-15 minutes, or until golden brown.

Allow cookies to cool for 5 minutes on the baking sheet, then transfer to a wire rack to cool completely.
Notes
*This recipe requires Full-Fat Greek Yogurt. Non-fat and low-fat varieties will not yield the same results.