This easy to make Halloween Candy Cookie Cake is the perfect way to use up leftover candy! A hit with kids and adults!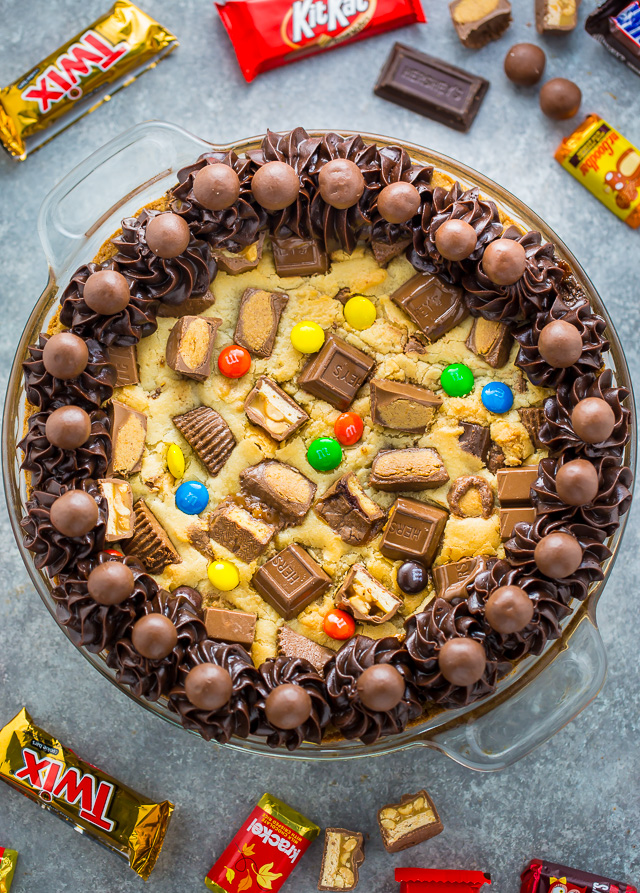 Halloween is in just a couple of weeks! Can you believe it? Crazy how this season is flying.
Since you'll be knee-deep in an assortment of miniature candy bars before you know it, I thought a recipe to help you use some of them up was in order. This Halloween candy cookie cake did the job pretty good! I actually had to run to the store to get more fun-sized candy treats just in case we get some adorable trick-or-treaters on the 31st 😉 Handing out candy to the cute lil' kiddos in goofy costumes is my favorite part about Halloween.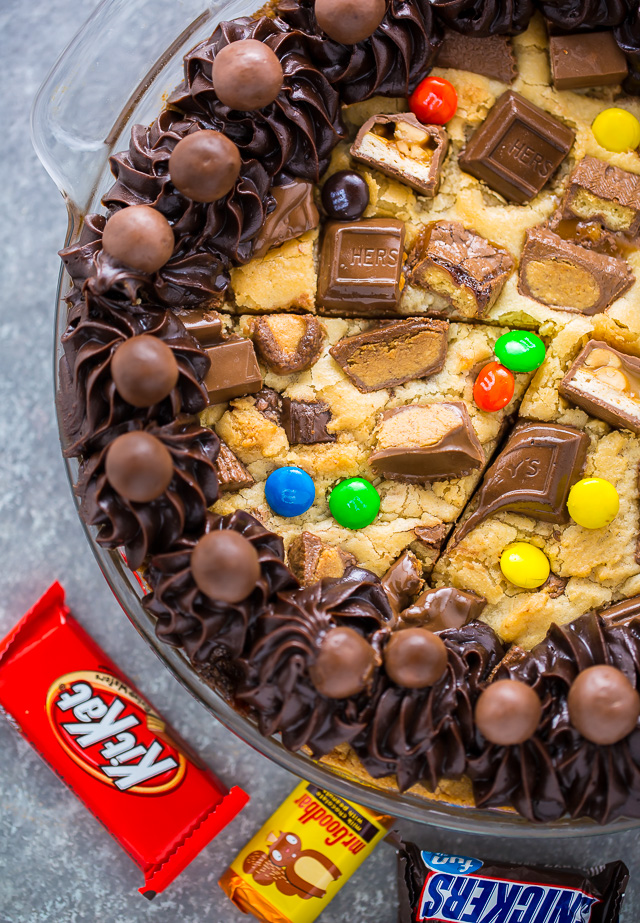 This cookie cake is soft, chewy, and so easy to bake up! All you need is basic cookie ingredients (think: flour, sugars, butter, salt, and eggs) and lots of Halloween candy! The best part is you can really stuff it with as many different kinds of candy as you like. I personally stuck to ALL chocolate… because I'm a chocoholic like that 😉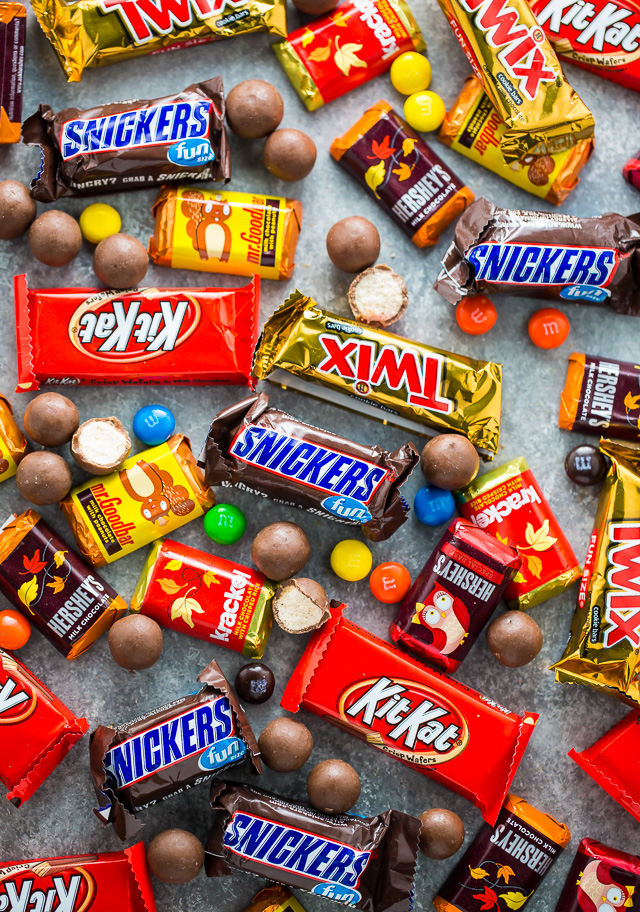 This cookie cake was a HUGE hit at a recent housewarming party we had, and I even caught my friend Lizzy – who apparently "doesn't like candy" – swiping a second slice! Ha. Doesn't like candy… said no one EVER!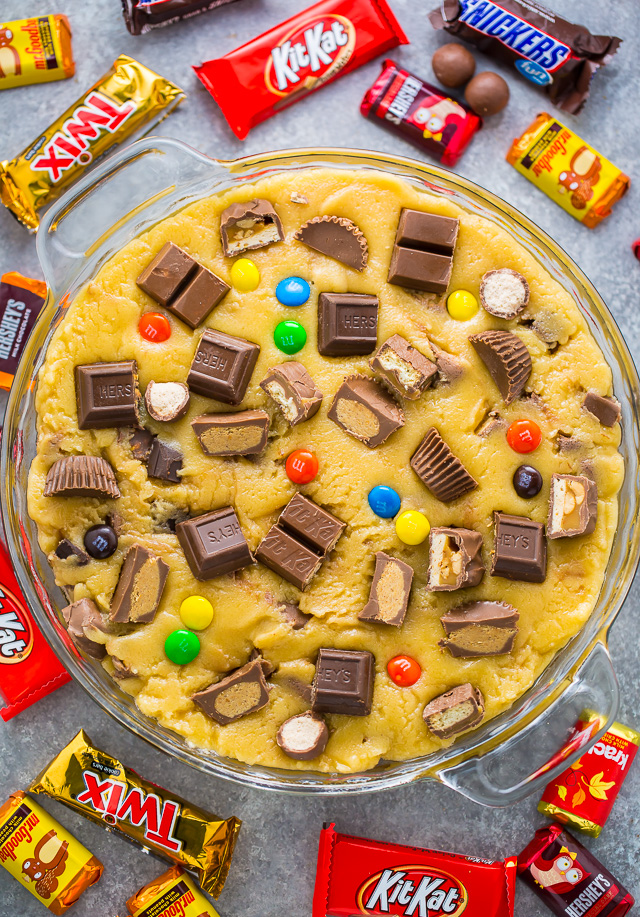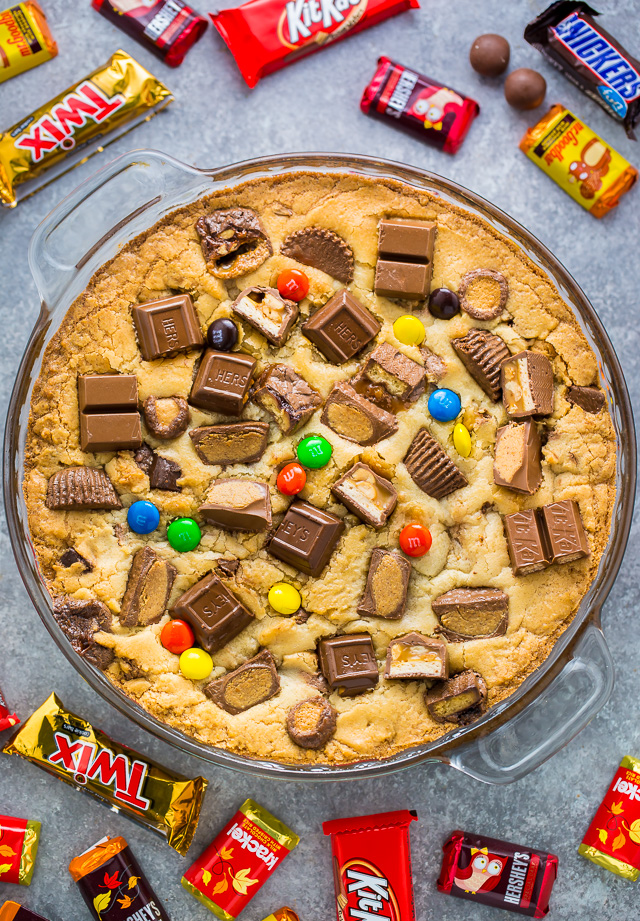 Make this cake, cut it up, and watch the crowd go wild 😉 It's for sure going to be a hit. xoxo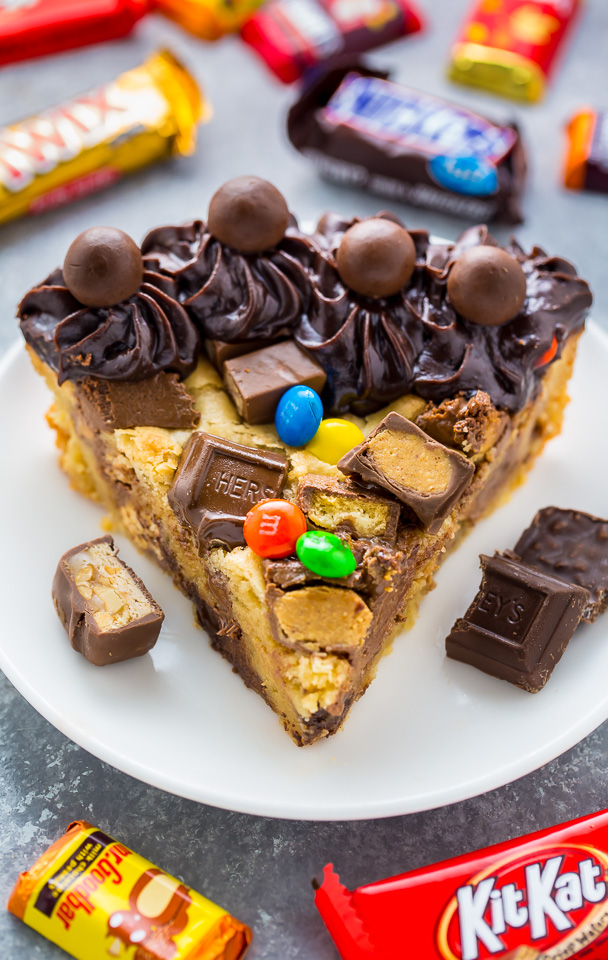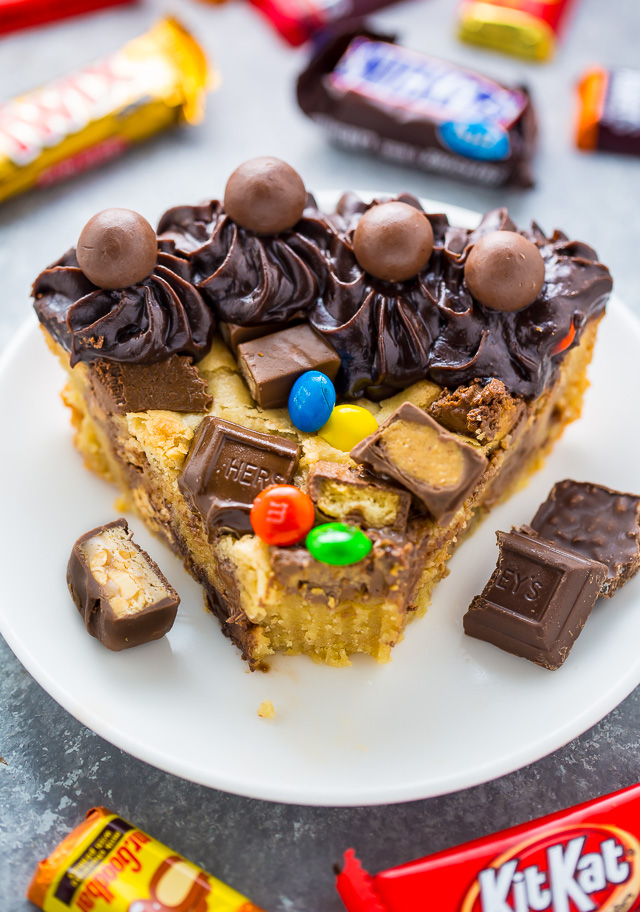 If you try this recipe, let me know! Leave a comment below and don't forget to snap a pic and tag it #bakerbynature on instagram! Seeing your kitchen creations makes my day.
Halloween Candy Cookie Cake
This easy to make Halloween Candy Cookie Cake is the perfect way to use up leftover candy! A hit with kids and adults.
Ingredients
For the Halloween candy cookie cake:
2 sticks (8 ounces) unsalted butter, melted
1 cup light brown sugar, packed
1 cup granulated sugar
1 large egg plus 2 egg yolks, at room temperature
2 teaspoons vanilla extract
2 cups all-purpose flour
1/4 cup cornstarch
1/2 teaspoon salt
2 cups leftover Halloween candy, roughly chopped (use mini candy bars, m&ms, peanut butter cups, etc)
For the chocolate frosting:
4 tablespoons unsalted butter, very soft
1 and 1/2 cups confectioners sugar, more if needed
1/3 cup plus 2 tablespoons unsweetened cocoa powder
2 tablespoons heavy cream, more if needed
1/4 teaspoon salt
1 teaspoon vanilla
Instructions
Preheat oven to 350 degrees (F). Lightly spray a 9" pie plate with non-stick baking spray; set aside.

In a large bowl add the melted butter, brown sugar, and granulated sugar; beat well until combined. Cool for 5 minutes, then beat in the egg, egg yolks, and vanilla. Add in the flour, cornstarch, and salt and mix until just combined. Be sure not to over mix here! Fold in the chopped candy bars. Spread the mixture into the prepared pie plate (it will be very thick), smooth the top, and bake for 35 minutes, or until the top is golden brown, the edges are completely set, and the center of the pie is only slightly jiggly. Top the warm cookie cake with extra candy, if desired. Transfer cookie cake to a wire rack to cool for at least one hour before topping with frosting (if using) and slicing.
For the chocolate frosting:
Sift together the confectioners sugar and cocoa powder, whisking well to ensure it's bump free.

Using a handheld mixer OR a stand mixer fitted with the paddle attachment, beat the butter on medium-high speed until creamy; about 2 minutes. Reduce speed to low and slowly add the sifted sugar/cocoa powder, alternating with the cream, then add the vanilla and salt. Once all of the ingredients have been added, beat on high speed until light and creamy, about 2 minutes.

Scrape frosting into a piping bag fitted with an open star tip and pipe onto the cooled cake.
Notes
You can use any variety of chocolate candy you have on hand for this cake. Cake is best eaten the day it's made, but will keep, covered, for 3 days.