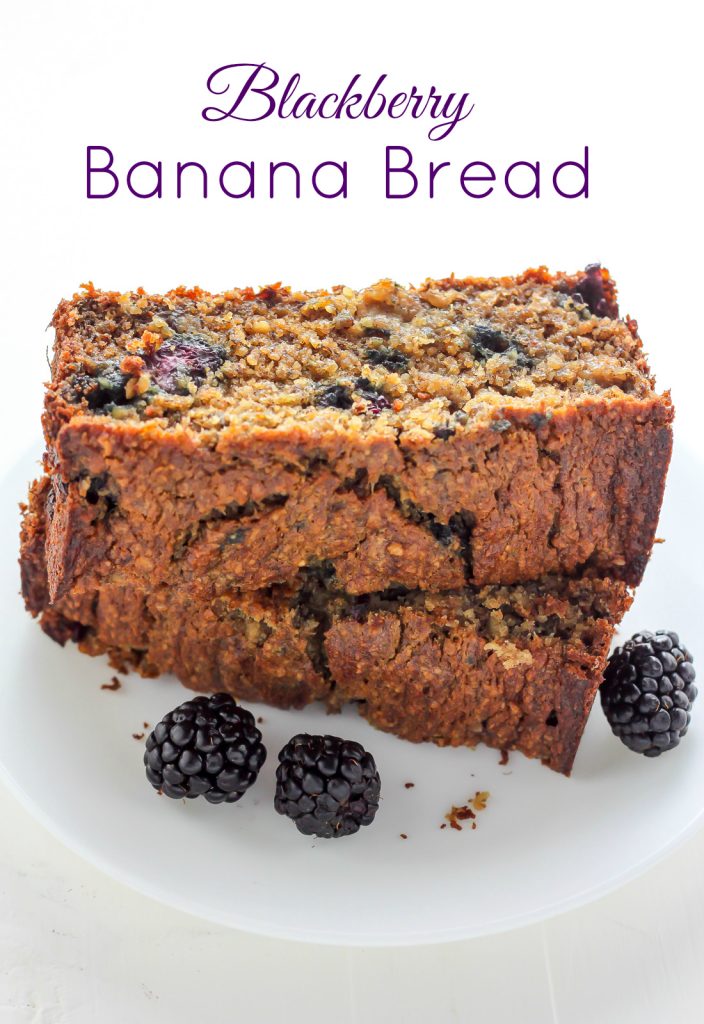 I'm a huge fan of classic banana bread, but let's be honest… it's not the most exciting dessert on the block. After swiping a few pints of gorgeous blackberries at the market last week – and eyeballing the pile of half dead bananas giving me the stink eye from our fruit bowl – I decided to take matters into my own hands and make a truly unique new banana bread recipe.
I'm always up for a challenge when it comes to dessert!
I've made so many banana bread versions over the years, but I have to say this healthy berrylicious version is a new favorite. It's made with 100% oat flour (hello, gluten free goodness), maple syrup (no granulated OR brown sugar in this bread), mashed bananas (the riper the better!), and a cup of blackberries. It's extremely simple to make, bold in flavor, slightly dense, utterly moist, and perfection when paired with a spot of tea/cup of coffee.
Here a few tips for making this bread:
1) Oat flour can be made at home by simply pulsing oats in a blender or food processor. You'll want to pulse the oats for a few seconds, or until they've transformed into an oat powder – also known as oat flour. Super easy!
2) If you are gluten intolerant please (!!!) make sure your oats are gluten free.
3) Choose a maple syrup that you know and love. The maple flavor really shines through in this dessert. I like to use a grade b syrup, but grade a will do the job 😉
4) I like to cut my blackberries in half before adding them to the batter. I do this because blackberries are typically quite large and I prefer small bits of berry dispensed throughout the bread instead of BIG pockets of berry here and there. If you'd like a more even berry flow, I recommend chopping them in half. <——- If you could care less about this, just toss them in as is!
5) This is a dense but extremely moist bread. It's completely delicious and very filling. I like to slice this quite thin and serve it with fruit for breakfast.
Grab your bananas and blackberries and get baking, my friends! This bread is sure to excite even the most jaded banana bread fan 😉 xo
Healthy Blackberry Banana Bread
Healthy Blackberry Banana Bread is the perfect breakfast, snack, or dessert!
Ingredients
2 cups + 2 tablespoons oat flour (you can make this by simply grinding up oats in the blender until they're powder), divided
1 teaspoon baking soda
1 teaspoon cinnamon
1/2 teaspoon salt
1/2 cup + 2 tablespoons pure maple syrup
2 large eggs, room temperature
1/2 cup coconut oil or olive oil (if using coconut it must be melted)
1 cup ripe bananas, mashed (about 3 large bananas)
2 tablespoons Greek yogurt
2 teaspoons vanilla extract
1 cup blackberries, cut in half
Instructions
Preheat oven to 350 degrees (F). Line the bottom of a loaf pan with parchment paper and spray with non-stick spray.

In a medium bowl, sift together 2 cups of the oat flour, baking soda, cinnamon and salt; set aside. In a separate large bowl, beat maple syrup and eggs with a whisk until well combined, about 3 minutes. Add oil (or butter, if using that), mashed bananas, Greek yogurt, and vanilla. Gently mix in dry ingredients. Place blackberries in a small bowl and toss with remaining oat flour. Fold blackberries into the batter.

Pour batter into the lined loaf pan and bake for 45 minutes to an hour, or when a cake tester comes out with just a few crumbs sticking to it. Allow bread to cool completely before slicing.
Notes
Feel free to swap the blackberries for blueberries, raspberries, or even chocolate chips!