This healthy blueberry banana bread is so moist, tender, and tasty! Adding juicy blueberries is a delicious twist on classic banana bread!  An easy breakfast the whole family will love!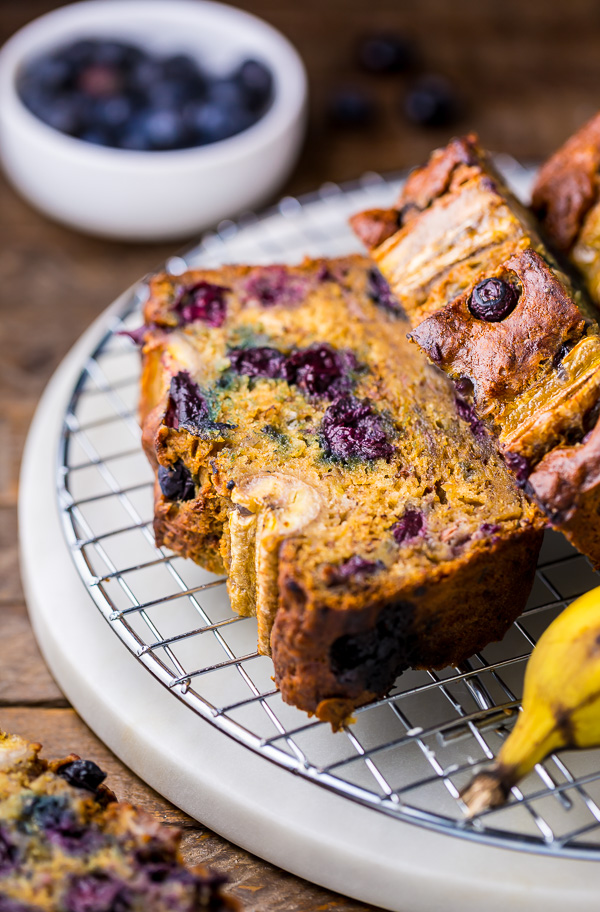 Healthy Blueberry Banana Bread
Although saying goodbye to vacation is never easy, one of the things I do look forward to on our ride home is the fact that we pass TONS of farm stands selling the freshest of the fresh Summer fruits and veg. It's our on-the-road again silver lining. We stop every year on our way home to pack the car FULL of tomatoes, berries, peaches, and peppers… and this year I went a little bit CRAZY on the berries. Blueberries! To be exact. They were so plump, juicy, and only 99 cents a bin! I wanted them ALL.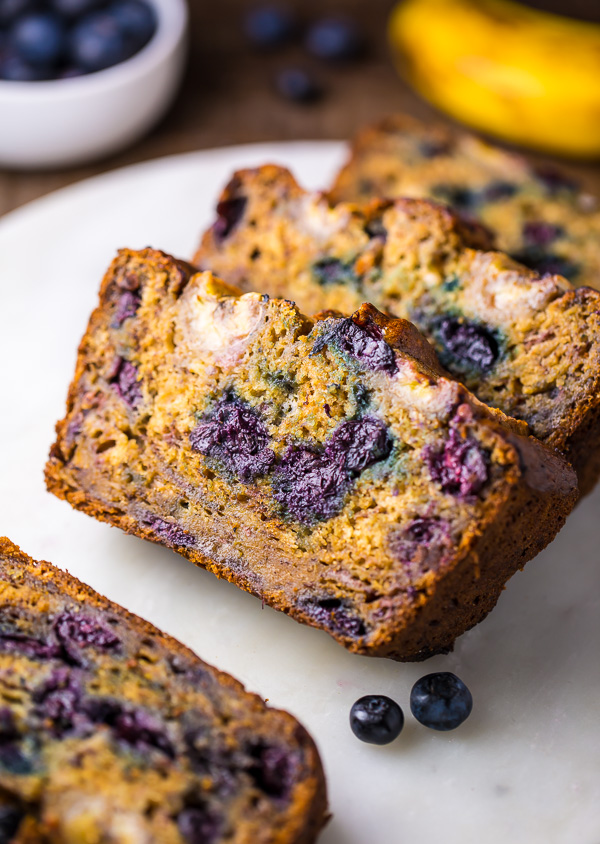 And all of them I bought. Well, almost. We came home with berries for days, and I immediately went into the "omg what should we do with all of these" mindset. After finding a batch of bananas we had forgot about sitting on top of the fridge, I just knew: Whole Wheat Blueberry Banana Bread. It was fate.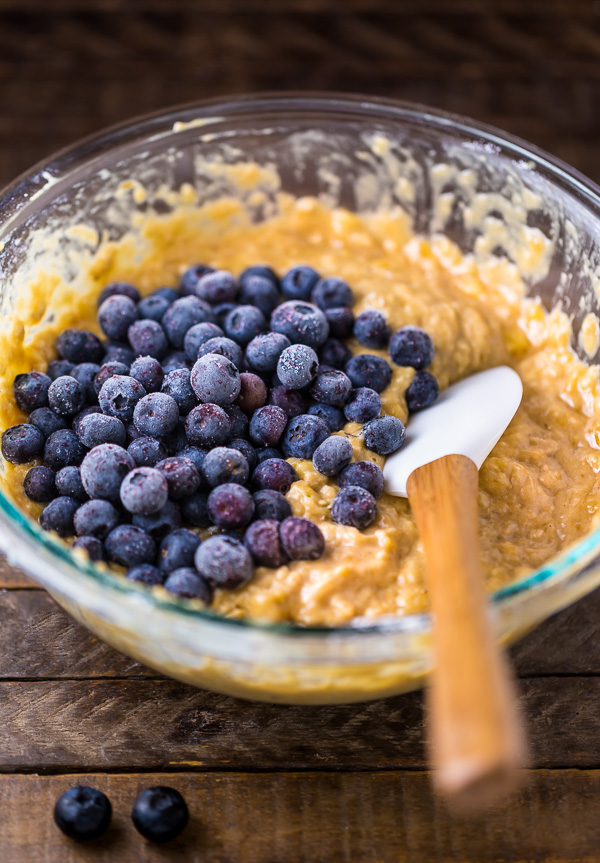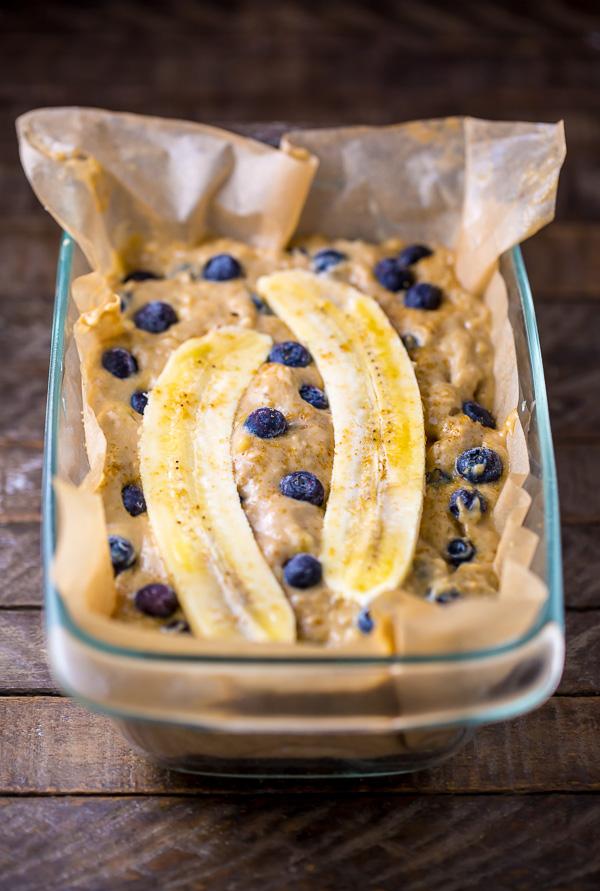 Healthy Blueberry Bread
This blueberry banana bread loaf is lightened up by using whole wheat flour, coconut oil, and applesauce! And don't worry – you can't taste the coconut or apple sauce 😉 It just adds moisture to the banana bread, and helps keep things nice and tender. I have also made this recipe with olive oil and found it equally as enjoyable! So feel free to give that a try if you don't have coconut oil on hand.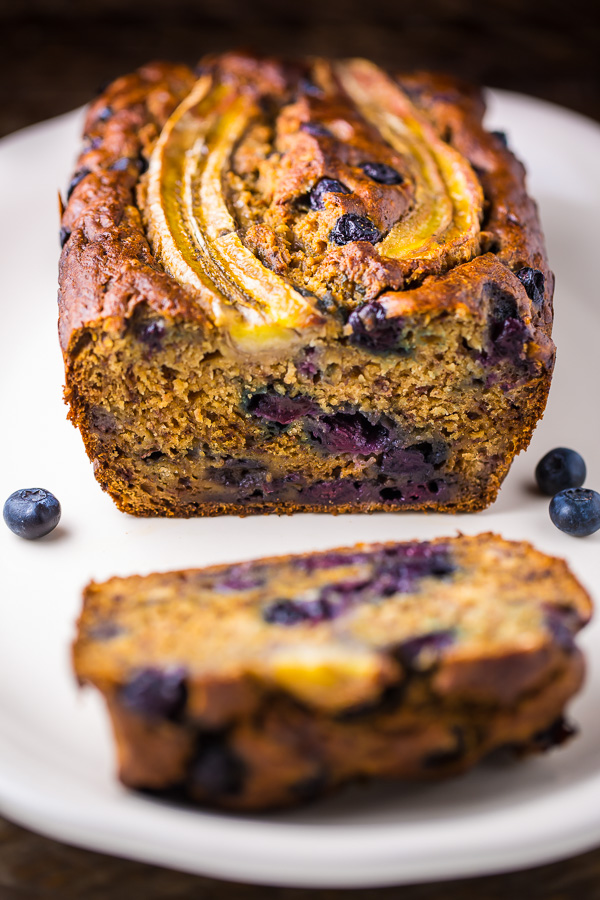 One last thing! Please be sure to use VERY ripe bananas when making this. This recipe only has a 1/2 cup of sugar, so the sweet, mushy bananas are key to making everything jive 😉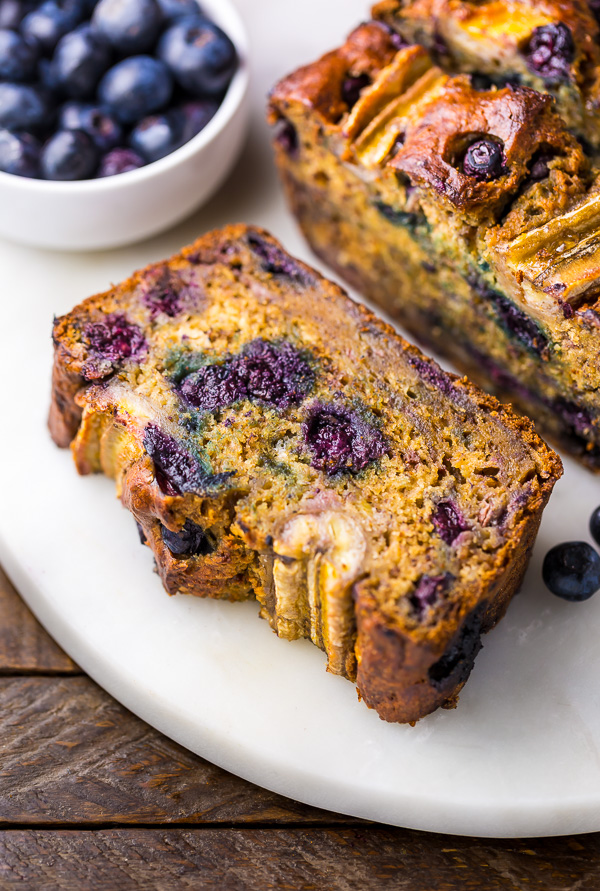 If you try this recipe for Healthy Blueberry Banana Bread, let me know what you think! Leave a comment below, and don't forget to snap a pic and tag it #bakerbynature on instagram! Seeing your creations makes my day ♥

More Banana Recipes: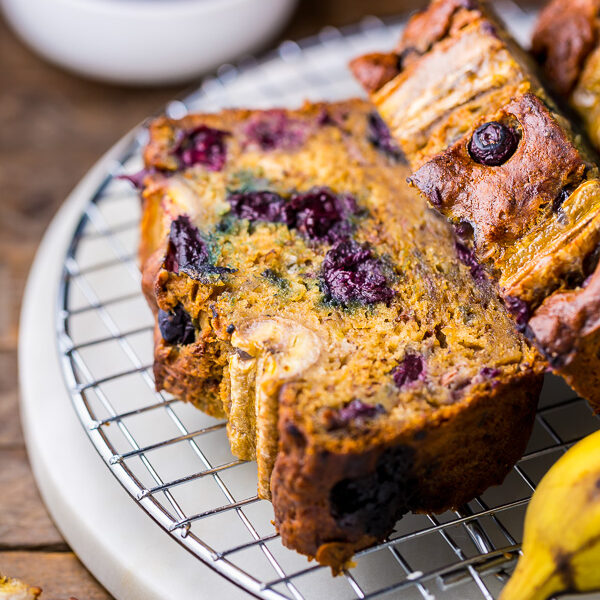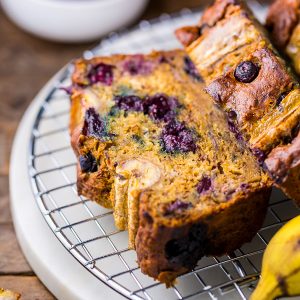 Healthy Blueberry Banana Bread
Healthy Blueberry Banana Bread
Ingredients
1 and 1/2 cups whole wheat flour
1 teaspoon baking soda
1/2 teaspoon baking powder
1/2 teaspoon salt
1 teaspoon ground cinnamon
1/2 cup coconut sugar (you may also use an equal amount of light brown sugar, packed)
1/4 cup coconut, melted
1/4 cup unsweetened applesauce
2 large eggs, lightly beaten (at room temperature)
2 teaspoons vanilla extract
3 VERY ripe bananas, peeled and mashed (should yield 1 and 1/4 cups of mashed banana)
1 and 1/2 cups fresh blueberries
For decoration:
1 banana, sliced in half lengthwise, optional
Instructions
Preheat the oven to 350 degrees (F). Line a 9" loaf pan with parchment paper so that the sides slightly overlap, then spray the parchment paper - and any exposed pan - with non-stick spray; set aside.

In a medium bowl, whisk together the flour, baking soda, baking powder, salt, and cinnamon; set aside.

In a large bowl, beat the sugar, oil, applesauce, eggs and vanilla until combined. Stir in the mashed bananas and blueberries. Add the dry ingredients and stir until just combined.

Pour the batter into the prepared loaf pan, and smooth the top. Place the sliced banana halves on top of the loaf and gently press them down slightly into the batter, if using. Bake for 55 to 65 minutes, or until a cake tester inserted in the center of the loaf comes out clean. Cool in the pan for 15 minutes before removing the loaf  and transferring it to a wire rack to cool completely.

Once cool, slice and serve!