This Healthy Raspberry Chocolate Chip Banana Bread is an easy treat the whole family will love! Loaded with juicy raspberries and mini chocolate chips, this is a fun and healthy twist on classic banana bread. Yum!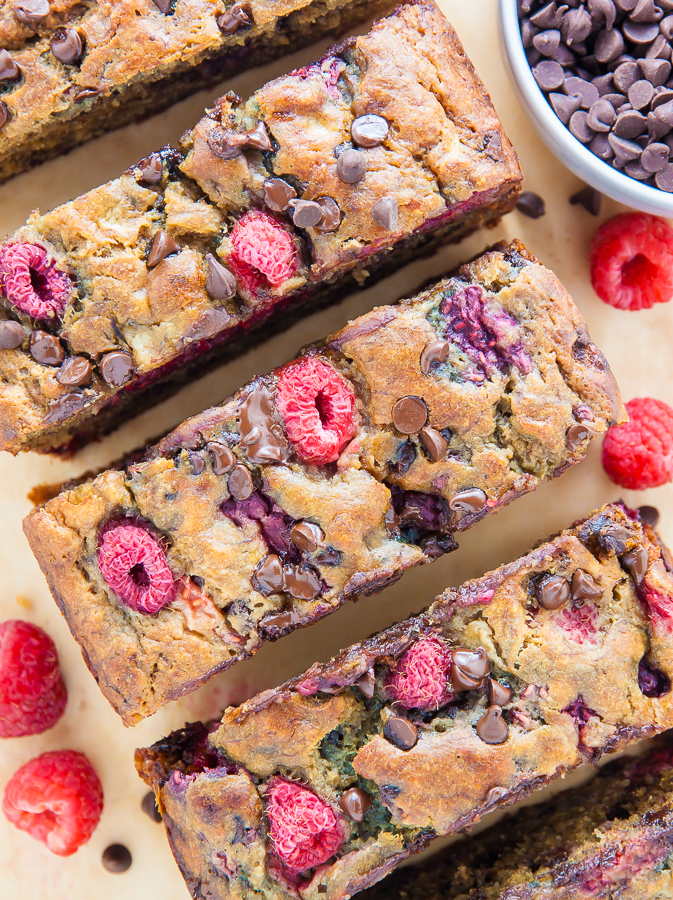 Raspberry Banana Bread
Good morning! May I tempt you with a slice of this raspberry studded chocolate chip banana bread?
It's healthy! But more importantly, it's so delicious. Each bite is:
sweet and supremely moist
exploding with real banana flavor
and loaded with fresh raspberries and mini chocolate chips
Perfect for breakfast, snack, or dessert! I made a loaf before I left for Cali and by the time I boarded the plane there wasn't a crumb left…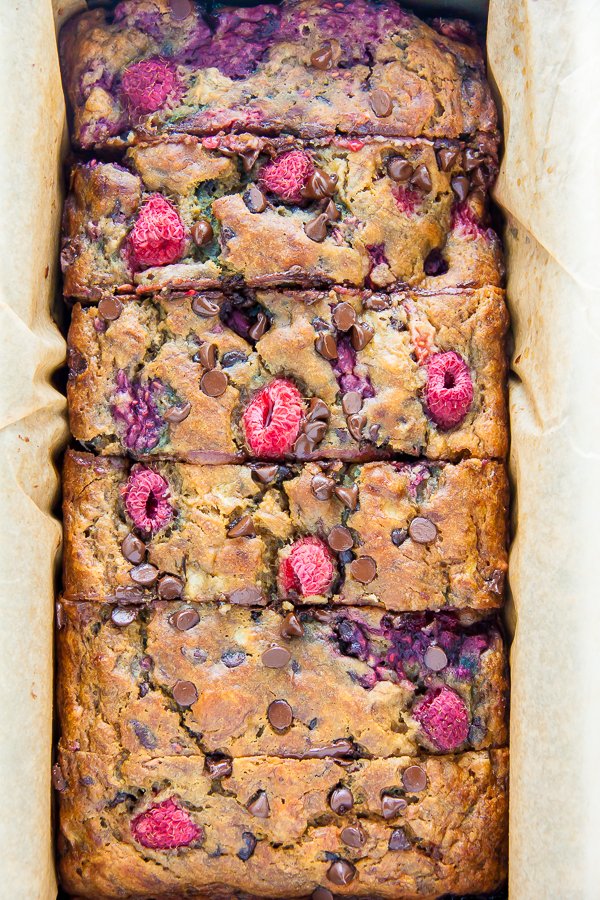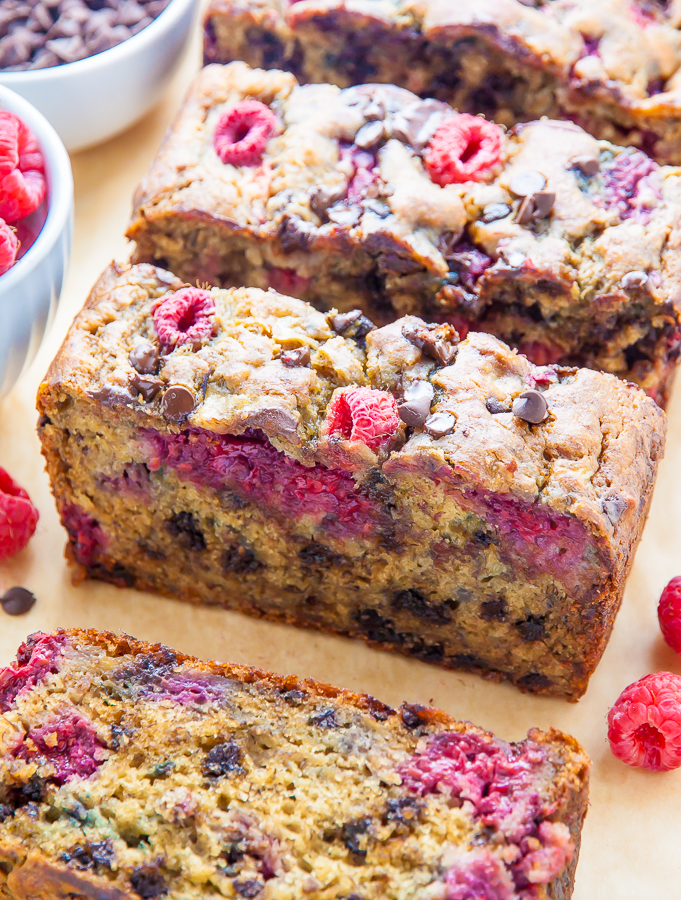 Healthy Banana and Raspberry Bread
Tips and Tricks for Recipe Success:
1. Be sure to use VERY ripe bananas as they add moisture and sweetness to this recipe. The blacker the better!
2. The chocolate chips are 100% optional! I love adding them, but if you're looking to make this recipe healthier, feel free to leave them out, or reduce the amount called for.
3. I call for coconut oil in this recipe because it's super healthy and I just love the taste and texture it gives the bread. If you cannot find coconut oil or have an allergy to it, please feel free to use a mild olive oil (or even canola oil) in its place.
4. While I used fresh raspberries in this recipe, frozen raspberries may be used instead. Just be sure you don't thaw them first.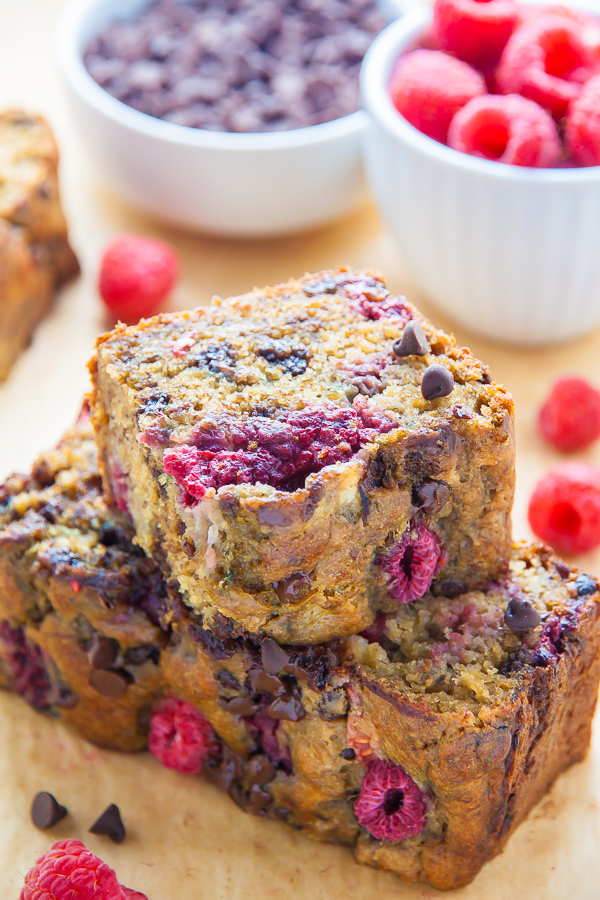 I should also add that while I find this bread to be an extremely healthy alternative to traditional banana bread, I'm not a nutritionist and am aware we all have different definitions of healthy.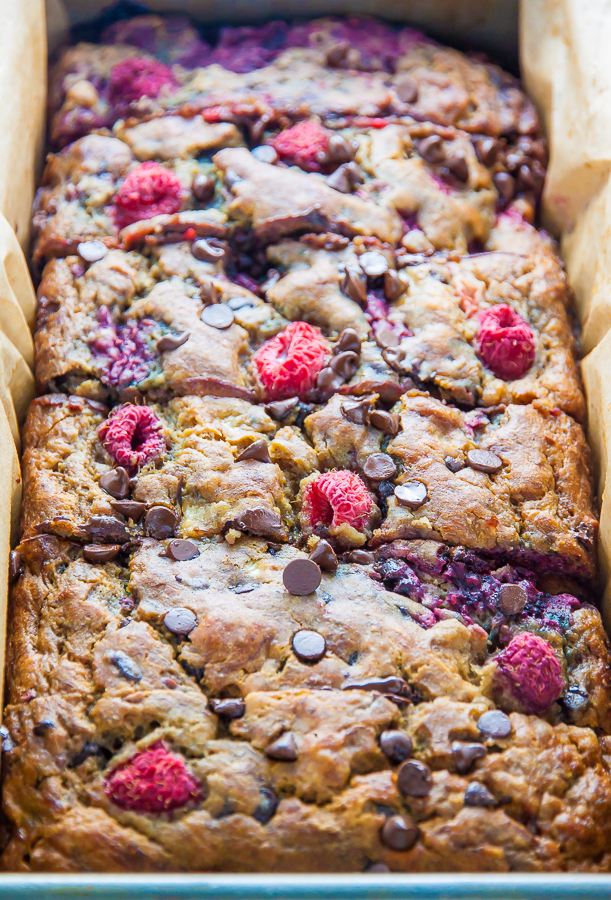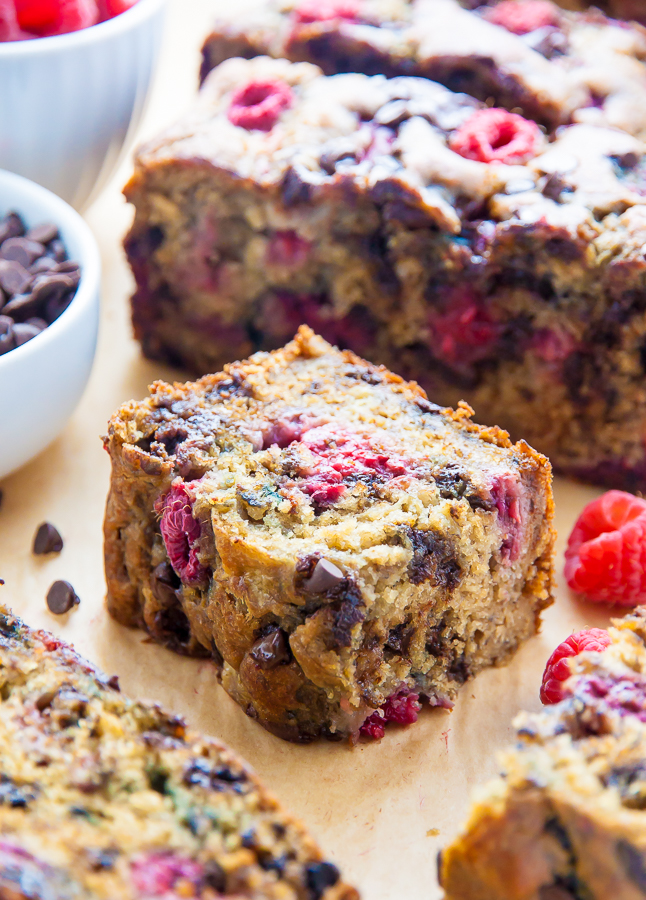 If you try this raspberry banana chocolate chip loaf recipe, let me know what you think! Leave a comment below, and don't forget to snap a pic and tag it #bakerbynature on instagram! Seeing your creations makes my day.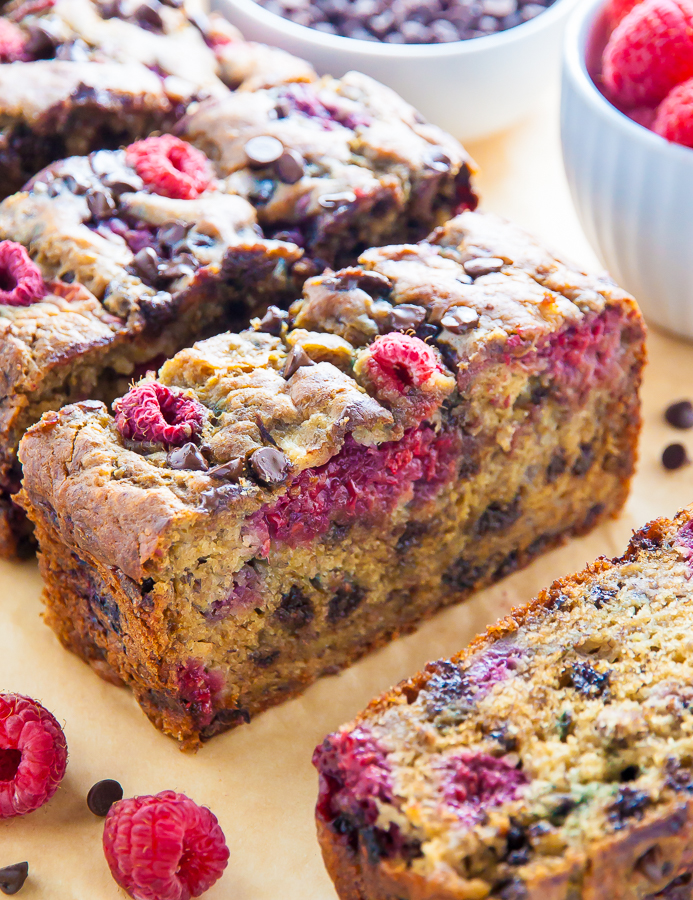 More Banana Recipes: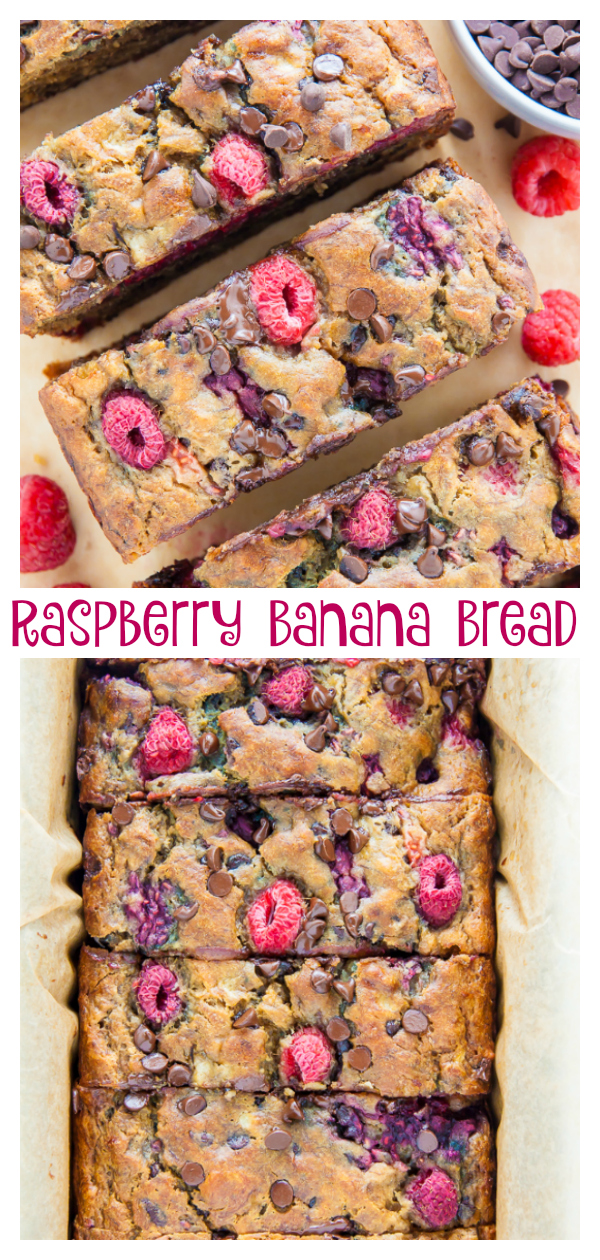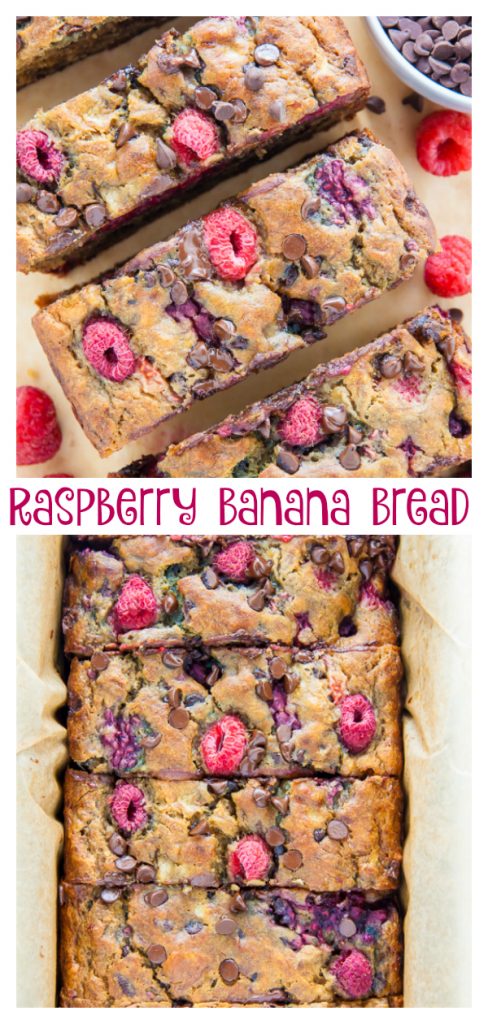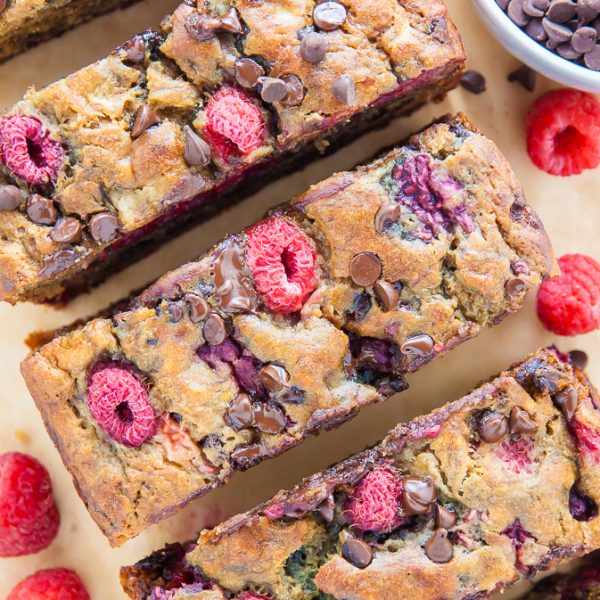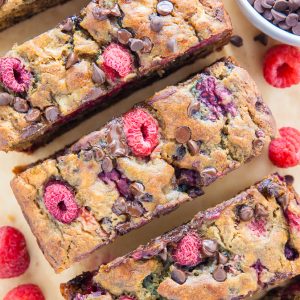 Healthy Raspberry Chocolate Chip Banana Bread
Supremely moist and Healthy Raspberry Chocolate Chip Banana Bread!
Ingredients
1 and 1/2 cups whole wheat flour
1 teaspoon baking soda
1 teaspoon baking powder
1/2 teaspoon salt
1 teaspoon ground cinnamon
1/4 teaspoon ground nutmeg
1/3 cup coconut sugar
1/4 cup coconut oil, melted
1/4 cup plain Greek yogurt (I used full-fat, but reduced fat should work)
2 large eggs, lightly beaten, at room temperature
1 teaspoon vanilla extract
3 VERY ripe bananas, peeled and mashed (will yield about 1 and 1/4 cups of mashed banana)
1 cup raspberries, fresh or frozen (if using frozen, do not thaw first)
1/2 cup mini chocolate chips (optional)
Instructions
Preheat the oven to 350 degrees (F). Line a loaf pan with parchment paper and lightly spray with non-stick spray; set aside.

In a medium bowl, whisk together the flour, baking soda, baking powder, salt, cinnamon, and nutmeg; set aside.

In a large bowl combine the sugar, oil, Greek yogurt, eggs and vanilla; beat until combined. Stir in the mashed bananas. Add in the dry ingredients and stir just until combined. Fold in the raspberries and chocolate chips (if using).

Pour the batter into the prepared loaf pan, smoothing the top with a spatula. Bake for 1 hour, or until a cake tester inserted in the center of the loaf comes out clean. Allow bread to cool in the pan for 15 minutes before removing the loaf from the pan and transferring to a wire rack to cool completely. Once cool, slice and serve.
Notes
Banana bread will keep, stored in an airtight container or wrapped tightly in saran wrap, for 3 days.