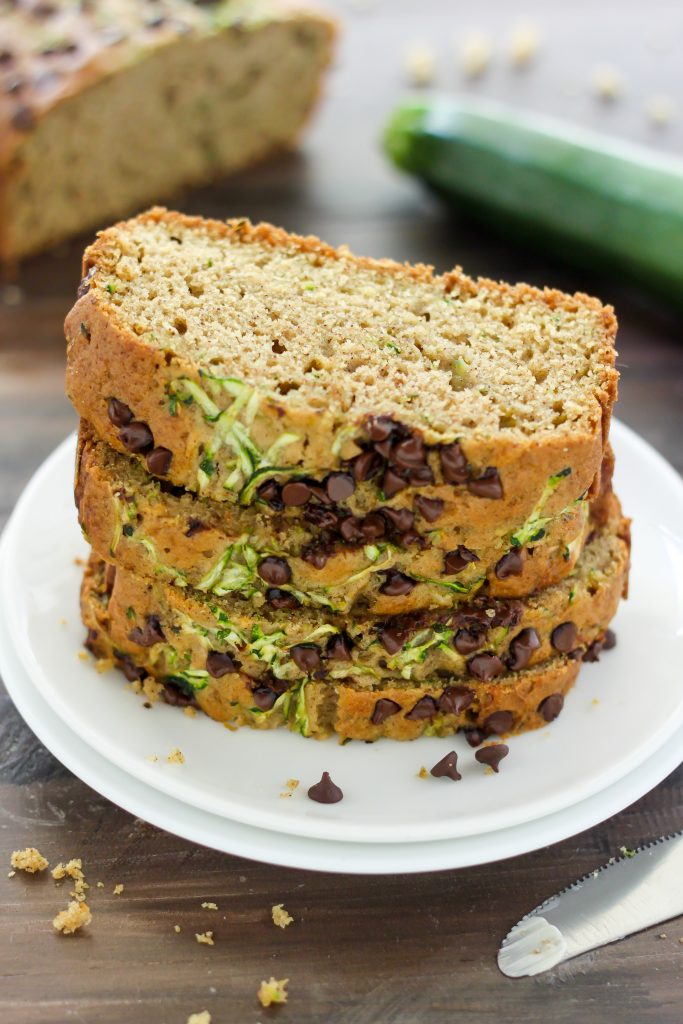 Ultra moist and tender, my recipe for Healthy Zucchini Bread is wholesome, simple, and sweet. Each luscious loaf makes a wonderful breakfast, snack, or dessert.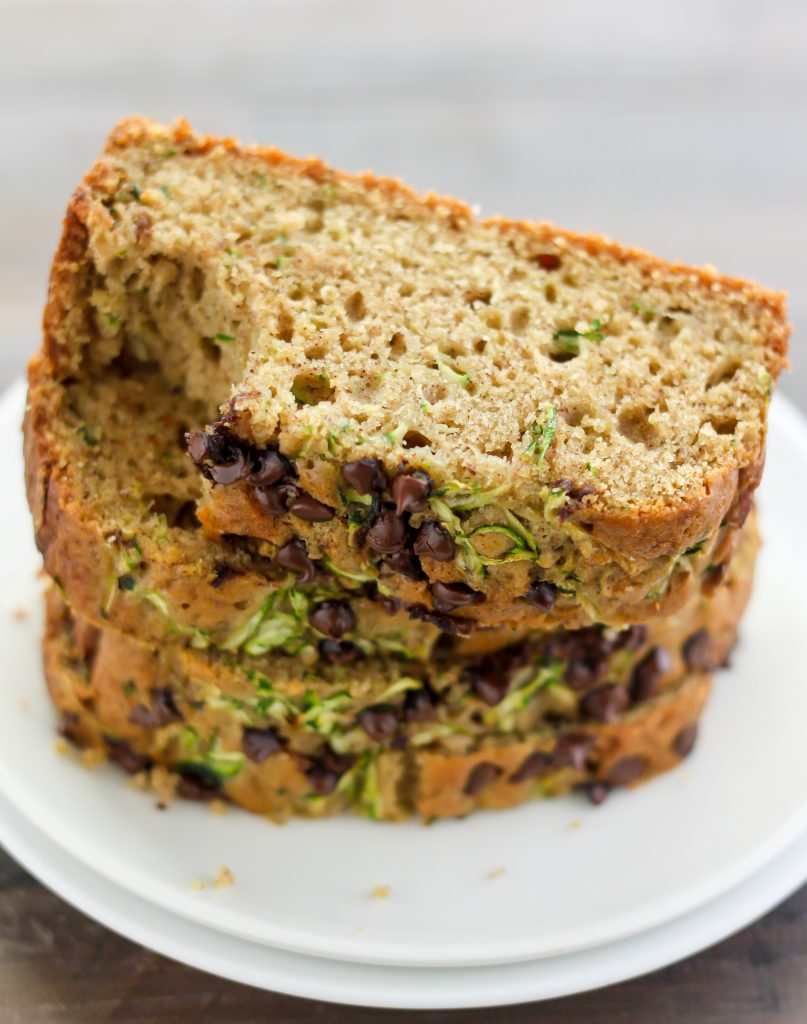 Well helloooooooooooo gorgeously green zucchini bread. Isn't she just a thing of beauty?! See those glistening mini chocolate chips? And that tender crumb?! Each hearty yet delicate slice just begging for a little smear of butter or cream cheese. ♡♡♡♡♡ <——– These… these are the things I live for.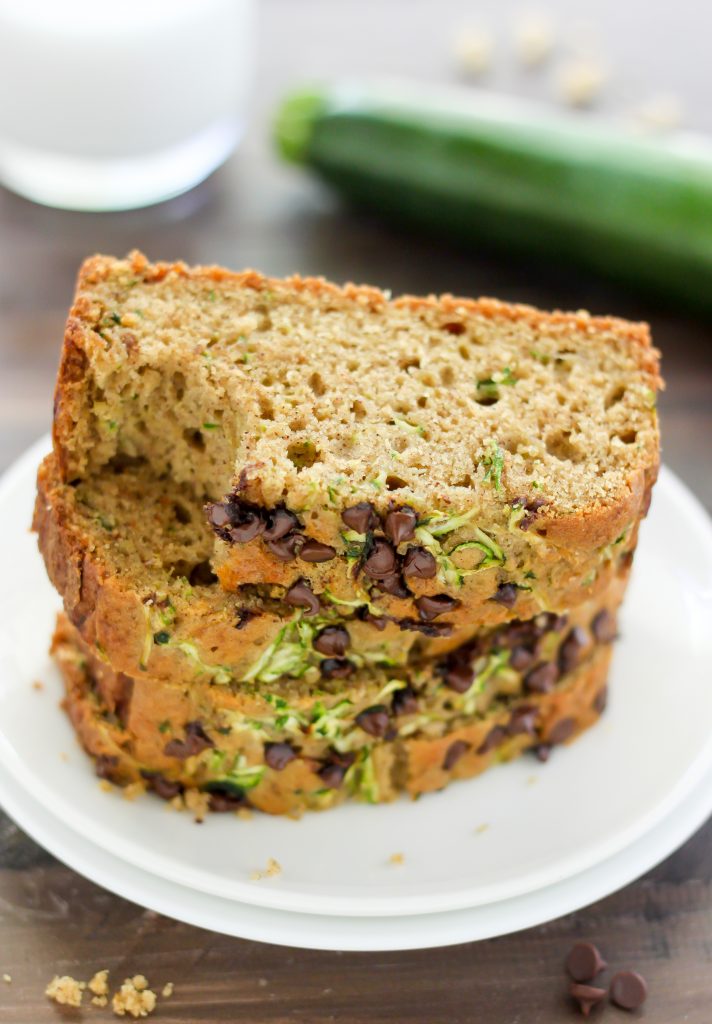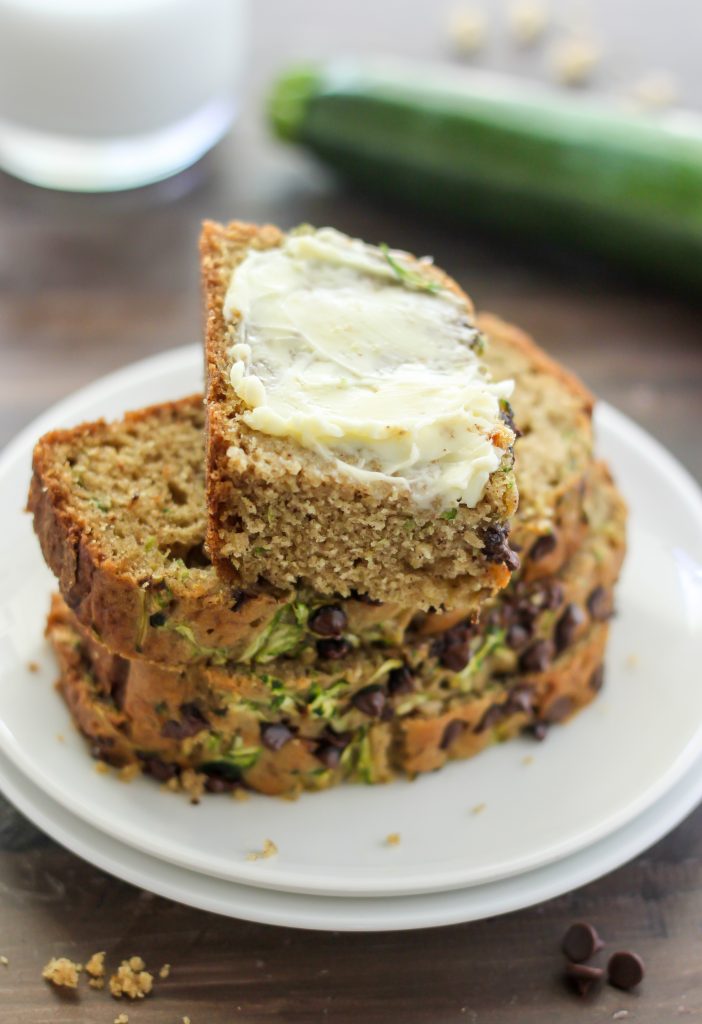 I mentioned last week this Spring I would be focusing on sharing recipes with you that are quick, easy, and perfect for Summertime living. To me zucchini bread is the epitome of Summer baking. It's a delicious, travel friendly snack almost everyone loves. Even my picky "veggie hating" nephews beg for this bread! To me, watching them pass on prepacked ice cream bars to scarf down slice after slice of GREEN bread is all the evidence I need 😉
The best part? This bread right here is totes healthy, my friends. Each loaf is packed with fresh zucchini!!!
FACT: Over one whole cup of fresh grated zucchini delivers a delightfully sweet and soft loaf every time.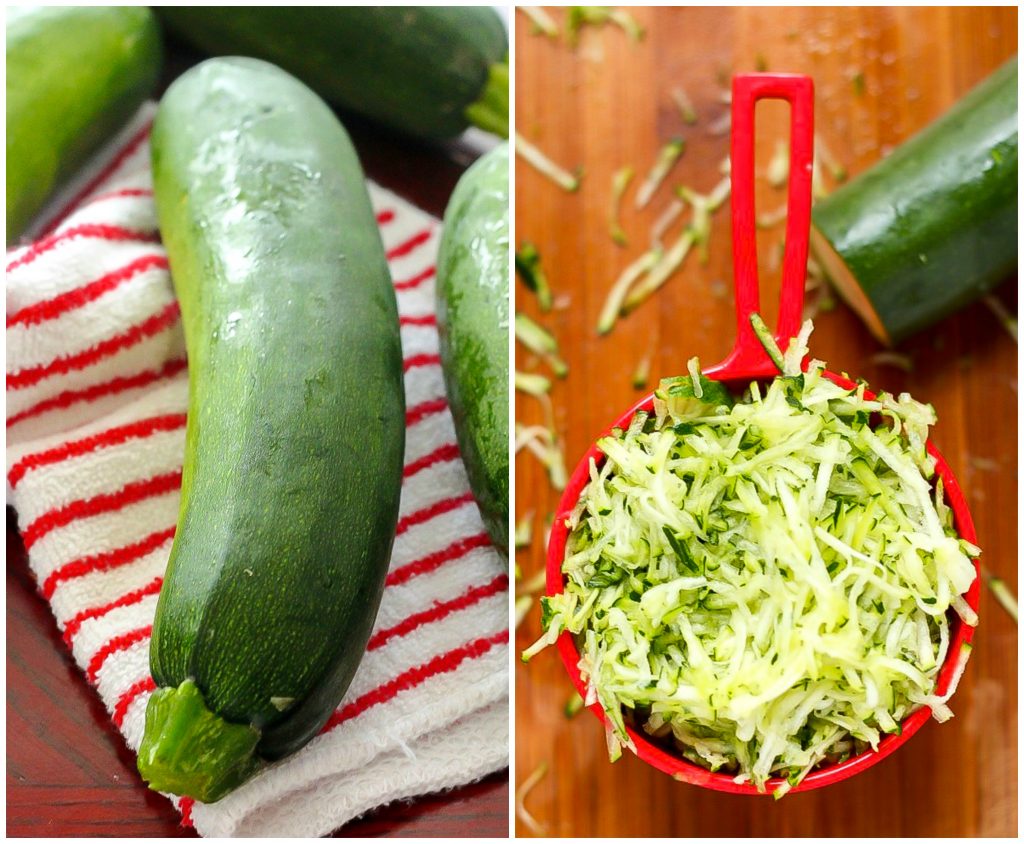 I like to one-up my loaves by tossing an extra handful or so of grated zucchini right on top of the batter before baking. This helps each loaf emerge from the oven looking vibrantly gorgeous. PRETTY POINTS FOR EVERYONE!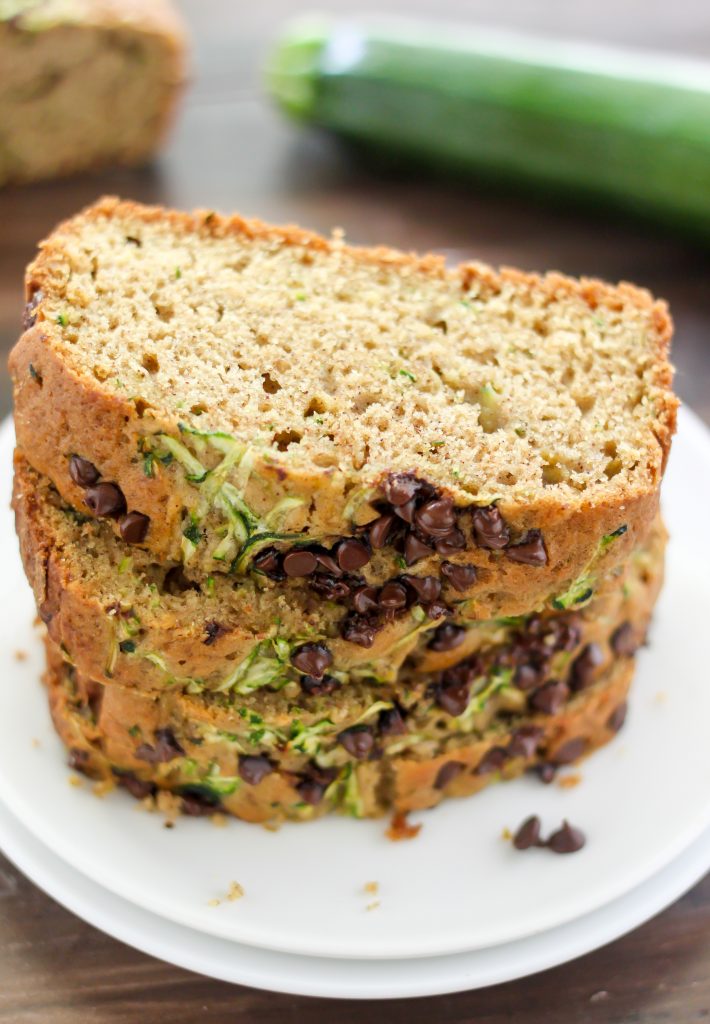 So what makes this bread healthy? Let's discuss!
1) This bread is made using 100% whole wheat flour. Not an ounce of white flour in the recipe. <—– That said, if you like white flour (better known as all-purpose) go ahead and use it! This recipe will work with all whole wheat, all white, or half and half of each. It's quite versatile.
2) For the fat in this recipe I chose to ditch the butter and use all-natural coconut oil. It's healthy and delicious. If you cannot find coconut oil or cannot use it due to allergies, I have successfully used olive oil in this bread, as well as canola and vegetable oils. For health reasons I like to stick to coconut oil or olive oil, but again, do your thing 😉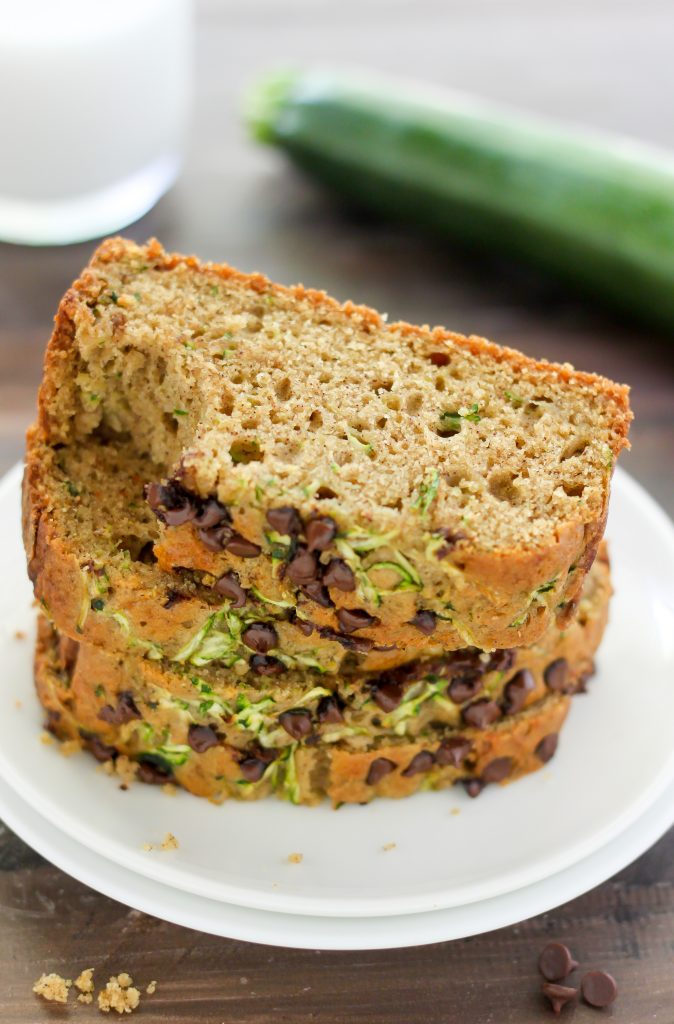 3) I have cut the sugar in the recipe waaaaaaaaay back. In fact, there's only 1/3 cup in the whole loaf! To help compensate our sugar loss, I've added maple syrup (the real stuff) and orange juice (the real stuff again, please!). These two ingredients not only add sweetness, but bring a whole new level of flavor awesomeness to this zucchini bread.
4) I added mini-chocolate chips to the recipe, but only to the top! You could double the amount and mix them into the batter as well, or leave them out completely, making the loaf even more travel/diet friendly. To me a 1/4 cup of mini dark chocolate chips is a guilt free way to treat yourself 😉
The hardest part of this entire recipe? The WAITING. The bake time is a solid 40-45 minutes. <— Those are a lot of minutes! I know. The Silver lining? You get to sit back and enjoy the smell of your kitchen as this seriously sweet loaf bakes up in the oven.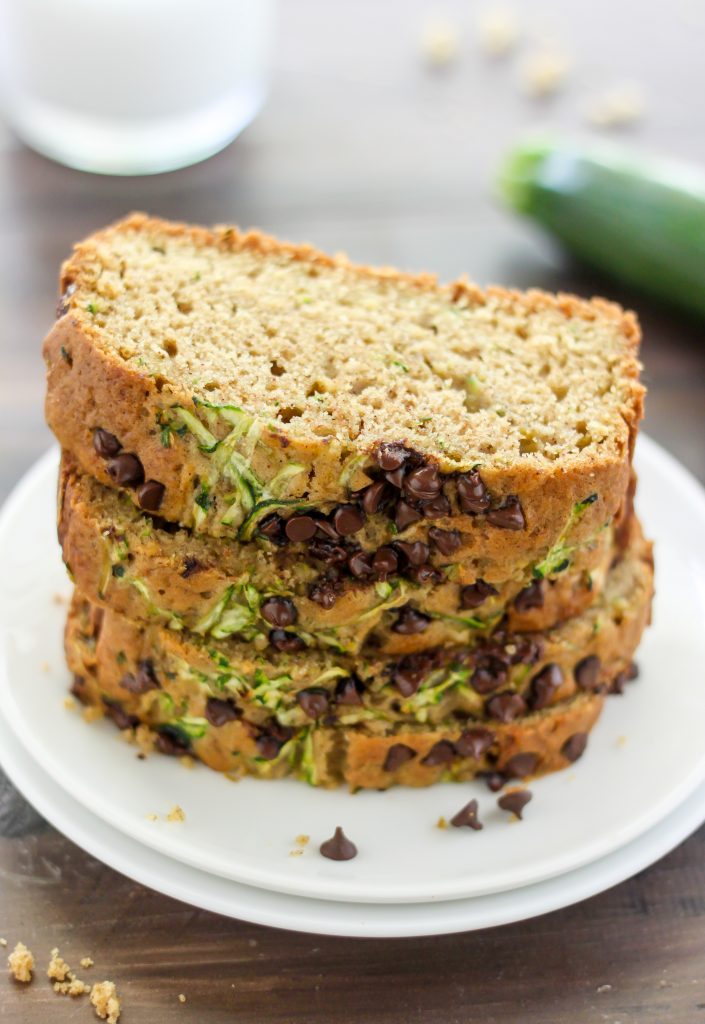 This bread will:
Have a moist, flavorful, and fluffy interior.
Have a crispy, crunchy exterior.
Make your home smell better than any scented candle.
Make you a believer in the whole "healthy CAN be delicious theory".
Impress you, your family, your friends, and anyone else lucky enough to have a slice.
There's just no doubt it; you're just going to love this bread.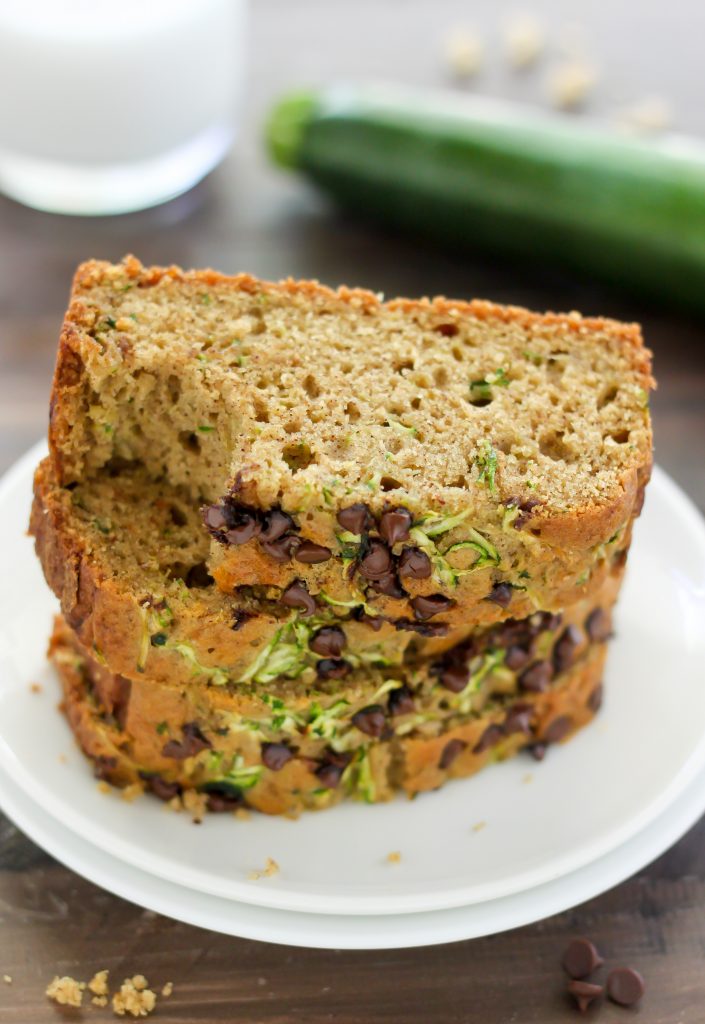 Zucchini lover's, grab your graters and get baking! This is one recipe you want to hold onto – and tightly.

I should get this little disclaimer out of the way now: I am not a doctor/nutritionist/or health fanatic. I don't count calories, I don't hate carbs, and I don't diss sugar. To me, fresh wholesome ingredients and a "less is more attitude" is what it's all about. <—— Just in case you wanted to know 😉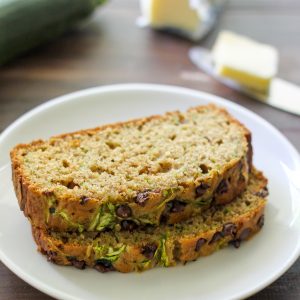 Healthy Zucchini Bread
Moist and flavorful, this healthy zucchini bread is sure to become a new favorite!
Ingredients
1 1/2 cups whole-wheat flour
1/2 teaspoon salt
3/4 teaspoon baking powder
1/2 teaspoon baking soda
1 teaspoons cinnamon
1/4 teaspoon ground nutmeg
1/4 teaspoon ground ginger
2 large eggs
1/3 cup + 2 tablespoons coconut oil, melted
1/3 cup granulated sugar
3 tablespoons pure maple syrup
3 tablespoon fresh or all-natural orange juice
1/2 Tablespoon vanilla extract
1 1/4 cups grated zucchini
1/4 cups semisweet or dark mini-chocolate chips, optional
Instructions
Preheat the oven to 350º(F). Line a 9x5-inch loaf pan with parchment paper; grease the parchment paper with cooking spray; set aside.

In a large bowl, sift together the flour, salt, baking powder, baking soda, cinnamon, nutmeg, and ginger.

In a separate large bowl, whisk together the eggs, melted coconut oil, sugar, maple syrup, orange juice, and vanilla extract; beat until light and fluffy, about 2 minutes. Fold the dry ingredients into the wet ingredients just until combined. Careful not to over mix here - the batter will be very thick. Fold in the grated zucchini.

Pour the batter into the prepared pan, sprinkle the top with chocolate chips (if using) and bake for 40-45 minutes, or until a toothpick inserted in the center of the loaf comes out clean. Remove the loaf from the oven and allow it to cool for 15 minutes in the pans before carefully transferring it to a cooling rack to cool completely. Slice and serve.