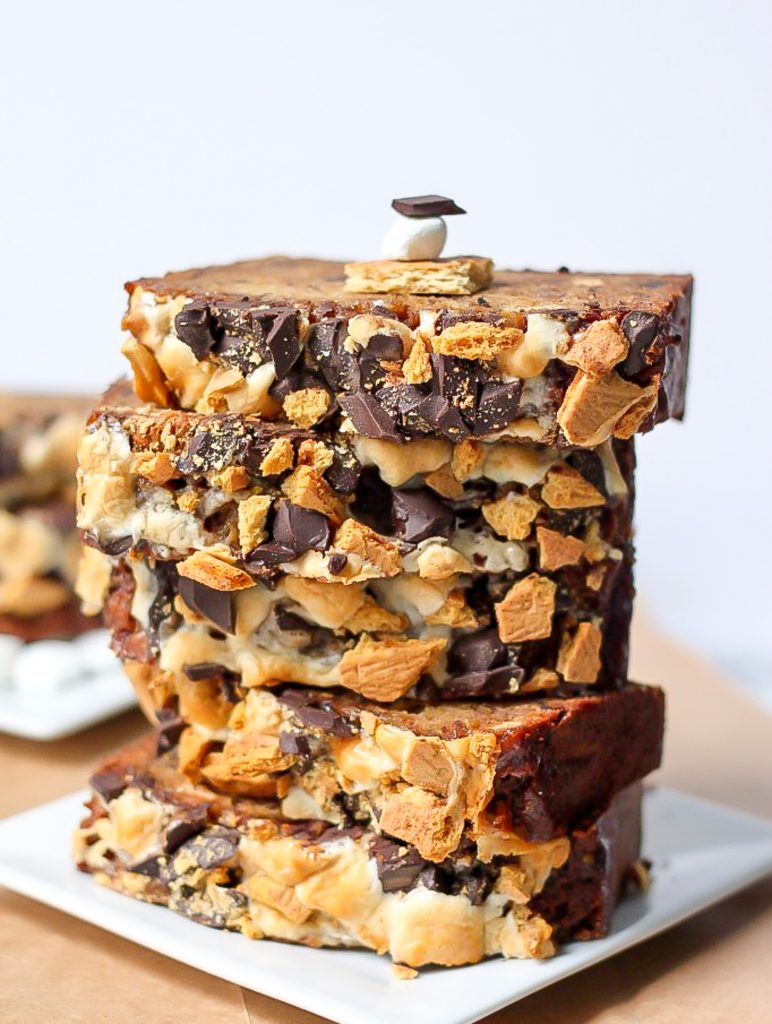 I've been wanting to make a big ol' loaf of banana bread for what feels like ages now! I've been dragging my feet (and mentally talking myself out of it) for so long mainly because
A) I will eat the whole loaf. By myself. In like… a day. It's a – sad, sad… kind of impressive (?) – fact of life.
and
B) There are already so many dang banana bread recipes aggressively swimming around the web world it's like… do we really need ME adding another? I mean, really?!!!
But then I was all like "YES!!!". "YES we do".
Because this banana bread is no regular loaf. It's got pizzaz for days!
With all that gooey marshmallow!
And those sexy hunks – er, chunks – of chocolate.
Pssh! And just look at those graham crackers doing their thang!!!
Oh. And did I mention the bananas that grace this luscious loaf have been caramelized in kahlua?!
Adding kahlua to anything feels so luxurious! I LOVE IT!!!
All I can say is… DO IT!!!
Kahlua Caramel S'mores Banana Bread – Baker by Nature
Makes 1 large loaf
Ingredients
For the Kahlua Caramelized Bananas:
3 large ripe bananas, sliced
2 tablespoons unsalted butter
1/4 cup light brown sugar
1/3 cup Kahlua
2 tablespoons flour
For the S'mores Banana Bread:
1/2 cup (4 ounces) unsalted butter, melted
1 cup light brown sugar
2 teaspoons vanilla extract
4 large eggs, at room temperature
1 3/4 cups all purpose flour
1 teaspoon baking soda
1/2 teaspoon baking powder
1/2 teaspoon salt
2/3 cup sour cream
1 cup semi-sweet chocolate chunks
1 cup mini marshmallows
1 cup chopped graham crackers
Kahlua caramelized bananas
Instructions
For the Kahlua Caramelized Bananas:
Peel bananas and slice them into very thin rounds. In a medium-sized skillet heat butter over medium flame until melted. Add sugar and cook – stirring – until dissolved. Add bananas, stir, and cook – stirring occasionally – for 6 minutes. Remove pan from heat; whisk in kahlua, then add flour.
For the S'mores Banana Bread:
Preheat oven to 350 degrees (F). Line a large loaf pan with parchment paper, grease well, and set aside.
In a large bowl whisk together melted butter, sugar, and vanilla extract; beat well. Add eggs, one at a time, whisking well after each addition.
Combine the flour, baking powder, baking soda, and salt in a bowl, then add them to the wet mixture, folding with a rubber spatula until just combined.
Fold in sour cream and bananas, then swirl in 3/4 of the chocolate chunks, marshmallows, and graham crackers, reserving 1/4 for the top of the loaf.
Pour batter into prepared pan, and bake in the oven for 45 minutes. Carefully remove the loaf from the oven (it will not be cooked completely!) and sprinkle the reserved s'mores toppings across the top of the loaf, then place back in the oven for another 20-22 minutes, or until a cake tester inserted in the middle of the loaf comes out clean.
Let loaf cool in the pan for 10 minutes before removing and transferring to a cooling wrack to cool completely.