Mozzarella Stuffed Meatballs and Spaghetti Squash Marinara is the perfect meal for nights you're craving comfort food but trying to curb carbs! Hearty, flavorful, and so delicious! This meal is a family favorite!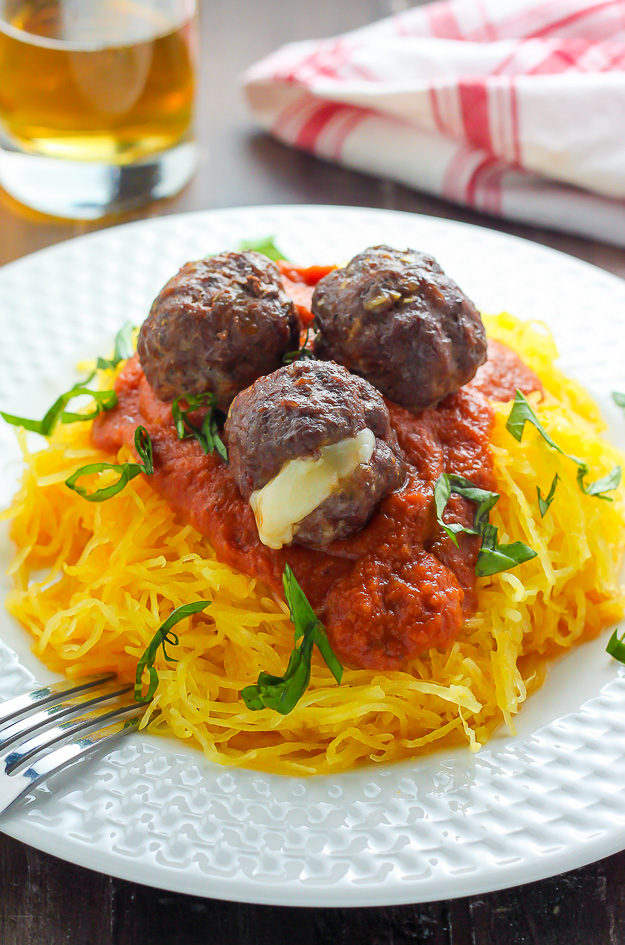 Spaghetti Squash with Mozzarella Stuffed Meatballs
I moved to New York City almost 4 years ago. I can't believe how fast time is flying by! With an estimated population of 8,244,910 – I've learned a trick or two when it comes to dealing with people. More specifically, people I live with.
See, In the 4 years I've resided here, I've lived in 3 different apartments, had 10 different roommates, 2 "adopted kittens", and only one living situation that ended poorly – and that wasn't my fault; he was a total psycho. 
I should get some sort of super roommate award.
Did I mention that 9 of those 10 roommates were males…?  Living with dudes is a completely different ballgame than living with a lady – married women, mothers – I know you hear me (why can't they just put the toilet seat down?!). And while living with boys can be tricky, you'd be surprised how quickly they change their tune towards things like cleaning charts and recycling duty when you place a giant plate of meatballs in front of them.
It's like magic. Or maybe it's science…? Boys + meat = happy little helpers.
Now when I say meatballs, I'm not just talking about any old ball of meat. No, no.
These babies are stuffed with fresh mozzarella cheese, onion, garlic, and so much more!
Currently I'm obsessed with serving these gorgeous balls of meat and cheese over fresh spaghetti squash, which is in season here and a great alternative to the beloved noodle. A quick marinara (red sauce) marries the meatballs and squash together perfectly. Friends, get ready for some healthy comfort food sure to please even the pickiest of eaters!
Pssssst! New to roasting spaghetti squash? Check out this post on how to roast spaghetti squash for a step-by-step guide 😉
More Meatball Recipes:
Mozzarella Stuffed Meatballs and Spaghetti Squash Marinara
Hearty Mozzarella Stuffed Meatballs are paired with Spaghetti Squash and Homemade Marinara Sauce for a healthy meal that's oh-so comforting.
Ingredients
For the Mozzarella Stuffed Meatballs:
1 pound ground beef (grass fed if you can get your hands on it!)
3 cloves of garlic, minced
1/4 yellow onion, finely chopped
2 tablespoons fresh parsley, chopped
2 teaspoons fresh oregano (or 1/2 teaspoon dried)
1/2 teaspoon freshly ground black pepper
1/2 teaspoon salt
1/2 teaspoon all seasons salt
1/2 teaspoon crushed red pepper flakes
1 tablespoon Worcestershire sauce
a few shakes of tabasco (or your favorite hot sauce)
1 tablespoon olive oil
1 large egg, beaten
1/2 grated Parmesan cheese
10 fresh mini mozzarella balls (most grocery stores sell them in the dairy/deli section)
For the Spaghetti Squash:
(1) 2 pound spaghetti squash, roasted (see post for link to step-by-step tutorial)
2 tablespoons olive oil
3 cloves garlic, thinly sliced
1/2 teaspoon salt
1/2 teaspoon freshly ground black pepper
For the Marinara Sauce:
2 tablespoons olive oil
1/2 cup yellow onion, minced
1/2 teaspoon crushed red pepper, optional
5 - 6 cloves of garlic, minced
(1) 32 oz can of crushed tomatoes
1/4 cup basil, chopped
1/2 teaspoon salt
1/2 teaspoon freshly ground black pepper
Instructions
For the Mozzarella Stuffed Meatballs:
Preheat oven to 375 degrees (F). Line a large baking sheet with parchment paper; set aside.

In a large bowl combine the beef, garlic, yellow onion, parsley, oregano, black pepper, salt, pepper flakes, Worcestershire sauce, tabasco, olive oil, egg, and cheese; use your hands to combine the ingredients until combined. Take about a 1/4 cup of the beef mixture, make into a round ball, and then press your thumb deep in the middle, making room for the mozzarella ball. Place cheese in the middle and with hands pat the meatballs shut, making sure the cheese is completely covered; transfer to prepared baking sheet. Repeat with remaining meat and cheese. Bake the meatballs for 25-28 minutes. Once cooked all the way through, toss in marinara sauce and serve over spaghetti squash, or with your favorite noodle/ sauce combination. These also make awesome meatballs sandwiches!
For the Spaghetti Squash:
Roast spaghetti squash and let it cool. Once cool enough to handle, shred the squash with a fork, transferring the "spaghetti" to a large bowl; set aside.

In a large skillet heat the olive oil over medium-heat. Add in garlic, salt and pepper and cook just until the garlic is lightly golden and fragrant. Add in spaghetti squash, stir to coat, then return squash and all garlic/oil from the pan to the clean bowl.
For the Marinara Sauce:
Heat olive oil in a medium-sized saucepan over medium heat. Add in onion and crushed red pepper and cook for 10-12 minutes, stirring occasionally, or until onion is soft and translucent. Add in garlic and cook until fragrant, about 1-2 minutes, then add in crushed tomatoes, basil, salt, and pepper. Bring the sauce to a rolling boil, then reduce the heat to low and cook, uncovered, for 15 minutes. Taste to check seasoning, adding more salt, pepper, and fresh basil as needed.

To serve: Place a scoop on spaghetti squash on each plate, top with a few meatballs, then top with a generous ladle of marinara sauce. Add additional Parmesan cheese and basil if desired.