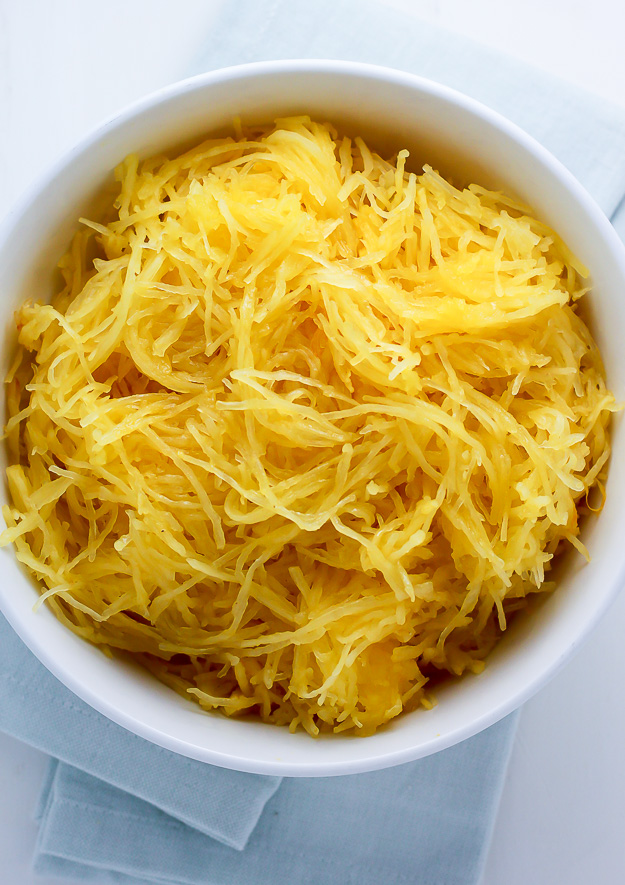 Roasted Spaghetti Squash
Spaghetti squash is a delicious guilt-free, gluten-free substitute for any pasta! Today I'll show you how to effortlessly roast one at home, with easy to follow step-by-step photos! 
How to Roast Spaghetti Squash
When I spotted spaghetti squash at the farmers market last weekend, I quickly swiped one up and got in line. As I stood there waiting my turn – trying my best not to look like a maniac as I dashed and squatted from the bees (so many up here!) – a man with a little girl draped over his shoulder abruptly grabbed my arm and asked me how to "cook one of those things?". It took me a good 30 seconds to realize he was talking about the squash, but once I came to, I quickly gave him the step by step on how to roast a spaghetti squash. I have to admit I felt a little beam of pride as I saw him gently plop the girl down and shuffle her over to go pick one out. I also felt inspired to show you how-to roast spaghetti squash. Just in case you don't already know 😉
First, cut your spaghetti squash in half. Please be careful here! Spaghetti squash has a very hard outer shell, so a sharp knife is your friend.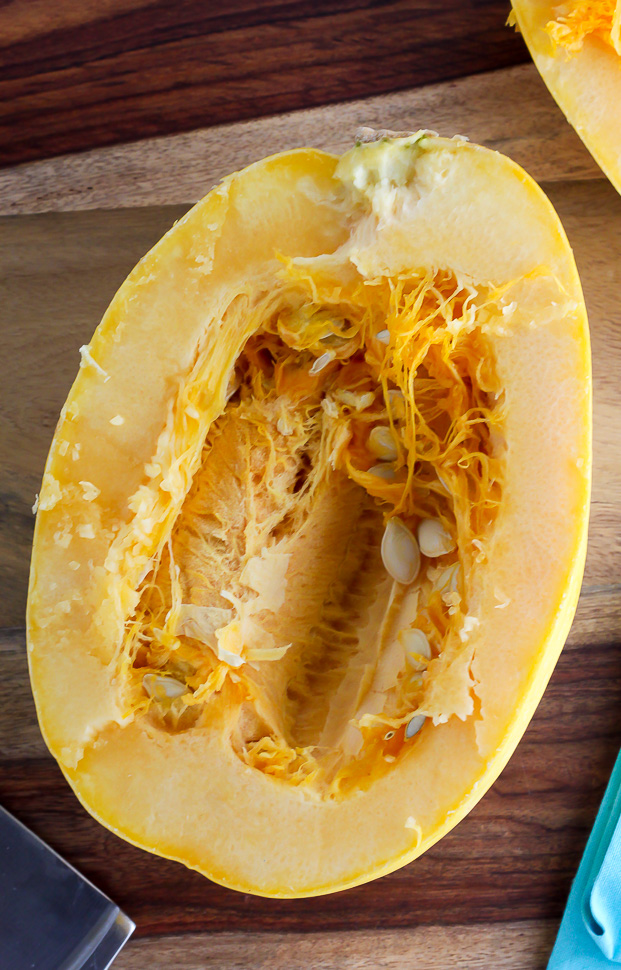 Next you're going to use a spoon to scrape out all of the seeds. You may discard the seeds – or roast them and enjoy a little snack bonus.
The squash should look nice and clean once you're done scraping… like this 🙂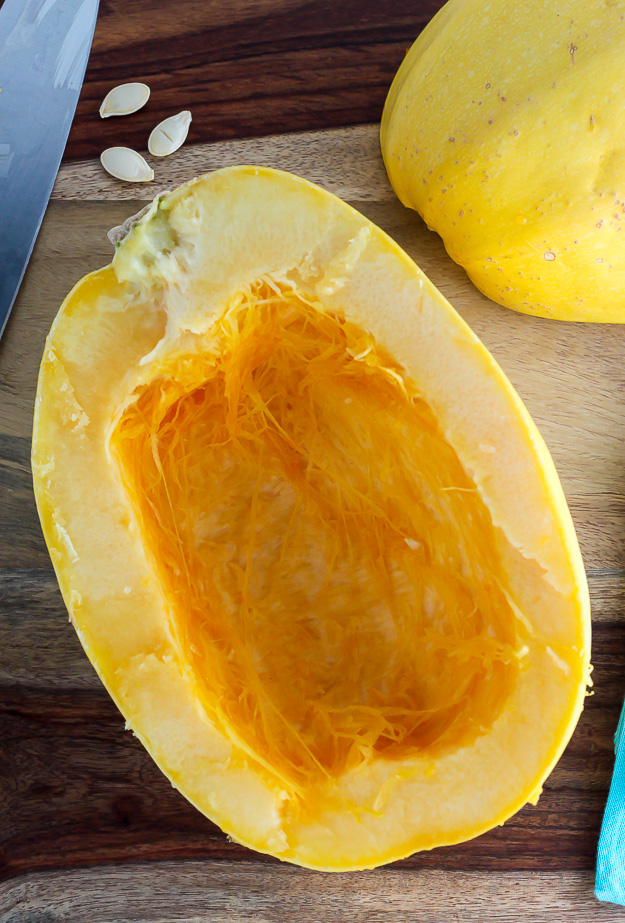 At this point you'll place your squash into a deep pan or skillet, fill the bottom with a little water, and pop it in an oven that's been preheated to 400 degrees (F).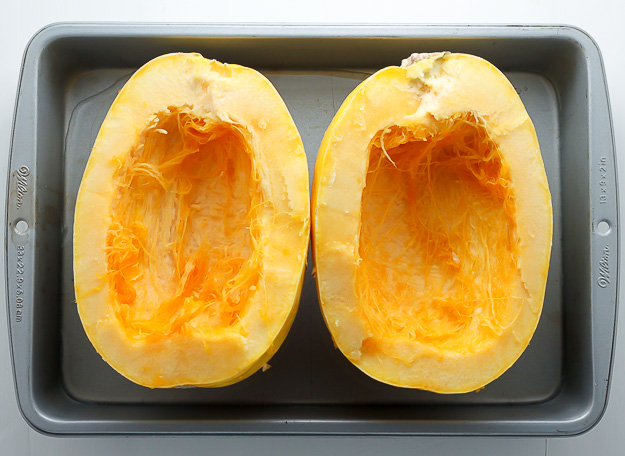 The squash will roast for 45 minutes…
and come out of the oven looking like this!!! Yum.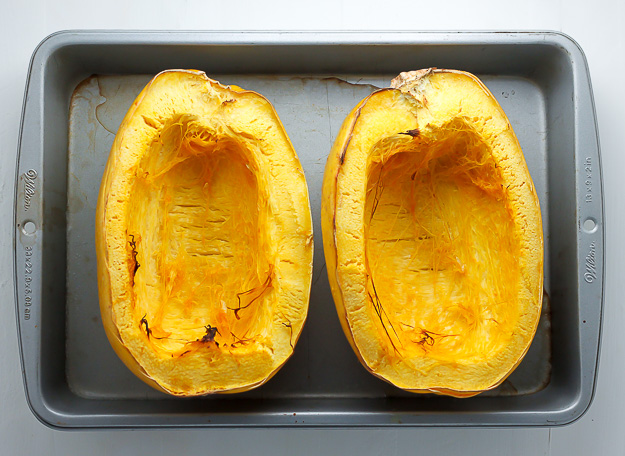 Once they're removed from the oven, simply let them cool a few minutes (so you don't burn your pretty little hands), then grab a fork and scrape away!
You can use spaghetti squash in so many different and delicious ways! So… what are you waiting for? Go grab a spaghetti squash and get roasting 😉
More Spaghetti Squash Recipes: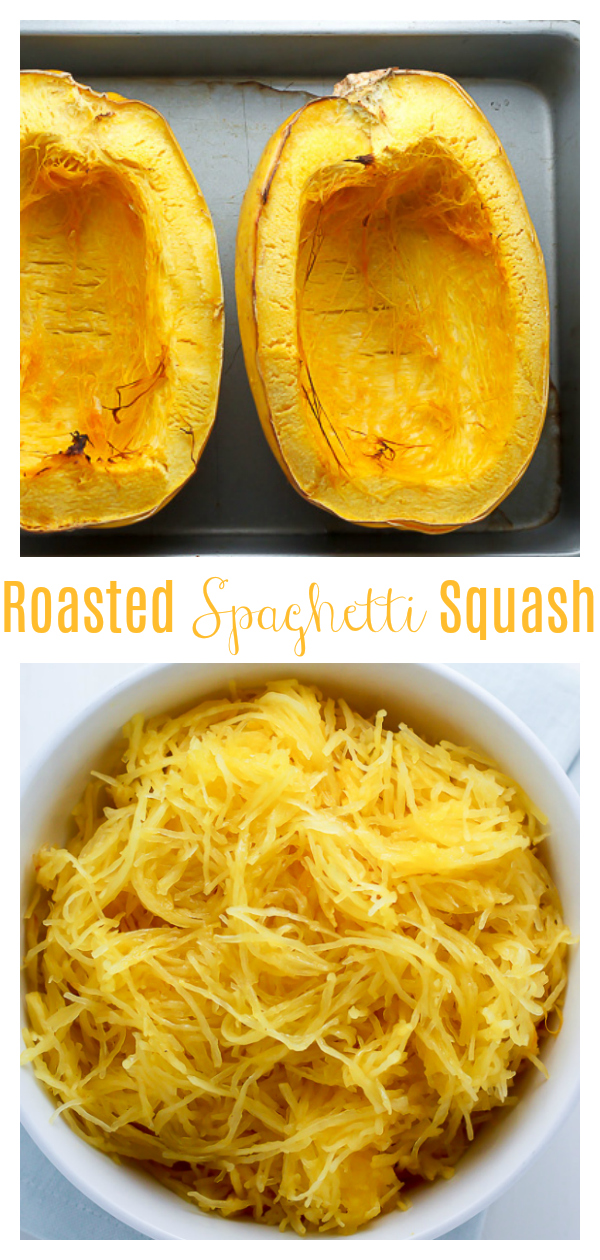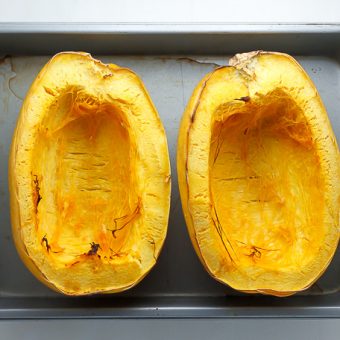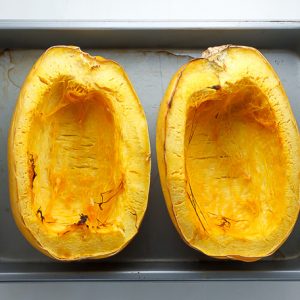 How To Roast Spaghetti Squash
How To Roast Spaghetti Squash
Ingredients
1 spaghetti squash
1/4 cup water
Instructions
Preheat oven to 400 degrees (F).

Place squash on a large cutting board, and VERY carefully cut in half (lengthwise). The shell is very thick, so be sure to use a sharp knife for this.

Once cut, use a spoon to scoop out the seeds and any sticky/stringy parts, being careful not to dig into the actual flesh of the squash.

Place squash in a large skillet or baking sheet, then place the pan in the oven. Pour water into bottom of the pan.

Roast squash for 45 minutes.

When finished roasting, remove pan from the oven and allow it to cool down for about 10 minutes.

Once you're able to comfortably handle the squash, use a fork and gently scrape the at the flesh.

Continue to do this until all of the squash has been scraped.