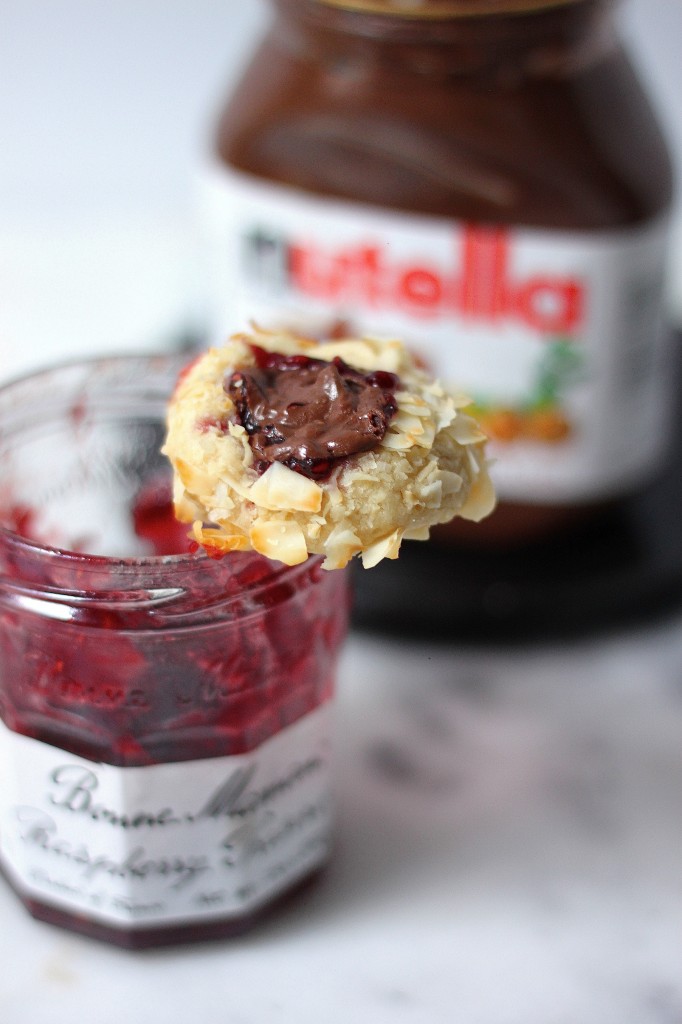 Dreaming up new cookie creations is one of my most favorite things to do this time of year! I love all of the classics, but I also love to spice them up and play around a little bit with the flavors. You never know what awesomeness you'll stumble upon, ya know?!
These thumbprint cookies boast an ultra creamy body – thanks to tons of butter and a little cream cheese – and are stuffed with nutella and raspberry jam. SO good!
Oh, and if you're like, "Hmmm… Nutella & raspberry jam, um, I dunno about that"… Don't be! It's kind of like peanut butter and jelly! But 10,000,000 times the awesome. Nutella has that effect on things 😉
Nutella & Raspberry Jam Coconut Thumbprint Cookies – Baker by Nature
Ingredients:
2 1/2 sticks (12 ounces) unsalted butter, at room temperature
4 ounces cream cheese, at room temperature
1 1/4 cups light brown sugar
1 teaspoon vanilla extract
1 large egg, yolk and white separated
1 tablespoon water or milk
3 3/4 cups all purpose flour
3/4 teaspoon salt
1 cup unsweetened shredded coconut
1/4 cup raspberry jam
1/4 cup nutella
Instructions:
In the bowl of a stand mixer fitted with the paddle attachment beat butter and cream cheese until light and fluffy; about 2 minutes. Add sugar and beat for another minute, then add egg yolk and vanilla, and beat again for another minute. Stir in flour and salt, mixing just until combined. Transfer dough to a lightly flour counter and knead once or twice before wrapping in saran wrap and transferring to the refrigerator to chill for one hour.
When ready to bake, preheat oven to 350 degrees (F). Line 2 large baking sheets with parchment paper.
Beat egg white and water together, and pour liquid carefully onto a small plate. Spread coconut on a large clean plate.
Using a melon baller or ice cream spoon, scoop 2 tablespoon sized rounds of dough and using the palms of your hands, roll them into even circles. Roll the dough in the egg wash, then in the coconut. Repeat with the remaining dough. Place cookies on the prepared baking sheets. Using your thumb make a small indentation in the middle of each cookie, and fill each center with 1/4 teaspoon of jam. Place baking sheets in the oven and bake for 20 – 25 minutes, or until the centers are set and the edges are golden brown. Carefully transfer cookies to cooling wracks. Fill each cookie center with 1/4 teaspoon of nutella, then let cookies cool completely before serving.