These 5-Ingredient Raspberry Cheesecake Thumbprint Cookies are so flavorful and basically melt in your mouth!!! An easy cookie recipe you'll make over and over again!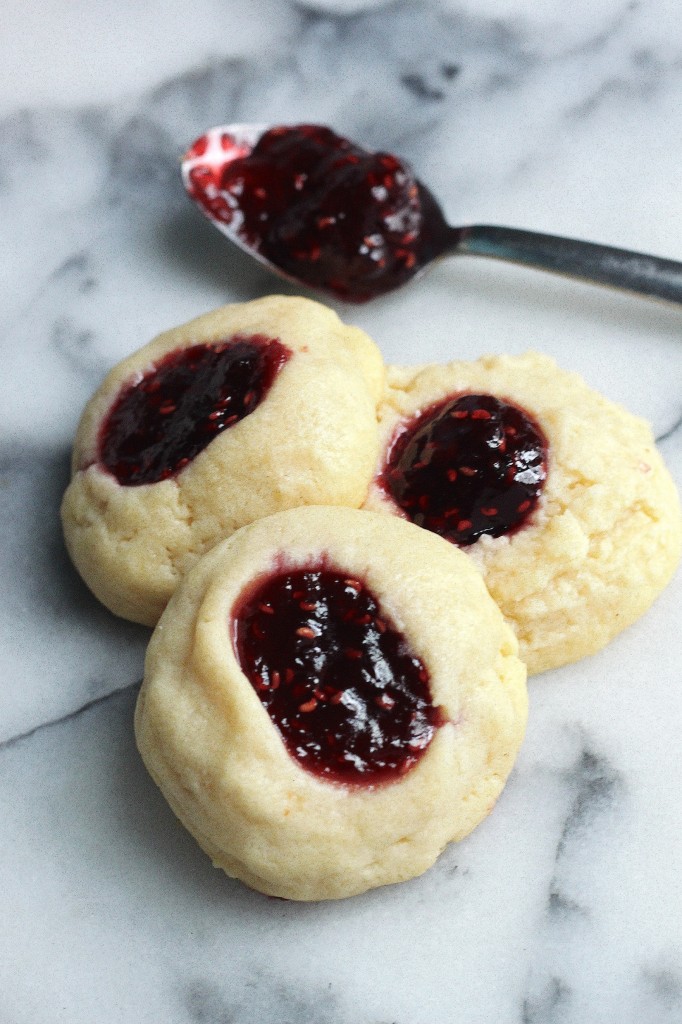 Raspberry Thumbprint Cookies
This is one of those recipes I'm totally bummed I didn't try earlier! It's so simple! Just 5 basic ingredients: butter, cream cheese, sugar, flour, and jam. And yet the results are absolutely delicious! Raspberry cheesecake in a cookie?! Oh yes yes yes. Let's talk more about this.
The batter for these cream cheese thumbprint cookies comes together in a matter of minutes. All you need to do is beat the butter and cream cheese, then add the sugar and flour. Told ya! Soooo simple.
But… you do need to chill it. You must! At least 45 minutes. Or up to 2 hours. If you bake after 45 minutes the cookies will be soft, luscious, and amazing – but they will spread a bit more than if you chill them the full 2 hours. Both ways are equally wonderful! Just different 😉
Each little thumbprint gets a dollop of raspberry jam smack dab in the center of its cookie body. If you don't like raspberry, feel free to switch it for apricot, strawberry, or even nutella!
Go gather your ingredients and give these simple, seductive cookies a chance! I know you're going to love them as much as we do 🙂 xoxo
More Raspberry Recipes:
If you try this Easy Raspberry Thumbprint Cookie Recipe, let me know! Leave a comment below and don't forget to snap a pic and tag it #bakerbynature on instagram! Seeing your kitchen creations makes my day.
5-Ingredient Raspberry Cheesecake Thumbprint Cookies
Ingredients
4 ounces cream cheese, softened
8 tablespoons salted butter, at room temperature
1/2 cup + 3 tablespoons sugar
1 cup + 3 tablespoons flour
1/4 cup raspberry preserves
Instructions
In the body of a stand mixer fitted with a paddle attachment, beat cream cheese and butter until light and fluffy, scraping down the sides as needed.
Add the sugar and beat well.
Add in flour, a small bit at a time, beating in on low speed, just until incorporated.
Cover bowl with plastic wrap and place in the refrigerator for at least 45 minutes, and up to 2 hours.
30 minutes prior to baking, preheat oven to 375 degrees (F).
Line a large baking sheet with parchment paper.
Using a cookie scoop, scoop out 2 tablespoon sized balls of dough, roll them into rounds, and place them on the cookie sheet. Lightly press your thumb in the center of each round. Fill each indentation with a 1/2 teaspoon of jam.
Place pan in the oven to bake for 12-13 minutes, or until *just golden at the edges. They will still be very soft when you remove them from the oven - that's a good thing!
Cool on the baking sheet for 10 full minutes, then very carefully transfer to a cooling rack to cool completely.
Courses Dessert
Cuisine Cookies