Sometimes I wake up with my brain already locked into an idea. Does this ever happen to you? It usually happens on those nights when I'm "half sleeping", ya know? It's like my body is still, my eyes are shut, but my thinker just won't stop thinking (and thinking and thinking) …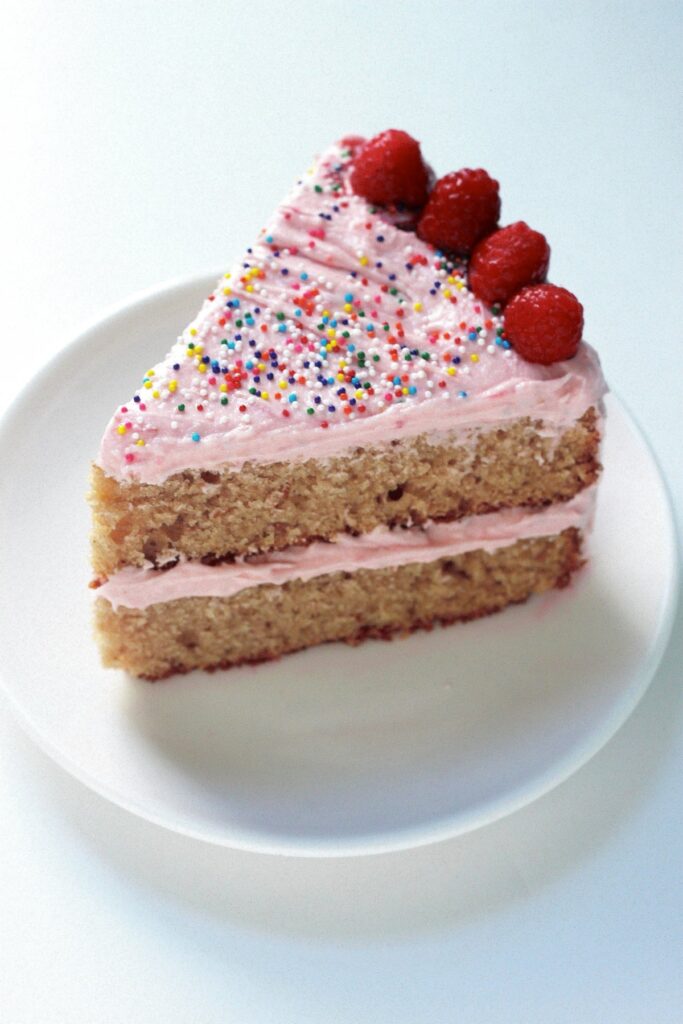 Please tell me I'm not the only one who experiences this!? I call it working the night shift, because I always wake up a little cranky but full of great ideas. Oh, the silver linings! Anyways… I had one of those mindful wake-ups over the weekend, and CAKE was the thing my crazy brain was stuck on. Yep. MORE CAKE. I guess cake week just wasn't enough!
In fact, it was a super specific cake I was stuck on. Pretty pink; soft and fluffy; raspberries and rose. Ok. You know what brain… Challenge accepted. I got this.
And so I spent the better part of my morning making another few cakes, trying to find the perfect combination of pretty and sweet (p.s. typing that just reminded me 'crazy stupid love'... anyone?), and after a few tries, I came out with this stunner! Hooray for a cake win!
This cake was challenging as ALL heck to photograph, so please bear in mind it is a ba-jillion times prettier in real life, y'all. The interior is a dusty rose color, which I find so shabby chic, but if you want a really pink cake, just add a few drops of food coloring. The frosting is a pale and almost pastel pink – it's just lovely! But again, if you do want a richer pink, food coloring is yo' friend. I love this all natural coloring from India Tree, but feel free to use anything you're comfortable with 😉
I will see you later today with another pretty and pink treat… because tomorrow is my birthday – and we're gonna have a good time! xoxo
Raspberry Rose Layer Cake
Raspberry Rose Layer Cake
Ingredients
For the Raspberry Puree:
(1) 12 oz. bag of frozen raspberries, not thawed
For the Raspberry Cake:
4 cups cake flour
2 teaspoons baking powder
1 1/2 teaspoons baking soda
2 cups plus 2 tablespoons granulated sugar
1 teaspoon salt
1 cup sour cream, at room temperature
1/2 cup whole milk, at room temperature
1/2 cup raspberry puree
4 large eggs, at room temperature
2 teaspoons vanilla extract
1 stick unsalted butter, melted
6 tablespoons canola OR coconut oil, liquified if using coconut
For the Raspberry Rose Buttercream:
2 sticks unsalted butter, very soft
1 teaspoon rose water
1/4 cup raspberry puree
4-5 cups confectioners' sugar
Pinch of salt
Instructions
For the Raspberry Puree:
Place the Raspberries in a blender and pulse until smooth.

In a small saucepan, cook the puree over medium high heat until in comes to a boil, stirring frequently.

Reduce the heat and let the mixture simmer while stirring frequently until the mixture reduces by about half.

Set aside and let cool to room temperature.
For the Raspberry Cake:
Preheat oven to 350 degrees (F).

Grease and flour two round 9" baking pans and line the bottoms with parchment paper; grease the parchment as well.

In a large mixing bowl (or the bowl of a stand mixer), combine the flour, baking powder, baking soda, sugar, and salt. Whisk together for 30 seconds.

In a large glass measuring cup (or bowl), whisk together the sour cream, milk, raspberry puree, eggs, and vanilla extract until well blended.

Add liquid mixture into the flour mixture and beat on low speed until almost completely incorporated. Add melted butter and oil and fold together using a rubber spatula until all ingredients are evenly incorporated; do not over-mix. Once the butter and oil are incorporated, you should be done mixing.

Divide the batter equally between the 2 pans and bake for 30-35 minutes, or until a toothpick inserted into the center of the cake comes out clean.

Let the cakes cool in the pans for 15 minutes on wire racks.

Turn the cakes out of the pans and cool completely on wire racks before frosting.
For the Raspberry Rose Buttercream:
With an electric mixer, beat the butter on medium-high until light and creamy; about 2-3 minutes.

Add the confectioner's sugar and beat on low speed until combined.

Turn the mixer up to medium high and beat for an additional 2-3 minutes.

Add the rosewater, raspberry puree, and salt; mix until incorporated. Add more confectioners' sugar if needed to reach desired consistency.