Today's post is brought to you by Lindt Chocolate! ← Also known as the only chocolate I want in my s'mores ♥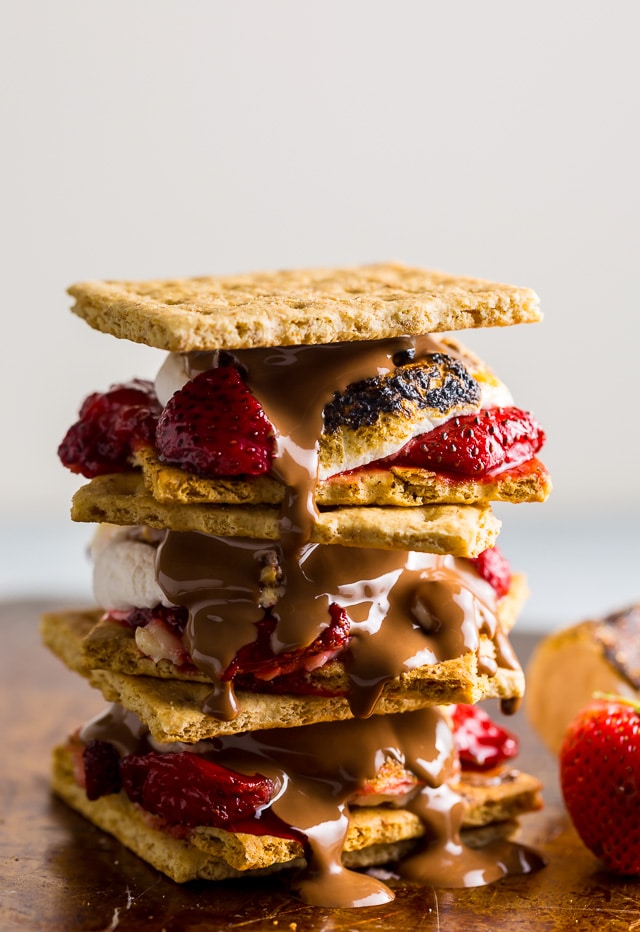 Hello and Happy National S'mores Day! Yep, you read that right. August 10th is National S'mores Day! And we're celebrating this iconic campfire treat with Roasted Strawberry CHEESECAKE S'mores. They're crunchy, chewy, and oozing with creamy milk chocolate. But before we dive into the recipe, I want to say congratulations to Claire: the winner of our "Lindt Summer S'mores Contest. And thank you to everyone who entered!
Now then, let's get back to those Roasted Strawberry Cheesecake S'mores I mentioned earlier. Because trust me, you definitely need these beauties in your life ↓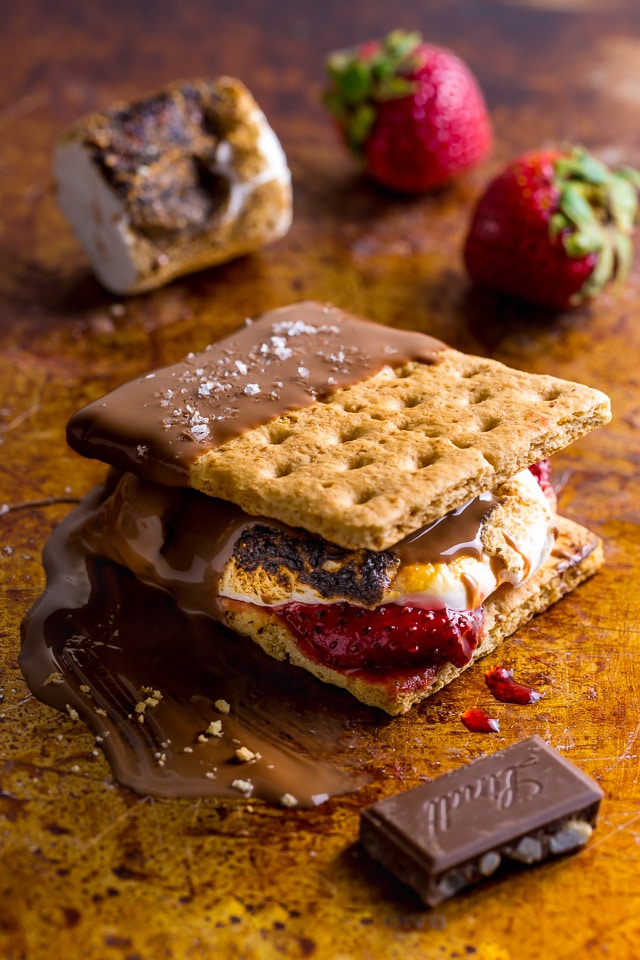 To build these s'mores you will need graham crackers, marshmallows, strawberries, sugar, vanilla, cream cheese, and chocolate! Actually, you'll need two kinds of chocolate: CLASSIC RECIPE Hazelnut and CLASSIC RECIPE Milk Chocolate. Because we all know more is more when it comes to chocolate, am I right? Lindt CLASSIC RECIPE milk chocolate bars are extra creamy in texture and undeniably delicious, making them the best chocolate choice you can make when it comes to s'mores! Nothing else compares.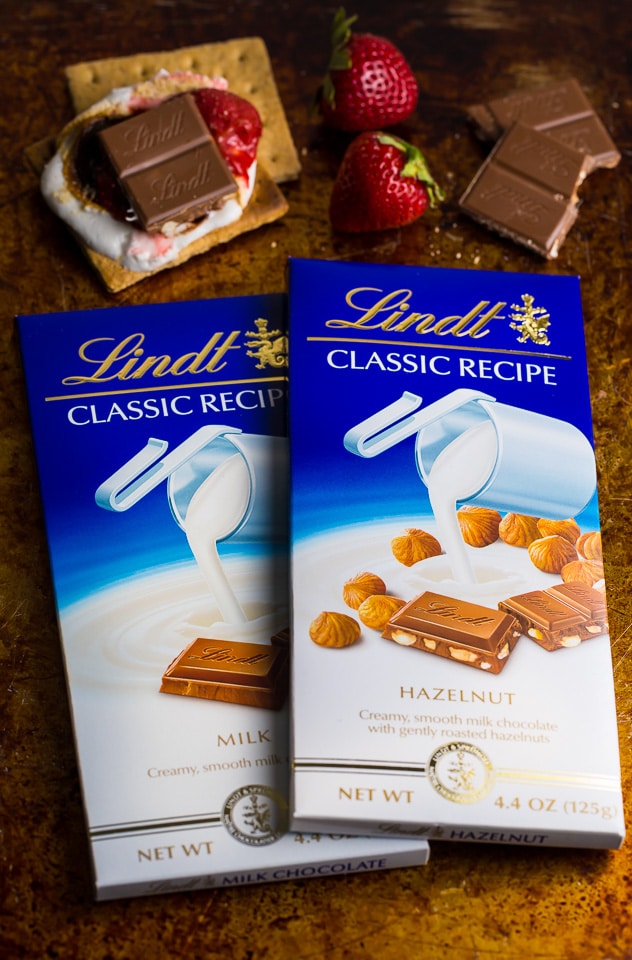 Tips and Tricks for Recipe Success:
First of all, let's talk about broiling for a minute! Because although this step is an easy one, it's also an easy one to mess up. The most important rule you want to follow when using your broiler to melt the marshmallows is this: don't walk away from the oven. I'm serious! Marshmallows broil in a matter of minutes, and catch fire very easily. And while we're on the topic of fire, be sure NOT to line your pan with parchment paper, as that can also catch fire. If you'd like to line your baking sheet with something for an easy cleanup, I suggest using aluminum foil.
Because the roasted strawberries are the most time consuming step in this recipe, I suggest making them first. The good news is you can make them ahead of time, so feel free to double the amount if you'd like to save some for a later date.
The best – and easiest – way to melt the milk chocolate is in the microwave, on low power. Alternatively, you can do this step using a double broiler. However, I do not recommend melting the chocolate in a pan on the stove top. It will seize up!
In addition to using high-quality Lindt chocolate, I suggest using the best ingredients you can in this recipe. Because each one really does shine through in the flavor department!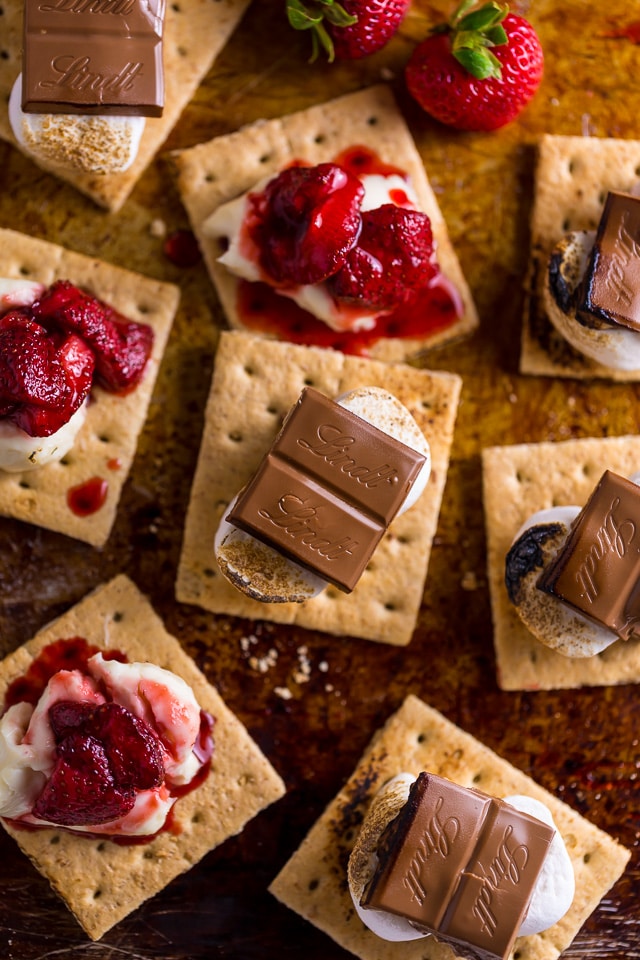 Strawberry cheesecake… in s'mores form! What are you waiting for? Make these today ♥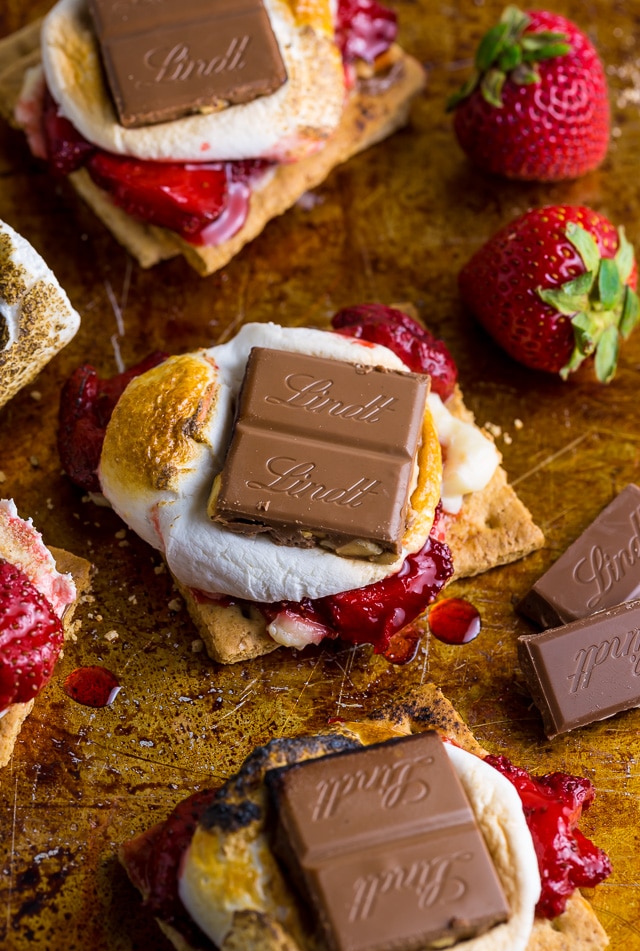 This post is sponsored by Lindt Chocolate – a brand I love dearly! All words and opinions are my own.
You can find Lindt Chocolate in your favorite retailer, in a Lindt Chocolate Shop near you, or on www.LindtUSA.com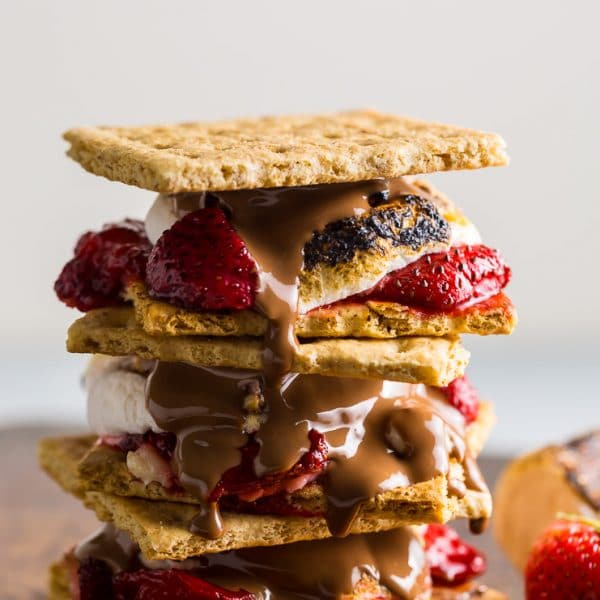 Roasted Strawberry Cheesecake S'mores
Crunchy, creamy, and oozing with gooey milk chocolate, these Roasted Strawberry Cheesecake S'mores are sure to become a Summertime staple!
Ingredients
For the Roasted Strawberries:
1 pound fresh strawberries, hulled and sliced in half vertically
1/4 cup granulated sugar
1/2 teaspoon vanilla extract
For the Cream Cheese Filling:
(1) 8 ounce block full-fat cream cheese, very soft
3 tablespoons confectioners' sugar
1/2 teaspoon vanilla extract
For the Milk Chocolate Glaze:
(2) Lindt CLASSIC RECIPE Milk Chocolate Bars, roughly chopped
1 tablespoon canola oil (vegetable oil OR coconut oil may also be used)
Flaky sea salt, for garnish, optional
For the S'mores:
8 sheets graham crackers, broken in half (16 pieces total)
8 marshmallows
(1) Lindt CLASSIC RECIPE Hazelnut Bar, broken into 2 piece squares
Instructions
For the Roasted Strawberries:
Preheat oven to 350 degrees (F). Line a baking sheet with parchment paper; set aside. In a large bowl combine strawberries and vanilla, use a spatula (or your hands) to gently coat the berries in the vanilla. Add in the sugar and toss well to combine. Pour the strawberries out onto the prepared pan and bake for 30 minutes. Remove from oven and set aside until needed.
For the Cream Cheese Filling:
In a small bowl combine the softened cream cheese, confectioners' sugar, and vanilla extract. Using a handheld electric mixer, or a whisk, beat until well combined. Set aside until needed.
For the Milk Chocolate Glaze:
In a medium-sized microwave safe bowl, combine the chopped milk chocolate and oil. Melt in the microwave, on low power, in 15 second increments, stirring in between each, until chocolate is completely melted; about 1 minute. Set aside until needed.
For the S'mores Assembly:
Preheat oven to broiler setting. Line a large baking sheet with aluminum foil. Place graham cracker halves on the prepared sheet. Top half of the graham crackers (8 of them) with one marshmallow, top the other half of them with one heaping tablespoon of the cream cheese filling and one heaping tablespoon of roasted strawberries. Place the pan in the preheated oven for 1 minute. Remove the pan from the oven and top each lightly toasted marshmallow with a square of Lindt Hazelnut Milk Chocolate. Place the pan back in the oven for another minute, or until the chocolate is lightly melted. Sandwich both halves together and lightly press down to seal. Quickly and carefully dip one end of each s'more into the melted milk chocolate. Eat at once... or if you'd like a solid chocolate shell, place s'mores in the fridge for about 20 minutes.