Love pumpkin pie? And pumpkin cheesecake? Well then you're going to go crazy over this Creamy Pumpkin Pie Cheesecake Recipe!!! Rich, creamy, and and full pumpkin flavor… it's a dream come true!
Pumpkin Pie Cheesecake
If you've been searching for the BEST pumpkin cheesecake recipe, you're in luck! Because you've found it! This easy pumpkin spice cheesecake is:
rich and super creamy
loaded with real pumpkin flavor (thanks to an entire 15 oz can of pumpkin puree plus complimentary pumpkin spices!)
make-ahead friendly AND freezer friendly (in fact, you can freeze it for up to 2 months!)
so delicious with a dollop of freshly whipped cream on top.
and the perfect Fall dessert, and always a crowd pleaser for Thanksgiving and Christmas!
Fall is just beginning, and for many, that means FALL BAKING! One of my favorite ingredients to incorporate into my Fall baking is PUMPKIN! We usually stock up on it in the Summer, before it's in demand and hard to find. I'll grab a can or two every time I'm at the store, and before I know it… my pantry is overrun it! Last week, after discovering we had over 30 cans in our possession, I knew it was time to kick of a mini pumpkin palooza! I invited some friends over and we baked a brown butter pumpkin pie, chewy cinnamon chip pumpkin cookies, and a simple pumpkin pie cheesecake. All of the recipes turned out great! But this cheesecake?! It's SPECTACULAR!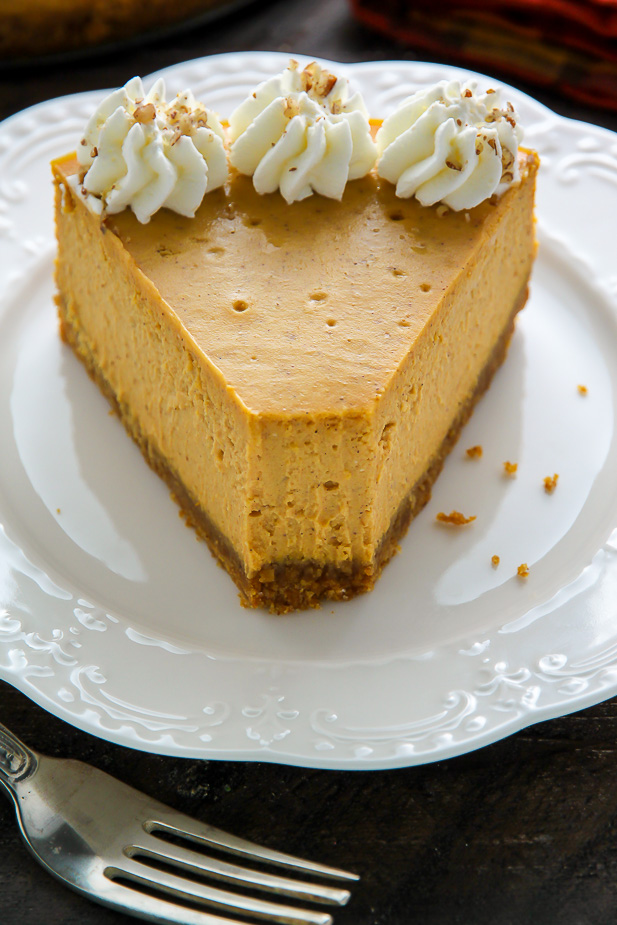 Pumpkin Cheesecake
I have a weakness for taking classic recipes and kind of turning them upside down… but this holiday season I wanted to finally perfect my very own recipe for a classic pumpkin pie cheesecake. I definitely had to practice some self control during the recipe testing process because it was SO tempting to pull an Ashley and add bourbon… or brown butter… or a layer of caramelized pecans (still dreaming about that twist!). But I made it through! And the results were worth every moment of temptation, frustration, and uncertainty.
This classic pumpkin pie cheesecake is silky smooth, richly spiced, and bursting with real pumpkin flavor in every dreamy bite. Hallelujah!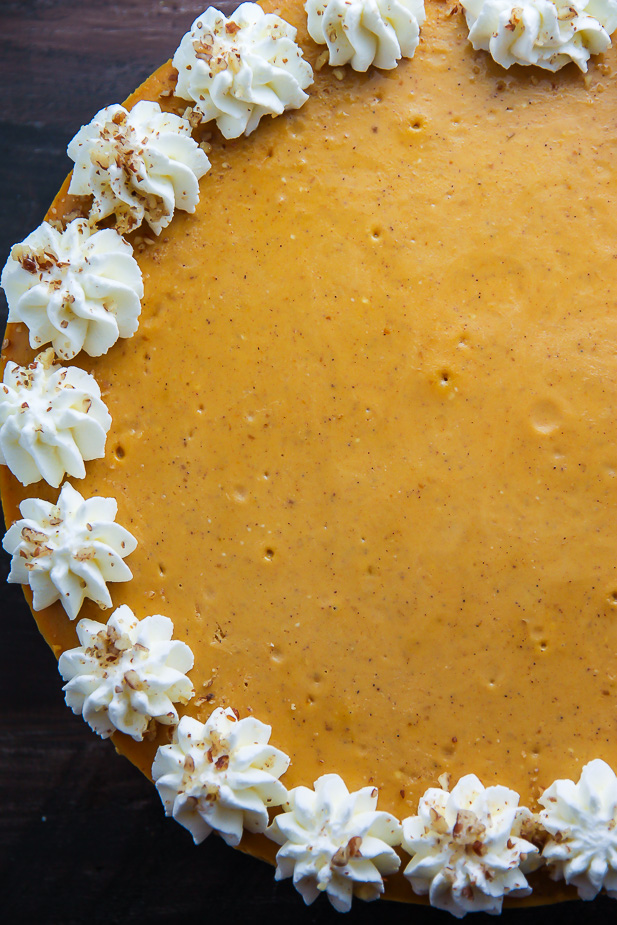 This gorgeous pumpkin pie cheesecake is made up of 3 parts: the graham cracker crust, the cheesecake filling, and the whipped cream. Since making a cheesecake at home can seem intimidating at first, I'm going to walk you through each step. <—— That's what friends are for!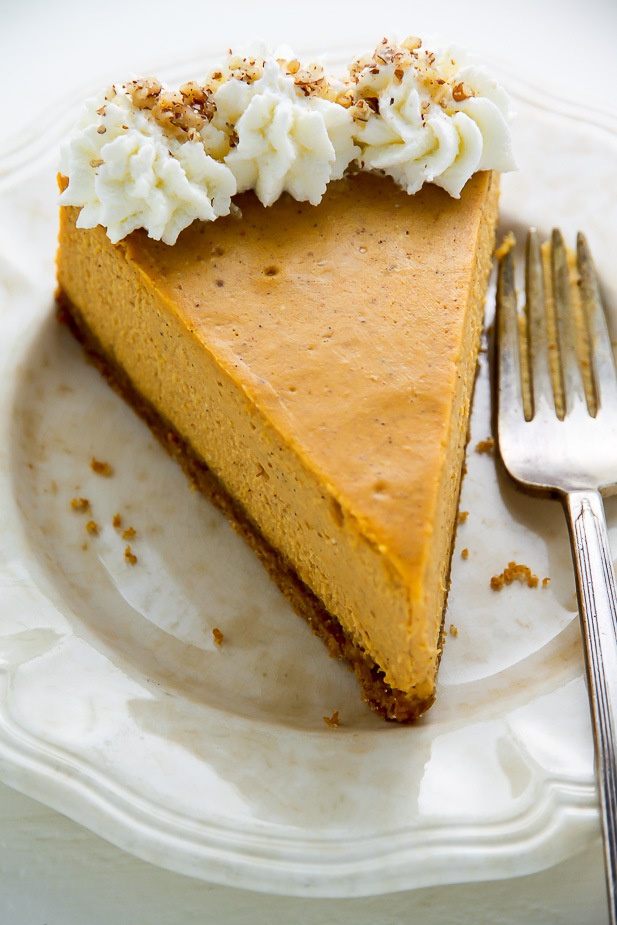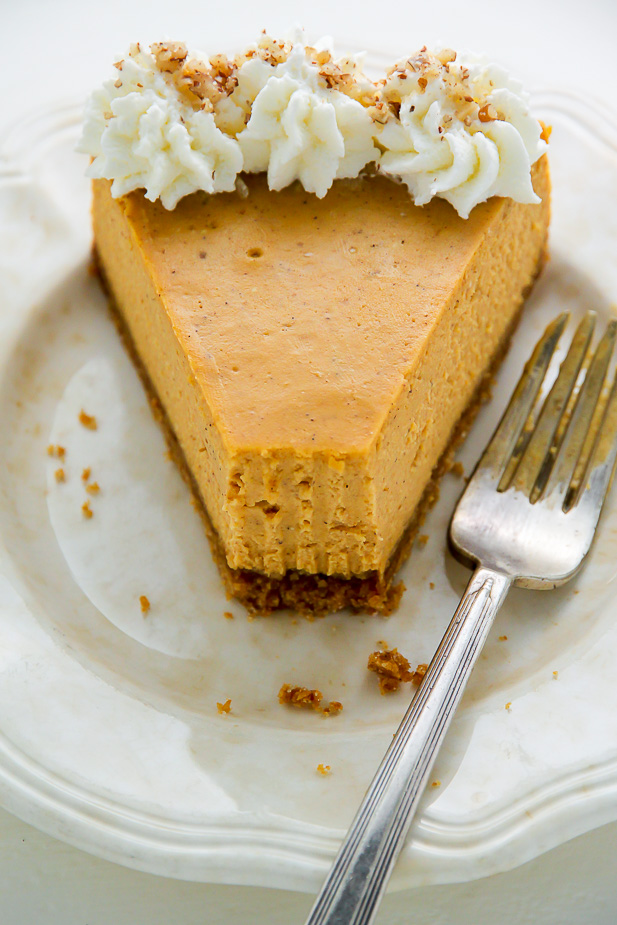 How to make Pumpkin Pie Cheesecake
The first step is making the graham cracker crust! And it's seriously simple. Ingredient wise you'll need graham crackers, melted butter, sugar, and a pinch of salt – that's it! You will need to pulse the graham crackers into crumbs, or – if you want to make things even easier (!!!) – you can buy already crushed graham cracker crumbs at the store. I typically find them in the baking aisle, somewhere near the pie fillings/ ready-to-bake crusts. To assemble the crust you'll combine the cracker crumbs, sugar, and salt, then fold in the melted butter and stir until it's well combined. You want all of the crumbs to be moist from the butter. At this point you're going to dump the crumb mixture into a lightly greased 9″ springform pan and press it down firmly, working from the center and slightly up the edges.
BTW! This recipe calls for a water bath.
So if you're unfamiliar with the water bath process, read on! A water bath is simply the term bakers use when they place a baking pan (in this case, our cheesecake) into a larger pan that's been filled with hot water. Taking this extra step helps insulate the pan from direct heat on all sides while it bakes. The water bath method helps your cheesecake bake gently, ensuring the finished product doesn't burn, curdle, or crack. It also helps the cheesecake maintain its silky smooth texture. When it comes to choosing a pan for your water bath, choose one that is as tall as the cheesecake pan and large enough to leave a few inches between the cheesecake pan and the outer rim – you want enough room for the water to circulate easily. When you're ready to make your water bath, here's what you do: Adjust an oven rack to the middle position. Preheat oven to called for temperature. When the oven is preheated, carefully (using an oven mitt) pull out the middle rack and place your large pan on it, fill the pan halfway with hot water, then place the filled cheesecake pan in the center of the water bath. Slowly slide the rack back to its full inserted position, close the door, and bake the cheesecake according to instructions. If you're using a springform pan it's essential to wrap the pan in heavy-duty tin foil to avoid water seeping in. I wrap my pan from every angle pressing the foil in and around to prevent a soggy crust.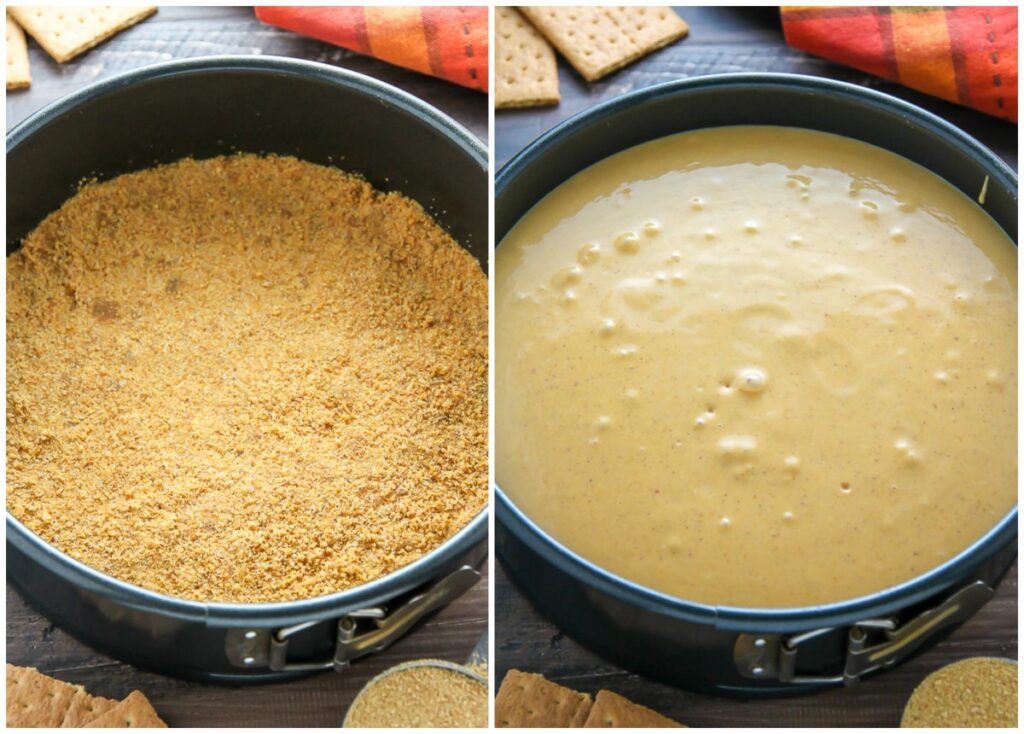 OK! Time to talk about the filling. You're going to need cream cheese, sour cream, pumpkin puree, eggs, egg yolks, sugar, spices, and a spot of flour. Few things! For the cream cheese it MUST be verrrrry soft. I typically leave my blocks of cream cheese out on the counter for two hours before I plan on baking. As for the pumpkin puree, you can use canned or homemade – but just make sure it's not pumpkin PIE puree.
The whipped cream is a simple and straightforward method that calls for heavy cream, confectioners' sugar, and a dash of vanilla. You're also going to need either a stand mixer fitted with a whisk attachment or a handheld electric mixer. You'll beat heavy cream and sugar until stiff, then add in the vanilla and beat a few more seconds.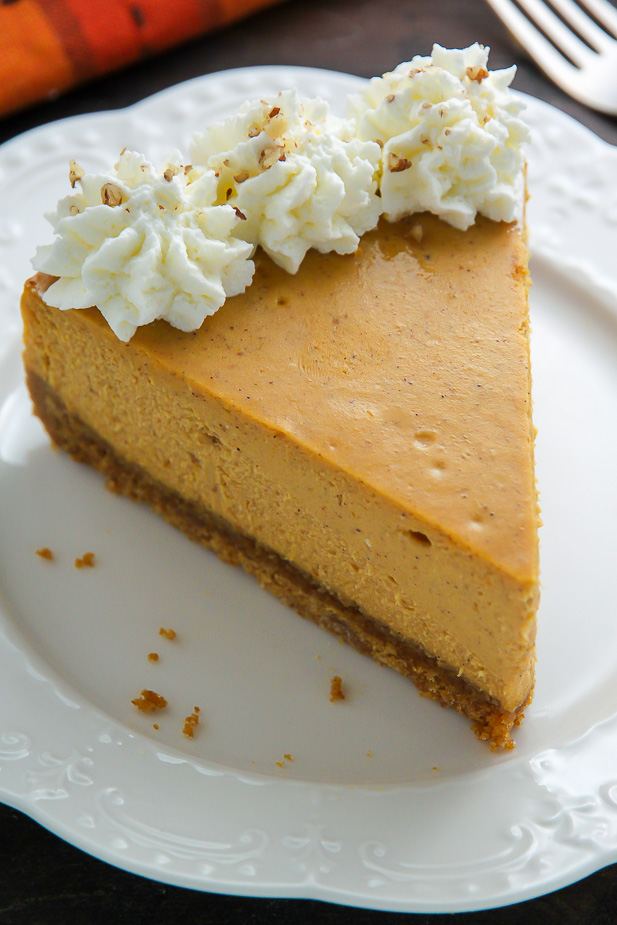 Rich spices, smooth pumpkin, and decadent cream cheese combined in just the right way. This dessert is bursting with simple, decadent flavor. That, my friends, is what makes this classic pumpkin pie cheesecake the best around.
Pumpkin Cheesecake Recipes
I hope you bake this cheesecake and savor each silky smooth bite. It's pure perfection on a crisp Fall day.
Classic Pumpkin Pie Cheesecake
Yield 9" Cheesecake
Ultra creamy and richly spiced Classic Pumpkin Pie Cheesecake! This is perfect for the holiday table.
Ingredients
For the Graham Cracker Crust:
2 cups graham crackers, pulsed into crumbs
1/3 cup granulated sugar
1/4 teaspoon salt
7 tablespoons butter, melted
For the Pumpkin Pie Cheesecake Filling:
(2) 8 oz packages of cream cheese, VERY soft
1 1/2 cups sour cream
3 large eggs + 2 egg yolks
(1) 15 oz can of pumpkin puree
3/4 cup brown sugar
3/4 cup granulated sugar
3/4 teaspoon cinnamon
1/8 teaspoon cloves
1/8 teaspoon nutmeg
1/4 teaspoon ground ginger
2 1/2 tablespoon all purpose flour
1 1/2 teaspoons vanilla extract
For the Whipped Cream:
1 cup heavy cream
1/4 cup confectioners' sugar
1/2 teaspoon vanilla
Instructions
Preheat oven to 325 degrees (F).
Make the crust:
In the body of a blender combine the graham crackers, salt, and sugar; pulse until the crackers have been completely pulsed to crumbs. Stir in the melted butter; stir well to combine. Press down into a 9-inch springform pan, pressing the crust down firmly and slightly up the sides. Wrap the pan VERY well in layers of heavy-duty tin foil; set aside.
Make the filling:
Beat cream cheese and sour cream in a blender until completely smooth. Add in the eggs, egg yolks, pumpkin puree, sugars, and spices, pulse until well combined. Add flour and vanilla and pulse for another 30 seconds, or until flour has completely disappeared into the batter. Don't over mix! Pour filling into crust, and spread evenly, smoothing the top. Place the springform pan in a large baking pan (with high sides) and fill the pan halfway with hot water; this is your water bath. Place the cheesecake in the oven and cook cheesecake for 1 hour and 20 minutes. Turn the oven off and let the cheesecake sit for 45 minutes inside the oven with the door shut. The cheesecake should be still slightly wiggly. Remove cake from oven, run a knife very gently around the edge of the cake, and let it sit in the pan for 15 more minutes before covering loosely with plastic wrap and refrigerating for at least 4 hours. When ready to serve, slice, top with a dollop of whipped cream and enjoy!
Make the Whipped Cream:
Place the heavy cream and sugar in a stand mixer fitted with the whisk attachment and beat on high until semi-stiff peaks begin to form. Add in the vanilla and beat for another minute or so. Dollop on top of cheesecake slices right before serving, or place in the refrigerator until needed. Keeps for 48 hours.
Courses Dessert
Cuisine American
Nutrition Facts
Serving Size 1 Slice of Cheesecake
Amount Per Serving
% Daily Value
* Percent Daily Values are based on a 2,000 calorie diet. Your daily values may be higher or lower depending on your calorie needs.