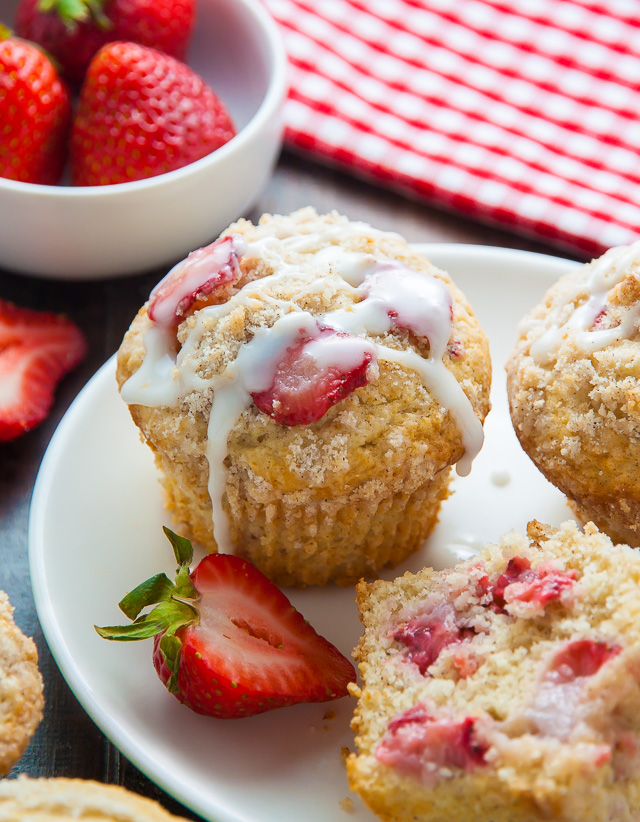 Strawberry Crumb Muffins
Yield 1 dozen muffins
Sweet and supremely moist Strawberry Crumb Muffins! A Summertime favorite.
Ingredients
For the Crumb Topping:
1/2 cup granulated sugar
3/4 cup all-purpose flour (not packed)
1/4 teaspoon ground cinnamon
6 tablespoons unsalted butter, chilled and cut into tiny pieces
For the Strawberry Muffins:
3 cups plus 2 tablespoons all-purpose flour, divided
3 teaspoons baking powder
1/4 teaspoon ground nutmeg
1/4 teaspoon ground cinnamon
3/4 teaspoon salt
6 tablespoons unsalted butter, at room temperature
1 and 1/4 cups granulated sugar
1 large egg plus 2 large egg yolks
1 and 1/2 teaspoons pure vanilla extract
1 cup whole milk
1 and 1/2 cups strawberries, coarsely chopped
For the Vanilla Glaze:
1 cup of confectioners' sugar
1/2 teaspoon vanilla extract
2 tablespoons of milk OR heavy cream, more if needed to achieve desired consistency
Instructions
For the Crumb Topping:
In a large bowl combine the granulated sugar, flour, cinnamon, and butter; using two forks or a pastry cutter, combine ingredients until the mixture is very crumbly and resembles a coarse meal. The crumbs should be pea-sized. Place mixture in the fridge or freezer until needed.
For the Strawberry Muffins:
Preheat your oven to 400 degrees (F). Line a 12 cup muffin tin with paper liners; set aside.
In a large bowl, sift together 3 cups of the flour, baking powder, nutmeg, cinnamon, and salt; set aside.
In a large bowl using an electric mixer, or in the bowl of a stand mixer fitted with the paddle attachment, combine the butter and sugar and beat on medium speed until light and fluffy; about 3 minutes.
Add in the egg, egg yolks, and vanilla and continue beating until well combined. Reduce mixer speed to low; alternate adding the flour mixture and the milk, beginning and ending with flour. Be sure not to over mix here.
Turn mixer off and set batter aside for a moment. Place chopped strawberries and remaining flour into a bowl; toss to completely coat the berries in the flour. Add the strawberries and any excess flour into the batter; use a spatula to gently fold the berries into the batter until incorporated.
Divide the batter evenly among prepared muffin tins. Top each muffin cup with 2 tablespoons of crumb topping.
Bake for 20 to 22 minutes, or until the tops are lightly golden brown and a toothpick inserted in the middle comes out clean, or with a just a few moist crumbs attached. Cool muffins 10 minutes in the pan before transferring to a cooling rack.
For the Vanilla Glaze:
In a small bowl combine the confectioners' sugar, vanilla, and cream; whisk until smooth, adding more cream as needed to reach desired consistency. Drizzle over the muffins right before serving.
Courses Breakfast
Cuisine American
Amount Per Serving
% Daily Value
Recipe by Baker by Nature at https://bakerbynature.com/strawberry-crumb-muffins/