Sweet and supremely moist Strawberry Crumb Muffins! They're perfect for breakfast or as an after-school snack! Topped with buttery crumbs and sweet vanilla glaze, these muffins are irresistible!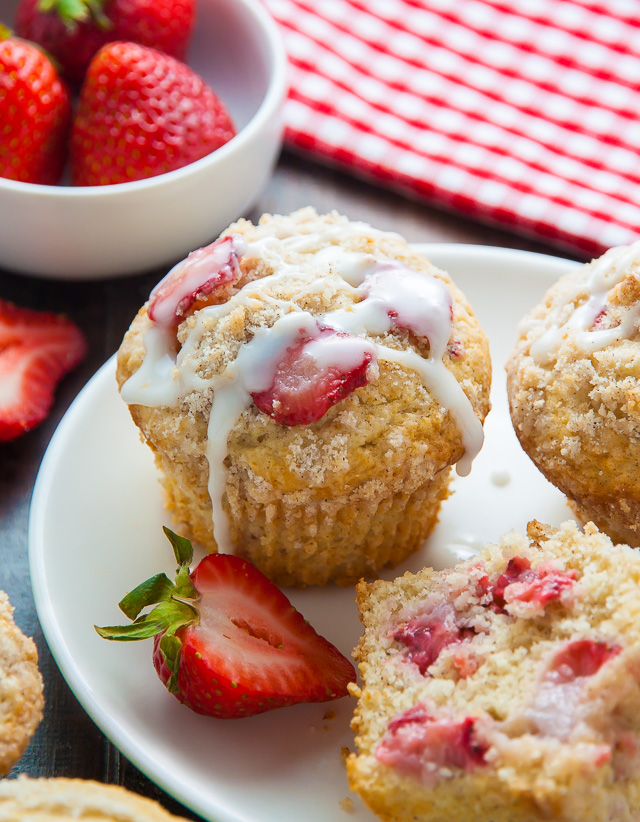 Strawberry Streusel Muffins
Good morning and Happy Sunday. Won't you sit down and join me for a cup of coffee? Or how about a strawberry crumb muffin? I'm indulging in both right now and loving every second of it.
A few of my friends came over yesterday for a much needed girls day and we did a ton of baking. There were eclairs, cream puffs, and brownies so rich they basically required a shot of milk after each bite. And then there were these humble strawberries and cream muffins. So soft, so sweet, and so simple.
Wanna guess which baked goodie went first?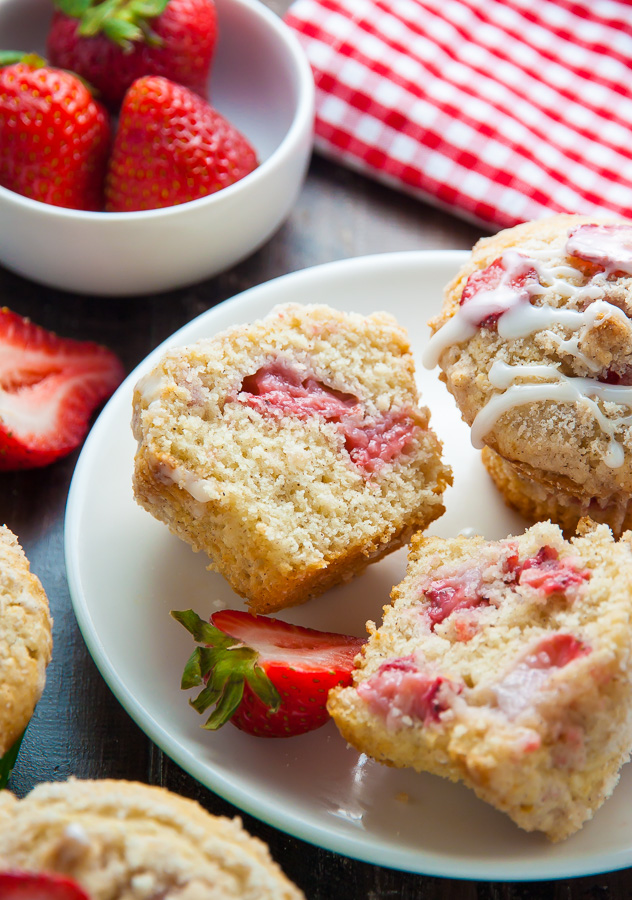 So if you guessed it was these moist strawberry muffins, then you guessed right!
And honestly, I wasn't even a little bit surprised. Because I've made these strawberry muffins 4 times in the past two weeks! They're so delicious and basically foolproof! And made with super simple ingredients you probably have in your kitchen right now. But the best part? They're sure to make any strawberry lover squeal and swoon with delight.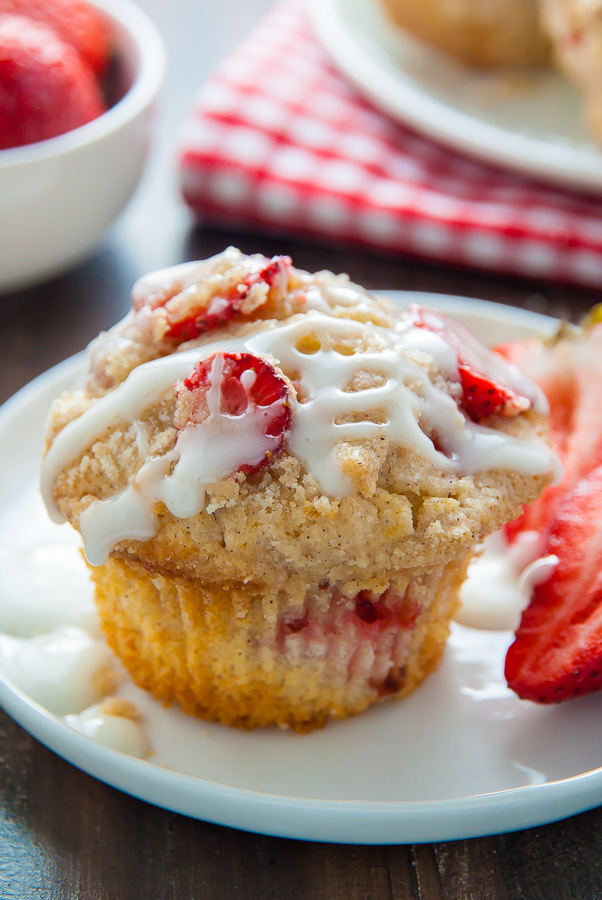 There are three parts to this homemade strawberry muffin recipe:
the sweet and simple strawberry muffin batter
the buttery crumb topping
and the sticky sweet vanilla glaze.
I suggest beginning with the crumb topping, so it can chill in the fridge while you prepare the muffin batter. The colder the crumb the better, and you can even do this step the day before you plan on baking!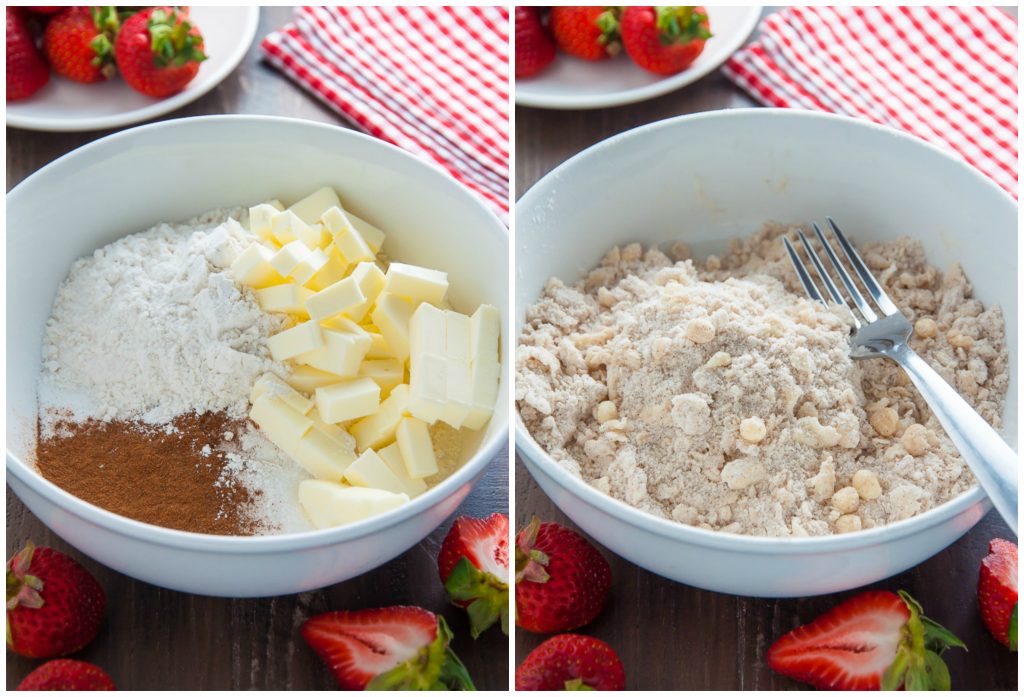 So once you've got your crumb assembled and chilling, it's time to make your muffin batter. This muffin recipe is made with very basic ingredients and I bet you already have a lot of them hiding in your pantry!
You'll need flour, baking powder, salt, cinnamon, nutmeg, granulated sugar, butter, eggs, milk, and strawberries. I used fresh strawberries in this recipe, but I have a feeling frozen would work fine. Just be sure not to thaw them before chopping and adding to the batter.
The batter will be very thick and generously studded with rosy strawberry bites. Pretty!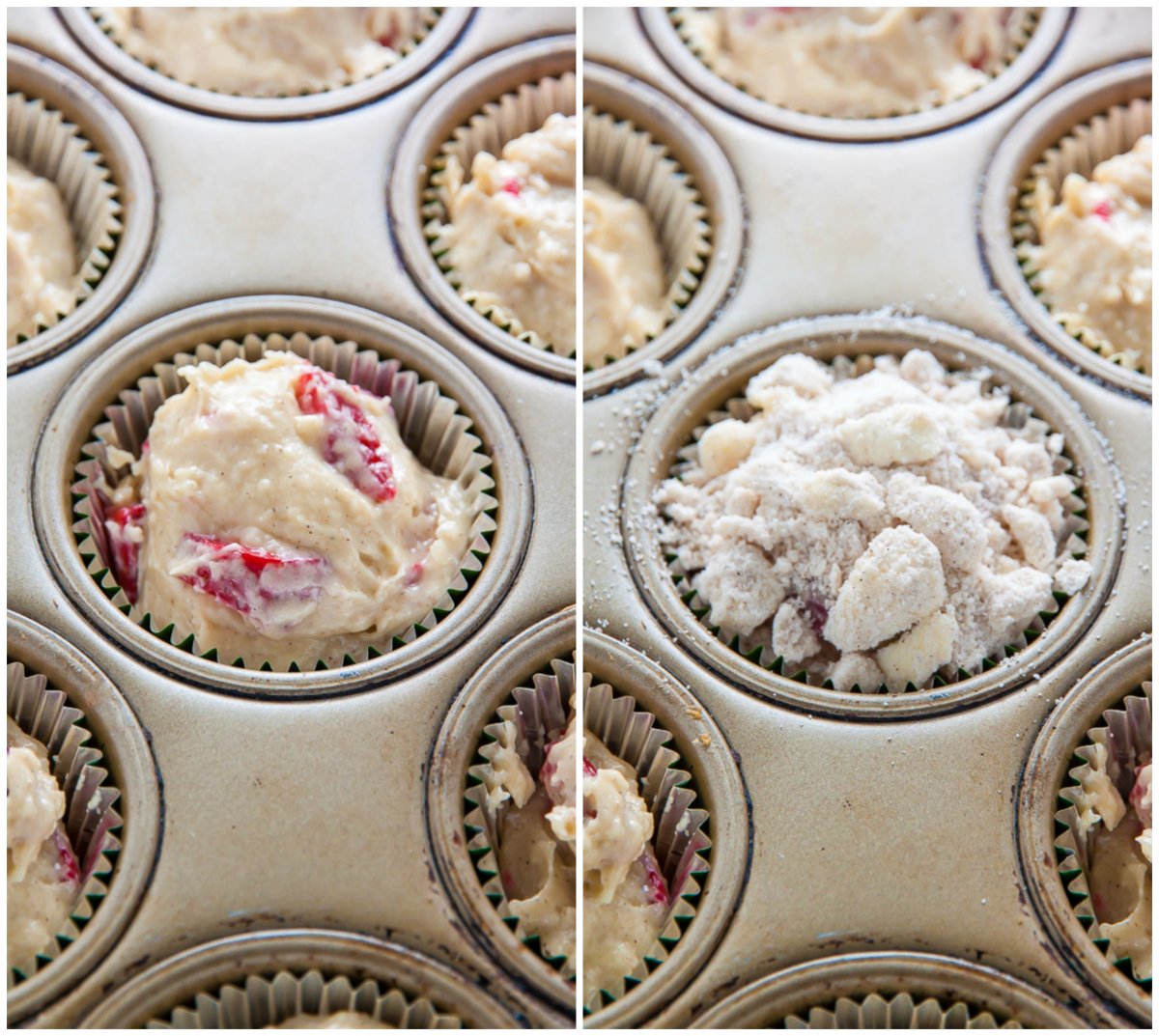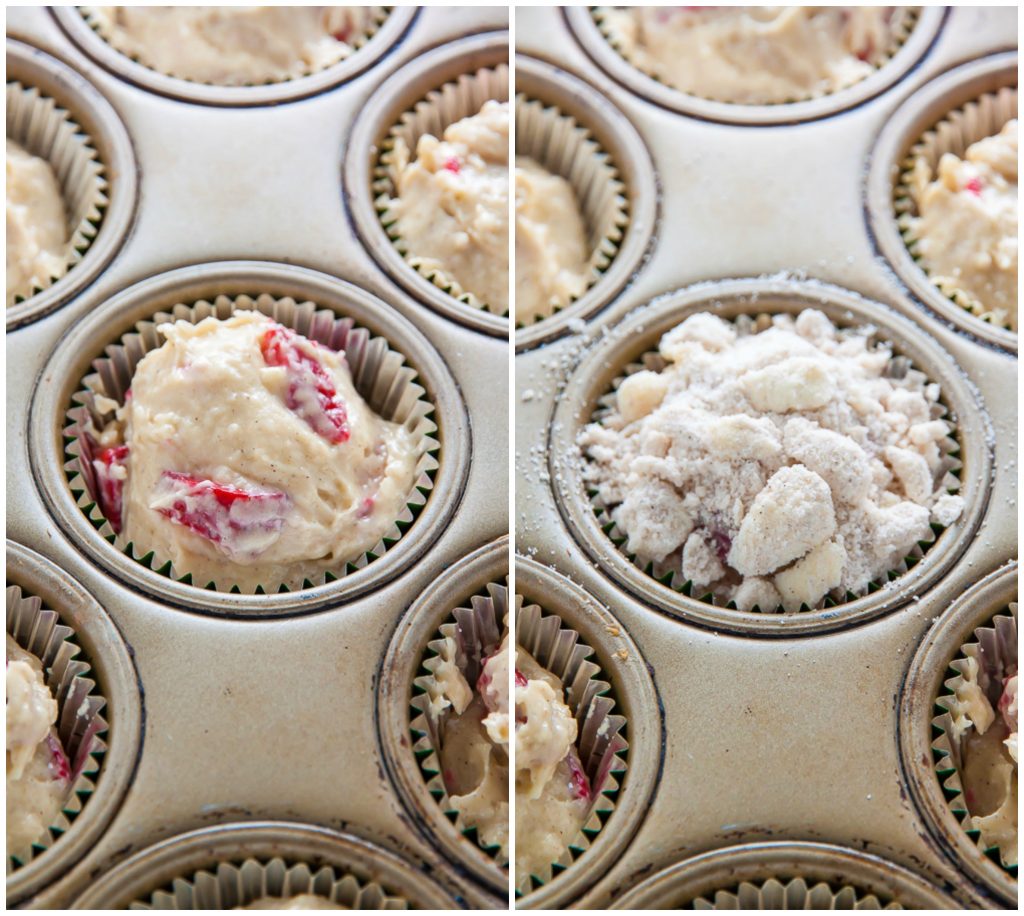 When your muffins are baked and cooling, you can make your vanilla glaze. This is seriously the easiest part! Simply combine the confectioners' sugar, vanilla, and cream in a small bowl and whisk smooth.
These look pretty darn good and smell amazing…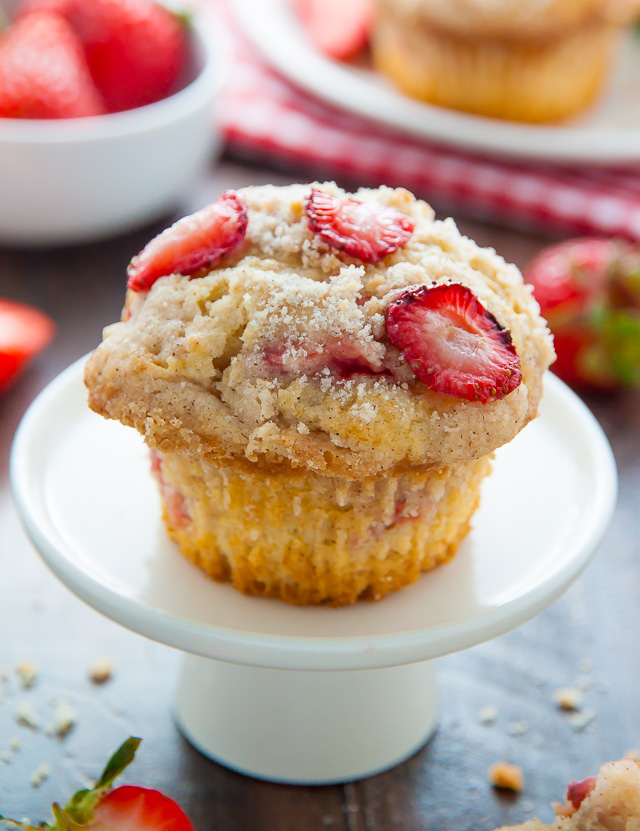 But I think these look even better!!! Because a drizzle of sweet and sticky glaze makes everything a little better!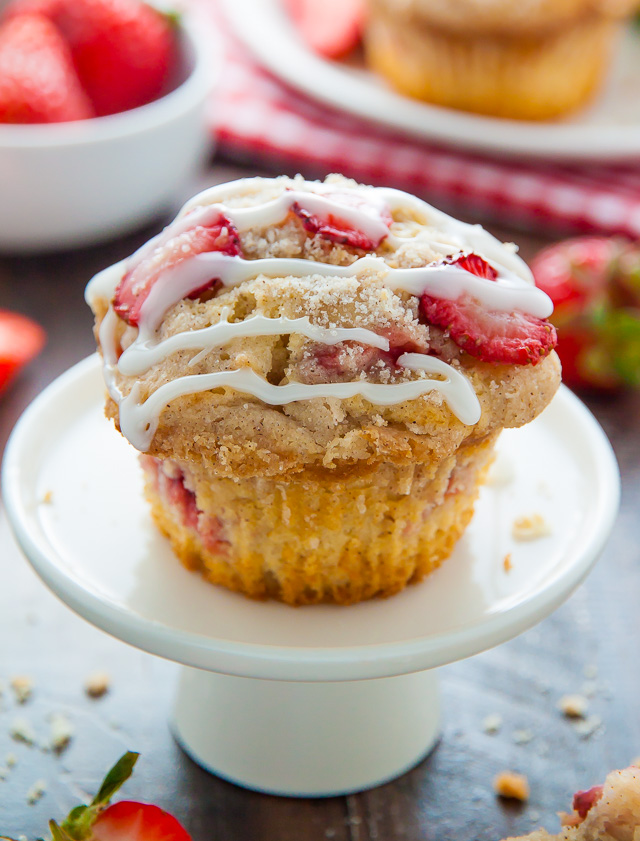 Strawberries and cream in muffin form… YES PLEASE. This is the perfect strawberry muffin recipe for breakfast, brunch, or just because! And I hope you love them as much as we did!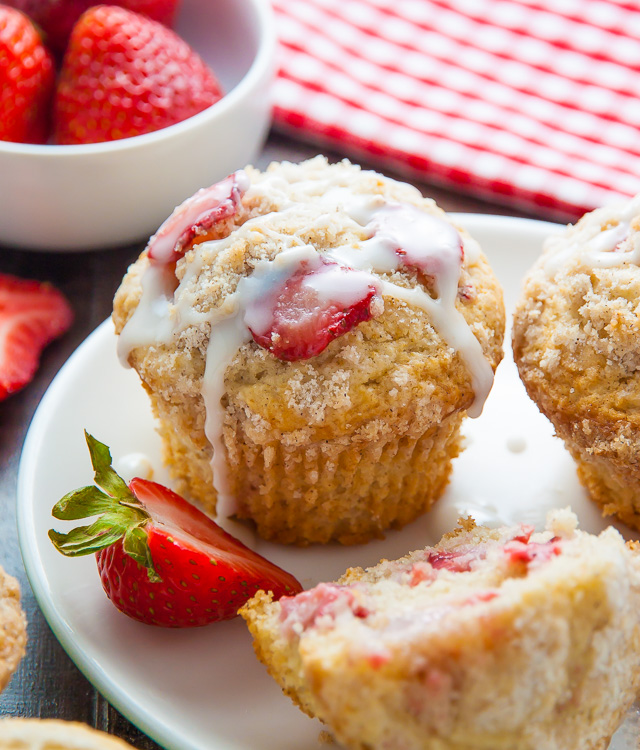 More Strawberry Recipes:
If you try this recipe for strawberries cream muffins, let me know what you think! Leave a comment below, and don't forget to snap a pic and tag it #bakerbynature on instagram! Seeing your creations makes my day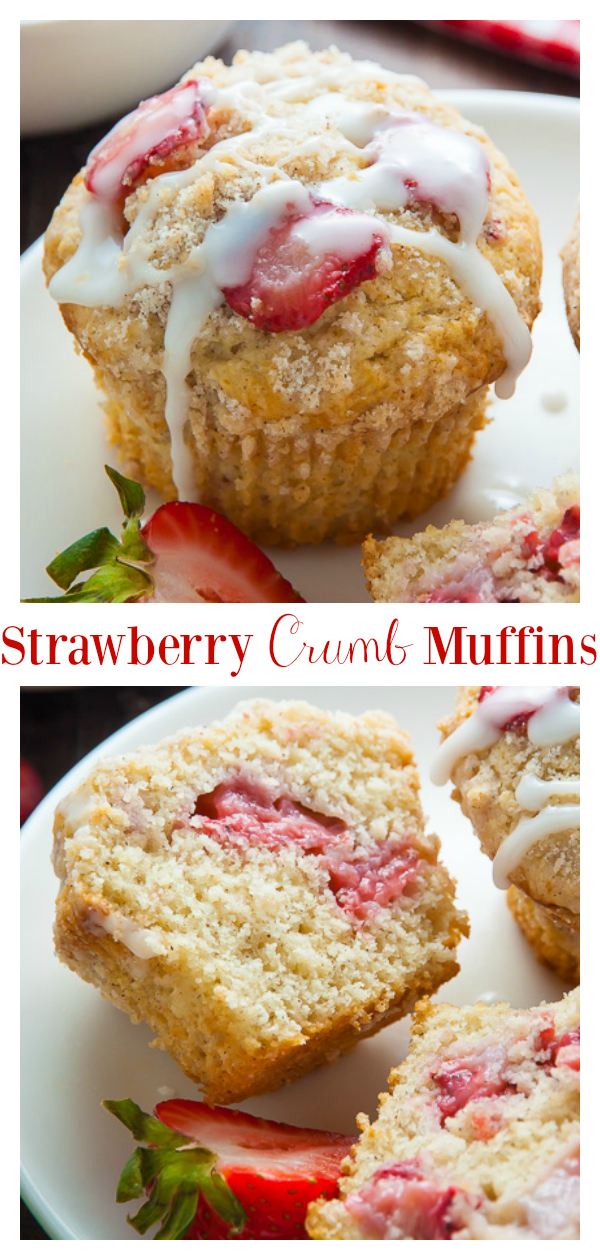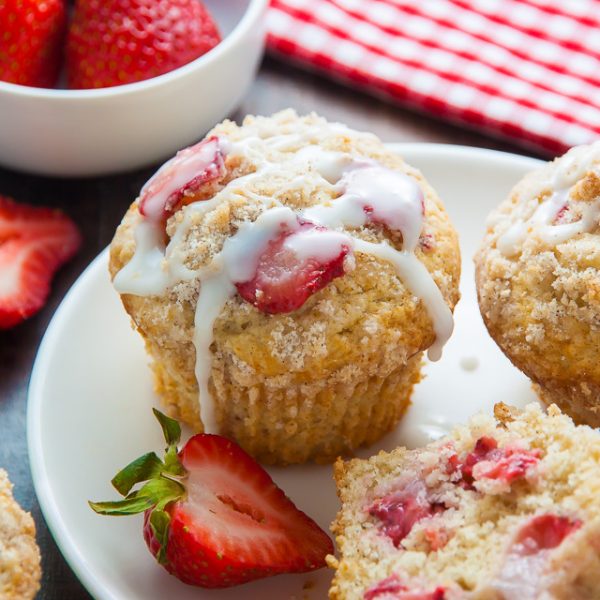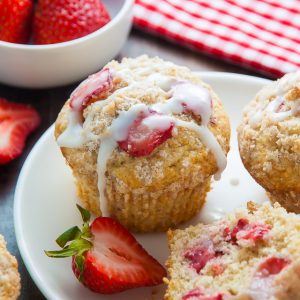 Strawberry Crumb Muffins
Sweet and supremely moist Strawberry Crumb Muffins! A Summertime favorite.
Ingredients
For the Crumb Topping:
1/2 cup granulated sugar
3/4 cup all-purpose flour (not packed)
1/4 teaspoon ground cinnamon
6 tablespoons unsalted butter, chilled and cut into tiny pieces
For the Strawberry Muffins:
3 cups plus 2 tablespoons all-purpose flour, divided
3 teaspoons baking powder
1/4 teaspoon ground nutmeg
1/4 teaspoon ground cinnamon
3/4 teaspoon salt
6 tablespoons unsalted butter, at room temperature
1 and 1/4 cups granulated sugar
1 large egg plus 2 large egg yolks
1 and 1/2 teaspoons pure vanilla extract
1 cup whole milk
1 and 1/2 cups strawberries, coarsely chopped
For the Vanilla Glaze:
1 cup of confectioners' sugar
1/2 teaspoon vanilla extract
2 tablespoons of milk OR heavy cream, more if needed to achieve desired consistency
Instructions
For the Crumb Topping:
In a large bowl combine the granulated sugar, flour, cinnamon, and butter; using two forks or a pastry cutter, combine ingredients until the mixture is very crumbly and resembles a coarse meal. The crumbs should be pea-sized. Place mixture in the fridge or freezer until needed.
For the Strawberry Muffins:
Preheat your oven to 400 degrees (F). Line a 12 cup muffin tin with paper liners; set aside.

In a large bowl, sift together 3 cups of the flour, baking powder, nutmeg, cinnamon, and salt; set aside.

In a large bowl using an electric mixer, or in the bowl of a stand mixer fitted with the paddle attachment, combine the butter and sugar and beat on medium speed until light and fluffy; about 3 minutes.

Add in the egg, egg yolks, and vanilla and continue beating until well combined. Reduce mixer speed to low; alternate adding the flour mixture and the milk, beginning and ending with flour. Be sure not to over mix here.

Turn mixer off and set batter aside for a moment. Place chopped strawberries and remaining flour into a bowl; toss to completely coat the berries in the flour. Add the strawberries and any excess flour into the batter; use a spatula to gently fold the berries into the batter until incorporated.

Divide the batter evenly among prepared muffin tins. Top each muffin cup with 2 tablespoons of crumb topping.

Bake for 20 to 22 minutes, or until the tops are lightly golden brown and a toothpick inserted in the middle comes out clean, or with a just a few moist crumbs attached. Cool muffins 10 minutes in the pan before transferring to a cooling rack.
For the Vanilla Glaze:
In a small bowl combine the confectioners' sugar, vanilla, and cream; whisk until smooth, adding more cream as needed to reach desired consistency. Drizzle over the muffins right before serving.