Moist and buttery strawberry crumb cake topped with sweet vanilla glaze!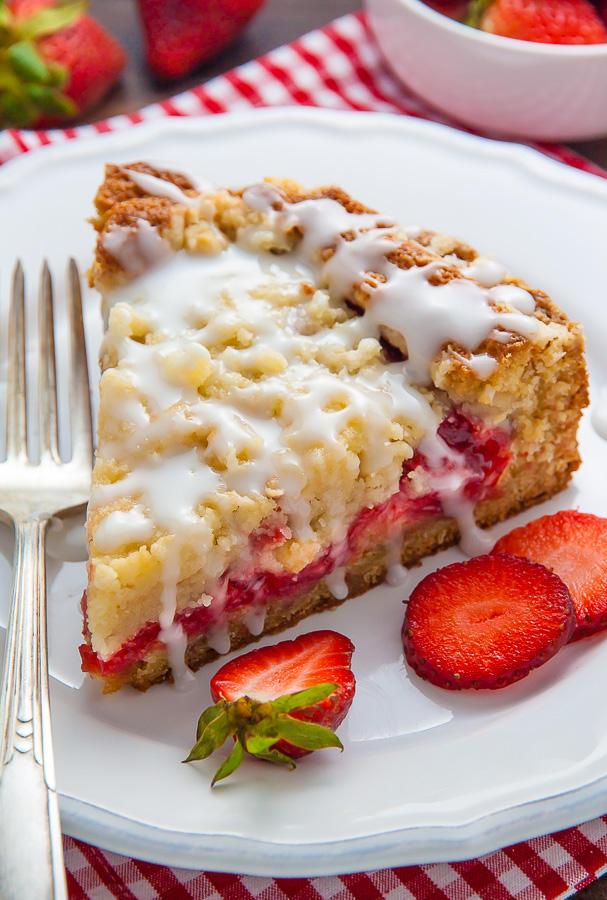 Strawberry Crumb Cake Recipe
Fellow strawberry lovers, this is the cake for you. Soft and fluffy, swirled with a thick ribbon of fresh strawberry filling, loaded with buttery crumbs, and finished off with a drizzle of vanilla glaze. And in case that wordy description didn't sell you, it looks like THIS ↓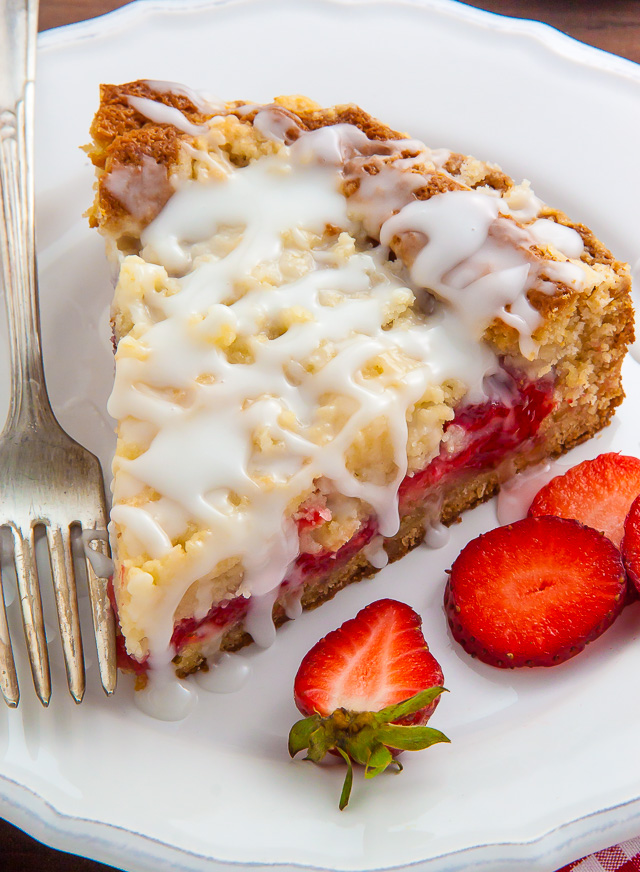 If you'd like to go preheat your oven now, I completely understand. I'll wait here 😉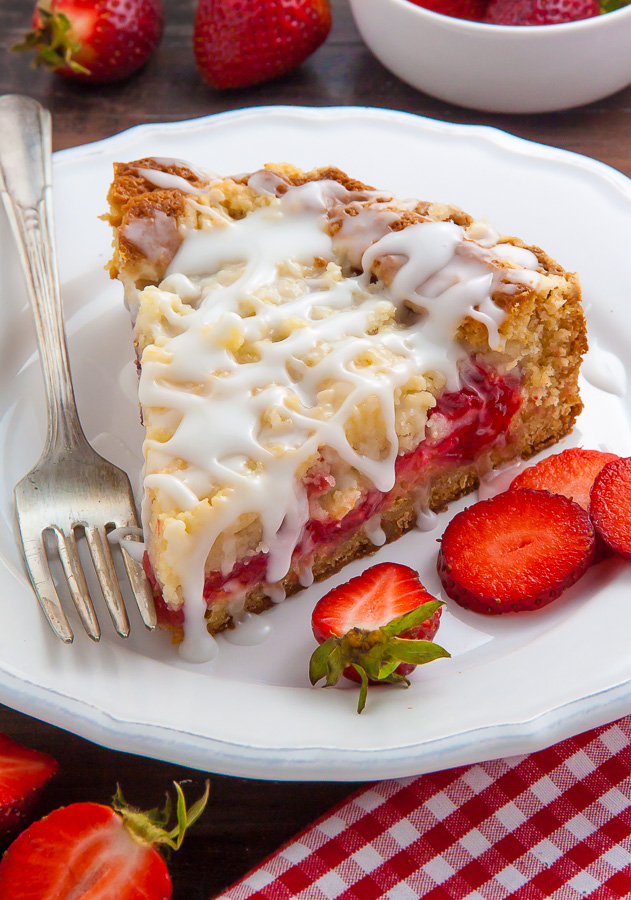 Moving forward. There are 4 parts to this recipe: the vanilla cake, the strawberry filling, the crumb topping, and the vanilla glaze. I know that sounds like a lot, but I promise, it's not as overwhelming as it may seem. For this recipe, I highly suggest reading the recipe fully at least once. I've also included a ton of notes to help you along!
Tips and Tricks for Recipe Success:
When making your strawberry filling, be sure to whisk the cornstarch into a small amount of water before adding it into the pan. This helps reduce the risk of clumps. If you do this and still find a few clumps – don't fret! Simply use a wooden spoon to break them up
To make the very best crumb topping, you want to make sure your butter is SUPER cold before combining it with the other ingredients. You'll also want to keep the crumb mixture chilled (in the fridge or freezer) until you're ready to add in on top of the cake.
For the cake, you'll want to make sure your butter is the right temperature before you begin beating it. It needs to be at room temperature, meaning it should be soft enough that, when lightly pressed with your finger, it leaves an indentation in the stick of butter. I typically leave my butter on the counter for an hour or so to bring it to temperature, but if you're short on time, you can cut the cold stick of butter into into small cubes, which will help speed along the thawing process. Just leave them at room temperature until they're soft to the touch.
Your eggs, milk, and sour cream should also be at room temperature. Cold ingredients will not incorporate evenly or bond, resulting in a dense cake. A quick trick to bring cold eggs to  room temperature is to place them in a bowl of warm water for 15 minutes. Just be sure you don't use hot water!
Resist the temptation to add sliced strawberries on top of the strawberry filling. I say this because I had this urge one of the first times I tested this recipe (they look so pretty!) and the results were tragic. The berries weighed down the center of the cake and make everything sink. There is plenty of strawberry flavor from the filling, and if you want fresh strawberries in the mix, you can also add some on top after the cake is sliced.
The vanilla glaze, while absolutely delicious, is optional! My sister – who doesn't really like sweets (???) – actually preferred it without it. The choice it yours!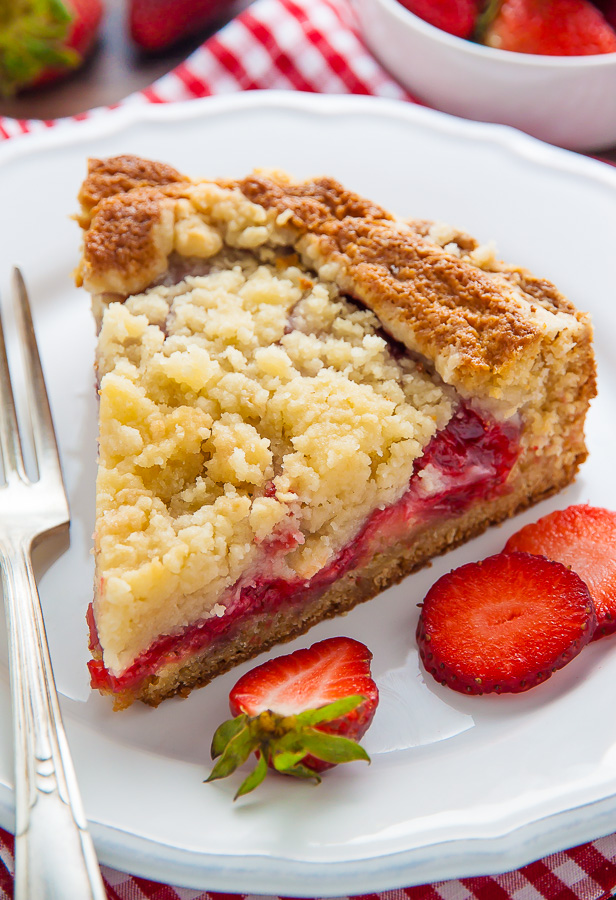 Fresh, fruity and flavorful, this strawberry crumb cake is everything you want and more!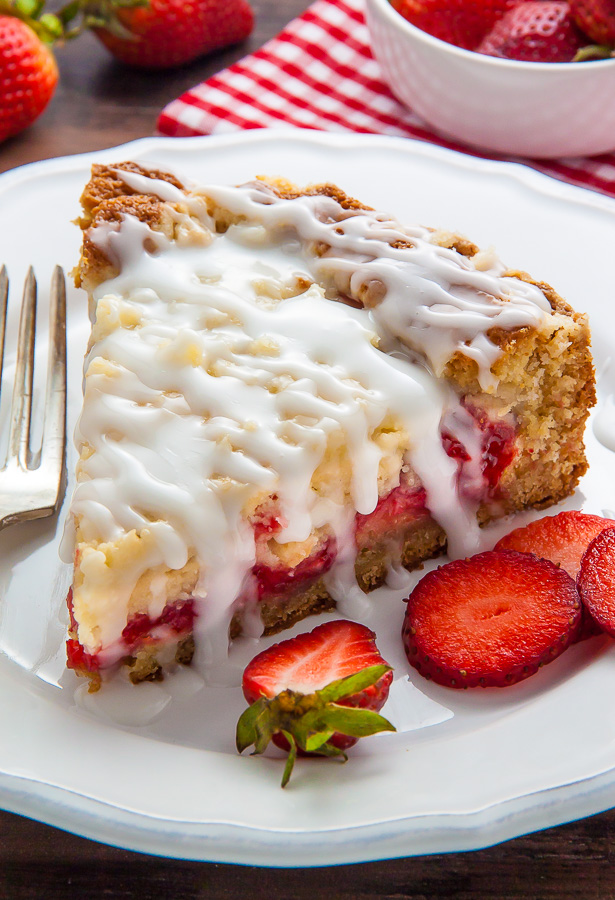 If you try this recipe, let me know! Leave a comment below and don't forget to snap a pic and tag it #bakerbynature on Instagram! Seeing your kitchen creations makes my day. ♥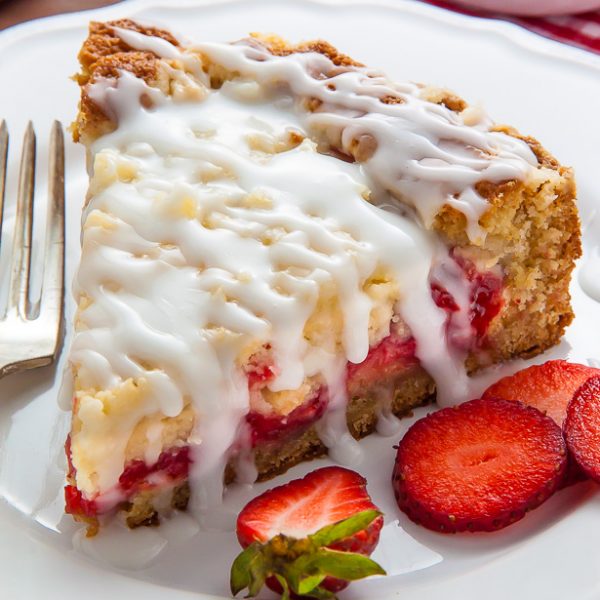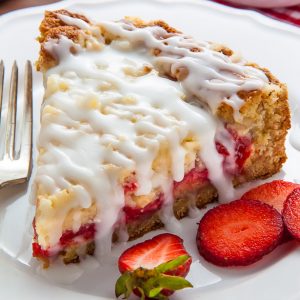 Strawberry Crumb Cake with Vanilla Glaze
Moist and buttery strawberry crumb cake topped with sweet vanilla glaze!
Ingredients
For the Strawberry Filling:
1 cup fresh strawberries, chopped into tiny pieces
1 tablespoon cornstarch
1 tablespoon water
1/4 cup granulated sugar
For the Crumb topping:
1/2 cup granulated sugar
3/4 cup all-purpose flour (not packed)
1/4 teaspoon ground cinnamon
6 tablespoons unsalted butter, chilled and cut into tiny pieces
For the Vanilla Cake:
1/2 cup unsalted butter, at room temperature
3/4 cup granulated sugar
1/4 cup light brown sugar, packed
3/4 teaspoon vanilla extract
2 large eggs, at room temperature
1 and 1/4 cups all-purpose flour (not packed!)
1 teaspoon baking powder
1/4 teaspoon baking soda
1/4 teaspoon salt
1/2 cup full-fat sour cream
1/3 cup whole milk
For the Vanilla Glaze:
1 cup of confectioners' sugar
1 teaspoon vanilla extract
2 tablespoons of milk OR heavy cream, more if needed to achieve desired consistency
Instructions
For the Strawberry Filling:
Place the chopped strawberries in a small saucepan over medium-heat. Cook for 8-10 minutes, stirring frequently and using a wooden spoon to press down on them slightly, until the strawberries are very soft and their juices have been released. Place the cornstarch in a small bowl; whisk in the water and stir until evenly combined (be sure it's not clumpy). Add in the sugar and cornstarch mixture and continue to cook - and stir - for another 2-3 minutes, or until smooth and thick. If the cornstarch clumps up a little bit, simply use a wooden spoon to break it up. Remove pan from heat and transfer the filling into a small bowl; you should have about 1/2 cup of filling. Set aside to chill while you prepare the next steps.
For the Crumb Topping:
In a large bowl combine the sugar, flour, cinnamon, and butter; using two forks or pastry cutter, combine ingredients until the mixture is very crumbly and resembles a coarse meal. The crumbs should be pea-sized. Place mixture in the fridge or freezer until needed.
For the Vanilla Cake:
Preheat oven to 350 degrees (F). Cut out a 9-inch round segment of parchment paper to line your cake pan with. Spray the pan generously - sides and bottom - with nonstick cooking spray, then place the parchment paper cut out in the bottom of the pan and spray again. It's important to make sure every bit of pan and paper are sprayed so your cake doesn't get stuck. Set pan aside.

In a large bowl using a handheld electric mixer (or in the bowl of a stand mixer fitted with the paddle attachment), combine the butter, both sugars, and vanilla extract; beat on medium speed until light and fluffy, about 5 minutes (don't skimp on time here!). Add in the eggs, one at a time, beating well after each addition, and scraping down the sides of the bowl as needed. Set aside.

In a separate bowl, whisk together the flour, baking powder, baking soda and salt, mixing well to evenly combine the ingredients. Add the dry mixture into the wet ingredients and mix on low speed until everything is just barely combined; about 15 seconds. You should still see some lumps and dry streaks. Turn mixer off. Add in the sour cream and milk and using a rubber spatula, fold the ingredients into the mixture, mixing until everything is incorporated, but being sure not to overmix. Overmixing is very easy to do, and will result in a dry, dense cake.

Pour the batter into the prepared pan and smooth the top. Spread the strawberry filling evenly on top of the batter, leaving a 1" boarder around the edges, then sprinkle on the crumb topping. Bake for 50 minutes, or until the crumb topping is golden and the cake is completely cooked through.

Allow the cake to cool in the pan for 5 minutes before gently running a knife around the edges to loosen any stuck bits. Carefully turn the cake out onto a large plate, then turn it back over onto a cooling rack to cool completely. Once cooled, drizzle with vanilla glaze, slice, and serve.
For the Vanilla Glaze:
In a small bowl combine the confectioners' sugar, vanilla, and cream; whisk until smooth, adding more cream as needed to reach desired consistency. Drizzle over the cooled cake right before serving.
Notes
*For best results, follow recipe exactly as written. *A 9" springform pan or a standard 9" round baking pan will work for this recipe, however if you own a springform pan, I suggest using it for easier removal. *I do not suggest adding sliced strawberries on top of the strawberry filling. It will make the center of the cake too heavy. Instead, add fresh strawberries as a garnish right before serving the cake. *The strawberry filling may be made up to 3 days in advance. *The cake will keep, stored in the fridge, for 3 days, but is best eaten the day it is made.
More strawberry deliciousness: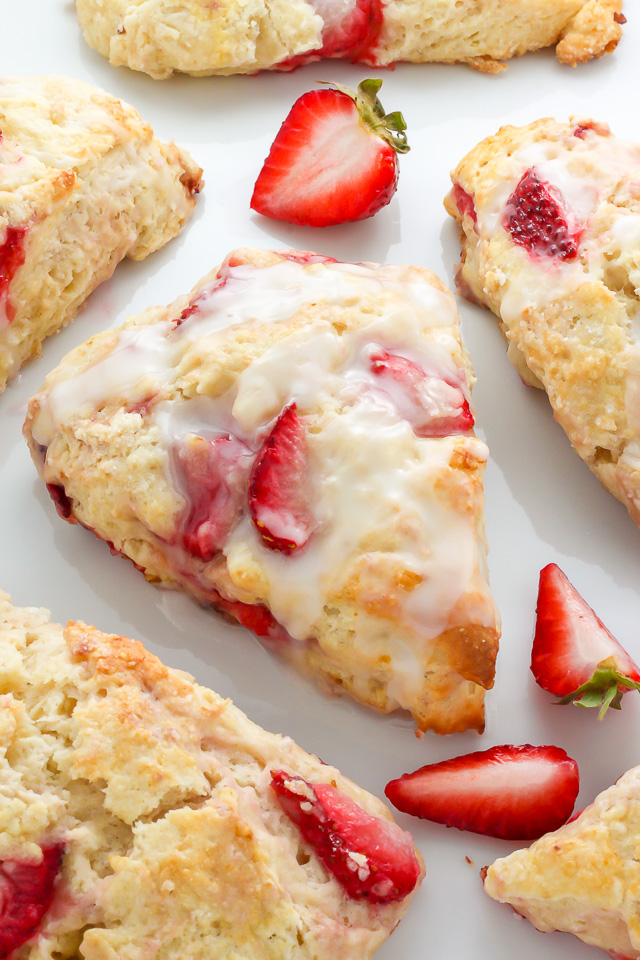 Strawberry Rolls with Vanilla Glaze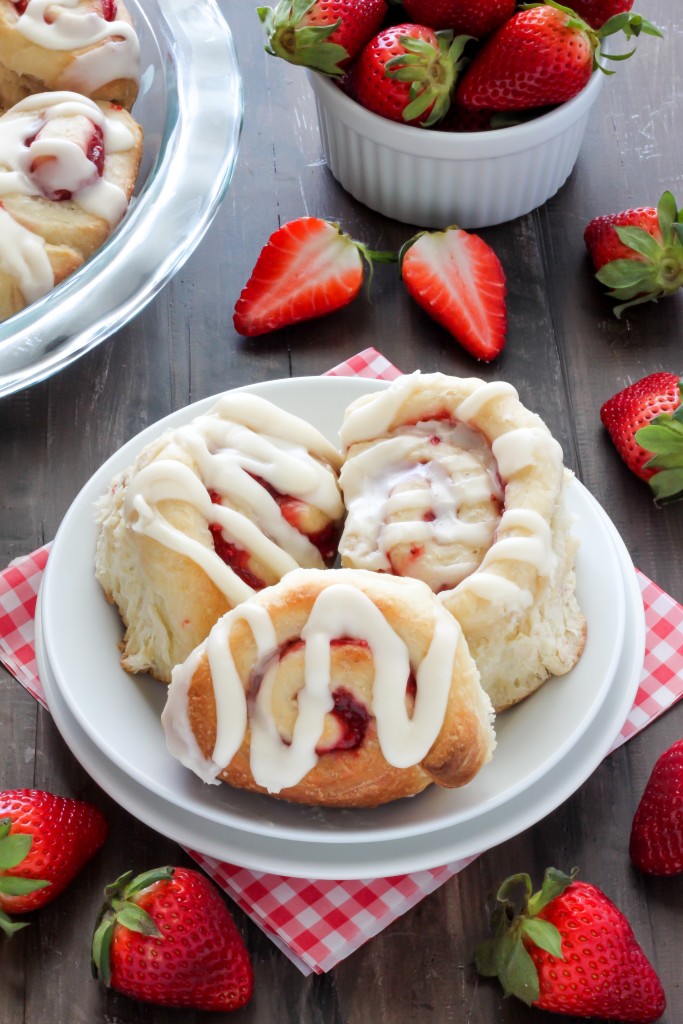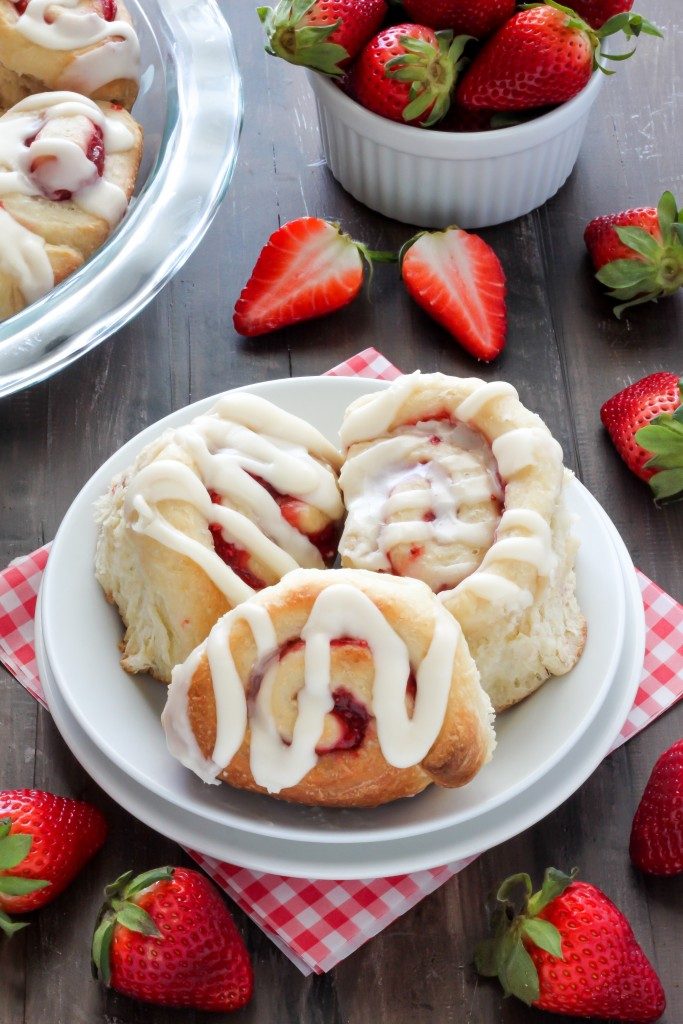 Healthy Greek Yogurt Strawberry Pancakes