Today I'm sharing with you my super easy recipe for Strawberry Rhubarb Galette. Top it with ice cream for an extra decadent dessert.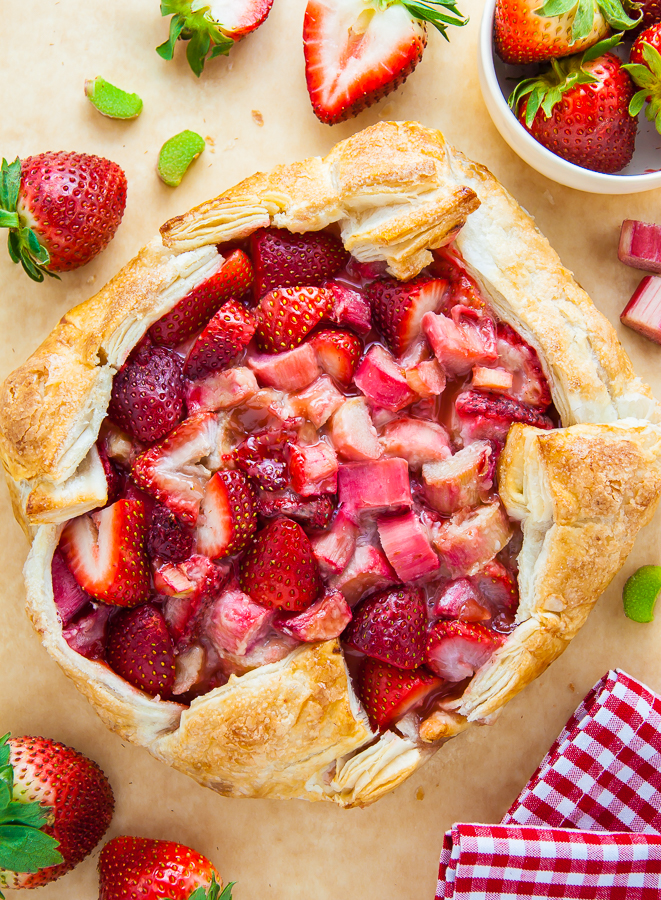 Happy Memorial Day! How's your long weekend so far?
My family's in town, so it's been a blast! We've been keeping busy shopping and eating and hiking and laughing. I even managed to squeeze in a little baking.
More specifically, this super easy strawberry rhubarb galette. Whipped it up Friday night and everyone loved it so much I baked another one yesterday!
Of course, adding a scoop of homemade vanilla ice cream didn't hurt the situation at all 😉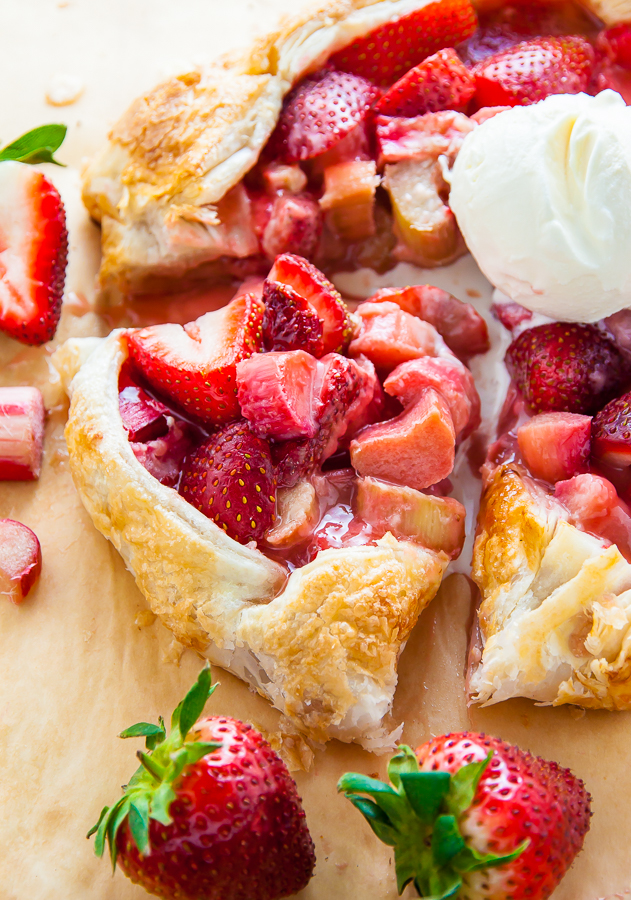 Our recipe today has two parts, but only one that you actually have to make. To keep things super easy, the crust is made of store bought puff pastry! All you have to do is thaw it for a few minutes and it's ready to roll… well, unroll actually. While the pastry thaws, you can assemble the fruit filling. It's a simple step and shouldn't take longer than 15 minutes. You'll just slice up your fruit, then toss it with some flour, sugar, salt, vanilla, and orange zest. I love love love the pop of flavor the orange zest adds, and while it's an optional ingredient, I highly suggest adding it.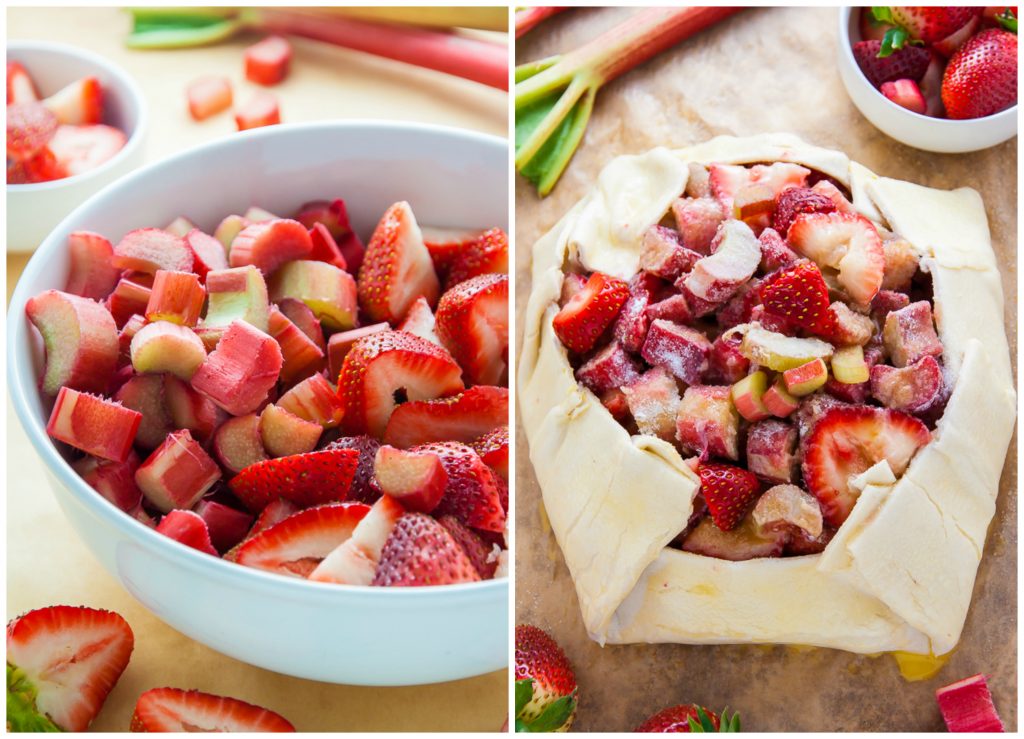 Tips and Tricks for Recipe Success:
When defrosting the puff pastry, you want it to be just soft enough to unfold without breaking it, but not so soft that it's mushy. If the puff pastry is too soft, it will get soggy during the baking process. If the pastry tears a little when you're unfolding it, simply wet your fingers a little, and press the seams back together.
Be sure to quarter your strawberries, as large chunks don't break down as easily. As for the rhubarb, I like to slice it into larger half inch chunks.
When you're shopping for rhubarb – or picking it from your garden – seek out the thinnest stalks you can find. Not only do they hold their shape better, but they tend to be less tough and stringy than larger stalks. I also love to choose stalks rich in red or magenta color. They make the filling so pretty!
Be sure to press as much excess moisture out of the chopped fruit as possible. But be gentle doing this, since you don't want to crush or damage the fruit.
Assemble the galette filling right before placing it in the crust to bake. This will give the filling less time to become runny.
This recipe is delicious but definitely messy! It's basically pie filling with a thin, flaky crust. Galettes are rustic by nature, so don't worry if your slices aren't perfect, or if the fruit filling falls out a little. I suggest slicing it up, scooping it into bowls, and serving it with ice cream and plenty of napkins.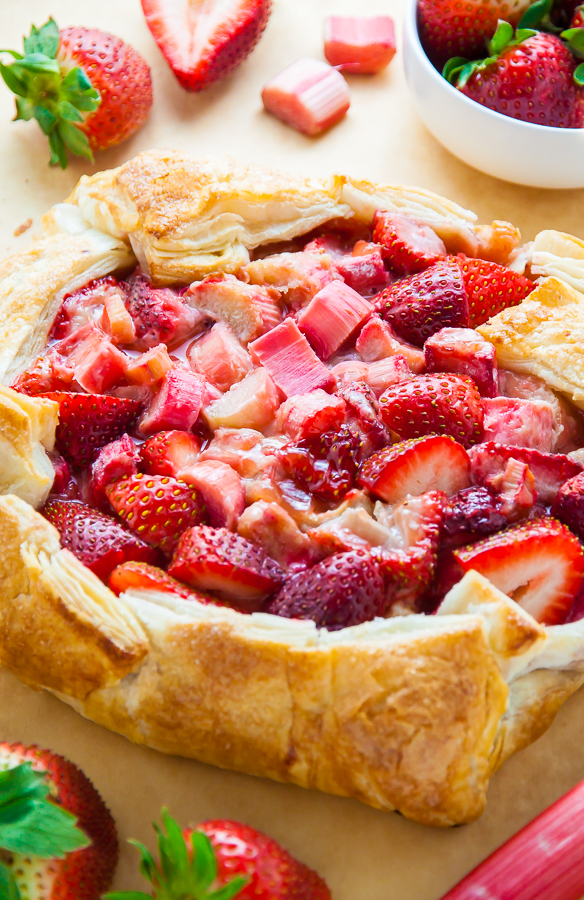 If you're a pie filling fan who loves an extra juicy, fruity slice, you're going to LOVE this recipe! Super easy to make, fun to eat, and amazing with ice cream… this is the ULTIMATE Summer dessert.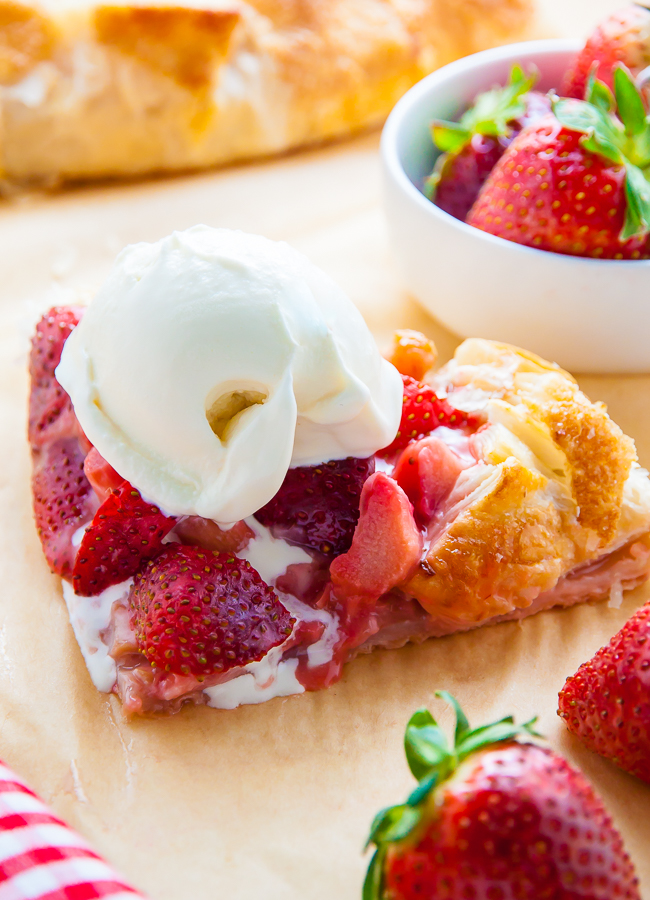 If you try this recipe, let me know what you think! Leave a comment below, and don't forget to snap a pic and tag it #bakerbynature on instagram! Seeing your creations makes my day ♥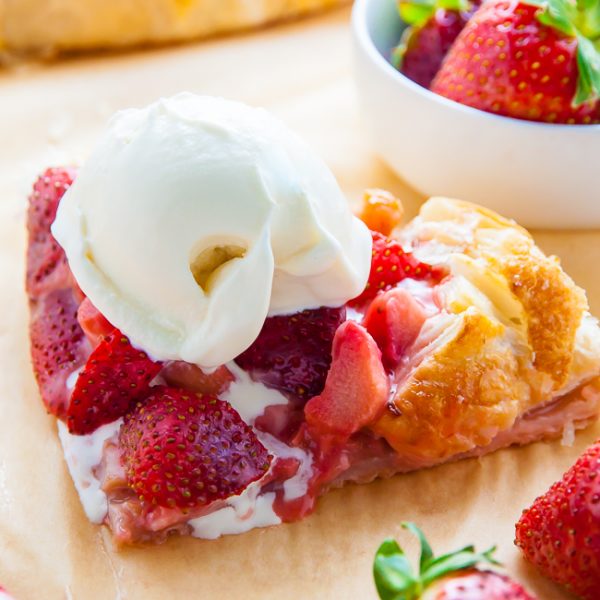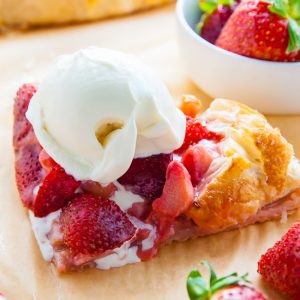 Super Easy Strawberry Rhubarb Galette
My super easy recipe for Strawberry Rhubarb Galette. Top with fresh whipped cream or ice cream for an extra decadent dessert.
Ingredients
1 puff pastry sheet, thawed
1 large egg
1 tablespoon water
1 cup fresh strawberries, quartered
1 and 1/2 cups fresh rhubarb, chopped into 1/2 inch pieces
2 teaspoons fresh orange zest (optional but highly recommended)
1 teaspoon vanilla extract
1/4 cup all-purpose flour
1/2 cup plus 2 tablespoons granulated sugar, divided
1/4 teaspoon salt
Instructions
Preheat oven to 400°(F). Line a large rimmed baking sheet with parchment paper; set aside.

Thaw 1 sheet of puffed pastry; about 15-20 minutes at room temperature. Once thawed, gently unfold both sides. If it cracks, lightly wet your fingers then gently press the seams back together. Place puffed pastry on prepared baking sheet.

In the meantime...

In a small bowl combine the egg and water; beat until well combined and set aside.

Slice strawberries and rhubarb. Using a few sheets of paper towel, blot the strawberries and rhubarb, pressing down to remove as much excess moisture as you can without crushing the fruit. In a large bowl combine the chopped fruit, orange zest, and vanilla; toss to coat. Add in the flour, granulated sugar and salt, mixing well to evenly combine.

Spoon fruit mixture into the center of the puff pastry, leaving a 3-inch boarder on all sides. Fold pastry edge up and over fruit mixture, overlapping edges as required, but leaving the center uncovered.

Brush pastry with egg wash. then sprinkle pastry and fruit filling with remaining sugar.

Bake on the lowest shelf of your oven for 30 minutes, or until the fruit is bubbling and the pastry is golden brown. Allow the galette to rest 10 minutes before cutting and serving. Serve with ice cream or whipped cream. Galette is best eaten warm, the day it's made.
Notes
Fresh strawberries and rhubarb work best for this recipe. I don't recommend making this ahead of time, as it's best eaten warm, or within a few hours of baking.