My favorite savory scones are loaded with sharp cheddar cheese and fresh zucchini! Who knew veggies could taste this good!? If you have leftover zucchini, try these zucchini cheddar scones!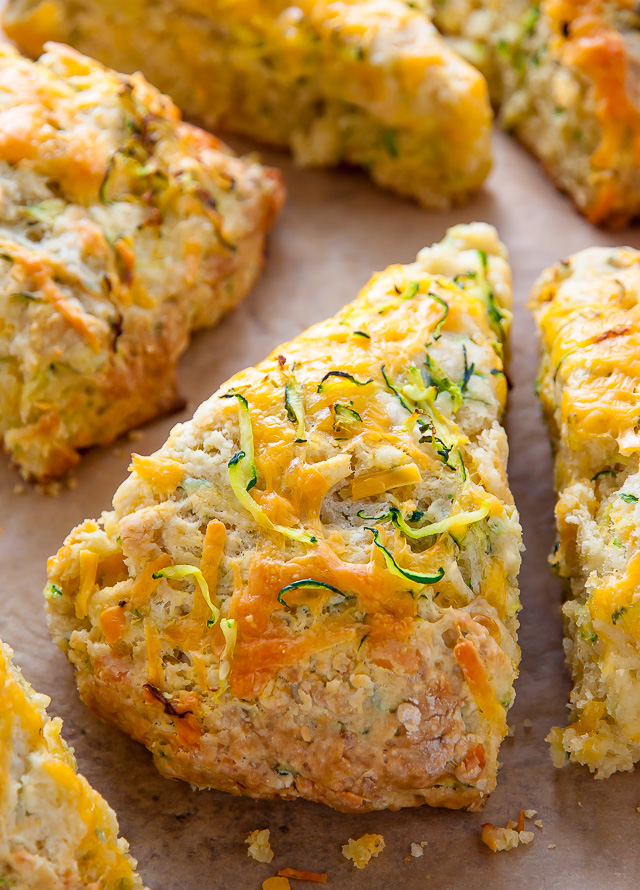 Savory Scones with Cheddar Cheese and Zucchini
When I don't know what to make for dinner – or don't feel like cooking dinner at all – I often opt to make breakfast instead. Pull a few scones from the freezer, fry a couple of eggs, add few slices of avocado and viola – a meal is born! Anyone else a fan of the almighty breakfast for dinner scenario? It's a BBN favorite.
Last week I reached into the freezer to grab a few ham and cheese scones (have you tried them yet?) and –  much to my hungry/hangry horror – realized they were ALL gone. Worst moment of my week! ← Kidding. I'm a "make lemonade out of lemons" kind of girl, so after a little digging in the fridge and some creative head scratching, these Zucchini Cheddar Scones were created.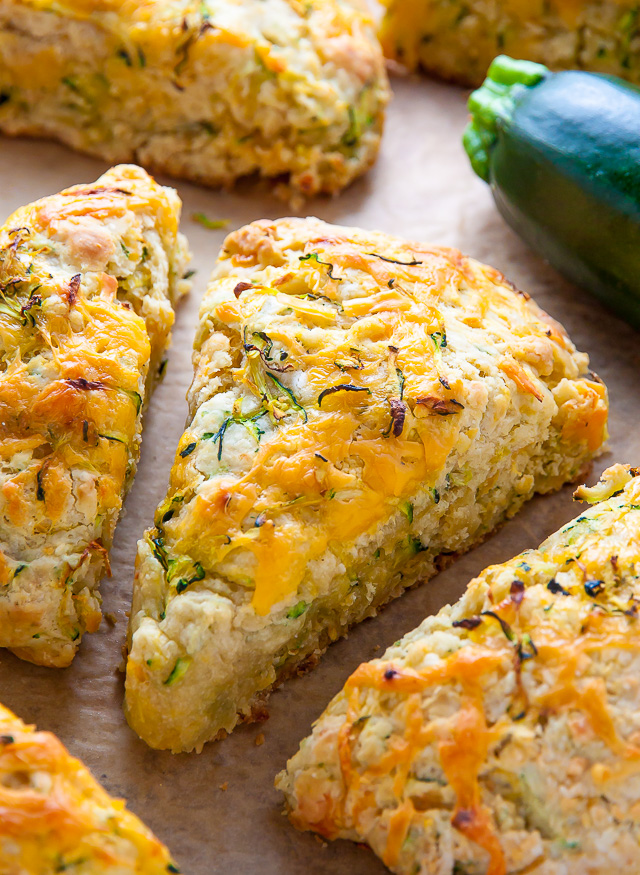 The results? Cheesy, flaky, buttery goodness… and the zucchini makes them so moist! Can you tell I'm a girl in love? After one bite, I think know you'll be a fan, too.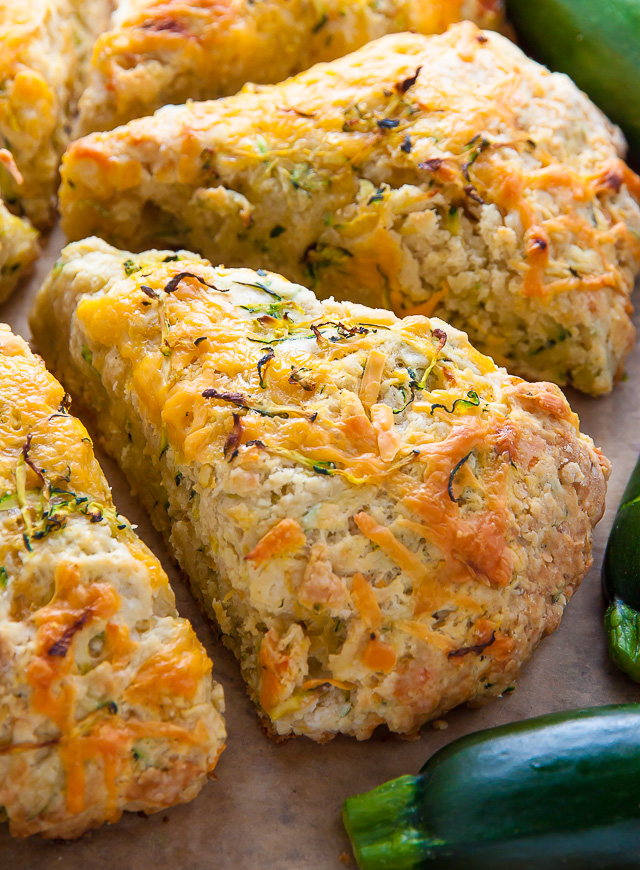 Zucchini Scones
Tips and Tricks for Recipe Success:
Let's talk about zucchini for a minute! For this recipe you're going to want to grate the zucchini (coarsely) then drain the heck out of it. I'm serious! Zucchini is loaded with moisture, so you'll want to squeeze as much of that moisture out before adding it to the scone batter. If you skip this step your scones will be sad and soggy and I don't want that to happen to you! To efficiently drain your zucchini simply place it in a fine-mesh strainer and let it sit for about 10 minutes, then press as much moisture out as you can by hand; you can also wrap the shredded zucchini in a piece of cheesecloth (or a clean hand towel) and squeeze the moisture out. Both ways work just fine, so it's really just a matter of what tools you have on hand.
Make sure your butter is extremely cold before beginning. I've said it before and I'll say it again: the key to tender, flaky, bakery style scones is COLD BUTTER.
When it's time to incorporate the butter into the dough, you should resist working with your hands if possible, since body heat will quickly melt the butter. Instead, use a pastry cutter or two forks. My favorite method is grating the butter into the dry ingredients, then quickly working it into the dough with two forks.
If you find your dough is warm and/or sticky, pop it back into the fridge or freezer for a few minutes and let it chill, then get back to work.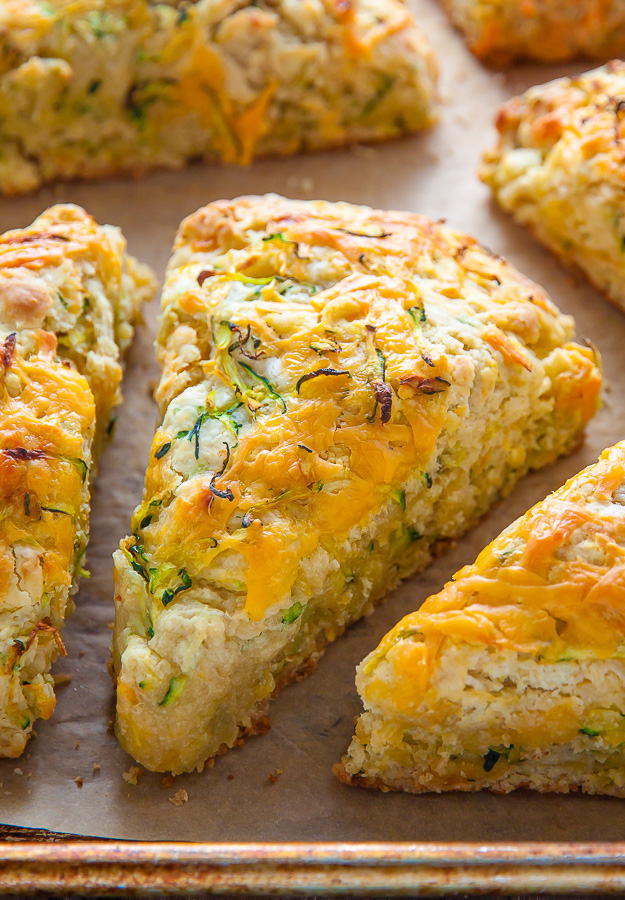 Cheddar & Zucchini Scones for the win! Make them for breakfast, brunch, dinner, or snack… just make them! And enjoy 😉
More Savory Scone Recipes:
If you try this recipe, let me know! Leave a comment below and don't forget to snap a pic and tag it #bakerbynature on Instagram! Seeing your kitchen creations makes my day. ♥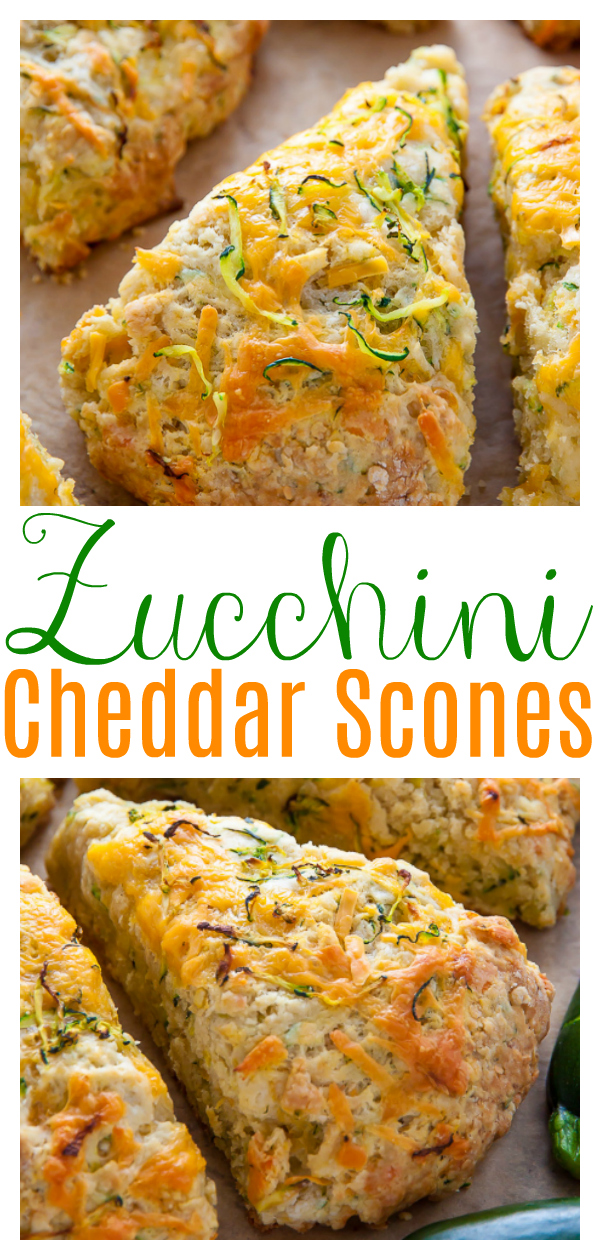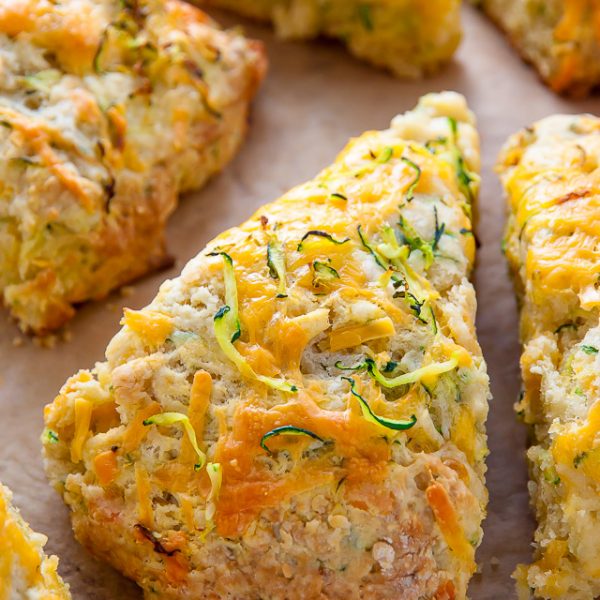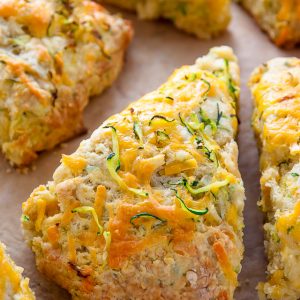 Zucchini Cheddar Scones
My favorite savory scone recipe loaded with sharp cheddar cheese and shredded zucchini! Who knew veggies could taste this good!?
Ingredients
2 and 1/2 cups + 1 tablespoon all-purpose flour, divided
1/2 teaspoon salt
1 tablespoon baking powder
1/2 teaspoon baking soda
1/4 cup granulated sugar
1 stick (4 ounces) unsalted butter, VERY cold and cut into tiny pieces
1 large egg, beaten
1/2 cup (full-fat) sour cream
2/3 cup zucchini, grated and drained (see post or note below for further clarification)
3/4 cup sharp cheddar cheese, grated, divided
Instructions
Preheat oven to 400°(F). Line a large baking sheet with parchment paper or a non-stick baking mat; set aside. In a large bowl mix together 2 1/2 cups of the flour, salt, baking powder, baking soda, and sugar.

Cut the butter into small cubes then quickly work it into the mixture (using your fingers) until it resembles a coarse meal.

In a small bowl, whisk together the egg and sour cream, then add to flour and butter mixture. In a small bowl combine remaining tablespoon of flour, grated zucchini, and a 1/2 cup of the cheese; toss to coat, then add to the scone mixture; gently fold them into dough with a spatula until combined.

Pour the shaggy dough out onto a clean, floured work surface and shape the dough (you will have to work/knead it quite a bit to get it together) into an 8-inch circle. Cut the dough into 8 wedges and carefully transfer them to the prepared sheet. Sprinkle the top of each scone with a little of the remaining cheese.

Bake for 22-24 minutes, or until cooked through and the tops are golden brown.

Serve warm!
Notes
Scones are always best eaten the day of, but will keep, in an airtight container for 3 days. Scones may also be frozen for up to 2 months. Place them in a freezer safe bag and press all of the air out. When you're ready to reheat, preheat oven to 300 degrees, place the scones on a baking sheet, and bake until warmed through.