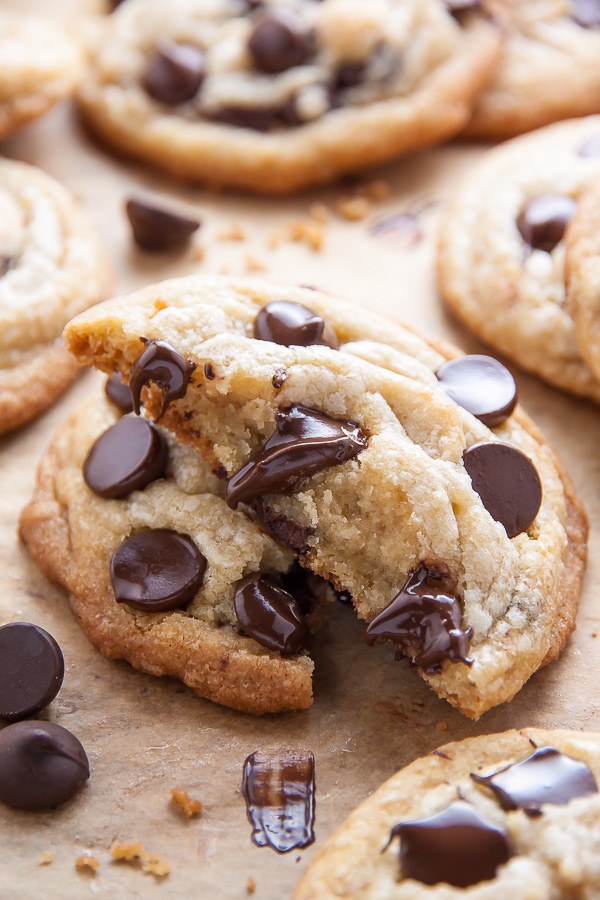 Coconut Oil Chocolate Chip Cookies
Yield 2 Dozen
Coconut Oil Chocolate Chip Cookies with soft centers and crispy edges! The best part? No cookie dough chilling required!
Ingredients
2 1/4 cups all-purpose flour
3 tablespoons cornstarch
1 teaspoon baking soda
1/2 teaspoon flaky sea salt, more to sprinkling on top, if desired
1 cup + 2 tablespoons coconut oil, at room temperature (it should be solid but scoopable)
1 cup + 2 tablespoons dark brown sugar, packed
1/2 cup granulated sugar
2 teaspoons pure vanilla extract
2 large eggs, at room temperature
2 cups semi-sweet chocolate chips
Instructions
Preheat oven to 375 degrees (F). Line 2 large baking sheets with parchment paper and set aside. In a medium sized bowl whisk together the flour, cornstarch, baking soda, and sea salt; set aside.
In the bowl of a standmixer fitted with the paddle attachment, or in a large bowl using a handheld electric whisk, combine the coconut oil, both sugars, and the vanilla extract; beat on medium-speed until light and fluffy, about 2 minutes. Add in the eggs, one at a time, beating well after each addition. Gently fold in the flour mixture with a wooden spoon, stirring only until the flour begins to disappear. Fold in the chocolate chips.
Roll 3 tablespoon sized balls of dough between your palms to form a ball (they should be big; almost a 1/4 cup), then place on prepared sheet (make sure to leave enough room in between each cookie for inevitable spreading). Continue this process until all the dough has been rolled.
Place baking sheets in preheated oven and bake for 10-12 minutes, or until golden at the edges but still soft in the middle.
Let cookies cool for 5 minutes on the sheet before transferring to a wire rack to cool completely.
Notes
For best results, follow this recipe exactly as written. To freeze the cookie dough: Prepare the cookie dough as directed above. Shape the cookie dough into balls, then place them on a parchment paper lined baking sheet. Freeze for about an hour, or until solid, then transfer into a freezer safe zip-top bag, squeeze out any excess air, and freeze for up to 3 months. To bake the frozen dough: Place frozen cookie dough balls on a lined baking sheet, leaving a few inches in between for spreading, and bake as directed above, adding a couple of extra minutes to the bake time to make up for their frozen start.
Courses Dessert
Cuisine Cookies
Amount Per Serving
% Daily Value
Recipe by Baker by Nature at https://bakerbynature.com/thick-and-chewy-coconut-oil-chocolate-chip-cookies/