Here's a crowd-pleasing Easter recipe for Chocolate Covered Coconut Cream Eggs! You can get the whole family involved in making this homemade easter candy. Kids love shaping the coconut mixture into egg shapes and dipping them in chocolate… and adults love eating them!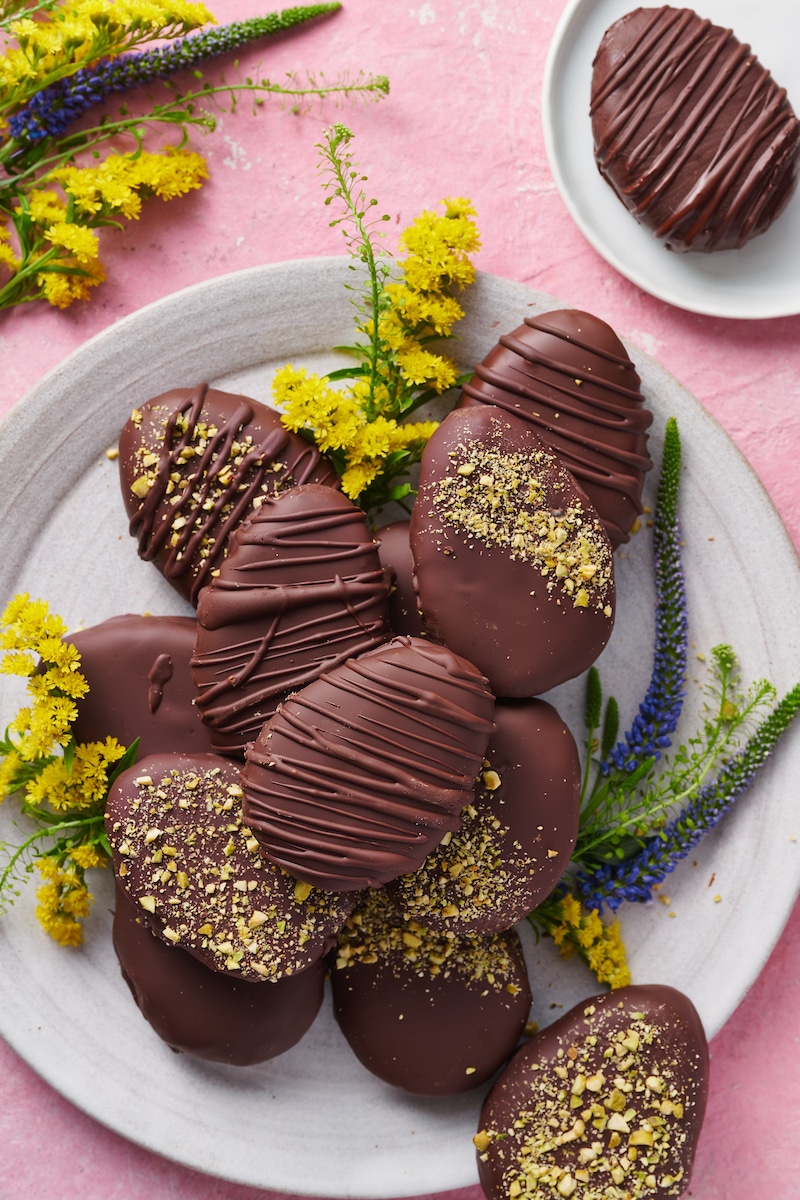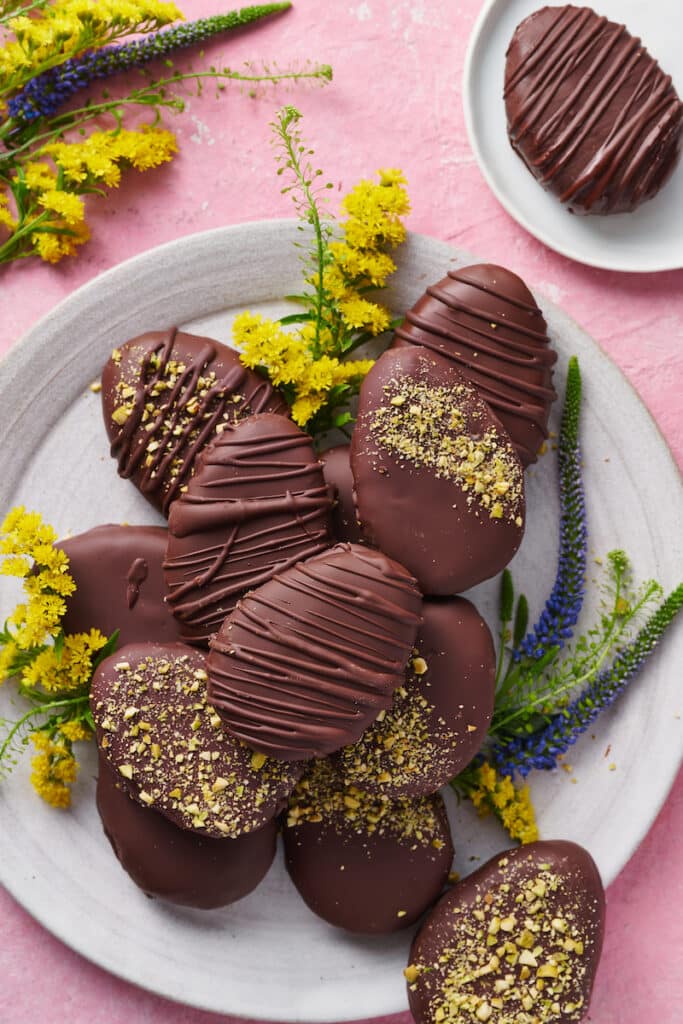 Homemade Coconut Cream Eggs
It just isn't Easter without a big batch of homemade chocolate covered coconut cream eggs! My mom always hid a few of these candies in my Easter basket. And now I do the same for my husband and son. You could easily buy them from the store, but making them is 100% more fun and delicious. Don't be surprised if making them with the family becomes a yearly tradition!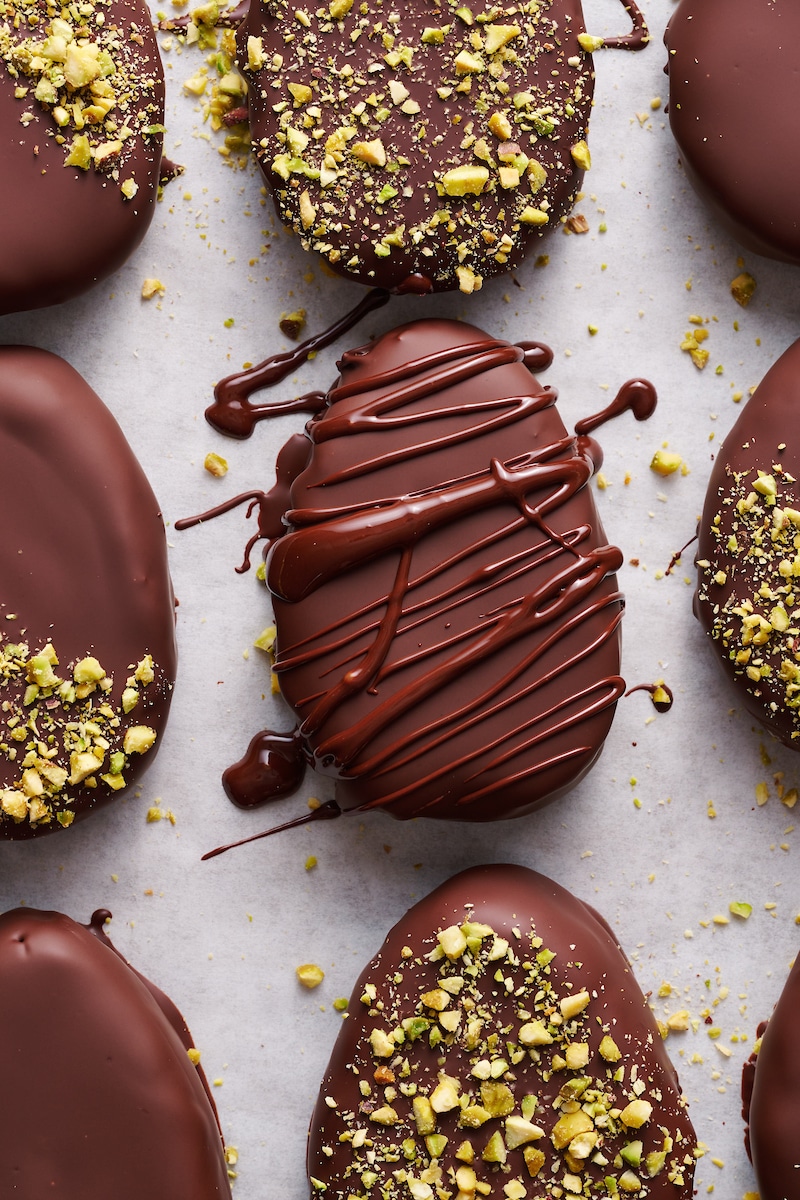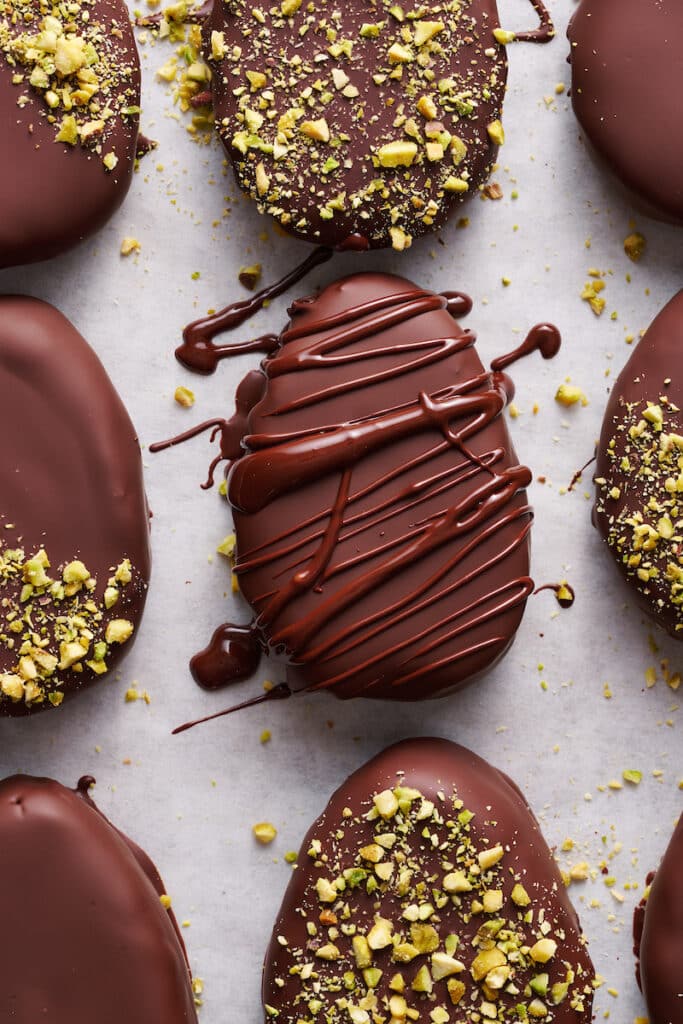 Ingredients for Coconut Cream Eggs
Coconut Oil: Use refined coconut oil for less coconut flavor or use unrefined coconut oil for more coconut flavor.
Butter: Be sure to bring your butter to room temperer. It needs to be pretty soft to evenly combine with the other ingredients.
Cream Cheese: Always use brick-style cream cheese, and be sure it's softened to room temperature before use.
Confectioners' Sugar: This ingredient acts as a sweetener but also as a binder for the ingredients. Add more if needed to reach the desired texture.
Salt: Balances the sweetness and enhances all of the flavors in this recipe.
Vanilla Extract: Enhances all of the other flavors and add its own unique sweet flavor. Be sure to use pure vanilla extract, not imitation or artificial vanilla.
Coconut Extract: This ingredient is 100% optional, but does enhance the overall coconut flavor.
Coconut: There are so many varieties of coconut on the market, but the kind you'll need is flaked sweet coconut.
Pistachios: Feel free to omit the nuts completely, or use almonds for an "almond joy" inspired coconut cream egg.
Chocolate: Although I prefer using high-quality bar chocolate, semi-sweet chocolate chips will work in a pinch. Just be sure to use a very high-quality brand such as enjoy life, Ghiradelli, or Guittard.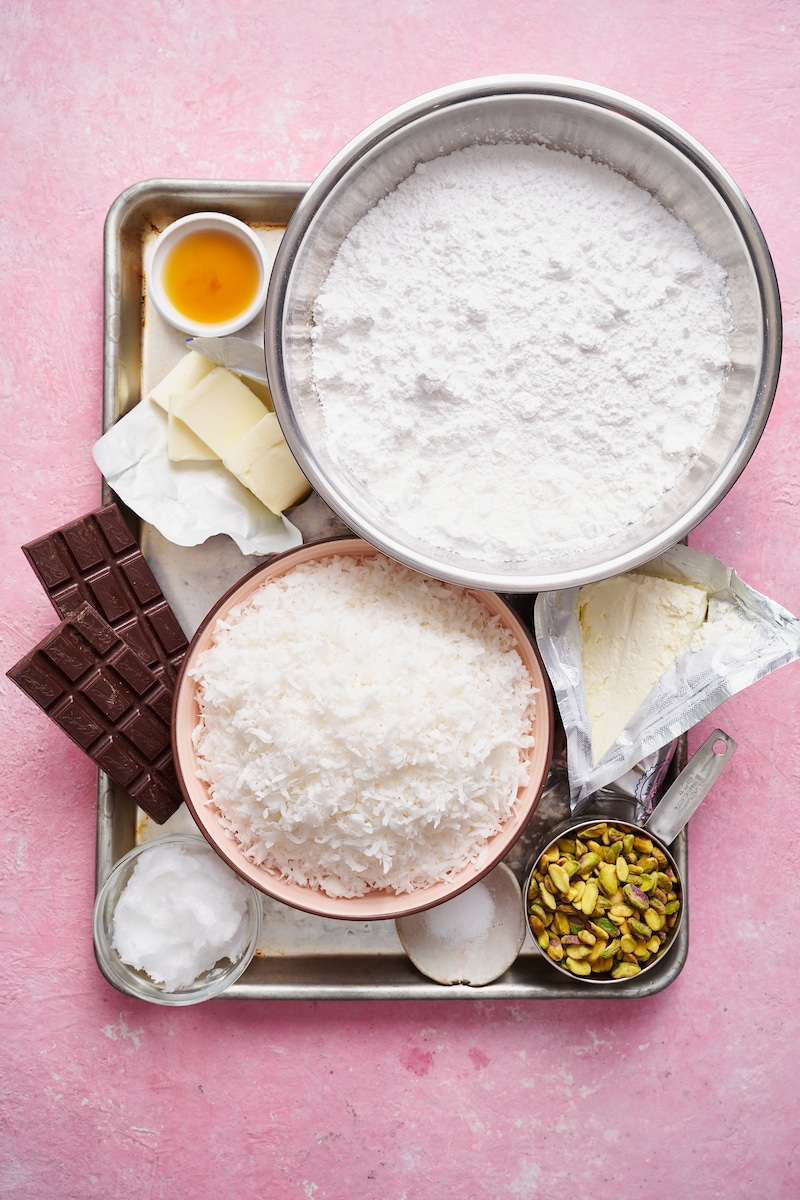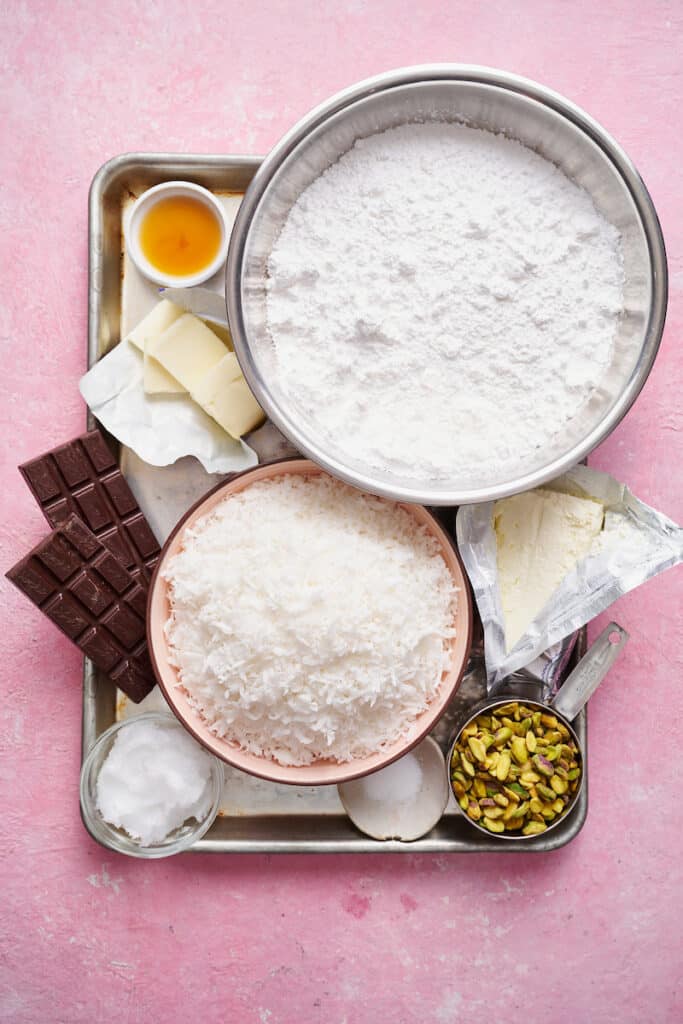 How to Make Coconut Cream Eggs
Prep your Pans: You won't be baking these coconut cream eggs, but you'll still want to line a baking sheet with parchment paper or waxed paper. After you dip the eggs in chocolate, you'll place them on these sheets to harden. They'll make clean up a lot easier, too.
Make the Filling: With an electric stand mixer, beat the cream cheese and butter together on medium-speed until well combined. Then add the remaining ingredients and beat until well blended. Add powdered sugar as needed to get the dough to the right consistency.
Chill: The filling will be too soft to shape right away, so you'll need to place it in the refrigerator to chill for about 30 minutes. But the good news is that you can do this up to 48 hours in advance! If it seems to hard to scoop, simply leave it at room temperature for 10 to 15 minutes.
Shape the Eggs: Remove the filling from the fridge and use a spoon or scoop to scrape out about 3 tablespoons of the filling. Lightly dust your hands with powdered sugar (this helps reduce sticking) and shape the dough into an egg. Have fun shaping each egg and don't stress about them looking perfect.
Second Chill: Place the shaped eggs on your prepared baking sheets. Press a pistachio (or almond!) in the center of each egg and place them in the freezer for at least 1 hour. When you're ready to dip them in chocolate, remove the eggs from the freezer.
Dip in Chocolate: Place the bottom of an egg onto a fork and dip into the chocolate, allowing excess chocolate to drip back into the bowl before transferring the egg back onto the baking sheet. Repeat this process with all eggs.
Decorate: If you have any extra chocolate leftover, you can drizzle it in zigzag lines on top of the eggs for a pretty textured look. Or sprinkle the coconut cream eggs with chopped pistachios or almonds! Just be sure to do this while the chocolate is still wet, otherwise the nuts won't stick and will fall right off the top of the egg.
The Final Chill: Place the chocolate dipped eggs in the refrigerator until the chocolate coating has set. And because these are made with cream cheese and butter, they should be store in the refrigerator until needed.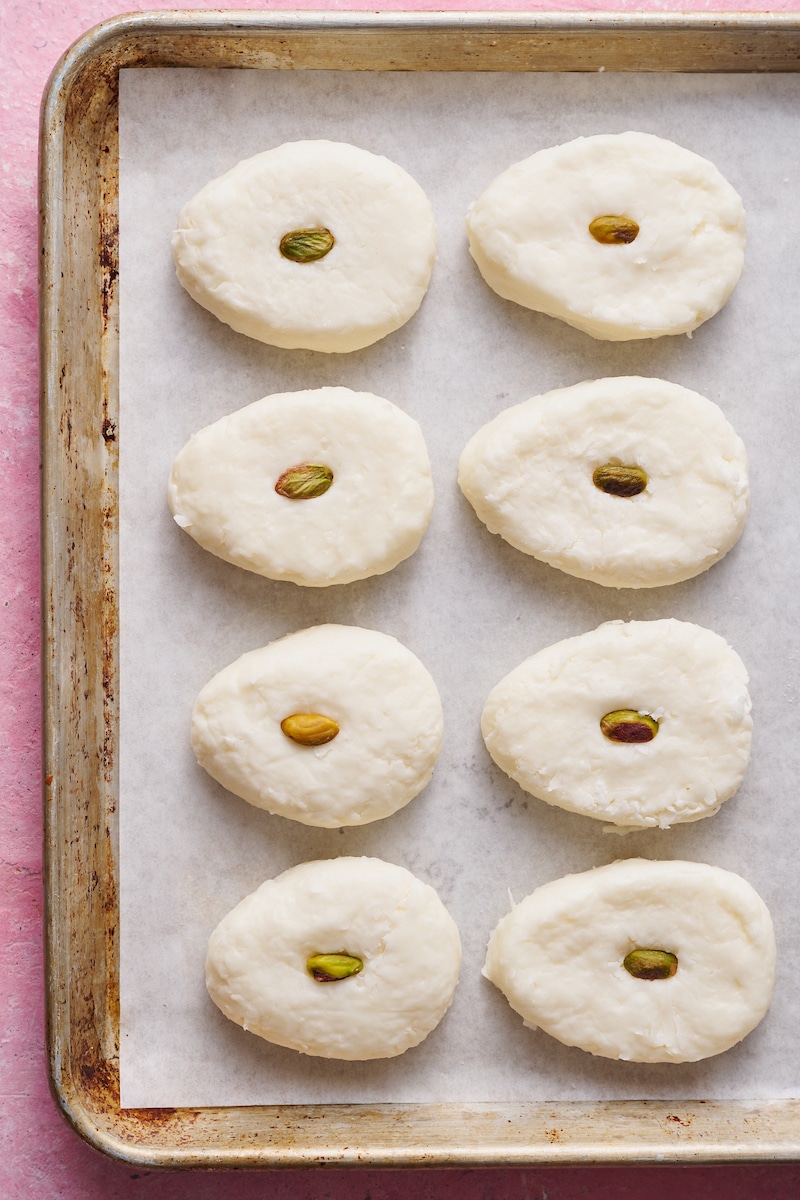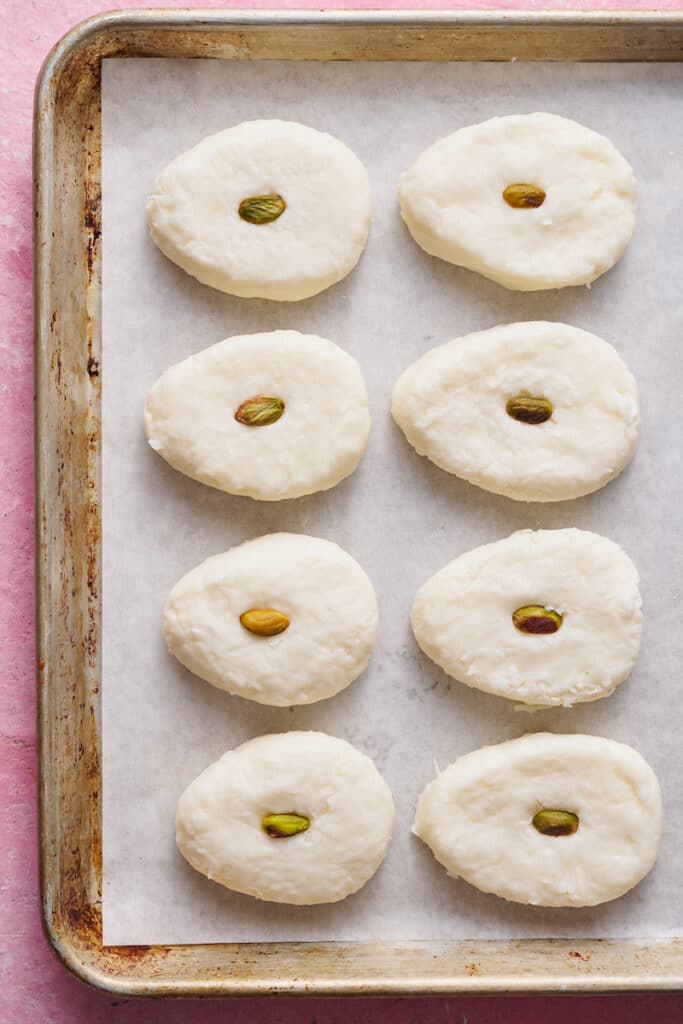 These are truly the perfect homemade Easter candy and sure to be a hit at your celebration! Just be sure to hide a few eggs for yourself… because they sure do magically disappear once they've been served. You'll be sorry if you don't have a secret stash of coconut cream eggs stored away just for you. Trust me on this one!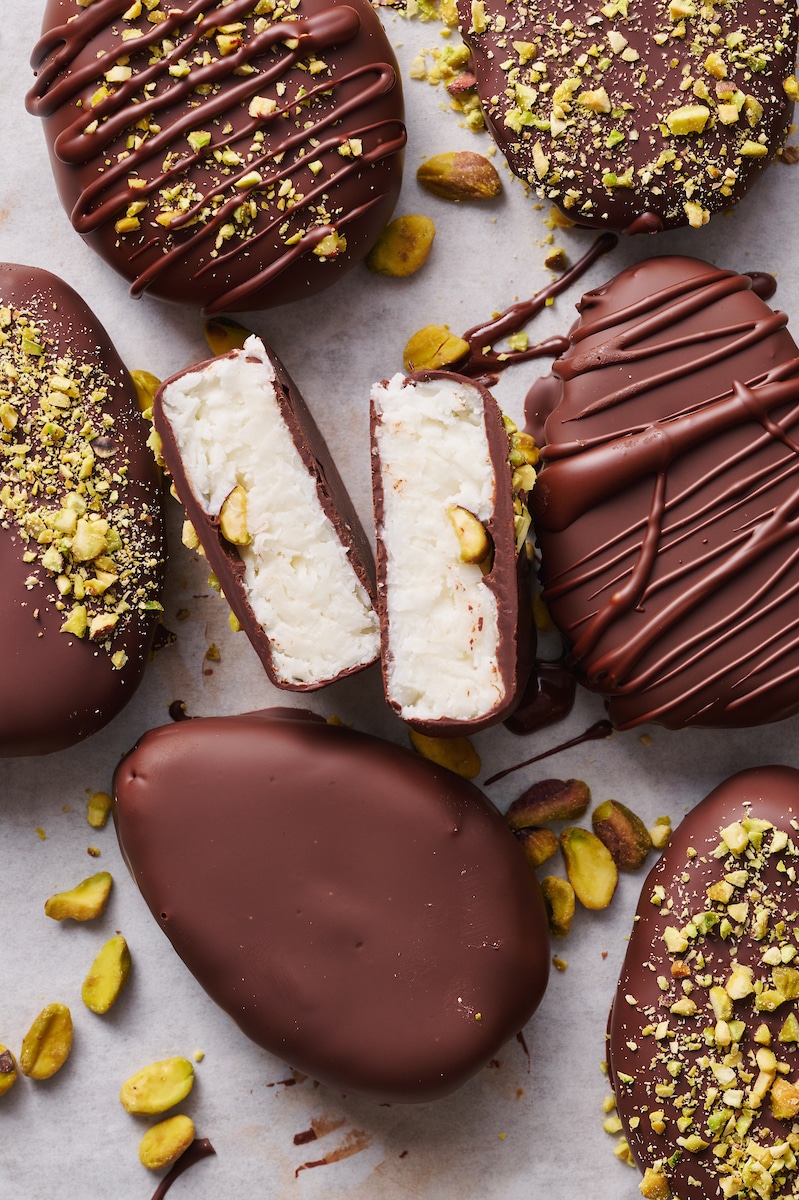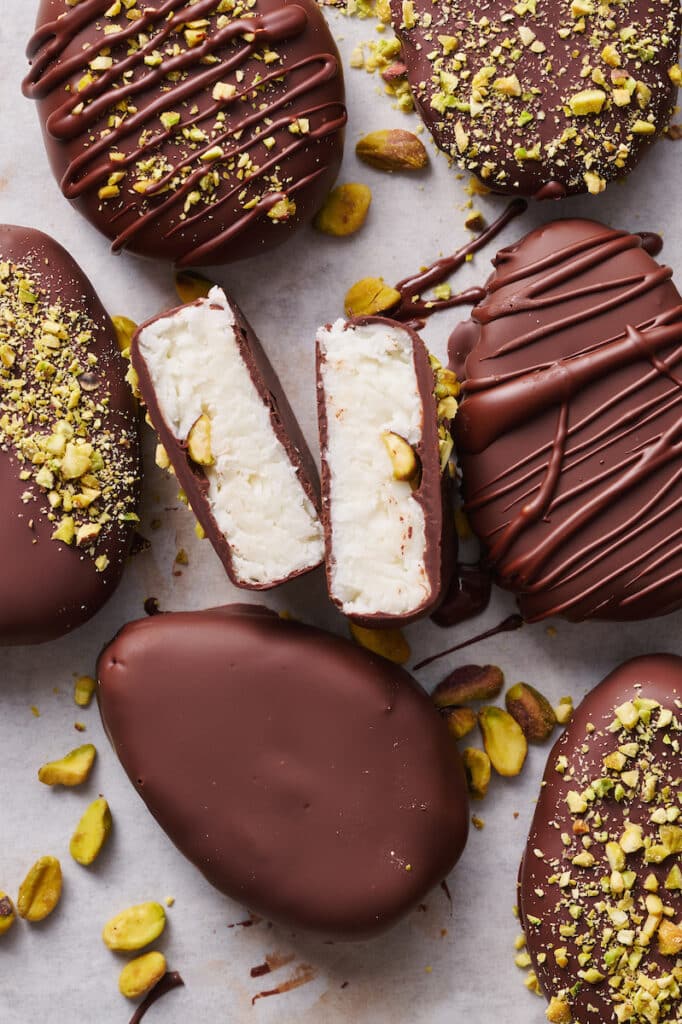 More Easter Candy Recipes: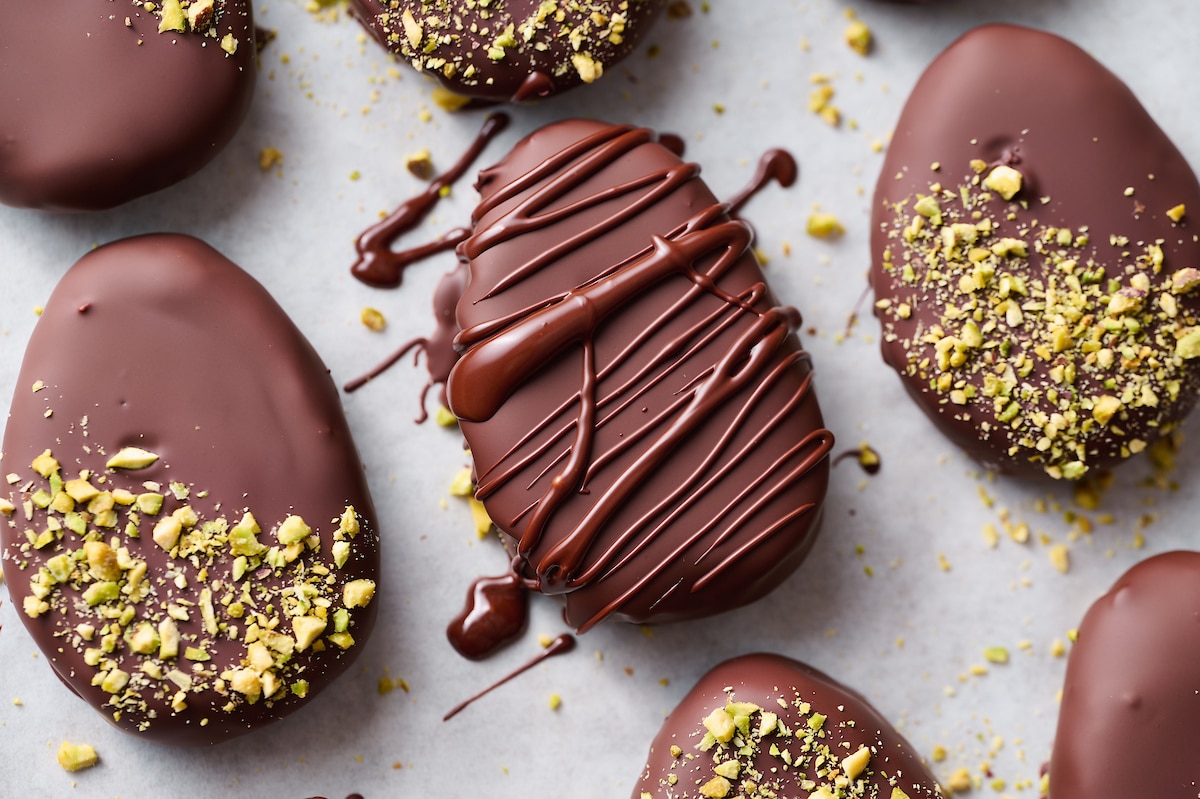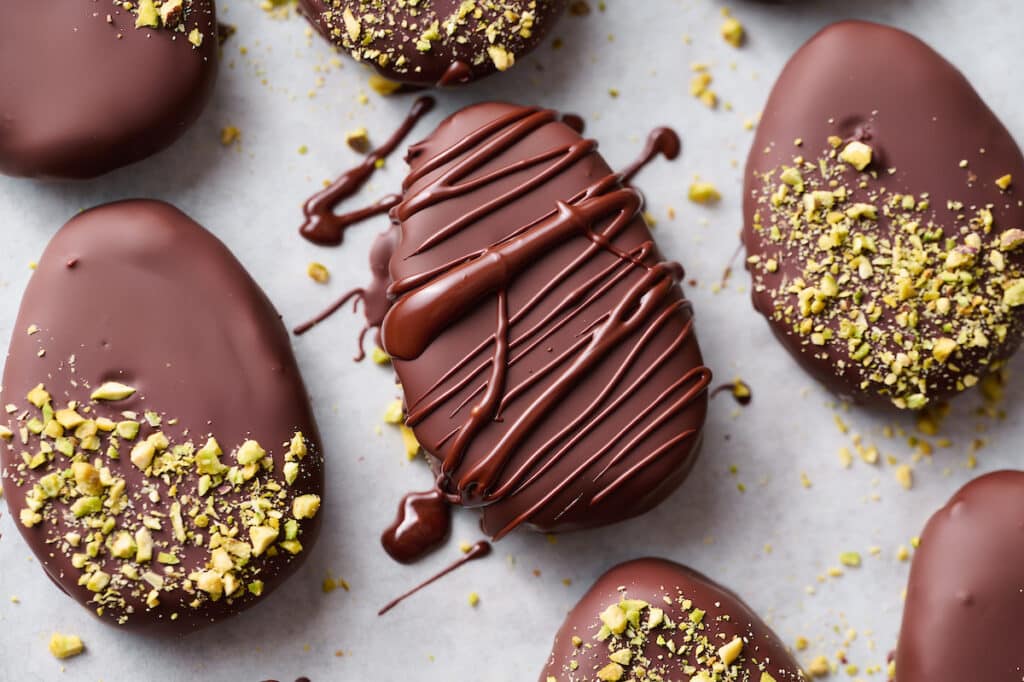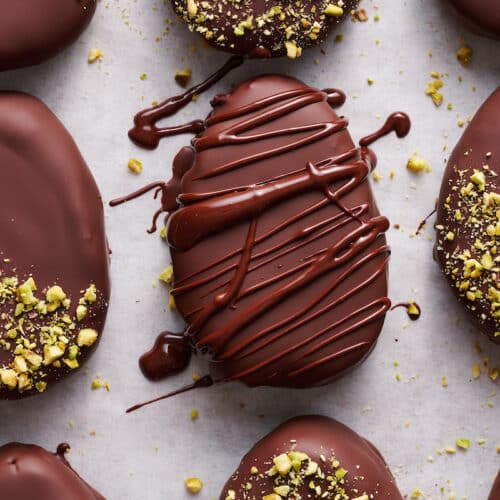 Chocolate Covered Coconut Cream Eggs
Here's a crowd-pleasing Easter recipe for Chocolate Covered Coconut Cream Eggs! You can get the whole family involved in making this homemade easter candy. Kids love shaping the coconut mixture into egg shapes and dipping them in chocolate... and adults love eating them!
Ingredients
4 tablespoons (47g) unsalted butter room temperature
5 tablespoons (62g) coconut oil divided
8 ounces (227g) cream cheese room temperature
7 to 8 cups (791 g to 904g) confectioners sugar sifted
1 teaspoon coconut extract
1/2 teaspoon vanilla extract
1/2 teaspoon fine sea salt
16 ounces sweetened flaked coconut
20 ounces bitter-sweet chocolate chopped
1 cup (227g) unsalted pistachios, unshelled optional
1/4 cup (57g) chopped pistachios optional
Instructions
Line 2 large baking sheets with parchment paper; set aside.

In a large bowl mix together the butter, 4 tablespoons of coconut oil, and cream cheese until well combined.

Add the confectioners sugar, 1 cup at a time, then add the salt, vanilla, and coconut oil - mix well. You can use your hands here!

Fold in the shredded coconut and mix until it's evenly incorporated. Cover the bowl and place in the refrigerator for 30 minutes, or up to 48 hours.

Remove the bowl from fridge and let it sit at room temperature for 5 minutes, or until it's easy to scoop out the mixture. Scoop out 2-tablespoons of the mixture and use your hands to form it into an egg shape. Place each egg on prepared baking sheet. Repeat with all coconut mixture.

If desired, gently press a pistachio in the center of each egg.

Transfer pans to the freezer and chill for 45 minutes. About 20 minutes before you plan on dipping your eggs, melt your chocolate.

Heat the chocolate and remaining 1 Tablespoon (14g) of coconut oil in a double boiler over simmering water. Cook, stirring occasionally, until the chocolate is completely melted. Alternatively you can do this in the microwave, just be sure to use a heat proof dish and use the lowest setting. I usually microwave my chocolate in 20 second increments, whisking in between.

When the eggs are ready to be dipped, place the bottom of the egg onto a fork, and dip it into the chocolate, letting it completely submerge before pulling it back up and placing it back on the parchment lined sheet. Repeat for all eggs.

Place the chocolate dipped eggs back in the freezer or refrigerator for a few minutes to harden.

When ready to serve, place each egg in cupcake wrappers or on a large serving platter lined with parchment paper.

Store covered, in the refrigerator, for up to 2 weeks, or until needed.