An easy recipe for Chocolate Covered Coconut Cream Eggs!!! Made with cream cheese and butter, this homemade Easter candy recipe basically melt in your mouth! And you can freeze coconut cream eggs for up to two months!
Chocolate Covered Coconut Easter Eggs
If you ask me, Easter just isn't Easter without a big ol' batch of coconut cream eggs. Covered in chocolate, of course! Just thinking about these rich, creamy, totally indulgent chocolate coconut treats gets me excited. They're the perfect addition to your Easter dessert spread, or, you could get all fancy and individually wrap each one in cellophane and stuff them into Easter baskets. I wrapped 3 in tin foil and stuffed them into C's lunch box. Reeeeeal classy over here.
The base of these eggs is a simple mix of cream cheese, coconut, coconut oil, confectioners sugar, and coconut extract. There's also a HEARTY pinch of salt in there to cut the sweetness (you do not want to skip it!), and just a smidgen of butter. But mainly, it's all about the coconut, baby.
I made these over the weekend, and was left with 60 (!!!) perfect little chocolate covered coconut cream eggs – and a GIANT mess. It's gotten a little warmer (and a lotta humid) this past week, making it a slightly sticky situation for handling chocolate. I definitely recommend doing the chocolate dipping step in the coolest room in your home. It's not a deal breaker if you live somewhere hot/humid. Just be patient with the coconut eggs, and let them really chill in the freezer before dipping. If you rush this, they will buckle under the heat and start to loose their adorable egg shape. We don't want that! I worked with mine in batches, taking about 10 from the freezer at a time, and am pleased to report we had no coconut egg mutations in the process. Win!
When you're shaping these eggs, keep in mind you can keep them as thick or thin as you want. I like a longer, thinner egg. But growing up my mom always made short, chubby eggs with nice round bellies. Those are equally delightful!
As you can see I chose to shove a pistachio in the center of each egg, but this is totally optional! My family loves pistachios, but if yours loves almonds/ cashews/ pecans/ or no nuts at all, go wiiiiiith it. You can also do half with nuts, half without. Or a variety of different nuts would be fun! You get what I'm saying, right? Just go nuts!
Once you've dipped your eggs in the chocolate, you're going to need to practice patience and wait juuuuust a little bit longer. The chocolate needs to set! If you have a chilly room in the house, you can let them do this out of the fridge. If you don't; the fridge is your friend. I am impatient (duh) and popped mine in the refrigerator for 30 minutes, and was thrilled to find a nice snappy chocolate shell had formed in that time.
Because chocolate is chocolate it will slightly melt when you pick it up. Warm hands + cold chocolate = just a little sweet stickiness. It's cool. That's what napkins are for! And I promise no one is going to complain a bit. These seriously zoom off of our dessert table every Easter. And when I say zoom, I mean it.

Just be sure to hide a few for yourself 😉 I made a few for me with pastel sprinkles, and covered the rest in chopped pistachios. The pistachios add a wonderful salty aspect! But sprinkles are just plain fun. Both are winners.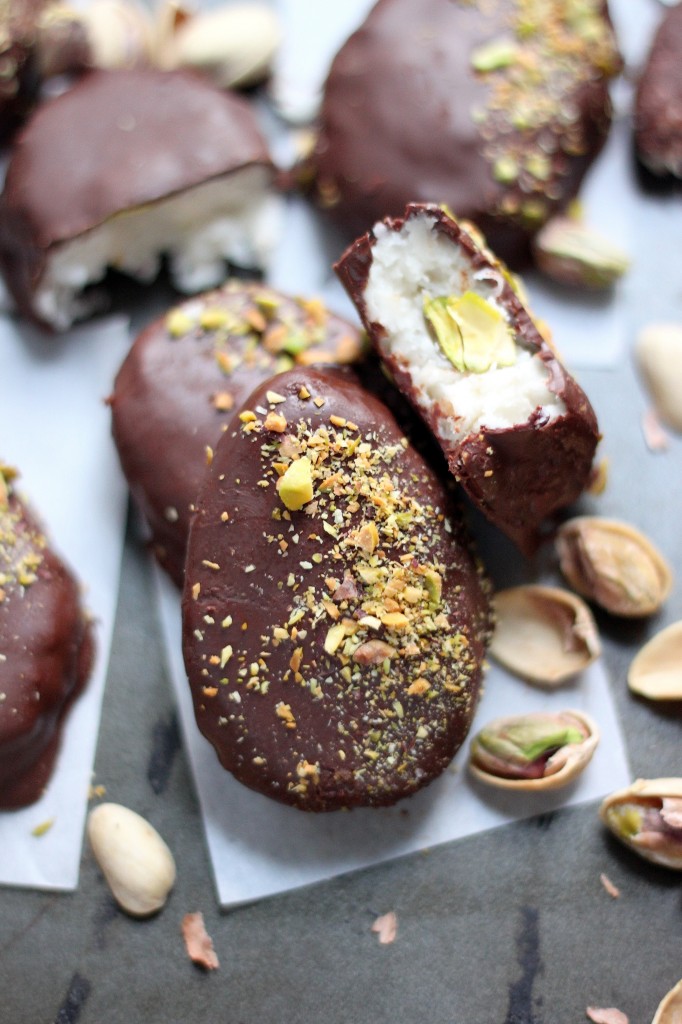 More Easter Candy Recipes:
Chocolate Covered Coconut Cream Eggs
Chocolate Covered Coconut Cream Eggs are the ultimate homemade Easter candy treat!
Ingredients
Makes about 60 eggs, depending on how you size them
4 tablespoons unsalted butter, very soft
5 tablespoons coconut oil; divided
8 ounces cream cheese, very soft
7-8 cups confectioners sugar
1/2 teaspoon salt
1/2 teaspoons vanilla
1 teaspoon coconut extract
16 ounces flaked coconut
20 ounces bitter-sweet chocolate chips (this is usually 2 bags)
60 pistachios, unshelled (optional)
Chopped nuts, sprinkles, etc. for topping the chocolate (optional)
Instructions
Line 2 large baking sheets with parchment paper; set aside.

In a large bowl mix together the butter, 4 tablespoons of coconut oil, and cream cheese until well combined.

Add the confectioners sugar, 1 cup at a time, then add the salt, vanilla, and coconut oil - mix well. You can use your hands here!

Add the shredded coconut, and mix until well blended. (I use my hands for this to make sure it's really well combined).

Place the mixture in the refrigerator to chill for 30 minutes.

After 30 minutes, remove bowl from fridge and form 2 tablespoon sized scoops into egg shapes with your hands. *It's helpful to sprinkle some confectionary sugar on your hands so the eggs don't stick to them! I keep the bag very close by at all times 😉

Place each egg on prepared baking sheet.

When you are done, add nuts on the top of each egg - if using - pressing them into the coconut just slightly, so they don't fall out.

Place pans in the freezer for 45 minutes.

While they're freezing, you can make your chocolate!

Heat the chocolate and coconut oil in a a double boiler over just simmer water until chocolate is completely melted and can be whisked smooth. Alternatively you can do this in the microwave, just be sure to use a heat proof dish and use the lowest setting. I usually microwave my chocolate in 20 second increments, whisking in between.

When the eggs are ready to be dipped, place the bottom of the egg onto a fork, and dip it into the chocolate, letting it completely submerge before pulling it back up and placing it back on the parchment lined sheet. Repeat for all eggs.

Place the chocolate dipped eggs back in the freezer or refrigerator for a few minutes to harden.

When ready to serve, place each egg in cupcake wrappers or on a large serving platter lined with parchment paper.

Store in the refrigerator until needed, covered with saran wrap or foil.