These White Chocolate Coconut Key Lime Cookies are thick, chewy, and full of flavor! No need to chill the cookie dough, simply roll and bake!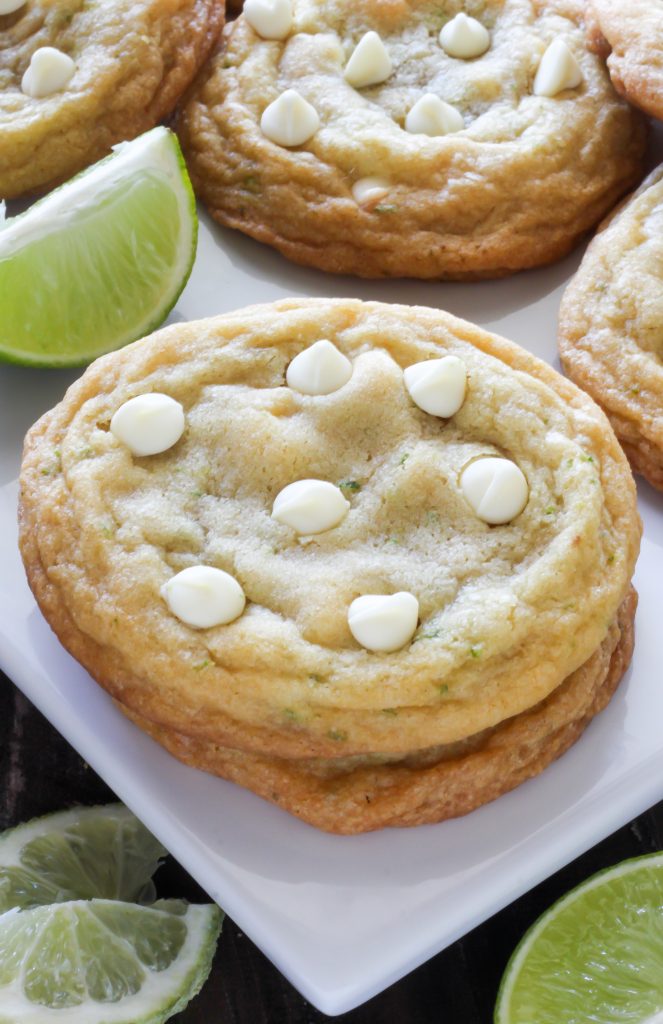 Key Lime White Chocolate Cookies
I do so enjoy the smell of sugar and butter. A fresh batch of cookies baking up in the oven… is there anything better? Watching them transform from (delicious) mounds of dough into thick, chewy, incredibly delicious cookies. It's a magical experience. If you're looking for a little magic in your own kitchen, this easy, extremely satisfying white chocolate coconut key lime cookie recipe is for you.
Lime White Chocolate Chip Cookies
I know… the title of these cookies is a mouth full! But since all of the flavors truly shine, it seemed wrong to leave any of them out. These cookies have a lot going on – in taste and texture – so let's get right into it!
The dry ingredients called for in this recipe are pretty basic: flour, sugar, baking soda, and salt. If you don't already have those guys hanging out in your pantry, they shouldn't be hard to find.
The wet ingredients required are butter, coconut, and eggs.
You'll also need lime zest and white chocolate chips! I used key limes because we had some hanging around in the fridge, but regular limes will work if that's what you have available.
The lime zest, coconut oil, and white chocolate chips all work so well together. Each one individually shines, but because the flavors all marry so well, none of them overwhelm the overall taste. Fresh out of the oven they basically melt in your mouth.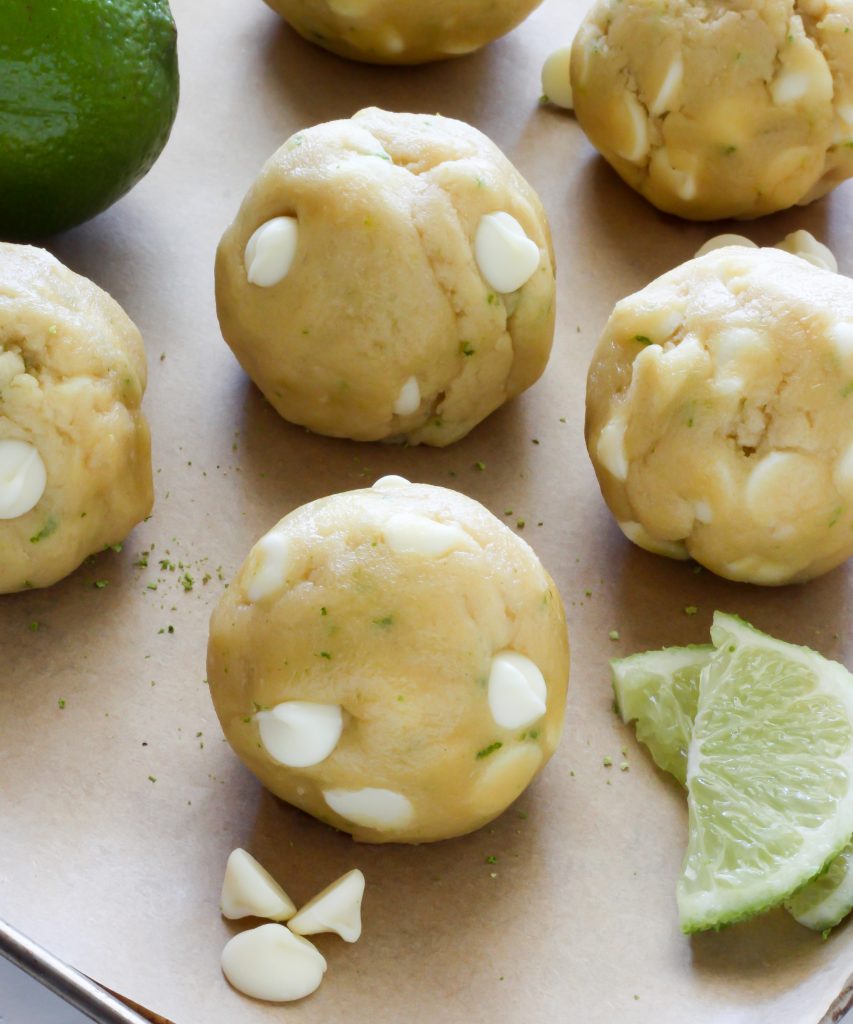 One of my favorite things about this recipe? The cookie dough needs NO chill time. Just make and bake, baby.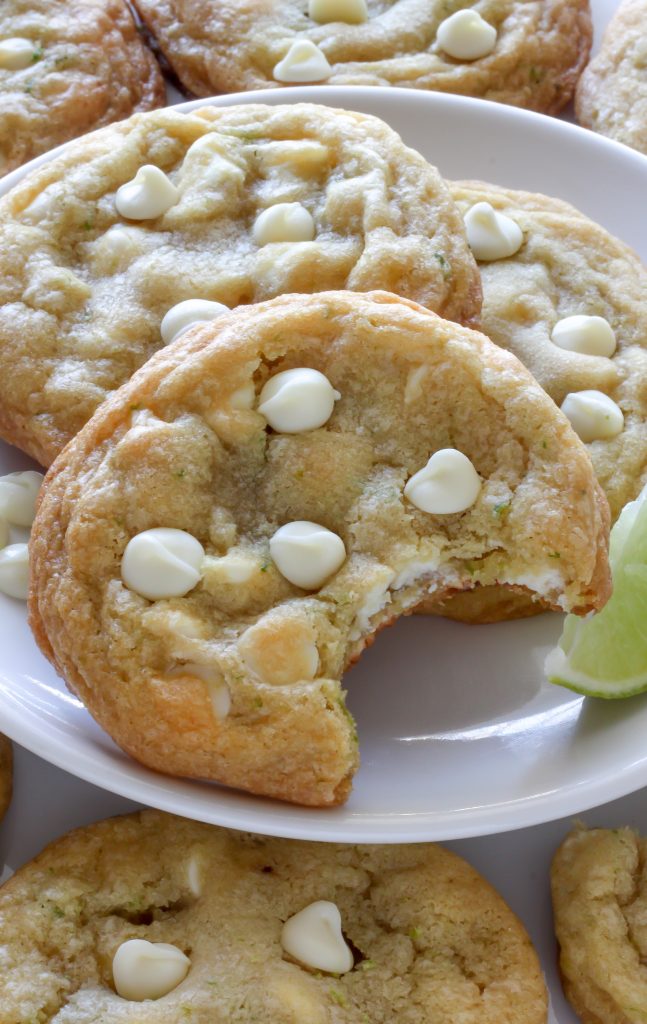 These cookies bake up thick, chewy, and full of flavor! They also make your home smell INCREDIBLE in the process. Fresh cookies and a delicious smelling home… what a wonderful way to spend the afternoon.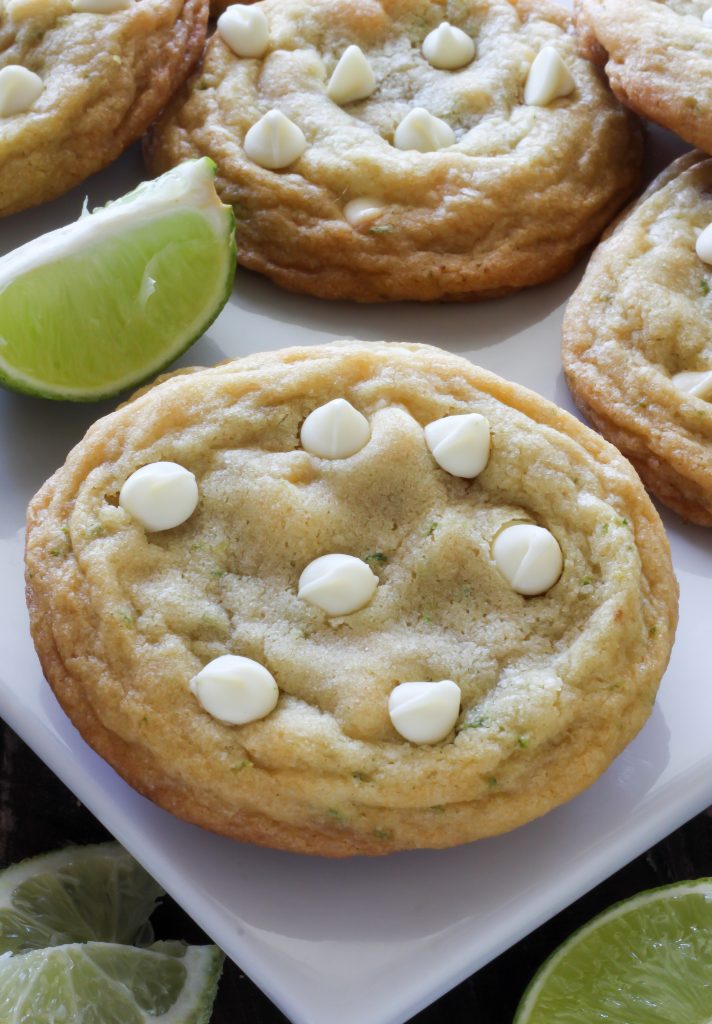 More Cookie Recipes:
More Key Lime Recipes:
White Chocolate Coconut Key Lime Cookies
Thick and chewy White Chocolate Coconut Key Lime Cookies are perfect for days you want something sweet and tropical!
Ingredients
2 1/2 cups all-purpose flour
1 teaspoon baking soda
1/2 teaspoon fine sea salt (table salt will work, too)
1 stick (4 ounces) unsalted butter, at room temperature
1/2 cup coconut oil, at room temperature (it should be solid but scoopable)
1 cup granulated sugar
2 teaspoons lime zest (from 2 small limes)
2 tablespoons packed dark brown sugar
2 teaspoons vanilla extract
2 large eggs, at room temperature
2 1/2 cups white chocolate chips
Instructions
Preheat oven to 375 degrees (F). Line 2 large baking sheets with parchment paper; set aside.

In a medium-sized bowl whisk together the flour, baking soda, and salt; set aside.

Place the butter and coconut oil in a large bowl and beat until creamy and combined; about 2 minutes (I recommend using a standmixer/ handheld mixer to help here if you have one).

Combine the granulated sugar and lime zest in a small bowl; rub the lime zest into the sugar until fragrant and well combined.

Add the lime infused sugar, brown sugar and vanilla to the butter/oil mixture and beat on medium-high speed until light and fluffy; about 2 minutes. Add the eggs in one at a time, beating well after each addition, and scraping down the sides as needed. Gradually stir in the dry ingredients, beating just until combined. Fold in white chocolate chips.

Roll 3 tablespoon sized balls of dough between your palms to form a ball (they should be big; almost a 1/4 cup), then place on prepared sheet (make sure to leave enough room in between each cookie for inevitable spreading). Continue this process until all the dough has been rolled. Place baking sheets in preheated oven and bake for 11-14 minutes, or until golden at the edges but still soft in the middle. Let cookies cool for 5 minutes on the sheet before transferring to a wire wrack to cool completely.
Notes
You may use all butter if you cannot find coconut oil near you. You may use key limes or regular limes for this recipe.