I'm a firm believer in the cliche idea that one (anyone!) can turn a good for nothing, lousy, cloudy, rainy, deep freeze day/life/feeling into something with sparkle and shine.
Or at least into something that doesn't totally suck. #Realtalk
I believe this so deeply and obnoxiously mainly because
A) I have plenty of stupid crappy days and more importantly B) In my 26 years on this plant I've learned a few very simple, helpful, groovy awesome cheap tricks to turn nothing into something.
These tricks usually involve
1) Blasting a little (or a lotta) Micheal or Stevie (or Stevie and Diana!? YES!).
2) Shaking it.
3) Baking it.
The third trick is where these almond blackberry cobbler muffins come in! About time, right?!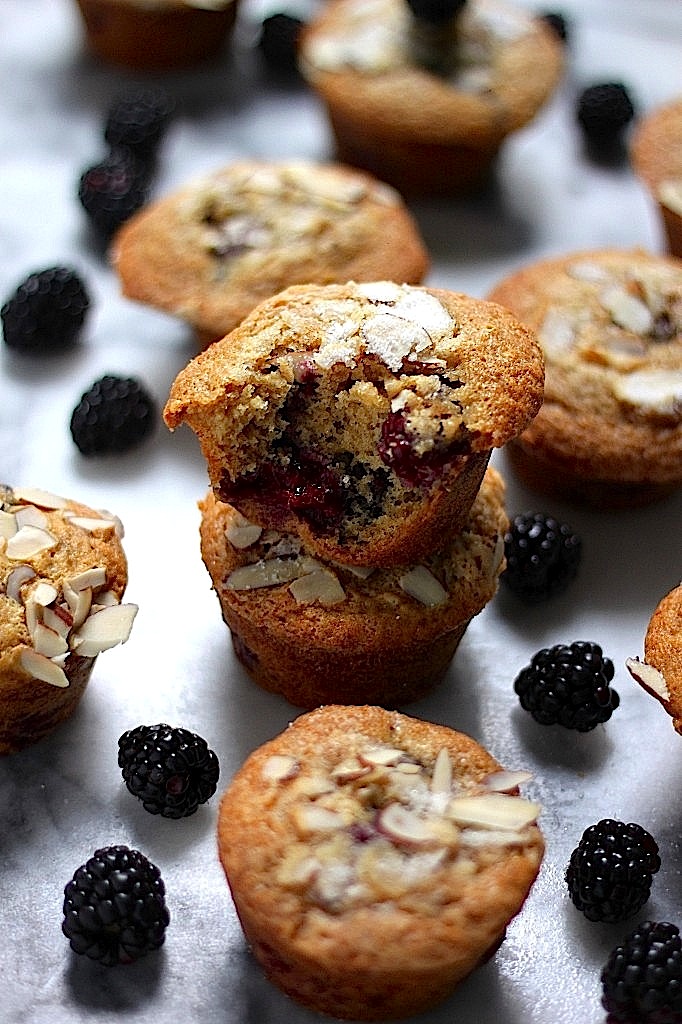 With their soft, blackberry bursting interiors, and their crunchy, almond and sugar sprinkled exteriors…
I mean…
I dare ya to bake up a batch of these babies, pop on whatever tunes move you, and try to frown. So ain't happening.
If you need a little help with the shaking it part: Carl Carlton, The Commodores, Frankie Lymon, The Isley Brothers, and Whitney will help you on your way. Seriously… no way you're not moving to that last one 😉
Happy weekend, babes! xo
Almond Blackberry Cobbler Muffins – Baker by Nature
Makes 1 dozen muffins
Ingredients:
2 cups all purpose flour + 3 tablespoons; divided
1/2 teaspoon baking soda
1 1/2 teaspoons baking powder
1/2 teaspoon salt
1 teaspoon ground cinnamon
2 cups blackberries
1 large egg, at room temperature
6 tablespoons vegetable oil
1 cup brown sugar
1/2 teaspoon almond extract (or 1 teaspoon vanilla extract)
1 cup milk
1/4 cup turbinado sugar (you can use regular sugar if you can't find turbinado, but the lids won't be as crunchy)
1/4 cup sliced almonds
Instructions: 
Preheat oven to 350 degrees (F). Line a 12 mold muffin tin with paper liners, or grease molds well with butter. Set aside.
In a large bowl whisk together 2 cups flour, baking soda, baking powder, salt, and cinnamon. Set aside.
Place berries in a small bowl, add 3 tablespoons of flour, and gently – using your hands – toss the berries around until they're fully coated in the flour. Set aside.
In a large bowl whisk together egg, oil, sugar, and extract. Gradually whisk in the flour mixture and the milk, beginning and ending with the flour.
With a rubber spatula gently fold in blackberries.
Scoop batter into prepared tin, filling each mold up 2/3 of the way. Sprinkle each muffin batter with 1 tablespoon of almonds and sugar.
Place tin in the oven to bake for 23-25 minutes. Let muffins cool for 5 minutes in the tin, then carefully transfer to a cooling wrack to cool completely.