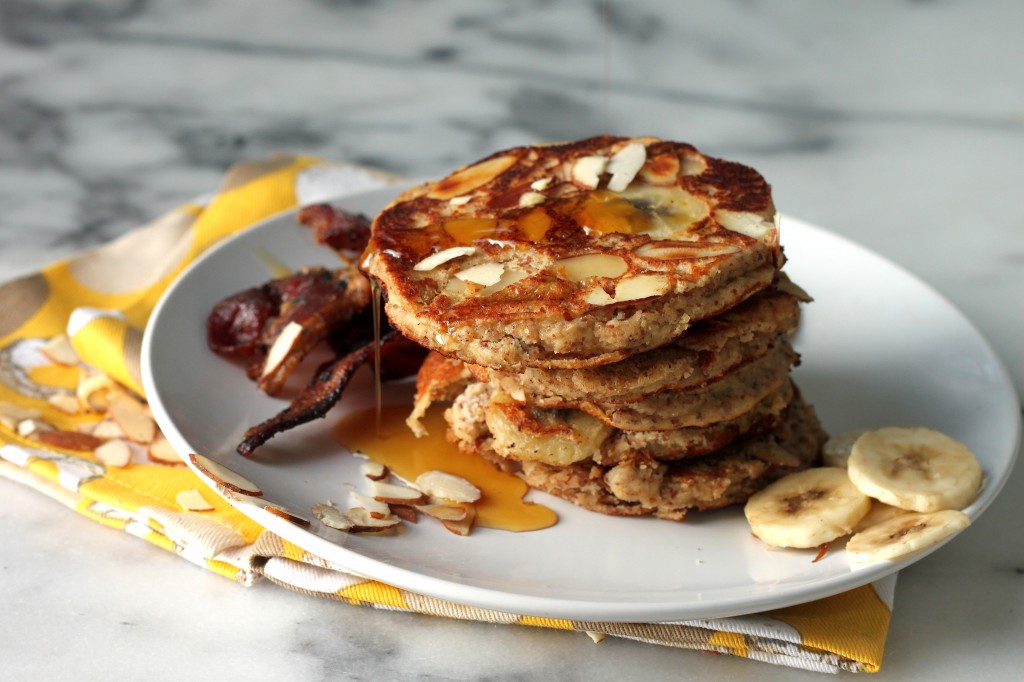 Hello, awesome people! Are y'all ready to PANCAKE IT UP? Because we are so totally about to do that. Today! Right now! Let's go!
Woo!!!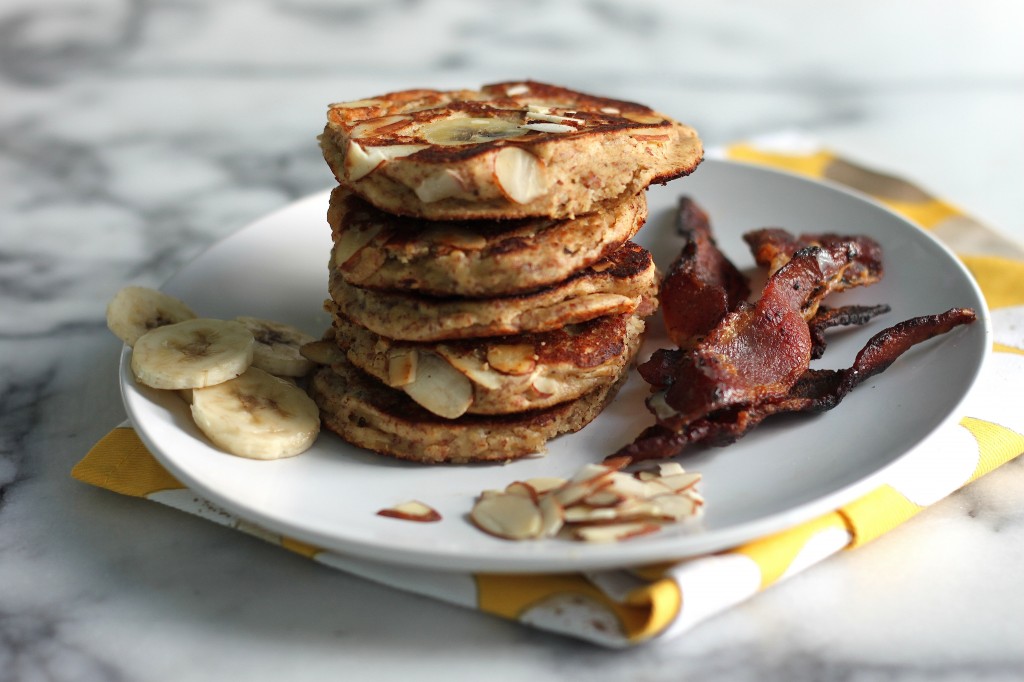 So. What's your pancake situation like on the weekends?
For us, it's always changing! Sometimes it's a simple stack for two. Other times – OK… most of the time – it's a HUGE stack for one. And once in a while, pancakes transform our little place into a total breakfast event full of friends and coffee and bacon! 
The last scenario is definitely my favorite! I'm a breakfast people person. I'm also a bacon person. But it's cool if you're not. There is no bacon in these pancakes 😉
Ya know what is in these pancakes?! Almonds! Lots and lots of them. They've got almond milk. And almond flour. And almond extract. And oh wait… ALMOND almonds. The little slivered ones. They're yummy!
These pancakes also have bananas and cheese. Cheese could be weird in a pancake, but luckily it's just ricotta, and ricotta is creamy and luscious and totally not a weirdo! So it's cool. The banana lends a sweet little touch inside the pancakes, and also looks pretty sliced on top of them. That's what I call a banana bonus, yo.
P.S. That yo was said in my best Pinkman. BREAKING BAD… tonight!!!! 
Happy Sunday, loves! xo
Almond & Ricotta Banana Pancakes – Baker by Nature
Serves 2; double as needed
Ingredients:
1 cup + 2 tablespoons almond flour
1/2 teaspoon baking powder
1/4 teaspoon salt
1/2 teaspoon cinnamon
1 large egg, beaten
1/3 cup almond milk + 2 tablespoons
1 large & ripe banana, smashed to a puree
2 tablespoons brown sugar
1/3 cup ricotta cheese
*Banana slices, syrup, and slivered almonds for topping, optional
Instructions:
In a small bowl mix together the dry ingredients. Carefully add the wet ingredients, and mix well to combine. Heat a well greased (I used coconut oil, but butter will be fine too) non-stick pan over medium heat, and add 1/4 cup of the batter and top with bananaalmond slice. Cook the pancake for 3 -4 minutes – keeping a close eye that it doesn't burn – before VERY carefully flipping over and cooking for another 2 -3 minutes. Repeat until batter is finished. Serve hot with syrup, honey, or jam.
 *A few notes on these pancakes- 
These pancakes are made with ALL almond flour. This means they will not taste like "regular" pancakes. Nor will the have the same texture. That is just a fact that comes with using almond flour. This fact also means when you're flipping the pancakes you need to be very careful as they are much more fragile than flour based pancakes. These warnings are not to deter you from flipping up a giant stack of these fluffy and soft and wonderful little cakes, but more a warning so your pancake experience is a pleasant and successful one.