Super soft and fluffy Lemon Ricotta Pancakes made from scratch! These lemon pancakes are bursting with flavor and always a hit for breakfast or brunch! Bonus: This recipe is freezer friendly.
Easy Lemon Ricotta Pancakes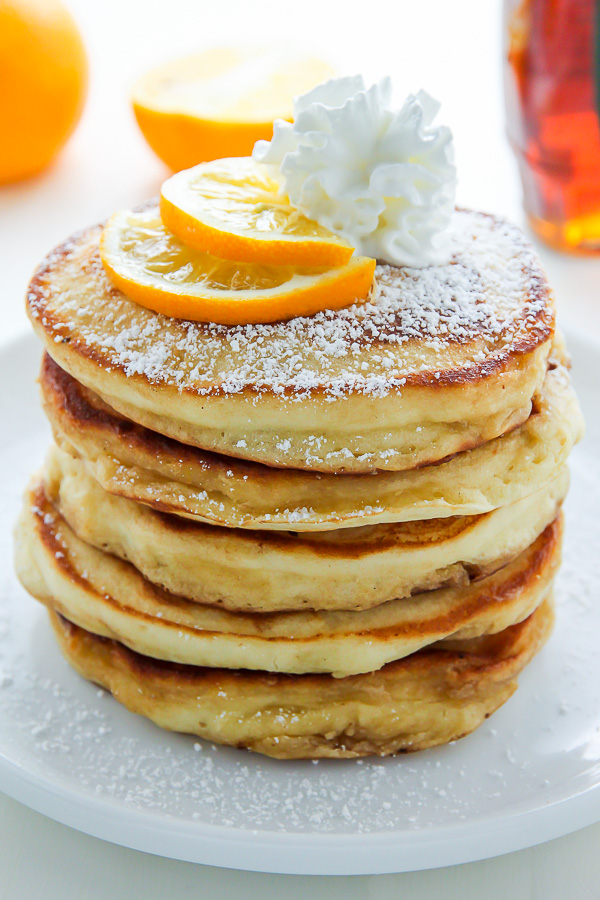 Lemon Ricotta Pancakes Recipe
Good morning and happy Sunday! If you've been reading my blog for a while now, you probably already know my feelings for pancakes is no fleeting love affair. Over the past 5 years (where does the time go?!) I've shared classic recipes like the blueberry pancakes of your dreams and my favorite buttermilk pancakes, as well as crazier combinations like malted chocolate chip banana pancakes and HEALTHY Greek yogurt zucchini pancakes. So many of you have made these pancakes and sing their praises, letting me know I'm not alone in this pancake addiction 😉 ← Thank you for that!
And today, we get a new pancake recipe for the breakfast archive: Lemon Ricotta Pancakes! Each bite is light as air and perfectly flavored with fresh lemon and just a hint of vanilla.
Basically, they're the breakfast of your dreams ♥♥♥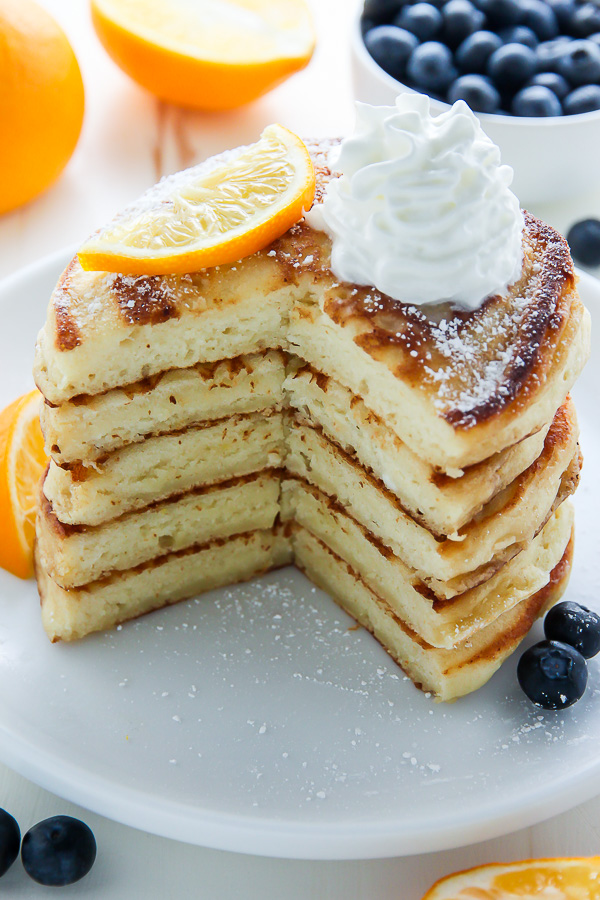 So let's get down to business. To make these Lemon Ricotta Pancakes you'll need all-purpose flour, granulated sugar, baking soda, baking powder, salt, fresh lemon juice and zest, eggs, ricotta cheese, milk, and vanilla extract. You'll also need fresh whipped cream and/or maple syrup for serving. As you can see from my photos, I went the whipped cream route. I also served the pancakes with fresh blueberries for a pop of color, but any berry would be delicious paired with these pancakes.
The batter comes together in just minutes. Due to the nature of ricotta cheese, it will be quite thick, but don't fret over this. Because once the batter hits the hot griddle, it will puff up and morph into fat, fluffy lemon ricotta pancakes. YUM.
TIP: If you cannot find ricotta cheese where you live, try making your own with my homemade ricotta cheese recipe! It's surprisingly simple and sooooo delicious. And if you have any leftover, you can always use it to make a blueberry ricotta crumb cake. #winning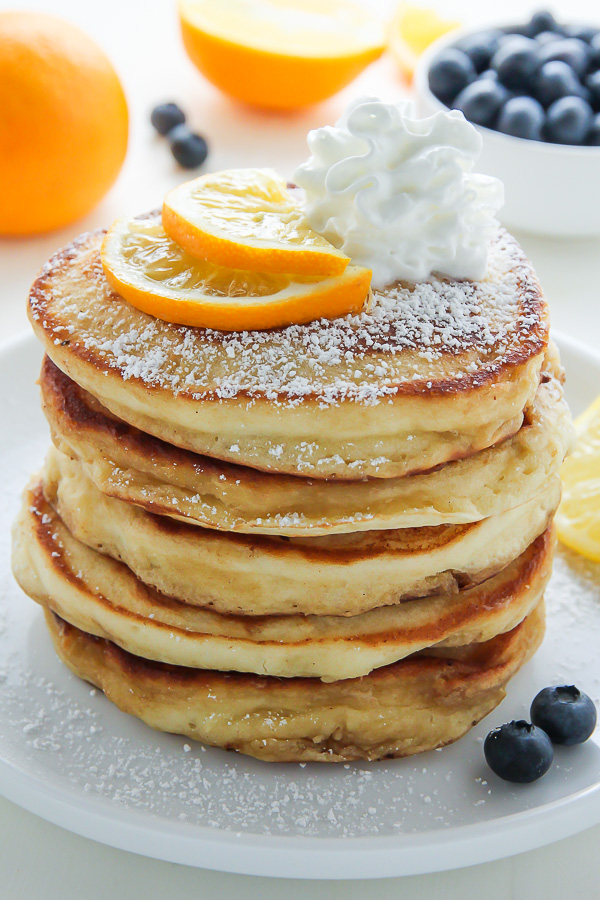 How to Keep Lemon Pancakes Warm
My secret for keeping pancakes warm while I cook them all is to preheat the oven to lowest setting and place a large baking sheet inside. As the pancakes are cooked, I transfer them onto the baking sheet. Be sure to use a potholder when removing the pan as it will be very hot!
Freezing Pancakes
Completely cool the pancakes, then place them between layers of waxed paper, then place them in a freezer-safe plastic bag, and pop them in the freezer! They will keep in the freezer for 2 months!
How to Reheat Pancakes
There are two ways you can do this! There's the microwave method in which you'll place the frozen pancakes on a microwave-safe plate and heat them in the microwave, uncovered, for 1 to 2 minutes, or until they're heated through. Then there's the conventional oven method, in which you'll arrange the frozen pancakes in a single layer on a cookie sheet, cover with foil, and bake at 375 degrees (F) for 5 to 6 minutes, or until they're hot and heated through.
Can you think of a better way to wake up?! ↓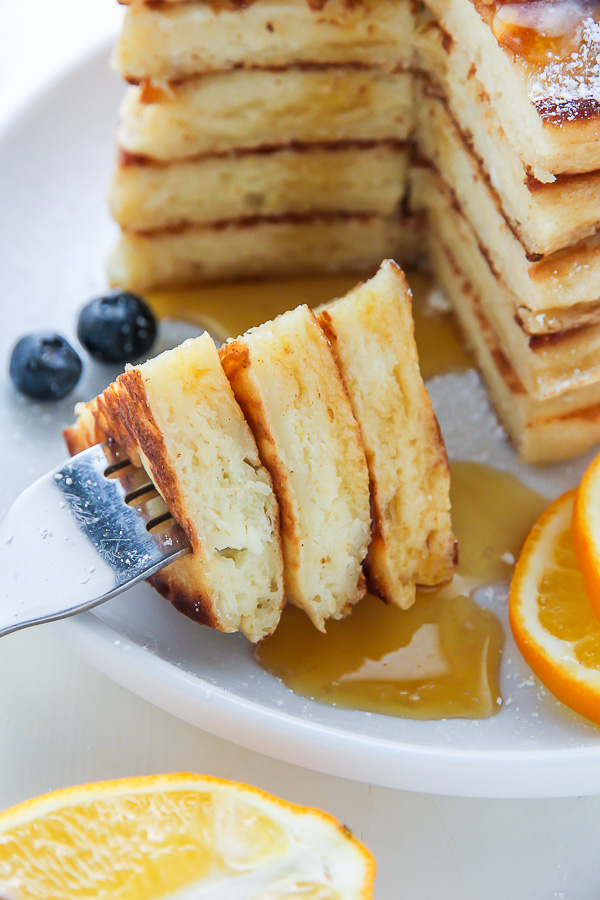 More Pancake Recipes:
If you try this recipe for Lemon Ricotta Pancakes, let me know what you think! Leave a comment below, and don't forget to snap a pic and tag it #bakerbynature on instagram!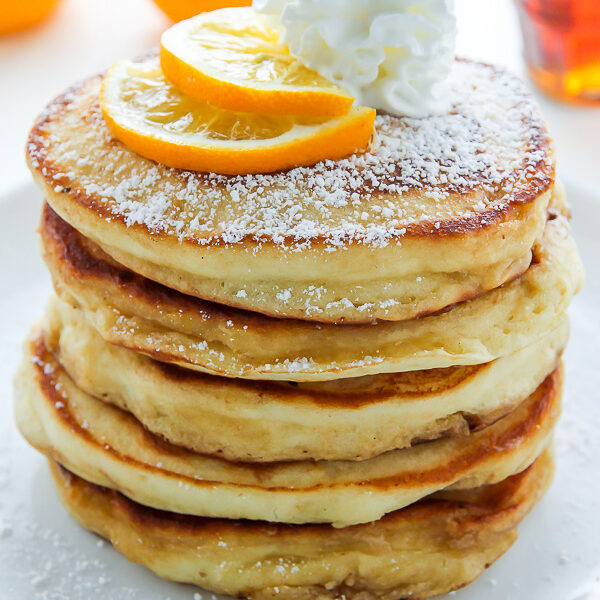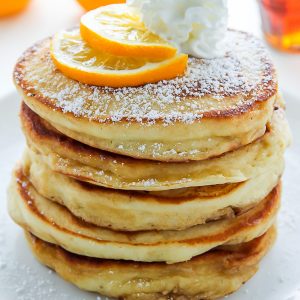 Lemon Ricotta Pancakes
Soft and fluffy Lemon Ricotta Pancakes made from scratch!
Ingredients
2 cups all-purpose flour
1/4 cup granulated sugar
1 and 1/2 teaspoons baking soda
3/4 teaspoon baking powder
3/4 teaspoon salt
2 large eggs, at room temperature
1 and 1/2 cups whole milk
1 cup full-fat ricotta cheese
1 and 1/2 teaspoons pure vanilla extract
1/4 cup fresh lemon juice
2 teaspoon lemon zest
Maple syrup or fresh whipped cream, for serving
Instructions
In a large bowl add the flour, sugar, baking soda, baking powder, and salt; whisk well to combine. In a separate bowl add the eggs and lightly beat them with a whisk. Add in the milk, ricotta, and vanilla and beat until well combined. Stir this wet mixture into the dry ingredients, stirring just until everything is combined. Quickly fold in the lemon juice and zest, stirring until evenly combined. Be careful not to over mix the batter.

Pour batter by 1/3 cupfuls onto a buttered hot pan or griddle, adding only a few at a time so that they do not blend together. Cook for about 3 minutes before flipping them over, or until small bubbles form on top. Cook on the second side until golden brown, about 1-2 minutes. Repeat with all pancake batter. Serve pancakes warm, with syrup or whipped cream. See notes for freezing options.
Notes
To freeze: place cooled pancakes between layers of waxed paper, then place them in a freezer-safe plastic bag, squeezing out any excess air before sealing the bag and placing it in the freezer. Pancakes will keep in the freezer for 2 months. To reheat, heat your oven to 375 degrees (F). Place the pancakes in a single layer on a large baking pan; cover with tinfoil and heat in a preheated oven for 6-8 minutes, or until warm. You may also microwave 3-4 pancakes at a time for about 40 seconds, or until heated through.